When you're mired in the midst of a seven-game losing streak, a streak that has eliminated you from playoff contention, has rumors about your head coach, general manager and most positions on the roster swirling about who will be returning in 2019 along with players getting into arguments on the sidelines and not being able to identify what's gone wrong this season, it can be hard to focus on the positive – and while there's been a lot of negative, there have certainly been positives in 2018.
The glimpses of greatness at cornerback between Donte Jackson's nose for the ball and James Bradberry ability to shut down the top receivers of the NFC South, the playmaking ability and soft hands of rookie tight end Ian Thomas as he was thrust into a huge role once Greg Olsen went to IR, the emergence of young wideouts DJ Moore and Curtis Samuel as big plays with the ball in their hands kept coming from numbers 10 & 12, the Taylor Moton stonewall at right tackle; not to mention the heightened play – in spurts – of Kyle Love, Efe Obada, Greg Van Roten and many others.
There was a lot to like on the field for the Carolina Panthers – but none more than the incredible season being put together by second-year running back Christian McCaffrey.
"I think anytime you have a player playing at such a high level it means a great deal to your team [and] to your offense," said Ron Rivera when discussing bright spots for the Panthers in 2018.
"I think he can do it all for you."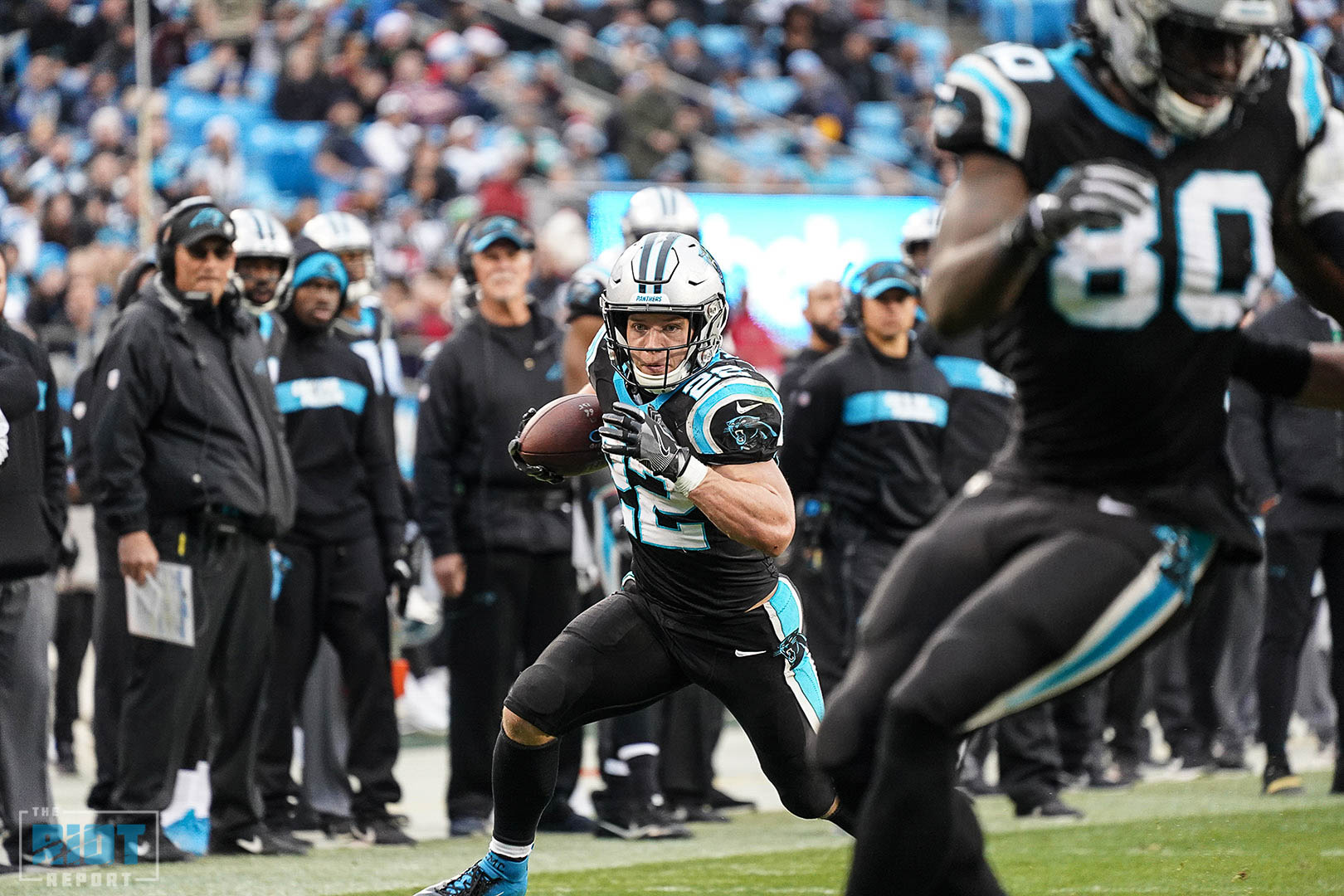 McCaffrey has become a foundational piece of the Panthers offense, something the coaches always knew was going to happen when they made him the eighth overall pick in last year's draft – but he has exceeded even their high expectations this season as he became only the third player in NFL history to have 100 receptions and 1,000 rushing yards in a single season, the latest in a series of milestones that seem to come fast and furious each week. Some highlights:
His 106 receptions are the most in NFL history for a running back in a single season.
His 106 receptions are the most in Panthers franchise history for any player at any position in a single season.
In Week 15, he became the first player since Walter Payton in 1985 to have at least 50 yards passing, rushing and receiving
He has eight games in a row with at least 100 yards from scrimmage. Earlier this season, he was the first player in NFL history with five consecutive games with 50+ yards rushing and receiving
In his rookie season, he set franchise records for most receptions, receiving yards and receiving touchdowns by a Panthers RB both in a single season and a single game. This year, he's broken all of his own records.
In Week 2 at Atlanta, McCaffrey tied Steve Smith's franchise record for most receptions in a single game (14).
In Week 12 vs. Seattle, he became the first player in franchise history with 100+ yards rushing and receiving in the same game.
McCaffrey has the most yards from scrimmage in franchise history and with 75 yards in Week 17, can become just the 10th player in NFL history with 2,000 scrimmage yards in either his first or second season; he can also have the third-most receptions by any NFL player in their first two seasons with two in Week 17 – with 11, he'll have the most.
His 186 catches are the most for a Panthers running back in their career – Deangelo Williams had 178. Williams played 117 games in a Panthers uniform – McCaffrey has 31.
McCaffrey became the first non-QB to throw a touchdown pass in franchise history in Week 15, and the first Panthers player with career rushing, receiving and passing touchdowns.
While the records will continue to fall and the accolades will continue to grow, the number that has caught the eye of his teammates most frequently is 96.95% – that's the percentage of offensive snaps McCaffrey has been on the field for, well above the pace of any running back in the NFL this season or, for that matter, in the modern era of football.
"He plays 100% of the snaps!" wide receiver Jarius Wright, who has played just over 51%, said incredulously after the Panthers 24-10 loss to the Falcons in which McCaffrey racked up 178 yards on a career-high 33 touches. "I looked at that and i said to myself I can't even do that myself at receiver and he's doing that at running back, taking hits every play, so kudos to that guy."
"It's unbelievable," echoed the only player to take more offensive snaps this season than McCaffrey, guard Greg Van Roten. "Especially in today's day and age of the NFL, two or three backs rotating and all that – to see what Christian can do is impressive. The guy is a swiss army knife; you need him to block, he can block, you need him to catch, he can catch, you need him to run, he can run and last week, you saw, he can throw, too."
"Whatever you need this guy to do, he's not afraid to do it."
That heavy workload has paid off for McCaffrey as he's averaged over 128 yards from scrimmage per game, but they'll need to get some help for him next season – a cry that Ron Rivera has been extolling as the Panthers playoff chances have dwindled and the focus turns to long-term success; McCaffrey took his first snaps off since Week 9 against Pittsburgh in the fourth quarter of their loss to Atlanta and that's something to expect more of next week at New Orleans and perhaps into next season.
"You go into Week 17 trying to win, first and foremost, but we have to be smart," said Rivera. "We've got to be smart about it going forward – we've got to make sure we have all those other pieces we need to be in place."
"We are asking a lot of him. I think going into next season, we will have to take a look at some of the things we can do to help him take a little bit of the load off of him."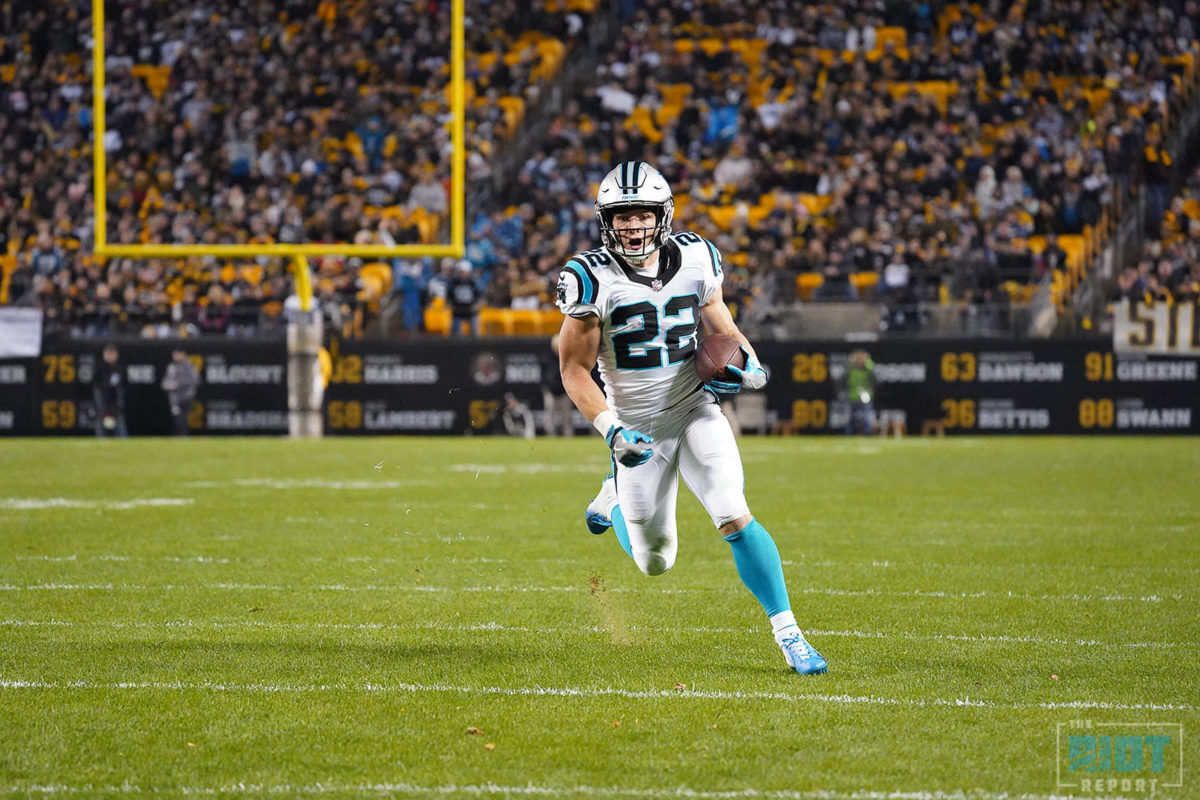 The consummate professional – McCaffrey learned from his father Ed, who had only 101 receptions in his best season as wide receiver for the Denver Broncos, a number eclipsed by Christian in his second campaign – the running back doesn't care about the records, doesn't care about the Pro Bowl snubs, doesn't care about the amount of snaps he's asked to take. The one thing he cares about is the one thing that hasn't been happening this season – that's something McCaffrey isn't used to.
He didn't have a losing season – not in high school, not in college and not in his rookie season, when the Panthers went 11-5; so even if the individual numbers are through the roof, the only number that matters – the win column – isn't high enough for McCaffrey.
"I mean, at the end of the day I just want to win," McCaffrey said after the Panthers seventh straight loss. "All that other stuff is great but there's nothing like winning – losing sucks. You always reflect on the good and bad of the year… I [just] love football."
"As long as I'm playing, I'm always working to get better."