There have been a lot of changes with the Carolina Panthers this offseason – from the top down. But one recognizable face fans will continue to see in Carolina for years to come is running back Christian McCaffrey after the Panthers and McCaffrey agreed to a four-year, $64 million contract extension, which made him the highest-paid running back in NFL history.
And he's hoping they'll be seeing him for the rest of his NFL career.
"More than the money, it shows, the Panthers believe in me, and I really appreciate that," McCaffrey said on a teleconference call with reporters Monday afternoon. "It shows that I'm on a team whose ownership and whose front offices believe in me the way that I believe in myself – and that means a lot, knowing that I get to go to work every day and be the best me and be myself."
"Very fortunate, very blessed, and excited to continue to play ball with the Panthers."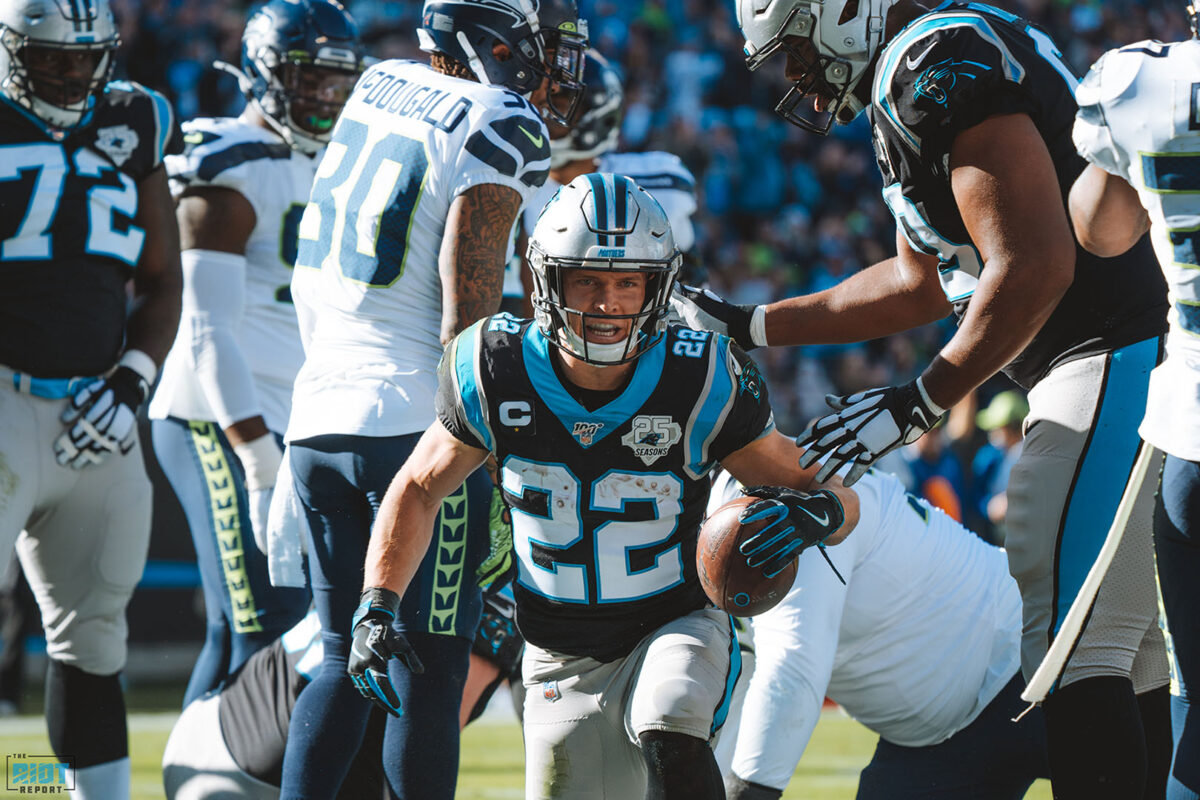 Despite having him under contract for two more years, Carolina rewarded McCaffrey for his play over the course of his first three seasons in the league. Last season, McCaffrey became the third running back in NFL history (Roger Craig, Marshall Faulk) to rush for 1,000 yards and record 1,000 receiving yards in the same season. He also caught 116 passes (most in NFL history for a running back, breaking his own record) and registered 19 touchdowns during the 2019 season.
However, the teammates around McCaffrey will be a little different this fall. Gone are Cam Newton, Luke Kuechly, and Greg Olsen. Although there has been a lot of player turnover in Carolina this offseason, McCaffrey never thought about going anywhere else – although he didn't exactly vehemently deny reports that he may have held out if a deal didn't get done.
"I never focused on signing somewhere else, that never occurred to me," McCaffrey said "I want to be in Carolina for my whole career."
"I bought a place in Charlotte, I love the Carolinas more than anything in the world, somewhere I would love to call home forever. I didn't want to leave, to be honest, I don't think they wanted me to leave either…..Through everything, it was nothing but respect. Very fortunate that I get to play for a lot of great people who showed nothing but respect to me, and I'm going to give them [everything] back."
"There's change that goes on in the NFL all the time – you look around the league and what has happened, you look at some of the great players of all-time and the teams that they've gone to. You stay close friends with people and build great relationships, but if you stay attached, it's tough because it is a revolving door, it is such a business."
"As much as I've loved every one I've played with, I also understand it is a business. I might be one of those guys [who gets released] one day, hopefully not. But for me, I just focus on what I can do every day with the teammates that I have, and right now, we have some great ones. So, I'm excited to play with a new bunch, new energy, and see where we can take it."
McCaffrey and the Panthers offense will have a new offensive coordinator in 2020 as Joe Brady will control the offense after coming from LSU. The youngest offensive coordinator in the NFL helped the Tigers lead the NCAA in total offense en route to a national championship in 2019. In Brady's offense, LSU's running backs were used in a variety of different ways, as shown by Clyde Edwards-Helaire – who had 1,414 rushing yards and 16 touchdowns along with 55 receptions.
McCaffrey says he is excited to work with Brady.
"You can definitely tell that he is such a unique mind when it comes to offensive football," McCaffrey said. "He puts his players in the best position that he can, if you look at what he did at LSU."
Not only has McCaffrey become the face of the Panthers franchise with all the player changes this offseason, but he also has his take more of a leadership role. Several new Panthers, including wide receiver Robbie Anderson and left tackle Russell Okung have said McCaffrey was one of the first players they talked to after joining the team.
Anderson even wore McCaffrey's No. 22 jersey during his virtual press conference with the media.
McCaffrey hopes he can incorporate what he has learned from the veterans he's played with during his first three years in the league and create his own leadership style with the hopes of improving from the Panthers' 5-11 record from last season.
"I think when you have the opportunities to play with great players like Cam, Luke, Greg, Thomas Davis, Peppers, all of those guys – all you can do is learn from them and see how they approach things and take the good things from them and make them into your own formula," McCaffrey said. "And that's what I've tried to do being fortunate enough to play with those guys….I think I haven't on waited on anybody to take a more vocal role."
"I think there are multiple ways to lead. Obviously, as one of the leaders of the team, you have to be vocal. But we have some great players, great leaders on our team, we have some great coaches. So I think it is important that everyone looks at themselves as someone who can lead and who can follow, and we can collectively go win games – as a team."