Christian Miller had a plan going into Sunday's game.
The rookie edge rusher was going to swap jerseys – a common occurrence among players, whether it be with a friend or simply a player they respect – with former teammate at Alabama, safety Deiontae Thompson. Thompson had been drafted by the Cardinals 24 picks after Miller was selected in the fourth round and with both beginning to get some playing time on their respective squads very early in their career, it would be a fitting way to commemorate their first matchup against each other.
But then Miller got the first sack of his career with two minutes remaining in the first half. On the Cardinals final offensive play of the game, Miller would get his second – after not recording a statistic in only 13 snaps over his first two games, Miller now has the second-most sacks on the Panthers this season.
So the jersey swap went out the window.
"I said, 'Man, DT, I might have to hold onto this jersey," laughed Miller after the game. "I hate to do it, but I might have to hold onto this one – it's my first sack jersey. But he got the first sack gloves, so that's still pretty cool, right?"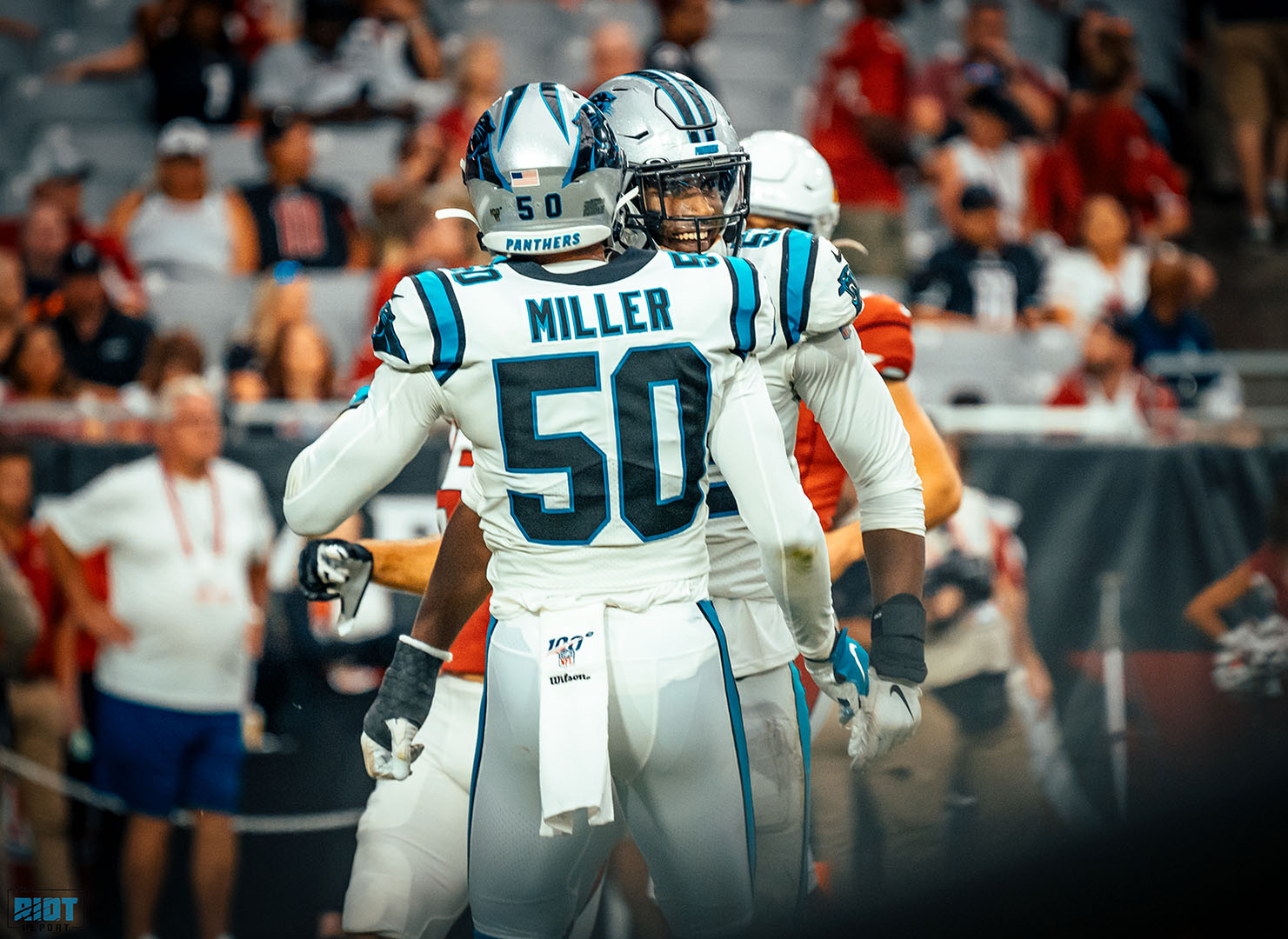 Miller is a methodical learner, constantly quizzing coaches for more information and ways to get better – and Bruce Irvin's absence the first three weeks allowed the 6-4, 245 pound Miller to get some playing time that may not have been available for a raw edge rusher who might still need some time to develop into the player he can become in the future.
But that playing time has paid off as Miller has been able to learn and grow in real time on the field – Miller said over the past few weeks he felt close to making a play. In Arizona, he was able to make two.
"The first sack was obviously super exciting and I was blessed enough to follow it up with the second one," said Miller. "So I'm going to enjoy this for about 24 hours and then I'm just going to get back to work so we can replicate the process going into next week."
"I still feel like I have so much further to go. I just want to keep getting better and better."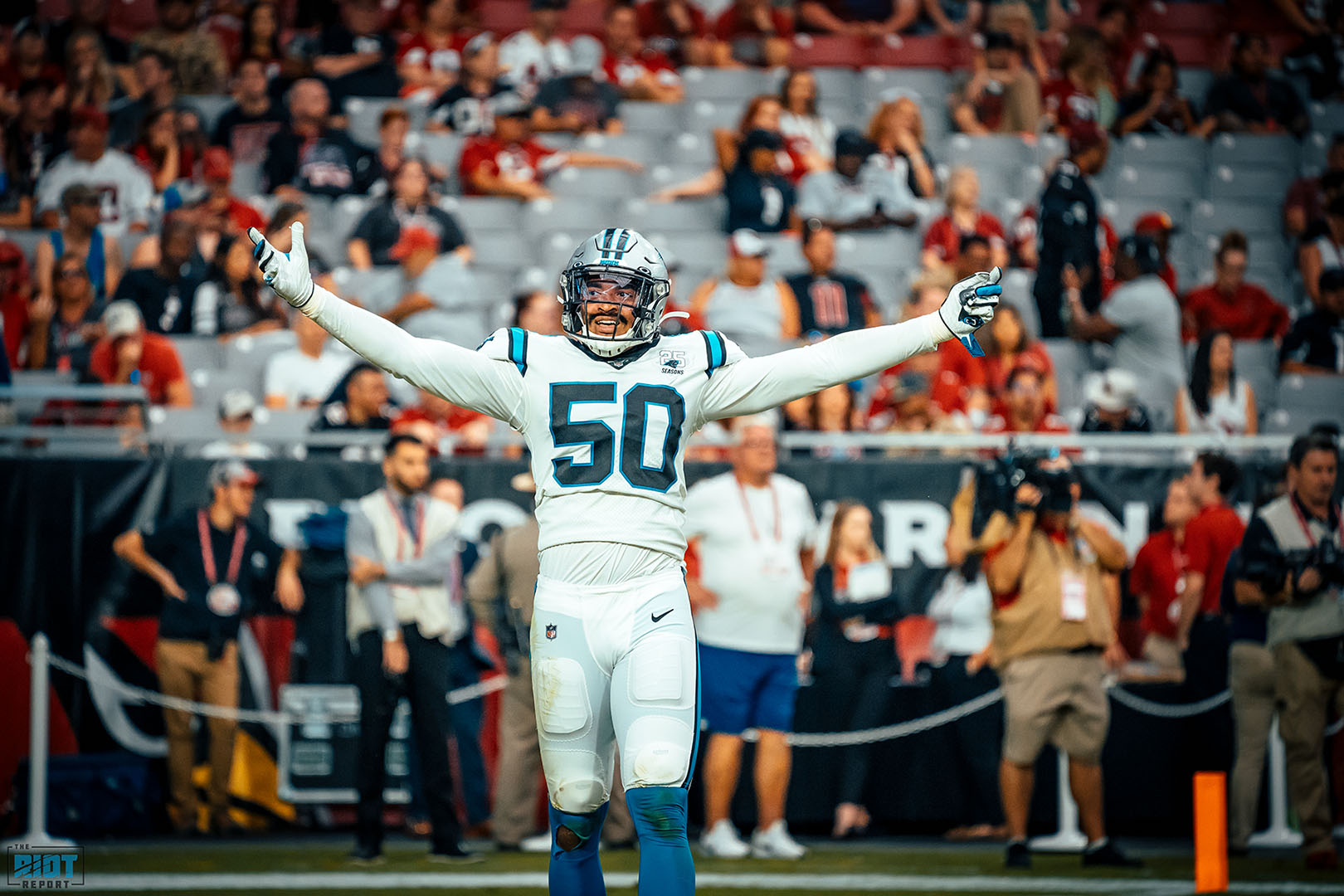 Miller's dual sacks on this particular Sunday had special meaning for the 23-year old after his grandfather, Olin Miller, had passed away Monday – Miller tried desperately to get to his hometown of Pageland, South Carolina, which is less than an hour's drive from Charlotte, but by the time he arrived, his grandfather had already passed on.
While Christian was securing the first sacks of his career, his father – former NFL player Corey Miller – was eulogizing his father in their hometown with a population of about 3,000.
"I was just praying that my dad would have the strength that he needed to do that," said the younger Miller. "My grandfather was a war veteran, he was a deacon for years – probably 40 or 50 years. You know how it is in a small town, everybody knows everybody – he and my grandmother were probably some of the most respected people in that town."
"He was a very influential person, an amazing person. It just meant a lot to be able to go out there and get my first sack and then to get another one – that was for my grandmother, because she just passed about two months ago. I feel like I got one for each of them as they got reunited today."
"It was a special moment."
Just finished preaching my fathers funeral and walked out to this info! Dad is smiling from heaven! #KeepPounding @Panthers https://t.co/gVqru6LwbU

— Corey Miller (@pastorofpain) September 22, 2019