The story writes itself.
Last week, a battered Panthers defense couldn't contain the Atlanta Falcons offense, allowing Matt Ryan and company to rack up 31 points and 442 yards of offense as self-induced errors caused promising drives to stutter; this week, down a starting safety and a catchable deep ball dropped on the first play of the game led to a three-and-out led and the Bengals taking their first drive 75 yards in 11 plays. Andy Dalton needed just over six minutes to go 6-for-7 for 63 yards and cap it off with a one-yard touchdown run by Giovanni Bernard and stake the Bengals to a 7-0 lead – it would be up to the Panthers' offense to keep pace.
And they were up to the challenge for three and a half quarters – and then the defense responded.
Cam Newton passed for 150 yards and two scores and rushed for two more, his 16th career four touchdown game and his sixth career game with two rushing TDs, and Christian McCaffrey, a week removed from catching 14 passes on 15 targets, took his game to the ground as the second-year player rushed for 184 yards on 28 carries in a 31-21 win over the Cincinnati Bengals; the Panthers defense forced a much-needed fourth quarter turnover to seal the deal to move the Panthers to 2-1 heading into their Week 4 bye.
After the Bengals opening salvo, the Panthers immediately answered back with their first of two 75-yard touchdown drives in the first half, a nine-play thing of beauty that featured four McCaffrey rushes for 63 yards and was finished by a Cam Newton naked bootleg two-yard touchdown run that began with a play-action fake to the 2017 eighth overall pick; it wasn't the last time McCaffrey would be a decoy, as he would also draw the defense to the right side and allow CJ Anderson to take a screen pass unmolested for a 24-yard touchdown to put the Panthers ahead 21-14 with just under three minutes left in the first half – in fact, McCaffrey was used as a decoy of sorts on every single one of the Panthers offensive touchdowns.
C.J. Anderson with his first #Panthers TD! #KeepPounding pic.twitter.com/BSjR5DSLCq

— Carolina Panthers (@Panthers) September 23, 2018
On the other side of the ball, the Bengals moved the ball just as easily against a Panthers defense that utilized a rotation of Colin Jones and Rashaan Gaulden at safety, racking up 228 total yards in a first half that saw only one punt each as both teams combined for almost 450 yards and 35 points in the first thirty minutes alone. After allowing their first 100-yard rusher in 21 games last week, the Panthers would only allow 23 on the ground to the Bengals in the first half – along with 174 through the air, including a one-yard touchdown catch by tight end CJ Uzomah in which he had yards of separation from Jones to tie it at 14; Tyler Boyd would also have a 27-yard touchdown grab in which he had separation from Jones to make it 28-21 in the third quarter.
After talking all week about the matchup between James Bradberry and AJ Green, the NFL's touchdown leader would hardly be a factor in the second half after a collision with Bradberry on the third play of the third quarter left him shaken up and he did not return – Green would finish with five catches for 58 yards, including an absolute beauty along the sidelines that was initially called incomplete and would be overturned for a 31-yard completion. Dalton would finish with 352 yards and two scores against four interceptions in the losing effort.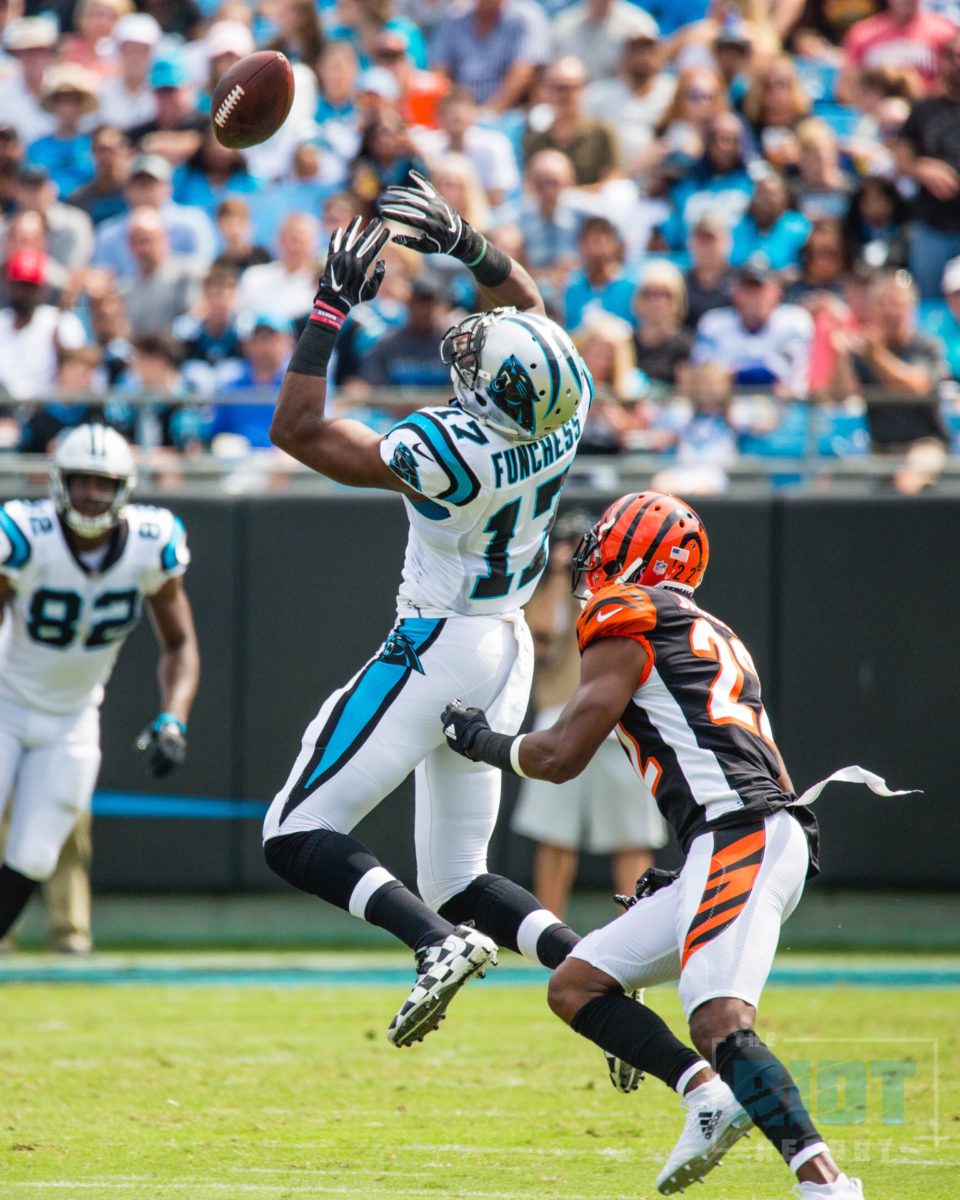 After saying all offseason that he wasn't satisfied with just being on the practice squad, Efe Obada became the first player from the International Pathway Program to make a team's 53-man roster. Then for the first two weeks of the season, Obada told us that he was unsatisfied being on the active roster and inactive – he wanted to get a jersey.
One can assume he spent the day today unsatisfied with being active – he wanted a sack; throw in a fumble for good measure.
And he got both as he spurted around left tackle Cordy Glenn and attacked Andy Dalton, forcing the ball out and into the arms of Captain Munnerlyn – but it was only for a moment, as instant replay turned Obada's second quarter strip-sack into simply a quarterback hit.
When an interception bounced high up in the air and Obada slid underneath it at the Bengals 26-yard line to make the athletic play, they couldn't take that one away. Seven plays later, Newton ran in for his second touchdown and the Panthers led 28-14.
It was another big play by Obada that helped bail out the Panthers quarterback after a costly unsportsmanlike conduct penalty negated a seven-yard run on third down that would have put the Panthers in field goal range up seven with five minutes left in the game – after Newton was flagged for the 15-yard penalty, the Panthers would punt and Obada would come crashing off the right side for the first sack of his career. On the next play, a pressured Dalton would throw a floating deep ball that was picked off by Donte Jackson – his second of the game – and Graham Gano kicked through a 40-yard field goal to finish out the scoring.
Additional Notes:
The Panthers were without two wide receivers as both Curtis Samuel (medical illness) and Damiere Byrd (knee) were declared inactive before the game; defensive end Efe Obada and cornerback Josh Hawkins, who was just signed on Saturday from the practice squad, got Panthers jersey for the first time.
Rookie cornerback Donte Jackson had his second interception in as many weeks as he picked off a pass intended for John Ross along the sidelines in the first quarter – he became the first Panthers player in franchise history to pick off two passes in the first three weeks of the season. He would then pick off his third later in the game.
Luke Kuechly briefly left the game in the fourth quarter with cramps to get an IV in the locker room; Kuechly would also get a pick on the final Hail Mary of the game.