The Carolina Panthers entered the 2018 NFL Draft with a clear need at the running back position, looking for the running back of the future to line up next to Christian McCaffrey, but as the picks came and went, Marty Hurney and Ron Rivera ultimately found that the right runner wasn't available – when the team couldn't find their running back of the future in the draft, they reacted quickly to find a running back of the present, signing 27-year old CJ Anderson to a one-year deal the week after the draft ended – Hurney and the team had been in touch with Anderson since he was released in mid-April.
The running back who has never averaged less than four yards per carry says he still has a lot to learn as far as the playbook goes, but he's excited to work with an offensive coordinator like Norv Turner as he acclimates to a new locker room.
"I'm just trying to learn the playbook as we go – I came in here late so I was a little behind so I'm still catching up," Anderson said after the team's OTA session on Tuesday. "I think Norv's offensive mind is tremendous; I think his philosophy and what he's trying to do is just get his playmakers the ball in space – utilizing us and our abilities to the best; I'm excited that he understands my game and knows my game is going to put me in a position to win."
While it may seem hard to believe, the Carolina Panthers, despite their "ground and pound" attitude, haven't had a 1,000 yard rusher since they doubled down in 2009 with Deangelo Williams and Jonathan Stewart both breaking the barrier – although they've led the NFL in total rushing yards with 21,537 yards since 2008, they haven't had a player break into quadruple digits since Stewart's second season – although the franchise's all-time leading rusher came darn close in 2015 with 989 yards en route to a 15-1 season.
Anderson was one of nine NFL rushers to have over 1,000 yards in 2017, and it came as a surprise to many around the league when he was released; Anderson says that he doesn't know why there wasn't more of a market for his services around the NFL.
"Don't ask me, I don't know. Ask 32 teams."
"I came in the game undrafted – when I was undrafted, I felt like I was, I don't want to say misappreciated or underused, I [felt] like I didn't have the lack of respect then, and I don't have it now," Anderson said after signing his deal in Carolina, who he viewed as a championship-caliber team – one of the qualities he was looking for in a new destination. "I've always played with a chip on my shoulder, it doesn't change the grind and how I approach the game. Anybody knows who's seen me play, I try to do everything like it's my last – when I run the ball, like it's my last carry."
"I pride myself on knowing my assignment and knowing what's coming – trying to help out my teammates as much as possible, just being a cerebral guy on and off the field – [I'm] heavy in the film room, something I learned from the vets I got to play with in Denver."
One of the veterans Anderson played with was Peyton Manning, who started in Denver the first three years of Anderson's career, leading the Broncos to two Super Bowls in those two years – Anderson, who prides himself on his pass blocking, says there isn't much difference between blocking for Manning and another "high-demand" quarterback like Cam Newton, with one notable exception – Manning had 431 yards rushing over a 17-year career; Newton beat that number by over 300 yards – in 2017 alone.
"I mean, Peyton ain't going to get out of there."
Ron Rivera is glad to have a veteran presence in the running back room, although at 27, Anderson still considers himself one of the young guys on the team, even though he's racked up almost 700 carries in his five years in the league – that's almost 500 more than McCaffrey, who in only his second year in the league, has the second-most among Panthers running backs. Newton has 575 during that period.
"It's kind of neat having a guy that does have some background and some success in this league, so it'll be good," Rivera said this week. "I think it'll be good for Christian, I think it'll be good for CAP and the rest of the young guys, because you do see some of those veteran qualities come out and it's been good seeing him interact with those young guys."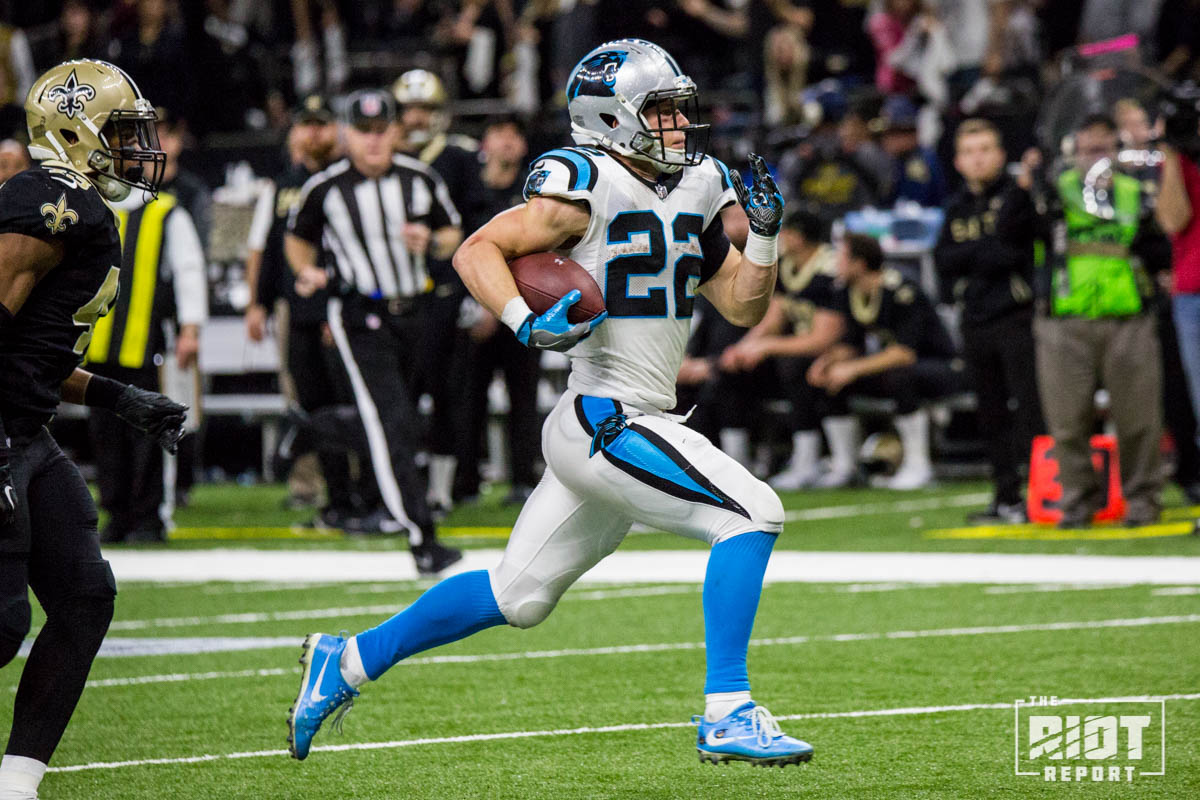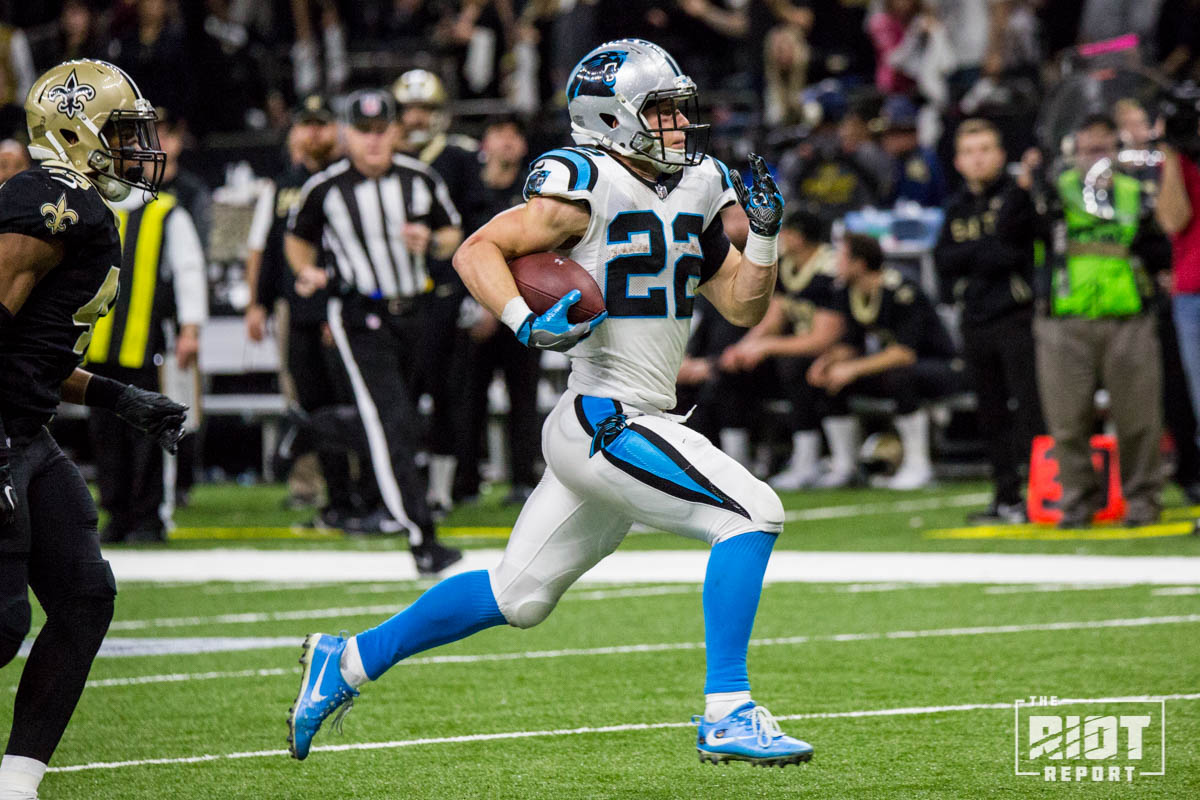 With the addition of Anderson, the Panthers have continued their goal of surrounding Newton with weapons all across the field – between targets like first-round pick DJ Moore, free-agent acquisitions Torrey Smith and Jarius Wright, a healthy Damiere Byrd, Curtis Samuel and Greg Olsen, Newton has a lot of talent catching the ball – add in another year of experience for Devin Funchess (still only 24 years old) and Christian McCaffrey and the Panthers offense may be downright scary as they head into the 2018 season – Anderson knows it.
"I'm happy to be here, I'm happy to be in Carolina. I'm in my prime, I think I've got an opportunity to do something really special here."
"There's one football, [but] team success always comes first. With team success comes individual success, if Funchess and DJ and Greg and Jarius and Torrey catching balls down the field, it'll open up a lot for myself, Cam with his feet and C-Mac with his feet, so having that option in the pass game, that threat that we can push the ball down the field."
"We've got so many weapons it's going to be hard to prepare for us."