Sometimes it takes something that's out of your control to change your trajectory – and that's exactly what happened to 2017 fifth-round pick Corn Elder.
When lingering knee pain sent him to the doctors that would eventually reveal a stress fracture to his patella just as training camp began last season, it was a far cry from the storylines fans and pundits alike had already written in their minds for Elder in his freshman NFL campaign – be the backup to Captain Munnerlyn at inside cornerback, allow the nine-year veteran to teach him his craft and eventually move into the slot corner spot when Elder, who had starred in two sports in high school, was ready to make the jump to the starting role. At 5'9 and 185 pounds – Elder is listed at 5'10 and 185 – Munnerlyn's similar statue, NFL experience and veteran leadership would lend itself well to a pupil like Elder.
And then the knee brace came. And watching practices on the sidelines. And eventually injured reserve. But just because you can't participate on the field doesn't mean you can't get better, and that's exactly what Elder did over the past year, constantly watching film and picking brains of the other players on the secondary as they critiqued their form in the film room, from James Bradberry to Mike Adams to Munnerlyn.
"I was just trying to take a little bit from each one of the guys who have had success in the league," Elder said last week. "Watch their technique and watch how they play the ball. just trying to be a better student of the game."
"It definitely sucked to miss last year, but now it's a new season, a new year;  I try to leave that in the past and come out here and be the best me and just try to improve everyday. I got a chance to sit back and watch a lot of film, just be in the meetings, listen to the coaches and watch the games – I definitely think it helped me out from a mental standpoint, being able to see everything – so I could say it was an advantage a little bit, from a mental aspect."
Elder rehabbed his way back to 100% and has been a full participant in practice thus far during the season – but here's where the narrative changes. Once expected to stay on the inside, Elder has been taking most of his reps at outside cornerback, a spot where the Panthers will need even more help after the injury to Ross Cockrell, who was expected to contribute from a depth perspective – in fact, Head Coach Ron Rivera likes what he sees from Elder as they've given him a chance to play both spots thus far in training camp.
"We've given him the opportunity to play both inside and out and he's done a nice job," said Rivera. "He's really starting to come along, I think he's feeling more and more comfortable, a little bit more confident out there moving around. He knows a little bit more too, so that's been good to see."
From The Outside In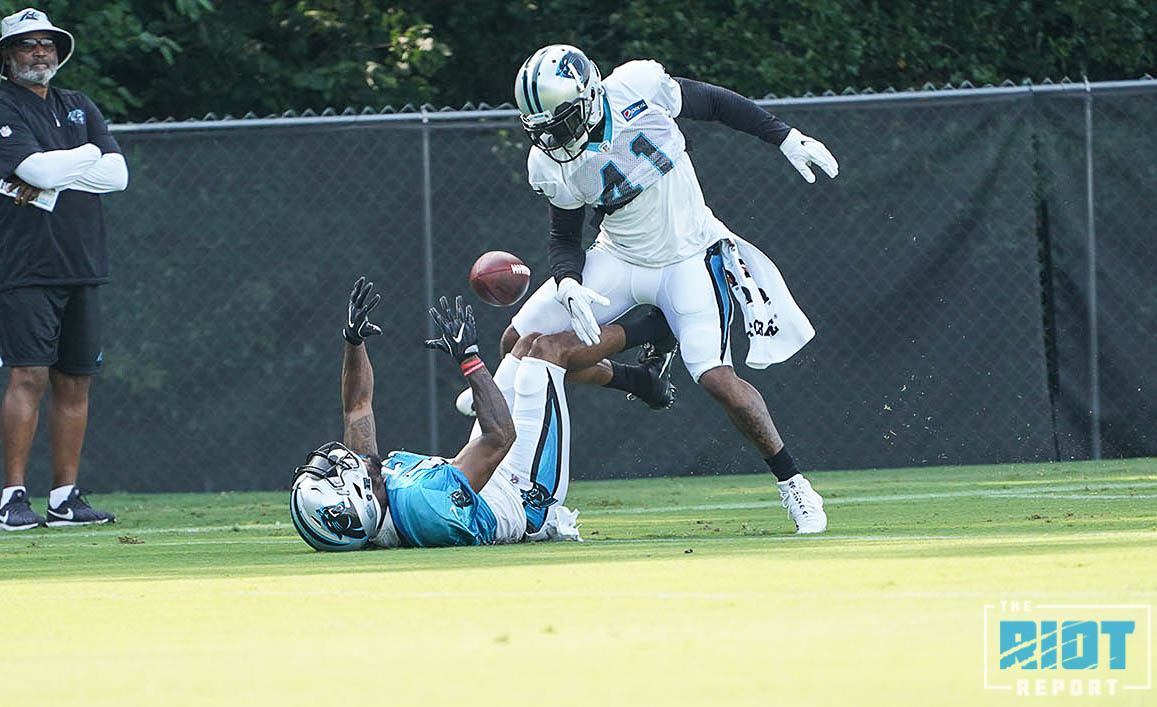 The move from inside to outside is actually the opposite of the path Captain Munnerlyn took when Rivera came to the cornerback early in his career and told him that with his skill set, he might make for a good inside corner – Munnerlyn resisted at first – "I don't want to go in there!" – but eventually acquiesced and made a name for himself on the inside; Munnerlyn says it will be an easy transition for Elder to go for inside to outside because, and both Elder and Rivera agree, it's harder to play inside than outside.
"A lot of guys don't expect it to be so tough; it's definitely tough in there, man," Munnerlyn said, jokingly asking to add into the article that he should get paid more for playing the tougher position. "A lot of guys have got a two-way go on you, [and] when you're playing outside, you can eliminate routes by splits and different things like that, but inside, man, you've got to be on your p's and q's – you've got to keep your eyes on your luggage, you've got to follow guys – things happen so fast and then you've got to be able to tackle."
"I don't think it will be so much tougher on [Elder] to play outside, because you can eliminate routes – playing inside is definitely tougher."
The Panthers used the nickel cornerback sparingly last season, opting instead to use the 'buffalo nickel' package that featured Shaq Thompson playing the hybrid linebacker/cornerback position – whether it's Thompson or Munnerlyn, Elder or Kevon Seymour, the inside cornerback is a position that requires a knowledge of run fits, man and zone coverage and the ability to be a good blitzer off the edge. Even though Munnerlyn is getting most of the reps at inside corner with the first team – he says more than he got during last year's camp – and Elder is taking mostly outside reps with the second team, Munnerlyn's not taking any job for granted.
"I just can't say, 'I'm the starting nickel and that's it' – I've got to compete and win that job, even in year ten; I've been a firm believer, a guy that had a chip on his shoulder, and I believe this chip is back. It makes me hungry, it makes me want to play even more, makes me want to compete and make plays. We've got a lot of questions up in the air, a lot of question marks. If you look at a lot of positions, you don't know who's going to be the starting corner, the starting nickel, starting safeties and I really think that's good.
"Competition is going to bring out the best in everybody, it's going to help everybody play at a very high level and the best man's going to win."
'From Seven Years Old All The Way Up'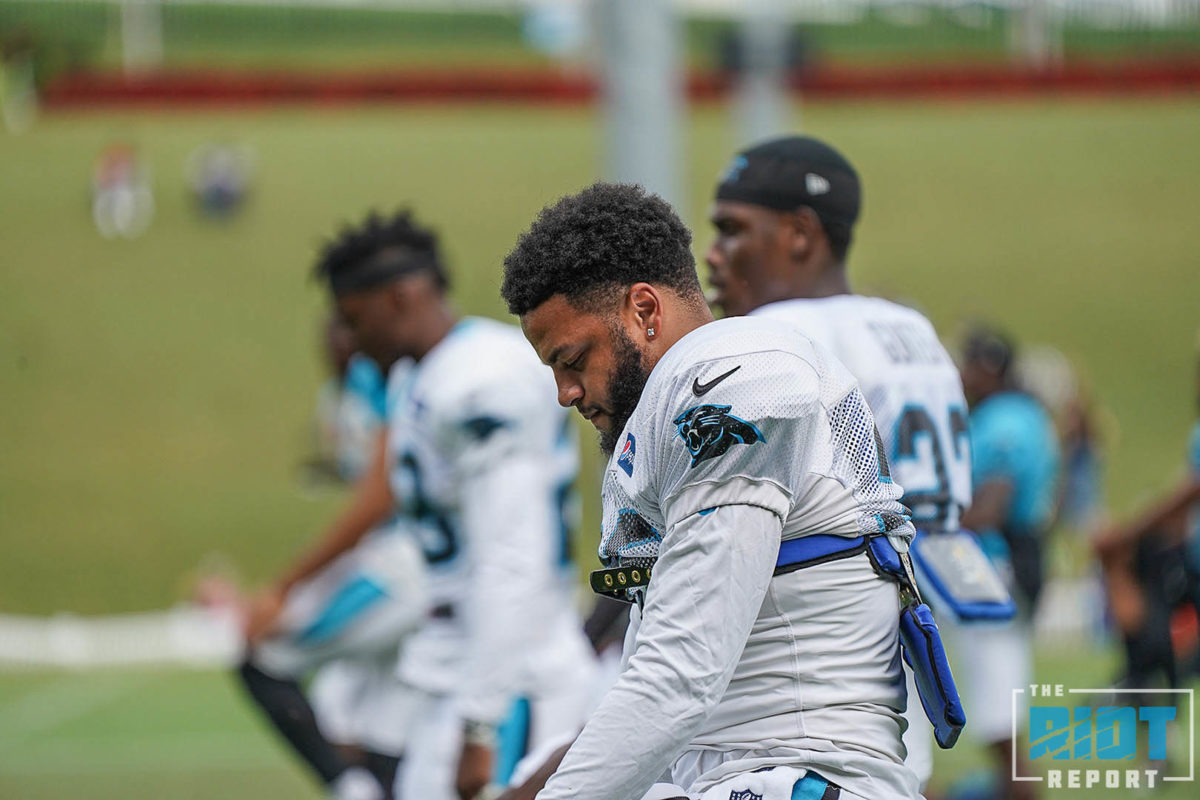 One thing Elder knows how to do is compete – he's been competing with one of the best cornerbacks in the NFL since they were seven years old. Elder and All-Pro Jaguars cornerback Jalen Ramsey were teammates as freshmen at Ensworth High School in Nashville before Ramsey transferred a year later to rival Brentwood Academy. While Ramsey was ineligible the year after transferring, Elder would personally put up over 300 yards of total offense when he played Brentwood as a sophomore, even juking out future teammate Rashaan Gaulden on a 50-yard run – Elder still teases Gaulden about that one.
Elder even excelled at football and basketball, something that neither Gaulden nor Ramsey can say, getting multiple scholarship offers to schools for both sports – Elder can even still dunk the ball, something that Captain Munnerlyn had to see to believe.
"Yeah, he can dunk! Two hands!" Munnerlyn exclaimed in disbelief. "I was like 'Man, you can't dunk!' I didn't think he could do it, but to see him do it was like 'Wow, this kid's got something.' He's an athlete, he's definitely an athlete."
While Ramsey went to USC and Elder went to Miami after high school, the two never lost touch; Elder says he talks to Ramsey almost on a daily basis, and the two worked out together this offseason, along with Jaguars corner AJ Bouye, Chargers corner Casey Hayward, and Panthers third-round pick Gaulden – who competed with Elder and Ramsey in Nashville.
"He raises my level of competition, he's a great player – probably the best corner in the NFL right now," Elder said about his former teammate. "I'm just trying to stay up to his level, working hard and competing everyday."