While the Panthers' trade for Sam Darnold has reduced the urgency with which they will look to address the quarterback position in the upcoming draft, the Panthers will almost certainly be keen to make another move at the position if they think the value for right. While this could happen in the first round, the Panthers may look to address more pressing needs early on before going back to quarterback later on in the draft.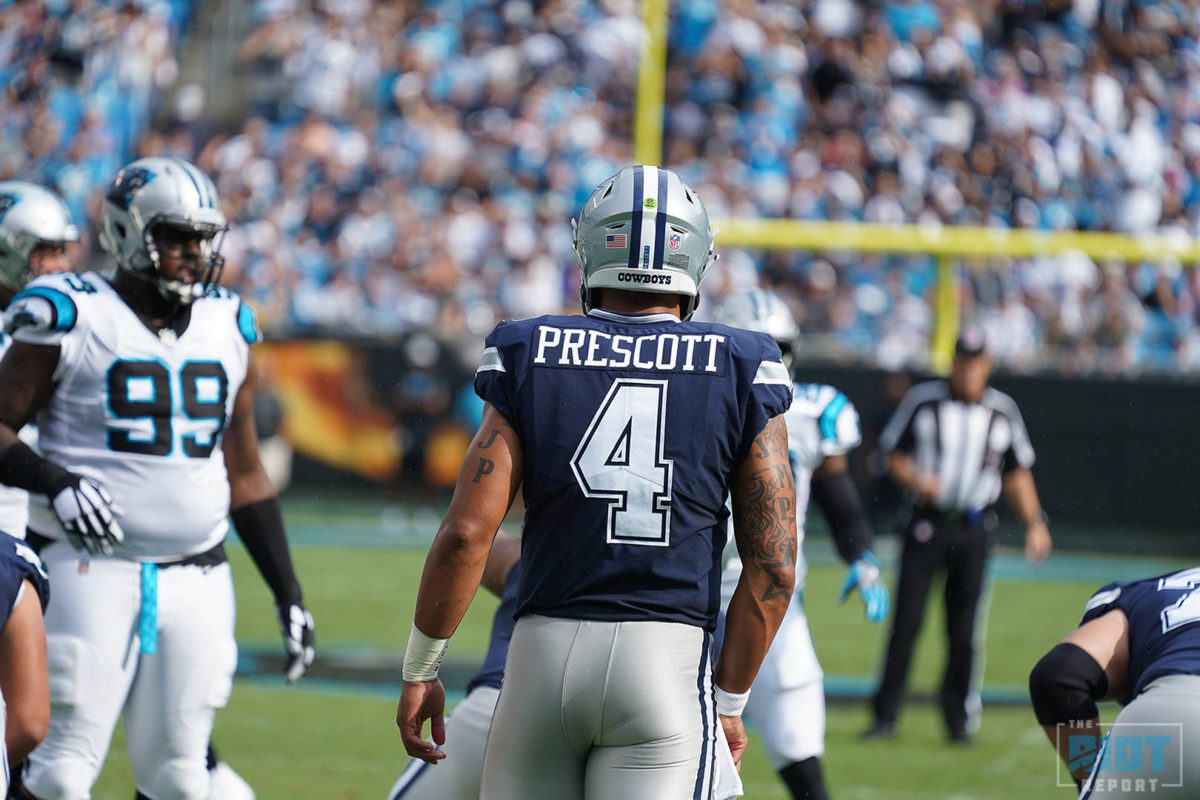 This is not a foolish idea, after all lots of the NFL's top quarterbacks have been selected outside the first round. While these players often have more question marks or don't quite fit the eye test of the prototypical NFL quarterback, for a team like the Panthers that has an insurance option on the roster this allows for a more low-risk approach while still offering a very high reward.
If the Panthers do take this approach and look to select a quarterback on the second day of the draft, one name who has started to get more buzz around the NFL is Texas A&M's Kellen Mond, so we've taken a look at the tape to see what he shows to get teams excited, as well as why he might not be getting as much first-round love as some others in this class.
As a pure thrower of the ball there is a lot to like with Mond. He has the arm strength to push the ball down the field:
And shows really good velocity to fit the ball into tight windows down the field:
This really shows up when he is asked to throw off-platform, and while the likes of Justin Fields and Zach Wilson have got a lot of attention in recent weeks for some of their pro day throws, there are some really impressive throws in the same mould from Mond on tape:
The one thing that he doesn't show as consistently on tape is touch, the ability to judge depth and drop the ball into vertical windows down the field. There are flashes of this on tape, but they are flashes rather than a consistent theme:
To be clear, this isn't something that Mond does badly on tape, it just wasn't something he was asked to do a lot (or trusted himself to try and do). This isn't the end of the world, Lamar Jackson was another prospect who didn't attempt many touch throws in college, but this is something that he will need to demonstrate that he can do at the next level.
Mond doesn't just have a powerful arm, however, he is also highly accurate, showing the ability to fit the ball into tight windows down the field:
And is not just able to hit receivers underneath, but also shows the high-level accuracy to put the ball where only the receiver can get it, though whether they could make the catch was another matter:
This combination of accuracy and velocity leads to some really remarkable throws on tape:
As a pure thrower then, Mond might be in the very top tier of quarterback prospects but he still has a good arm by NFL standards and if he can demonstrate the ability to consistently make touch throws down the field then there are going to be very few NFL quarterbacks with notably better arms than him.
Of course, playing quarterback isn't just about throwing the ball, and how Mond is able to make decisions from the pocket will likely be a key factor in determining his success, or lack thereof, in the NFL.
Mond certainly is one of the best quarterbacks in the class at working through reads, showing a consistent ability to work through his progressions to find the open man:
Though in the Alabama game in particular (possibly in part because this was the game where he was facing consistent pressure) he did seem to try and force balls into earlier reads at times when there were much easier throws to be made if he kept working through his progressions:
Though this did show up in other games well, where he seems to get locked into one particular read, with causing him to pass open easier options:
Or making it easier for the defender to anticipate where he might be going with the ball:
This wasn't a particularly persistent problem with him on tape and, in many cases, he did have the arm to get the ball there regardless, but is something to watch out for.
Something not unrelated that did get him into trouble in college was his tendency to try and force passes that weren't there and just trusting his arm strength to get it done. Sometimes he was able to get away with this:
But sometimes he wasn't:
On the whole Mond has done a very good job of protecting the ball, and this was one of just 3 INTs he threw in 297 pass attempts last season, but as windows get tighter and defenders get more athletic in the NFL, he is going to have to ensure that he is a little more judicious with his aggression when it comes to decision making.
One thing that is very encouraging from Mond on tape is his anticipation, with the ball coming out of his hand either before or just as the receiver comes out of his break:
This allowed him to be one of the best, if not the best, quarterbacks in the class against the blitz, even if his receivers weren't always up to the task:
Though it must be said that Alabama really pushed this to the limit as times, and while he is arguably the best player in the class in this regard, there were times where defenders were able to disrupt him before he could get an accurate ball out to an open receiver:
There were definitely times on tape when the ball could feasibly have come out faster:
But while not perfect he is certainly much further along than most college quarterbacks are in this regard and should be the player most prepared for the speed of the NFL game out of this quarterback class.
No quarterback makes the right decision every time, and there are going to be time when blitzes get home even against the fastest processors of the game, and while Mond is not some exception to these rules he is really very good. Like every prospect, he will be challenged by the increase in speed and complexity of the NFL game, but based on his tape he is the best prepared to deal with that of any prospect in this class.
That doesn't make him a sure-thing, there are no sure-things when it comes to quarterbacks, but an argument can be made that he is the least likely to completely bust of this year's quarterbacks.
In terms of mobility, Mond is certainly able to break the pocket and scramble for yards if nothing is open:
And can offer some threat as part of an option attack:
But is really not a dual threat quarterback and what he offers in terms of scrambling is more of a bonus to throwing quarterback rather than being something a team should expect to incorporate as a regular part of the rushing game:
His mobility certainly isn't a limitation on his game, but in the current NFL where there are very few true pocket passers it likely isn't a notably plus either.
Overall, Mond might not have the highest ceiling of the prospects in this class, though he certainly has the arm to be a good NFL quarterback, but he has arguably the highest floor of any quarterback prospect in the class. For the Panthers, while that should come as a reassurance, with Teddy Bridgewater and Sam Darnold on the roster it will be his comparative upside that holds the real appeal.
While Mond might end up being better than some quarterbacks who do end up going before the Panthers pick in the first round, it seems most likely that Mond would make sense as somebody to come back to on day two rather than somebody to target with the eighth pick. It only takes one team to fall in love with a prospect for them to go much higher than anybody expects, but if Mond is still on the board come the second or even the third round then he would be excellent value.
A real gem in fact.
(Top photo via Jerome Miron-USA TODAY Sports)