Look around social media and you'll see that the Panthers wideouts tend to have emojis tied to their names.
DJ Moore employs the 💫 in most of his posts. Robby Anderson has been partial to the 🚀. And fourth-year wideout Curtis Samuel?
He might want to start using the 🤫 emoji after his virtual press conference Thursday morning.
When asked about Samuel in June during his media availability, offensive coordinator Joe Brady stressed that the wide receiver who just turned 24 years old could be used all over the field – Matt Rhule let slip that Samuel had experience as a running back.
And when Samuel himself was asked about how Brady exactly planned to use him, he gave a massive smile before keeping his answer close to his vest.
"I'm not really going to get into the details and spoil it [or] give people hints as to what's to come, but with my skillset, I have the ability to do so much outside, inside, and play running back," Samuel said on a Zoom conference call on Thursday. "I've had a lot of experience playing different places in my career – that definitely gives me the flexibility to do more."
During his final season at Ohio State back in 2016, Samuel not only caught 74 receptions for 865 yards and seven touchdowns, but he also rushed for 771 yards on 97 carries. The thought is that Samuel is expected to be lined up all over the field in Brady's offense – and that's an intriguing possibility for a player who consistently seems on the verge of a breakout season.
"Each and every day when I go out on that practice field, I'm excited, because I know it's something special," he added.
"I think the thing that intrigues us about Curtis is obviously he has tremendously deep play ability. He gets behind people," Panthers head coach Rhule said recently. "But he's also so versatile. We see him as a guy that can be a running back. We see him as a guy that can be a slot. We see him as a guy that can be an outside receiver."
"He brings, to me, kind of going back to his days at Ohio State, a sense of versatility that we think can be fun."
With Brady calling plays for new quarterback Teddy Bridgewater along with Moore and Anderson, the Panthers offense could be headed for a eruption this season, with speed as the theme.
"So much speed in our room," Samuel said. "So much speed. You've got guys that can blaze by you. That's a threat, and that's something that we have to our advantage. When we line up against defenses, they know that they've got to get running."
It's that speed that will open up opportunities across the field for the Panthers offense.
"When you have speed at receiver, a lot of cornerbacks, whatever system they are in, they're probably not gonna press, so that opens up the quick passes underneath," Samuel said. "It opens up a lot of things, because a lot of defenses and a lot of safeties, they want to back up. They tend to play back because they know the speed that they have, which allows tight ends or other receivers on underneath routes or even tailbacks. It opens up so much more when you've got speed."

Samuel is coming off a career-high 757 scrimmage yards last year and seven touchdowns last season, but never fully got going in 2019. Some of that was due to Panthers quarterback situation last year, with Kyle Allen and Will Grier's inability to get the ball downfield accurately – Allen rated out as the worst deep passer in the league and according to Josh Hermsmeyer at FiveThirtyEight, Samuel had one of the best seasons of any receiver in the last three years when it comes to separation over expected per play in 2019.
But Samuel said what happened last year is in the past.
"My job is just to try and get open and get the quarterback a read somewhere to throw the ball," said Samuel. "Sometimes I may run a bad route, and sometimes the quarterback may throw a bad ball, but it is what it is. I can't get frustrated about it. It's about going onto the next play, keep executing, and the ball will find me."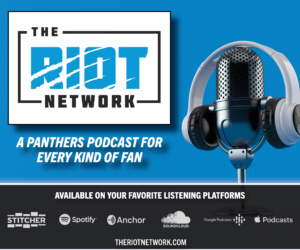 Earlier this offseason, perhaps because of those separation numbers, teams were calling the Panthers about Samuel's services and seeing if he would be available via trade.
"I'm not really worried about that, we're past that point," Samuel said. "I'm a Carolina Panther right now, so my focus and my goals are just to get better each and every day. Like Coach Rhule says 'get 1% better' I can't be worried about the past and whatever happens, I've just got to focus on now and getting better and helping this team out."
"I'm worried about the group of guys that we've got in our room, how fast we are. We worry about ourselves, the sky is the limit."