While Torrey Smith might have surprised some people when he named DJ Moore as, in his view, the most underrated receiver in the NFL, with three consecutive 1,100 yard seasons over the past three seasons he has been a notable bright spot on a Panthers' offense that has otherwise struggled.
It should go without saying, therefore, that Moore looks to be a core piece of what the Panthers are trying to build and, having signed a three-year extension this offseason, Moore looks to have a chance to continue piling up big numbers in the Carolinas for a while yet.
Most importantly. given the poor standard of QB play that the Panthers have had to deal with in recent years, there's a chance that Moore's production could reach even higher levels, especially when it comes to getting into the endzone (he has just 12 receiving touchdowns over the past three seasons) and making big plays down the field.
If you'll recall, Sam Darnold's deep passing accuracy wasn't half bad in 2021, at least from my charting.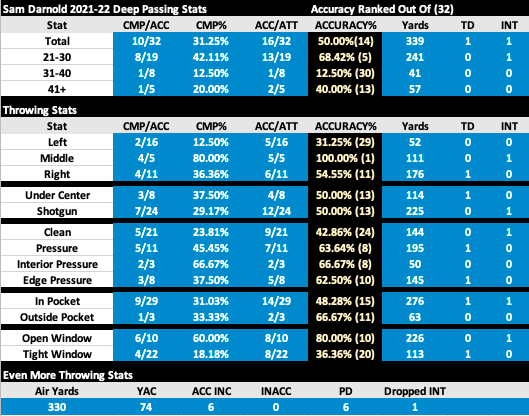 Darnold ranked inside the top 15 for deep accuracy among 32 quarterbacks in 2021, a step up from the frustrating lack of downfield precision from Teddy Bridgewater in 2020. Bridgewater himself ranked 25th out of 34 quarterbacks in deep accuracy from my charting, so it would make sense to assume Darnold was able to get more out of Moore than Teddy was.
But if you take a look at the splits between the two QBs, something is completely wrong.

Despite the superior accuracy percentage overall compared to Bridgewater (50% to 42.50%), Darnold's deep accuracy to Moore was actually inferior by a significant margin: Bridgewater was accurate to Moore on 53.33% of his deep targets to him, while Darnold was only accurate on 38.46% of them.
The frustrations of watching Darnold play didn't exactly translate that much to his overall deep accuracy, but it certainly did when targeting Moore. For Bridgewater's faults and limited arm strength, he at least got more (no pun intended) out of Moore downfield than the ghost whisperer did.
The connection differences are all the more puzzling considering Darnold was more accurate with receivers who aren't as highly polished as Moore.

Now, the only deep receiver remotely comparable to Moore would be Robby Anderson, as he was the only Panthers receiver to receive a similar amount of deep targets. Amazingly, from a yardage total, Darnold to Moore was still the most successful connection. Yet, when I look at it further, something doesn't add up.
Anderson had a rough year coming off a contract extension as, according to Football Outsiders, he was 89th in receiving DVOA, which judges receivers by snap to snap efficiency. Why was Darnold more accurate throwing to him than Moore then?
Here's the catch: Darnold's completion percentage throwing to Moore (30.77%) was higher than his completion percentage to Anderson (16.67%). Anderson also had four Accurate Incompletions (plays where the receiver cannot haul in an accurate pass from the QB) while Moore had just one. So if we take accuracy out of the equation, it turns out the Darnold-Moore connection was superior.
But even if this is the case, it still does not disprove that Darnold left plays on the field targeting Moore. And that's where another catch comes in.
Looking at the depths of Moore and Anderson's targets, it's clear the closer to Darnold, the more accurate the pass. Darnold's accuracy on throws of 21-30 yards ranked 5th among the 32 quarterbacks on the 2021-22 Deep Ball Project. From 31-40 and 41+ it ranked 30th and 13th respectfully.
On throws of 21-30 yards, Darnold was accurate to Moore on 4 of his 7 passes, a 57.14% Accuracy Percentage, but he was inaccurate on all but one of his 6 targets on throws of 31+ yards, completing none of those passes. By comparison, Darnold was accurate to Anderson on 5 of his 8 passes to the 21-30 area (62.50%), but was only accurate on 1 of 4 passes attempts of 31+ yards.
So that's it: With fewer attempts to Anderson on throws of 31+ yards and slightly better accuracy on throws of 21-30 yards, that explains why Darnold and Moore failed to connect in 2021.
But how could this change in 2022?
Darnold didn't miss too many open receivers down the field in 2021, but the ones we did see were an early indication of the Panthers' inability to create insurance points and build on fourth quarter leads. Off the play fake on a simple deep corner, Moore is able to crack through the zone coverage, leading to an easy opportunity for a chunk play.
The issue is Darnold packs a little too much heat with this fastball, and human physiology just doesn't allow for Moore to extend as far as he wanted to, resulting in this inaccurate throw bouncing off his fingertips.
Misses like the ones in Houston were offset by the incredible defensive display, but once the Panthers faced more dynamic offenses, the cracks in the Panthers offense were exposed. Moore sells the slant against Trevin Diggs, cutting up and breaking into a deep go. The jolted head fake used by the receiver just as he breaks is wasted as Darnold throws this too outside and long, and what should end up as a touchdown at most gets left on the Texas turf as an incompletion.
Once again the accuracy is seriously off from Darnold, which is a shame because the technique used by Moore is again excellent. The corner (No. 7) defends this like he's anticipating a curl route, but thanks to a wipe move and cut inside from Moore, this turns into a go. The anticipation from the quarterback is good since he throws this just as the receiver is about to cut up field, but that's about it for positives here.
Sometimes, throws are just off, and it would be unrealistic to expect any quarterback to not have a few such misses on tape but, given how rarely the Panthers did try and push the ball down the field in 2021, the number of misses is concerning. There are things the Panthers can do to help this, and better offensive line play that creates a more consistent pocket for Darnold to throw from should not only increase the frequency that they can push the ball down the field but, as a result of that being a more regular part of the offense, there should be some hope that they able to connect more consistently as well.
Importantly, while Darnold did have some ugly misses throwing the ball past thirty yards, not every failure to connect down the field should be placed at his feet.
I can forgive Darnold for this incompletion because the coverage is better than the route or throw. Moore tries to make work back shoulder, but it was not meant to be.
For a change this next incompletion is actually Moore's fault. Everything leading up to the catch manages to go right: Moore gets a step, Darnold is well protected, and the throw is on target. But Moore's usual sure fire hands can't bring this back shoulder toss into his grasp, wasting the one accurate throw between the two 31 yards and beyond.
I'm not sure this should've even been attempted, but it's understandable considering at this point the Panthers were trailing by multiple scores in the fourth quarter. The throw needed to be on Moore's back shoulder for it to work, but with too much heat it leads to the receiver barely escaping traffic by the skin of his teeth.
As someone that's been a big piece to Carolina, Moore' has taken the time to improve as a vertical threat, crafting his route running, head fakes, and sells to the best of his ability. Combine this with the amount of money the Panthers are paying him, and an answer needs to be at quarterback sooner than later. Sam Darnold's passes are often too high and pack way too much mustard to connect with Moore, and unfortunately he's at the stage of his career where he's had more than enough time to turn his career around.
With a few games exception he has not done that.
Moore is still just 25 and, with lots left in the tank and several years left on his extension, he should be one of the core pieces for the Panthers for the next half a decade and possibly beyond. The lack of good quarterback play has prevented him from getting the attention he deserves, and has also meant that his significant development as a vertical threat has not been matched by an increase in production.
However, if the Panthers can finally create a situation where they have a quarterback and an offense that can push the ball down the field accurately and consistently, then Moore has a chance to make an even greater impact.
(Top photo via Brandon Todd/Carolina Panthers)