Anytime a rookie comes into the NFL, they have to learn a lot in a short amount of time and D.J. Moore wasn't any different last year.
Not only did Moore have to adjust to the speed of league, but he also had to learn a new playbook on the fly – as he enters his second season in the league, Moore says he believes things are slowing down for him now that he is familiar with the playbook.
"I'm playing a lot faster," Moore said on Monday. "Practicing faster [is what] the coaches said, so I'm going to just keep doing what I'm doing."
Moore had a solid rookie campaign in 2018 after the Panthers selected him with the 24th overall pick in the draft. In 16 games, Moore was able to catch 55 receptions for 788 yards and two touchdowns – he also averaged 14.3 yards per reception as Moore started 10 games last season; in the second half of the season, once he was up to speed – pun intended – on the playbook, Moore had 37 catches for 507 yards in November and December after only 18 for 281 in the first two months of the season.
In the Panthers' 20-19 Week 11 loss against the Detroit Lions, Moore arguably had his best performance of the season as the wideout registered seven receptions for 157 yards and a touchdown, the most by any rookie wide receiver in franchise history and most by a rookie wide receiver in the NFL in 2018. In fact, his 960 yards from scrimmage were the most for any rookie in the NFL.
While Moore said he had a "solid" rookie season, there's room for improvement.
"It can always be better," Moore said. "I could have picked up the playbook faster last year, but they just did what they had to do get me along with the team, and I made plays when they asked me to."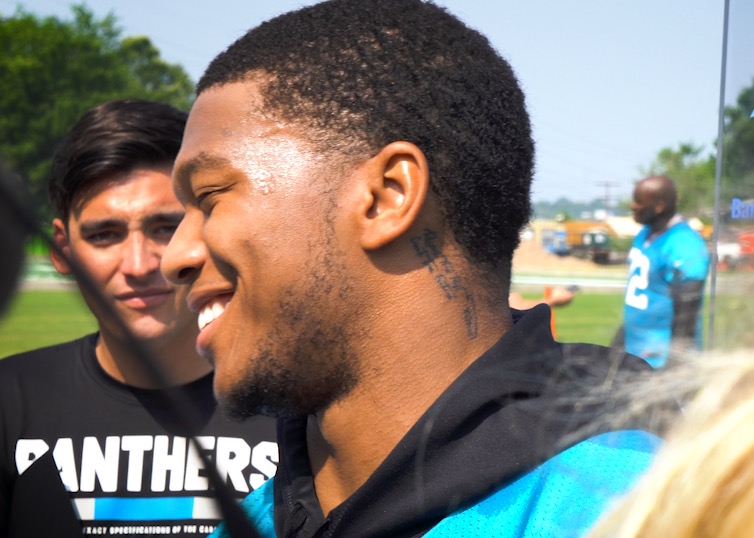 With Moore making 37 of his 55 receptions during the second half of the season, could his performance during the second half of the season be a sign of things to come?
The Panthers coaching staff certainly hopes that's the case as the team let Devin Funchess leave for the Indianapolis Colts in free agency as they expect Moore, along with Curtis Samuel, to potentially be go-to receivers for quarterback Cam Newton this fall. Carolina hasn't truly had a No. 1 receiver since the departure of Steve Smith after the 2013 season; Kelvin Benjamin and Funchess were both drafted to become future weapons for Newton and the Panthers offense, but neither player lived up to expectations.
After a season in Norv Turner's system, Moore is expected, along with the rest of the offense, to take a step forward; the idea is that one player isn't the #1 wide receiver — they all are.
"We're in our second season in this system that Norv has installed and you see guys doing things much better than they did last year," said Ron Rivera after commenting how impressed he was with the players retention during OTAs. "That's a huge plus."

In January, Jim Hostler was named the Panthers new wide receivers coach. Moore says Hostler has already had a positive effect on he and the rest of the receivers.
"Coach 'Hos' is a different type of coach," Moore said. "He is all about the details. So day in and day out, we gotta be on our toes with it, and we gotta be ready to go with it."
Speaking of Smith, Moore got a new tattoo that says "respect the past, create the future" with his signature star this offseason to pay homage to both himself and to other players that came before him. Moore also mentioned former Florida Gator and Minnesota Vikings receiver Percy Harvin as a player he grew up watching.
"Respecting everyone that was here before in the past that played in the NFL," Moore said. "And it is going to be a new turnover coming since it is the 100th year."
"It is going to be a new thing."