On July 9, the Carolina Panthers were officially placed in new hands for the first time in franchise history as the sale of the team from Jerry Richardson to David Tepper became final, and Tepper wasted no time in speaking to the media, answering questions for almost a half an hour at Bank of America Stadium Tuesday morning – the first time the owner of the Panthers had spoken to the media since 2011. Tepper showed his trademark humor and intelligence, beginning the day with a joke to team spokesman Steven Drummond about whether he was wearing socks and finishing the presser by ensuring cameras didn't capture too much of his chest hair as he held a football emblazoned with his name and the date he purchased the team on it – one that will surely live somewhere either in the halls of Bank of America Stadium or at one of the billionaire's many homes.
Tepper spoke frankly and openly about his predecessor and the issues that befell the organization under Richardson's watch, challenges the team faces moving forward, and most importantly, Spider-Man. Yes, Spider-Man. Here are some highlights from today's press conference, but feel free to listen for yourself, it's available to stream on our homepage.
Opening Statement: "I'm thrilled to be here – it's incredibly exciting. It's a great organization, a great football organization. Listen, it's a new day for this organization and hopefully we'll have bigger and better things to come, including Super Bowl Championships in the future."
On the culture inside the organization: In general, I like to have an open environment, a big family environment where everybody feels safe like a family – and that means you can come up and talk to people and there's going to be openness on all sides of this organization, on both the football side and the business side.
Listen. Whatever was, was. This is now. This is going to be an open place, so there's not going to be non-disclosure agreements no matter what in this new place – that was then, this is now. That was then, this is now. This is going to be an open place where people are going to have the right people to talk to – if I do something incredibly stupid, they should be talking about me. That's what this place is going to be.
I can't emphasize enough the openness I plan to have this organization have – the openness and team of this organization. There's been an atmosphere, and I'm talking more on the business side, wasn't allowed to be a team – not able to go off and talk about things. There's going to be no impediment to that in the future.
On the team needing a new practice field: This [is] one of the few places that doesn't have new practice fields, so obviously, we're in need. I think a lot of these things can't be done independently; I can't talk about a new practice field without talking about new stadiums and as I've said before, I view this as the Carolina Panthers, in both states. So we have to think about where we're putting things and one of the things I did say is winning is important; one way or another, we can't be less than competitive with other NFL teams, at this point, given our practice field and what other people have in the league, we're falling behind a little bit. The football side is very important and winning is very important – one of the aspects is that we treat our players right and we don't have any disadvantages to other teams in the league – so top priority would be thinking about that practice field.
Sometimes you get lucky where you don't think you're lucky; one of the things we're lucky is that we do have an old stadium that we do have to re-do, we do have an old practice field, we don't have new practice fields. And along those things, with some of the changes with the [laws to legalize sports gambling that just passed], we do have an advantage where we can think about what fans may want. We have to make sure they're in our building to cheer this team on, because I think an active fanbase, I think the fans are the twelfth man on the field. We want to make sure that twelfth man is in that stadium. If we do move the practice field to somewhere other than right next to the stadium, which doesn't necessarily make so much sense, you do open up a lot of areas for development and other development here.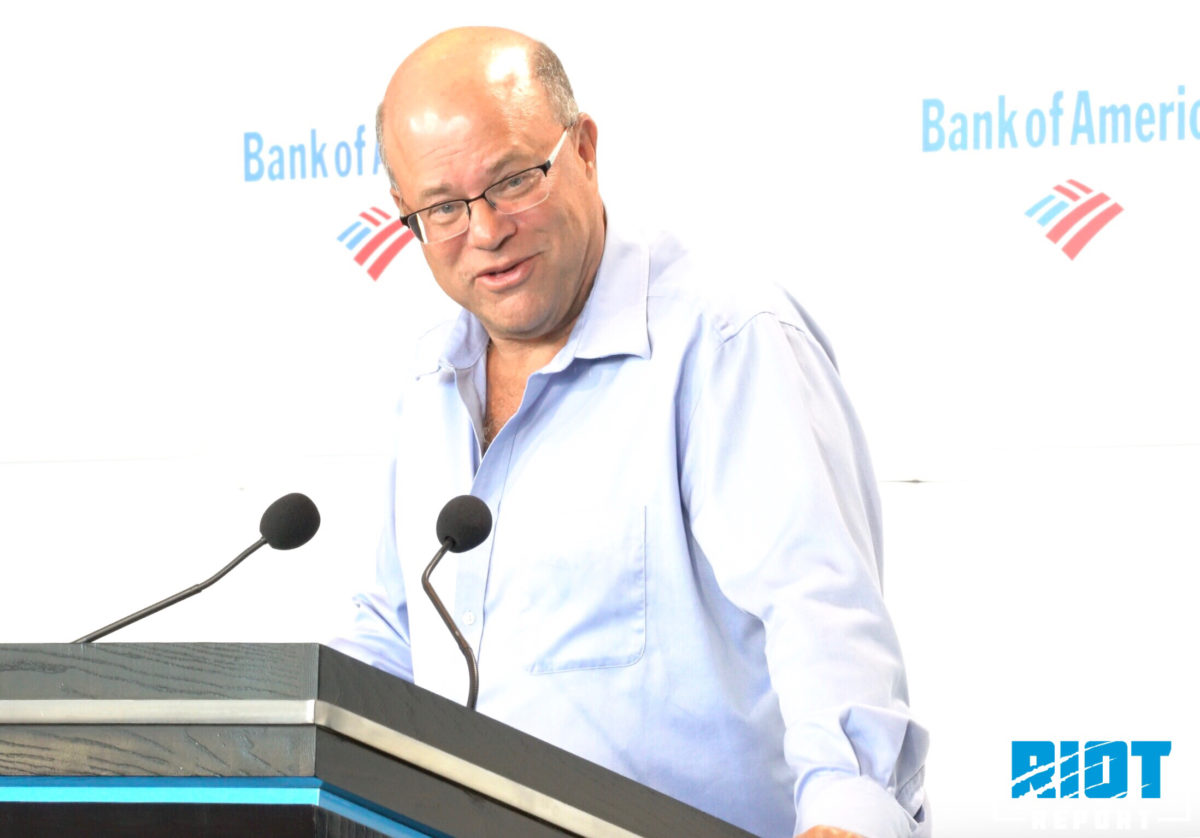 On other uses for Bank of America Stadium: Everything goes hand-in-hand in this community, it's not just the business thing, it's a matter of also things like high school games – I kind of think that high school championships should be played in that stadium, because that's part of the community; I also think that there should be more – I don't want to screw up the field, but I think there should be more bigger events there, the right type of concerts in that stadium that there really hasn't been. I'm going to utilize the stadium a lot more for the community because I think that's important for being a member of the community.
On speaking to the local government: I really haven't had any extensive conversations with governors and such – just a very quick greeting with the mayor and that's about it. There's a lot of discussions to have about how we do things here – I view this as a partnership. Again, like I said, this is the logical place for the stadium, not just with Charlotte, but also with the governor of North Carolina and the governor of South Carolina – even though I haven't really returned their calls yet, I'm happy to return those calls now, it wasn't appropriate before to do it. There's a lot to talk about; there's a lot of really interesting things on the development side to talk about for them, for me, for us, the Panthers, to consider.
On how a football team affects the community from a tax perspective: If I go and I put a development up and bring a lot of dollars in here, tax dollars in here, F&B dollars in here – if you have an F&B tax or a hotel tax or something like that and I'm bringing that tax in, I'm making that investment, I'm not asking for people who aren't using those facilities. So it's a lot of different ways you're talking about it, if we're talking about win-win situations, it can't just be for me and it can't just be for them. It has to be a partnership, a partnership means win-win and that's definitely possible – if we do a new development here that keeps people here not just on stadium days, if I make an investment in MLS and I bring that in here and I bring that many more dollars into the community and businesses into the community, that's more tax dollars generated, than that makes sense to split some of those tax dollars. That's not taxing people who aren't using those facilities, but they're using things I'm helping bring here – that's the partnership.
Next Up: The Search for a Team President, The Football Operations, and Player's Charitable Leanings