When Tepper fired Ron Rivera – a two-time NFL Coach of the Year and the winningest head coach in the history of the Panthers – he seemingly made it clear that he was not looking for a quick fix to a down spell for Carolina and an overall history of wild inconsistency from year-to-year. Rather, he was looking to build a program from the foundation up that would one day be successful – after a lot of time and effort to get to that point.
"Do you think I can promise to anybody that things are going to be great in one year? Do you believe in the tooth fairy? Santa Claus? Which guy do you like?", he said. "If you don't think I have to build something long-term, if you don't think it takes time to build something great, if you think something great gets built in one second, then that's wrong. You shouldn't expect it, fans shouldn't expect it.
"… There has to be a degree of patience to build sustained excellence – I'm going to say that again, sustained excellence. You say five years? Listen, you want to wait five years for sustained excellence? You think people will wait five years for sustained excellence? For 20 years of winning seasons? They better, if they want that. You're not going to get things (through) immediate gratification."
To that end, Tepper aggressively and successfully pushed to hire a Head Coach whose reputation aligned with that sort of vision: When Matt Rhule was introduced as coach of the Panthers, his claim to NFL head coaching candidacy had been his success in rebuilding Temple and Baylor, both instances in which Rhule's teams were not instantly successful before paying dividends over a process of several years. The expectation was that Rhule was going to be given leeway to implement his vision, and trust from ownership and the fanbase alike to see it through.
And yet, somehow, there is once again an air of uncertainty about just what will happen to the head coach of the Carolina Panthers.
In the week that has followed the firing of Panthers offensive coordinator Joe Brady, the Sword of Damocles has somehow been placed over the head of Matt Rhule thanks to his program's missteps and the unforgiving nature of professional football. As the media gears up for the NFL's firing-and-hiring cycle, one NFL insider cited a league source intimating that Rhule, currently in his second year as the Panthers' Head Coach, was "next" to go after Brady's in-season dismissal.
The long knives are coming out for Rhule largely because he has been made into an easy target: After a modest 5-11 first season full of missed opportunities, the Panthers seemingly ate the cheese after a 3-0 start to 2021 and made multiple "Win Now" moves despite the team not being ready to win in the immediate future. The result has been a 2-7 run that has highlighted errors in the team's approach and decision-making, particularly at the quarterback position.
It's one thing for restless fans to emotionally call for a coach to be fired or for media outlets to suggest that's what will or should happen. What really matters in such matters, though, is the opinion of the owner – And the innuendo surrounding his Head Coach of choice presents an important test of David Tepper's tendencies as an NFL owner.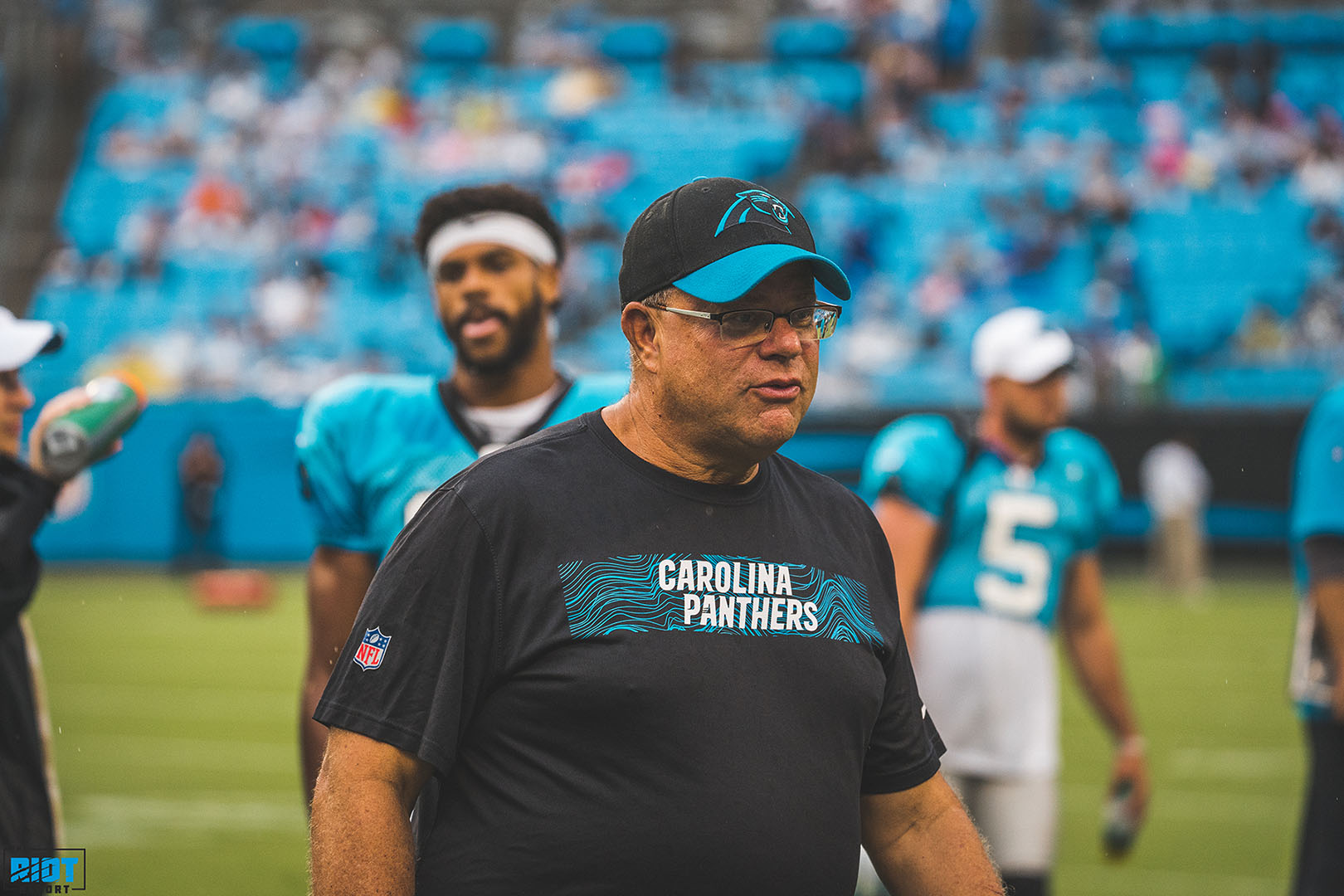 Four seasons into his tenure, there is still something of a burden on Tepper to prove that he is a smart owner as opposed to a mere 'finance bro' who thinks any problem can be fixed simply by spending money on it. Though Tepper has shown that he is capable of being patient and acting rationally as opposed to impulsively in the past – such as when he stuck with Rivera despite 2018's collapse – thanks to a lack of a sample size, and perhaps his own big personality and brass balls trademark, there remains an air of uncertainty as to just how he operates and what he is inclined to do in a situation such as the one his young head coach faces.
Whatever the cause of this perception, it has resulted in Rhule having to address the matter of exactly what Tepper thinks about the direction of the Panthers.
"Dave's been very supportive (in saying) 'Hey, what you think is best' to me and (general manager Scott Fitterer) in all areas. I think he's an excellent owner in that regard," said Rhule. "… From the very first time I got here, all I talked about was being a serious football place that's all 'football, football, football.' These days are hard, but hopefully it just continues to push it towards 'Hey, we're here, we've got to play well, we've got to win.' And that's for all of us."
Anyone who has heard Rhule talk over the past two years has heard the word "process" enough times that it's almost easy to start drowning it out. But Rhule, and other coaches like him, adopt the word "process" because it implies that the action of building a winning team is something gradual and deliberate: Something that doesn't provide instant results or gratification, but will eventually yield the desired result if followed through to completion.
That process is the way that David Tepper chose to go when he got rid of an established program – one which is now doing quite well in Washington – in favor of a new, long-term vision. And it's imperative that even now, as the sharks being to swirl, he sticks to that process.
Time and again, the process of hiring NFL head coaches proves to be neither sophisticated nor particularly well thought out. There are countless examples of a hot coordinator getting a job by virtue of their name, or of hires being made on the basis of "X worked with Y so he's got to be good." There are times where it feels like fans, and even owners, seem to think that coaches like Sean McVay grow on a tree and should have instant success (Case in point: Since 2019, four NFL teams have hired coaches with ties to McVay as Head Coaches).
But, much like players, coaches need the time and space necessary to develop as decision-makers and motivators. And there's plenty of anecdotal evidence to support this: Bill Parcells, one of the NFL's greatest coaches and Matt Rhule's idol, went 3-12-1 in his first season in 1983 and barely avoided being fired in favor of Howard Schnellenberger. In Carolina, Ron Rivera was 3-9 late in his second season before a 4-0 finish to 2012 helped lay the foundation for his team's success to come.
Whatever one thinks about how the Panthers have gone 10-18 the past two years, no one should have expected that Rhule's process would be perfect. Indeed, certain parts of the process – such as giving too much too soon to a big-name wunderkind who was the passing game coordinator on a National Championship-winning team – have served as stumbling blocks on the road to the sustained excellence the Panthers' owner covets. Given time, though, there's still reason to believe that Matt Rhule's process can be a winning one in the end.
For the sake of seeing things through and doing things the right way instead of the easy way, it's imperative that David Tepper sticks to the process that he talked so much about when Rhule was hired.