Much like he did immediately following the end of the 2018 season, Panthers owner David Tepper met with a select group of local media for almost an hour Monday evening at Bank of America Stadium and entertained questions about a multitude of topics, from building a new stadium, to the most important position in football to how to keep a fanbase engaged if a team needs to rebuild – but the assembled media, which consisted of 15-20 local television personalities, print, digital and radio personalities, were only given one direct quote that they could use, a quote that could likely sum up the overarching theme of the casual session that was less of a press conference and more of a bull session with a smiling Tepper:
"Every time we have a loss, my mood is shitty."
Here were some of the other topics the richest owner in the NFL addressed:
While rumors have swirled about the future of Cam Newton with the Panthers, Tepper said that no decisions have been made – and none would be made until the quarterback is fully healthy. When asked how he felt about the most famous player in Panthers' franchise history going on injured reserve a few weeks ago, Tepper asked if there were any scenario that would make sense for Cam to return this season – either the team was losing and the season was already lost, or Kyle Allen was winning and they would be changing horses in midstream late in the season. But the biggest takeaway was that questions about Cam's future – and there were multiple – could not and would not be answered until they were able to ascertain whether or not Newton was healthy and then they would go from there. When asked if it was a purely football decision, Tepper referenced something that came up a lot – the most important thing to him is winning. He also said that the decision that's made needs to be best for both sides – best for Cam Newton and best for the Panthers; but in a perfect world, Newton is healthy, he stays in Charlotte and the Panthers win a Super Bowl.
One player that got a lot of compliments was backup quarterback Kyle Allen, who, as an undrafted free agent who spent time without a job last season, is performing above expectations and has a heck of a story as he has taken the long way to becoming a starting quarterback in the NFL.
Tepper shied away from speaking in specifics about specific jobs, but the billionaire made it clear that he would not be content with long-term mediocrity. The team that he purchased ahead of the 2018 season was in shambles from a business perspective – there was no Team President and changes were needed across the corporate structure – but on the football side, they were also a team that had never had consecutive winning seasons and their record in 20+ seasons hovered right around .500. The current regular season record sits at 195-198-1. That's the opposite of what Tepper wants – and he's willing to take a period of losing to create a culture of excellence; while he'll pace himself, he's not going to wait forever – but he wants to make the correct decision for long-term success. But the current Panthers team has had some unusual circumstances – the franchise quarterback has been hurt for most of the past two seasons – so that's got to be weighed.
Speaking of losing, Tepper said he was up twice last night after getting blown out at home by the Atlanta Falcons 29-3 and he looks for accountability – and that starts with him.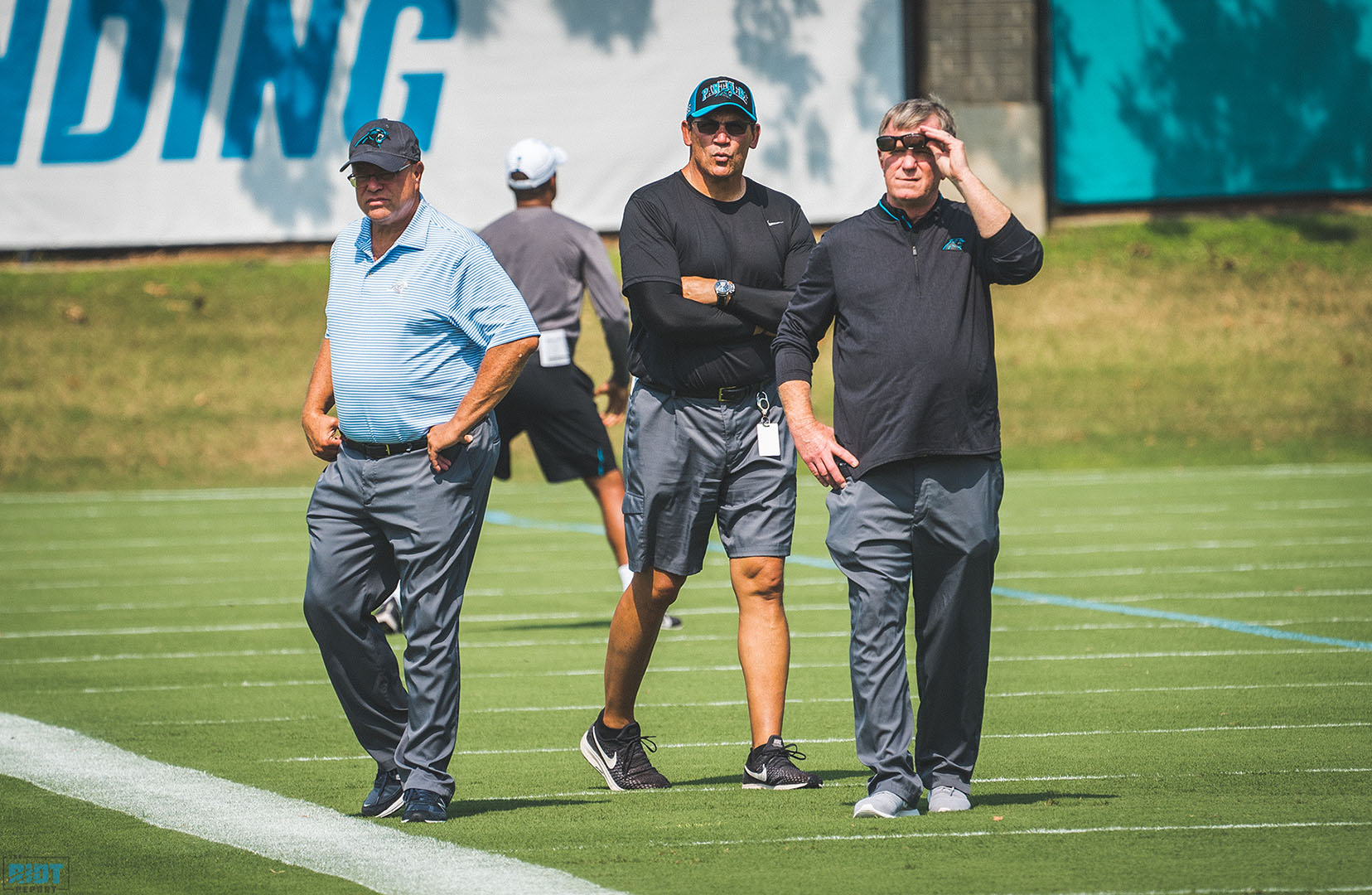 Even though the team did not attend this weekend's workout of Colin Kaepernick, Tepper said that he's got the film, but the team is not interested in bringing in a veteran QB – with their franchise quarterback on IR, a third-round pick on the bench and a backup quarterback that still has a winning record, that wasn't on their radar. And if they wanted to work out Kaepernick, they would have just called him and asked him to come to Charlotte to workout – why go to Atlanta when you could have him come to you?
On the subject of a new stadium, Tepper joked multiple times that he would be willing to gift a 25-year old stadium whose maintenance fees were going up by 5% each year to any reporter in the room, but he made it clear that he wanted the Panthers to stay in Charlotte forever. A beautiful stadium like Bank of America Stadium – and Tepper went out of his way to compliment his 25-year old, 70,000+ seat property – is only going to last for five or ten more years, and while they would look at a site like the Pipe and Foundry Co's 50+ acres a few blocks from the current stadium, like with the football side of the business, they're not going to rush into anything. They'll also be taking their PSL owners into account, as there would be multiple considerations to take under consideration – a team don't just move into a new stadium, but current PSL owners would certainly be valued and accommodated. While the Vikings blew up the Metrodome and built their new stadium in it's place, that doesn't seem like an option – unless the Charlotte 49ers add about 50,000 seats to host the Panthers while their new home was being built.
On the MLS bid, it's still in progress and they're hopeful to hear from the league soon – but if a team came to Charlotte, some changes would be needed to retrofit Bank of America Stadium for the other form of football.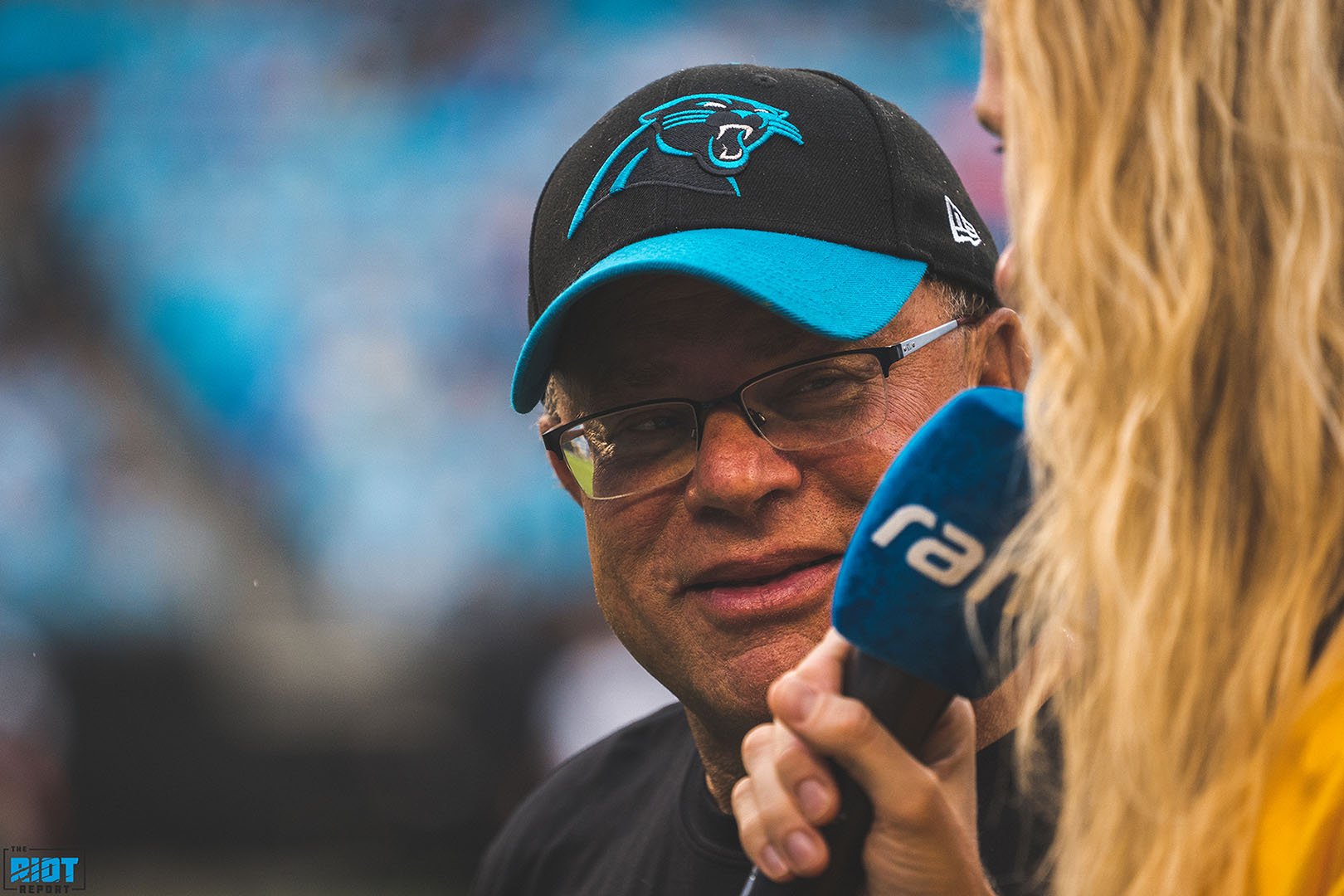 When asked about the dwindling crowds at Bank of America Stadium – an issue that certainly reared it's head on Sunday as there were plenty of empty seats and Falcons red in the bowl at Bank of America Stadium for a 5-4 team that needed a home win to boost their playoff hopes – Tepper's answers echoed the common sense answers you've probably thought of yourself. A lack of Cam Newton, mobile ticketing issues and an opponent like the Falcons, against whom the Panthers have lost seven of their past eight, instead of a marquee opponent like the Cowboys, have some empty seats, but the overall numbers are comparable to last season. While he would like for the crowd to be 150% Panthers fans, he acknowledged that the region is full of transplants and that marquee matchups draw larger crowds.
The value of fans across both Carolinas was brought up when speaking about next year's training camp – a decision will be made by February on where it would be held and it sounds as if both Wofford and Charlotte are on the table, but having a long camp in Spartanburg as they've done in the past may not be in the cards. Multiple practices outside in 100+ degree heat isn't sustainable and can make for a competitive disadvantage – especially not when there's a bubble waiting for you in Charlotte. But he made it clear how valuable he found the fans in the upstate South Carolina area and didn't want them to feel abandoned. The team's Rock Hill facility is expected to be at least semi-complete and ready for certain things by 2022; that would seem like a natural fit for future training camps at that time.
The biggest takeaway – in the Carolina Panthers organization with David Tepper as the owner, losing will not be tolerated. Neither will mediocrity.
It is excellence or bust moving forward. While it may not come immediately, Tepper is convinced that his fanbase does not need instant gratification – they're smart enough to understand that building a winning culture takes time.
Hopefully sooner rather than later – we know the mood the owner's in when the Panthers lose.