This past March, when West Charlotte High School Principal Timisha Barnes-Jones got a text from her colleague that David Tepper was going to donate enough funds to send their basketball team to the N.C. 4A Western Regional final in Raleigh, she couldn't believe it – and neither could the boys on the basketball team.
Barnes-Jones tried to explain who had helped them out with charter buses and hotel rooms – but the boys didn't recognize the name.
They do now.
A couple of months after helping the team out, Tepper took a few moments to stop by West Charlotte High and accept a commemorative jersey, joking about whether or not it would fit before throwing on the jersey that seemed a size too small and speaking to the kids about his own underdog story – he turned growing up in the East Liberty neighborhood of Pittsburgh into a net worth of over $10 billion and becoming the sole owner of the Carolina Panthers.
"The high school I went to, it was a legitimate inner city high school," Tepper told reporters after the event. "I don't know [what] else you would call it…so I can relate to this stuff. I don't know the stats here, but my high school was 800 in and 500 out, so I know some of the challenges.
"When you can do something good, you do it. Period."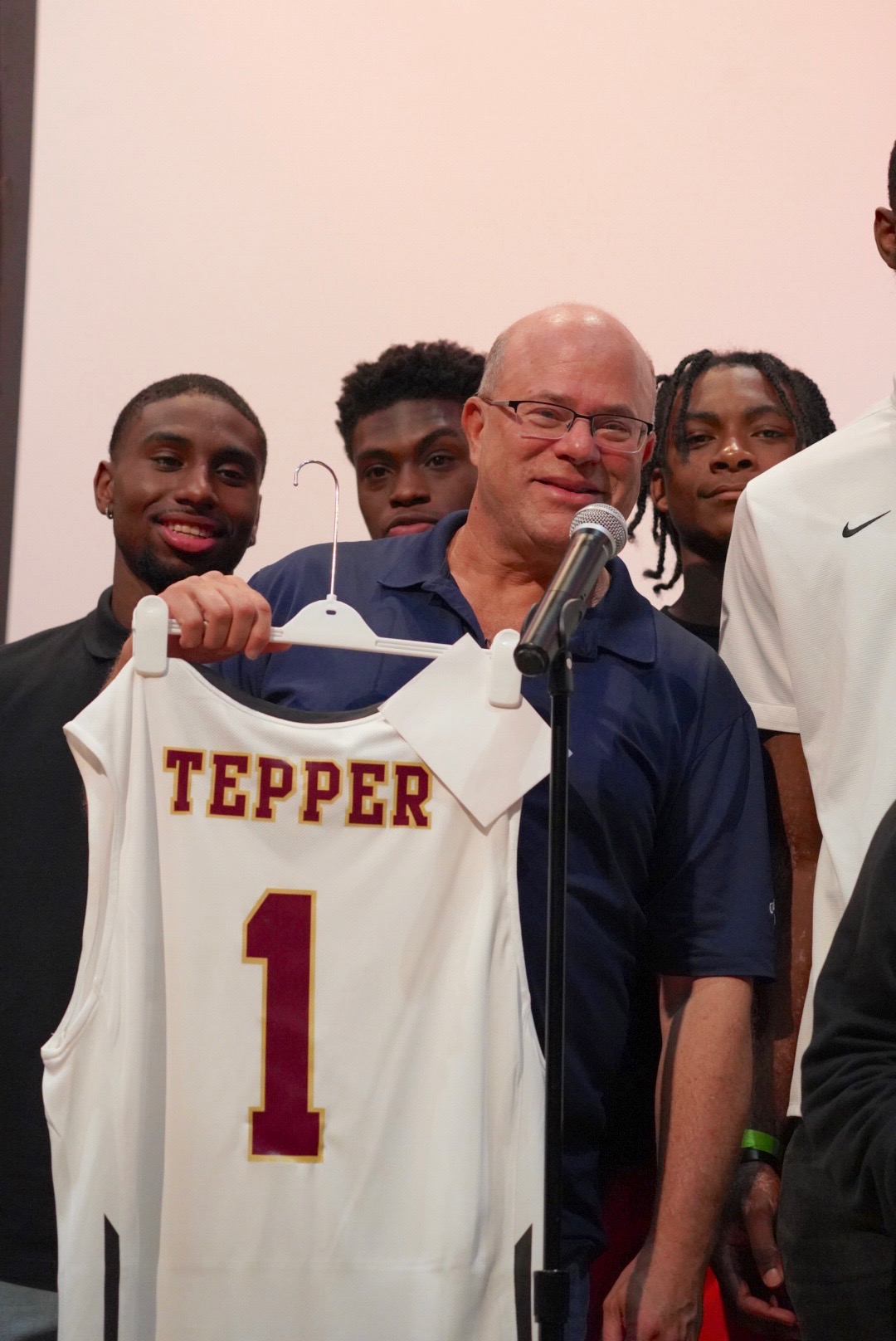 Tepper, who has said since he arrived in Carolina that he finds the connection to the community incredibly important, whether it's supporting players' charity outreach, giving backpacks to area schools, or more recently sending West Charlotte to Raleigh, knows that sometimes whether or not to make an impact needs time to develop – other times it happens more organically, be it a natural disaster like a hurricane or a time-sensitive need like a high school that doesn't have the funds to stay the night after a game three hours away.
"I heard about it and it was a very short time frame before they had to go," said Tepper. "And sometime's there's no decisions to make – to help them out, to help the community out and to help this team out."
"It's that simple."
After Tepper spoke for a few minutes, the Panthers owner took pictures and led the assembled students in cheers ("Dub C! You Know!") before a face the kids definitely recognized walked in – retired defensive end and future Hall of Famer Julius Peppers.
Tepper joked that he didn't get the kind of reaction that Peppers did and while the impact Peppers made on the field for 17 seasons will almost certainly get Peppers into the Panthers Hall of Honor in two years, the things Tepper is doing off the field right now may be even better.