Here's a sentence you might not expect to hear: You might not want to switch places with David Tepper right now.
It's not because of the $325 million-with-an-m invoice he's about to get for his shiny new MLS team and it's certainly not because of the $12 billion-with-a-b left in the bank after he cuts that check. It has nothing to do with the tens of thousands of blue and gray seats at a listless Bank of America Stadium during a meaningless Week 17 game as the Panthers lost their eighth straight game last month, their longest losing streak since 2002. The fact that his team's rush defense just matched the 31 touchdowns allowed by a Detroit Lions team that didn't win a game in 2008 – the most since the AFL-NFL merger in 1970 – doesn't move the needle.
It's because two decisions that the Panthers owner will make over the next 90 days will define his first decade as an owner.
The past two years have been filled with the previous owner lobbing 'em up and Tepper knocking 'em out of the park – fans want a logo at midfield? Get the paint. Love Steve Smith? He's back, baby. A weird organizational chart that reeks of nepotism? Clean it out and bring in some of the best minds in the world.
The last two years full of questions were easy – the next two are going to be hard…and there's no guarantee that Tepper will answer them correctly.
Question #1: Who's The Head Coach?
When David Tepper purchased the Panthers, the clock on Ron Rivera's tenure started – the past six first-time owners relieved the coach that they inherited within three seasons and Tepper was no different, claiming that he had been patient after waiting a year and a half before firing the winningest head coach in franchise history with four games left in the 2019 season to ensure that the team wouldn't rally behind their coach and cost them some draft capital.
The coach that Tepper decides to hire will shape the team not only in his image, but in Tepper's image and re-define what it means to play Panthers football.
"The best thing you can do as a leader is buy in first – buy into the philosophy of the coach, whether you agree or not – because you never know," said Gerald McCoy, who played for four different head coaches in Tampa Bay. "As a leader, with a new head coach, buy into the philosophy early, get everybody in line and then see what happens. If it don't work, then it don't work."
Tepper prefers "old-school discipline and modern and innovative processes" and has tabbed a wide array of coaches, from Baylor's Matt Rhule to New England's Josh McDaniels – the Panthers interviewed Mike McCarthy twice before he was hired by the Cowboys and will consider others, including Kansas City's Eric Bienemy, Minnesota OC Kevin Stefanski and interim head coach Perry Fewell – over the next week.
The head coach that Tepper chooses will be the one hand-picked to captain the ship and will be given a chance to rebuild a roster that currently has almost 40 spots to fill before training camp begins in August; he'll also have to make decisions not just on who the new Assistant GM and VP of Football Operations that will help stock the cupboards from the markets of free agency and the draft, but what to do with the coaching staff that sits in limbo at Mint & Morehead while the interview process plays out.
Much of that staff – from head trainer Ryan Vermillion to linebackers coach Steve Russ to cap analyst Rob Rogers – will join Ron Rivera in Washington, so the spots needing to be filled extend deeper than simply who will be calling the offensive plays on Sundays.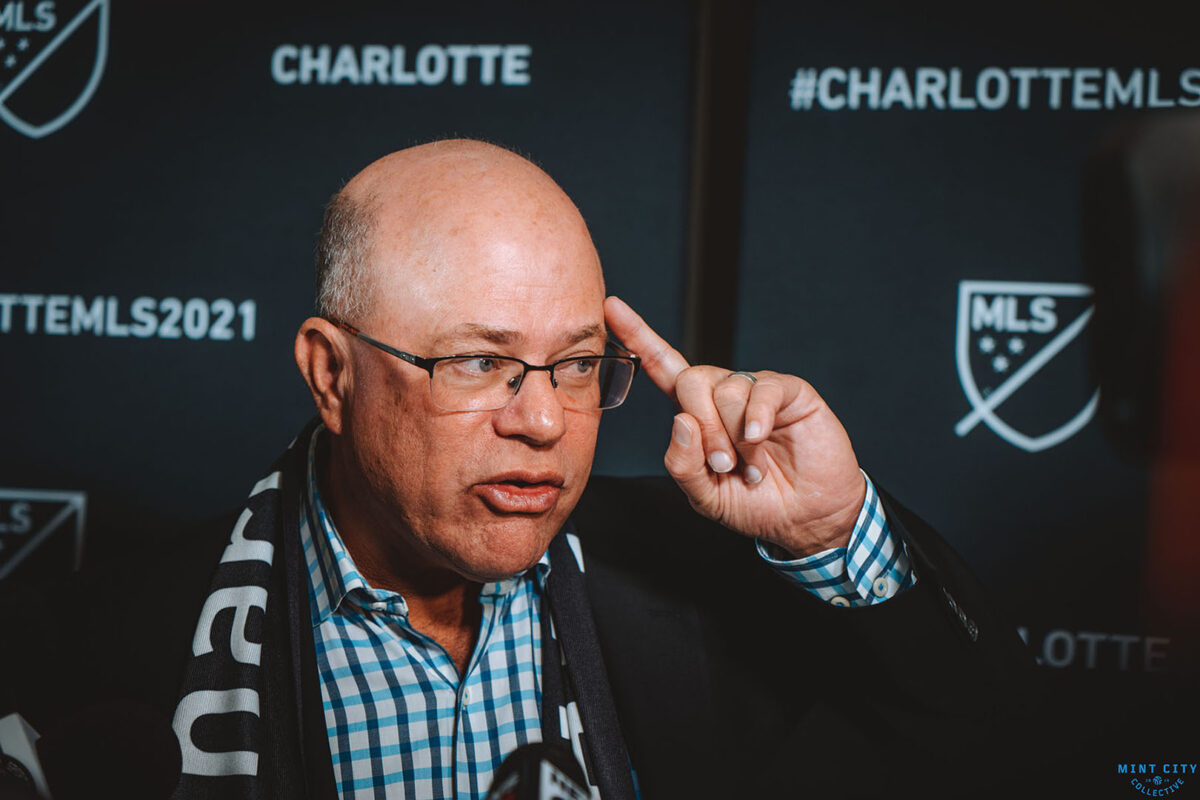 The new coach will get afforded some time to mold the team in not only his, but his owner's, visage.
"If you don't think I have to build something long term, if you don't think it takes time to build something great, if you think something great gets built in one second, then that's wrong," Tepper said a few hours after Rivera was fired. "You shouldn't expect it, fans shouldn't expect it. I'm not talking about one year, I'm talking of a standard that will be built and sustained, OK? Built and sustained. If the fans are expecting something to be miraculous next year, listen, it could happen. Maybe, you know, it's that good, but you can't count on that. There has to be a degree of patience to build sustained excellence."
"Listen, you want to wait five years for sustained excellence? You think people will wait five years for sustained excellence? For 20 years of winning seasons? They better, if they want that."
But there is no guarantee that those five years will bring 20 years of winning seasons – before the Pegulas hired Sean McDermott to helm the Bills, they spent two seasons with Rex Ryan at the helm. Four seasons of Gus Bradley in Jacksonville netted a 14-48 record after Shad Kahn made his mark on the franchise. Stan Kroenke bought the Rams and hired Jeff Fisher before striking gold in Sean McVay.
"The talent is here, we've just got to stay healthy. I'm sure they'll bring in a great coach that will get this thing turned around – they're walking into a great situation," said McCoy, who has undoubtedly heard the promises of sustained excellence multiple times throughout his career. "I don't know if whatever coach they'll bring in knows how great of a situation they're walking into; the core here is incredible and it's going to remain that way. They've got a history of high level talent and character here and that's not going to change."
The next coach of the Panthers will define who they are not only from a culture standpoint, but from a roster standpoint – the stalwarts that came to mind when you thought of Panthers football have either moved on or seem set to move on sooner rather than later.
And that's not even the toughest question.
Question #2: What Do You Do With Cam?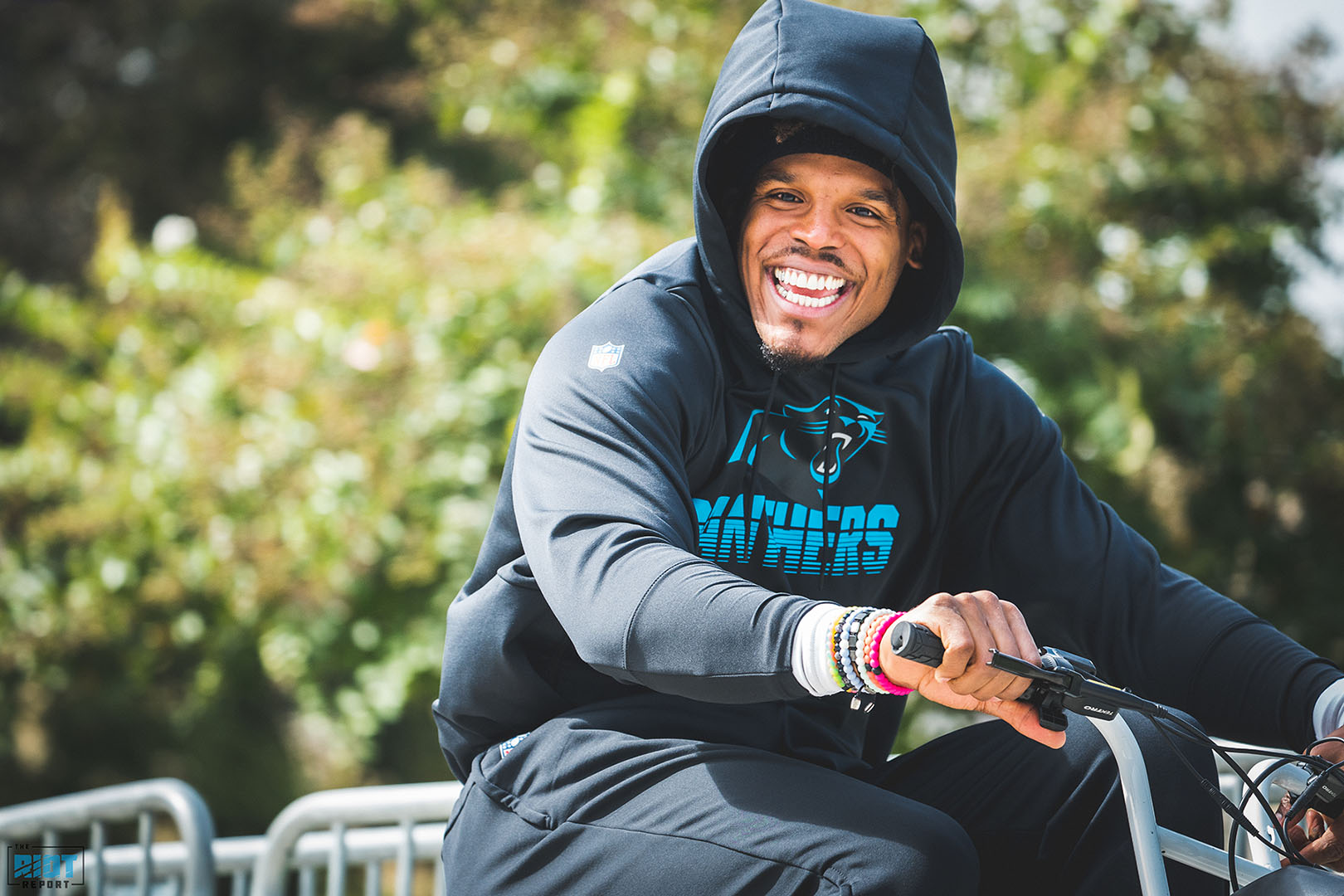 The first words out of each coach's mouth interviewing for the job when they walk in the door at Bank of America Stadium is the same question Panthers fans have been asking for the past three months – the problem is that Tepper himself may not even know the answer right now.
What's going on with Cam Newton?
You know the details, but if you haven't been paying attention: the Panthers' franchise quarterback since 2011 has undergone three surgeries in the past four years, including a procedure to correct a Lisfranc injury last month in New York, and with only one year left on the extension he signed in 2015 and the Panthers able to free up $19.1m in cap space by trading him this offseason, the Panthers may choose to pair their new head coach with a new quarterback.
"I mean, hopefully Cam's healthy," said Tepper the day Rivera was fired. "I frankly don't know, and neither does Cam right now. By the way, the last time I looked, there's three quarterbacks on this team. Kyle Allen, who you've seen a lot of, still young. Will Grier, who hasn't been in yet, who we're developing in a very traditional way, who may be very good at some point, and Cam Newton.
"So, there's a lot of possibilities here for somebody to look at if they want to come here, and we're not weighed down by $36 million a year mistakes right now."
Jared Goff, who last offseason signed a four-year, $134 extension, was painfully average in 2019 – and has a $36m cap hit in 2020.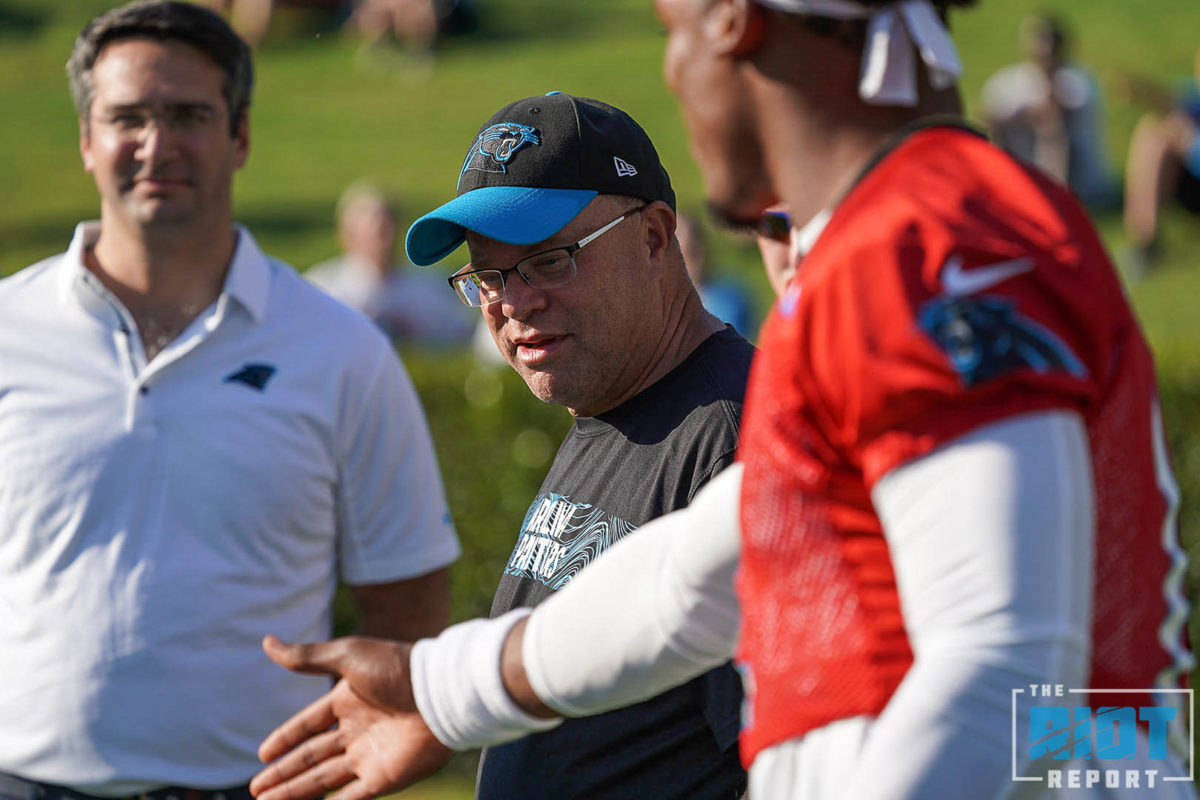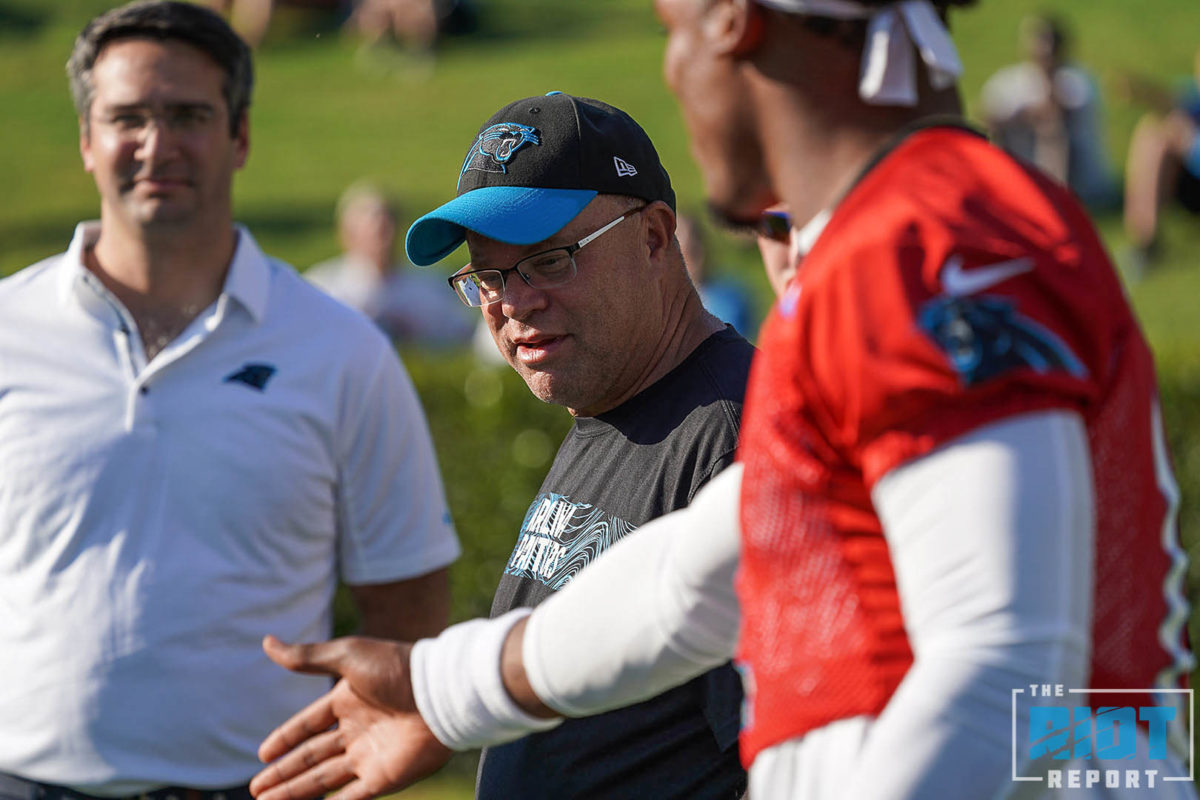 Newton, who won the MVP in 2015 but is 23-23 as a starter since as he's battled various injuries – from the throwing shoulder that's been operated on twice to thumb to ankle to the most recent foot surgery that had him on a rolling scooter the last time he was inside Bank of America Stadium, a Week 15 visit along with a group of patients from the Levine Children's Hospital in a suite.
The questions about his health are the reasons why "if he's healthy" or "when healthy" is attached to every missive from inside the stadium regarding Newton – because a healthy Cam Newton is the best quarterback available to the Panthers for next season, better than anyone they can draft with the seventh pick, better than anyone they can sign in free agency or swing a deal for – but there's no guarantee that he'll ever be back to the Vintage Cam that we saw in 2015….but do you really want to be the owner that signs off on trading the most famous sports figure in the history of Charlotte and watch him put on a show like he did in 2015 in a Las Vegas Raiders uniform?
Even if it's the right move in the long run, how will your fanbase, who have already created music videos and hung billboards around the city, react if you choose to move on from the man who put the Panthers on the world stage over the past decade? How will the players in the locker room feel if Newton is doing flips for touchdowns into the end zone in Los Angeles or Washington next season?
"Listen, I don't know if I'm going to be here or not, but that'd be the dumbest thing they ever did is to let Cam walk," said McCoy. "There's not a lot of Cam Newtons walking around – there's actually NO Cam Newtons walking around."
"Any organization that don't want Cam Newton, that's just dumb to me."
With all the speculation w/@CameronNewton this off season, the @Panthers fan base have come 2gether like never b4 2 show support 4 QB1 w/ a petition, 2 Billboards& now I present the official #KeepCamInCarolina2020 video. Let's make it go viral! #KeepCamInCarolinaOfficialVideo pic.twitter.com/c2Y9n4gmTD

— THEMichaelPosey (@MichaelPosey_) December 30, 2019

And therein lies the rub. Even if Newton will play out the last year of his deal – which is no guarantee itself – the city of Charlotte has watched the face of a franchise leave when his contract expired in the past 12 months. Even if the foot heals perfectly, what guarantees are there that the shoulder that certainly appeared arthritic in 2018 will last a full 16 games, let alone a four or five-year extension?
"Cam Newton is an MVP and when Cam was healthy last year, this year was 6-2," continued McCoy. "Cam gets the shoulder injury and – injuries happen, though, and you've got to do your best to work through it and move forward. If Cam gets healthy, you bring the great core that this team has back and I'm sure they're going to bring in a great coach and this team will be back on top, for sure."
"If 1 is healthy, you've got a great core – just build around that and this team will be just fine."
But that's if 1 is healthy – if not, you might just have a $36m mistake on your hands. If he is healthy and you trade him for a pick in the teens and find yourself floundering for a quarterback for the next five seasons, that might be an even bigger mistake.
They say that a man is defined by his actions – the next two actions are going to define what kind of owner David Tepper will be.