Welcome to our offseason series detailing the Panthers offseason needs and how they might address them. Be it through the draft, free agency, or the answer being "on the roster", the Panthers will need to fill holes all across their roster to field a full 53 heading into 2018. No matter how set the Panthers may seem at a position, there is no reason why the Panthers can't constantly get better; that will start with an open and honest evaluation of who is on the roster currently, how they performed in 2017 and whether those players will be returning.
Previously, on "Evaluating The Cupboard":
Defensive end looked like it might have been a weakness for the Panthers entering the 2017 season, with their four veteran defensive ends having just one double-digit sack season over the past four seasons among them, but it soon became clear that those preseason fears were unwarranted, with the Panthers ranking third in the NFL in both sacks and sack-rate as Mario Addison and Julius Peppers both ended the season with 11 sacks. The downside of this veteran experience is that the Panthers four main defensive ends will start the season aged 28, 31, 32 and 38, and that's if Julius Peppers decides to come back for another season; so what should Panthers expect at defensive end this offseason?
The Returning Veterans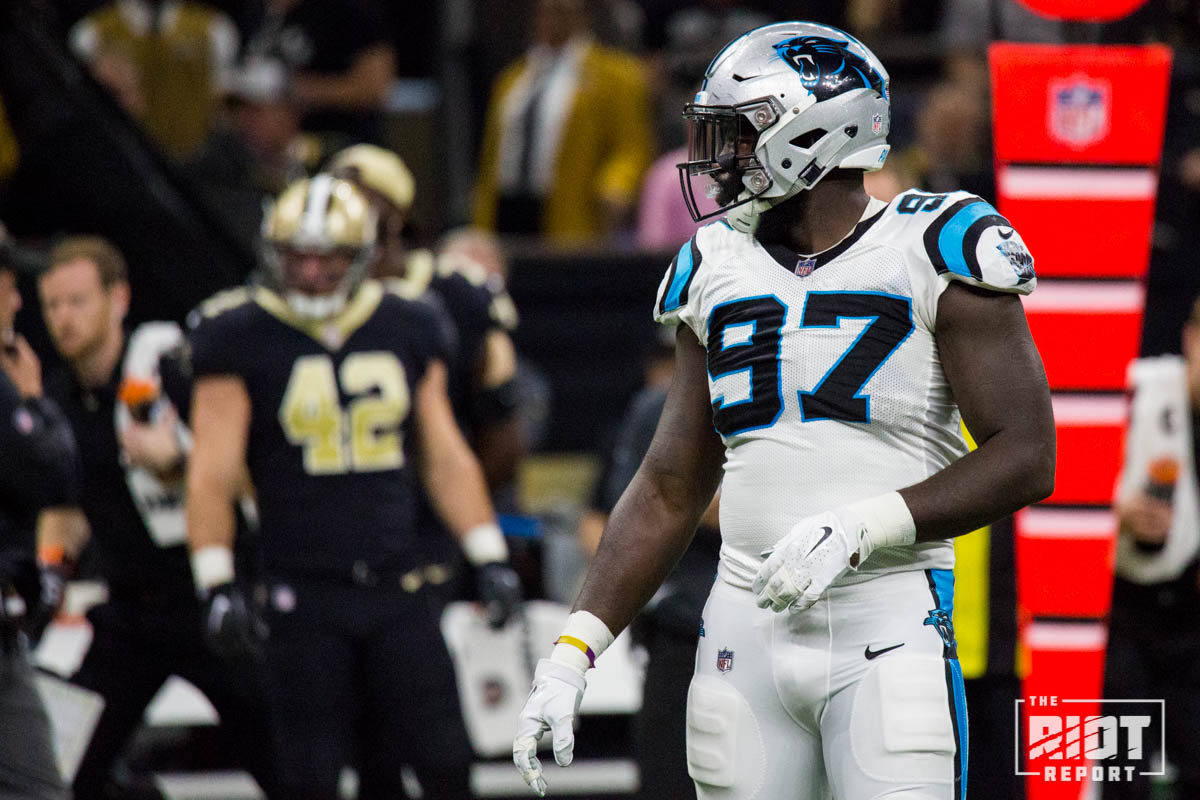 Mario Addison's contract extension now looks like something of a bargain, with the 30 year-old posting a career-high 11 sacks and 44 tackles in his first season as a starter. While he is still slightly below-average statistically as a run defender, he has continued to improve in this area and has only got better as a pass rusher. He has the speed to get outside of tackles, plays with good bend and play height and has even added some nice pass-rushing moves. He might not be an All-Pro yet, but Addison is an excellent starting defensive end in the NFL.
Wes Horton has been a pleasant surprise this season. Initially signed as a versatile run-snuffer out of USC, Horton has continued to excel in this area while also developing as a pass rusher. In limited pass rushing snaps, Horton totaled 5.5 sacks (55th in the NFL) and three forced fumbles; while Horton is excellent value in this rotation role, the Panthers will likely be unwilling to make him a full-time starter unless forced in that direction. Horton enters the final year of his contract in 2018; while he will likely be due a significant boost in wages after that, 2018 will likely decide whether he is able to attract Addison-level money.
The Question Marks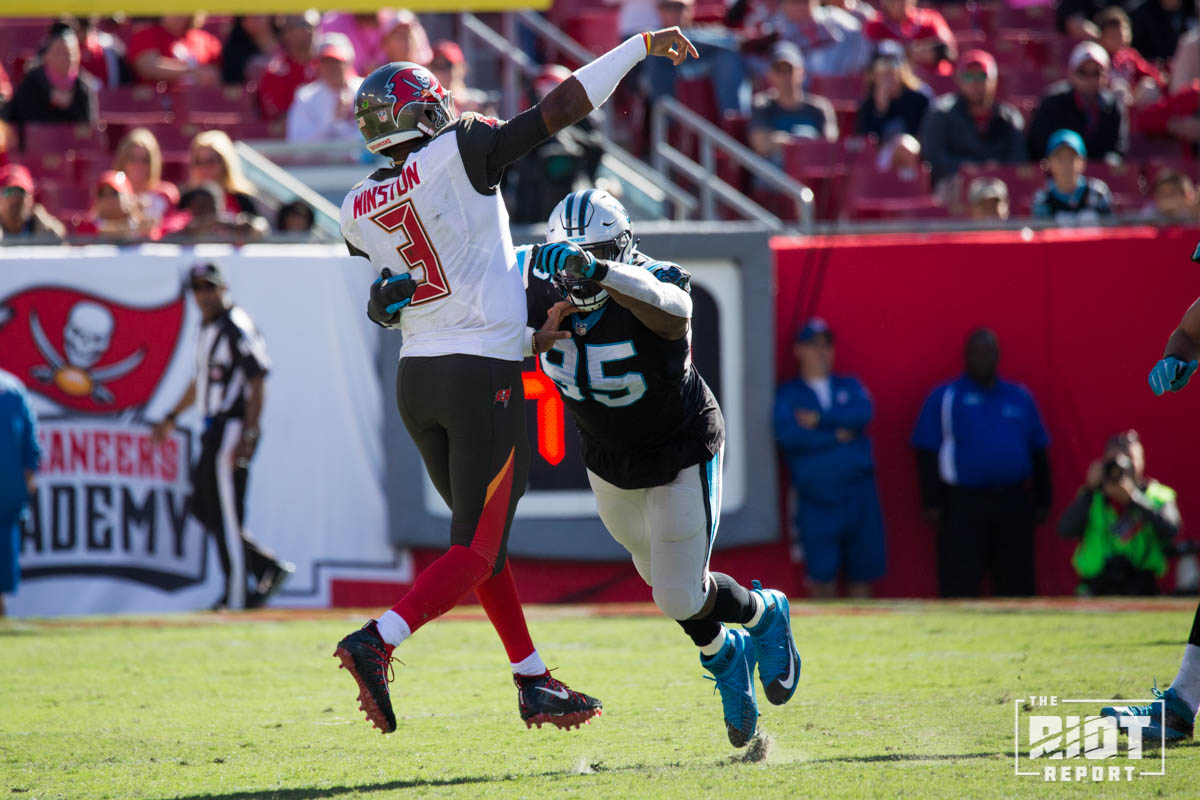 Julius Peppers became just the fourth player aged 37 or older to record 11 or more sacks in league history, the other three joining the second pick in the 2002 draft among the NFL's top five all-time sack leaders. While two of those three returned for a further season after their 11 sack efforts, it is far from certain than Peppers will do the same. Given his level of play, it is certain that the Panthers would welcome him back but nobody would blame Peppers from wanting to walk away on top. If Pepper wants to play, a similar contract to the one he played under this year(one year/$3.5m) would seem likely, with his role likely being similar as well.
The other question mark is Charles Johnson. Johnson underwent significant back surgery during the offseason and served a four-game suspension for steps he felt he had to take to return to full health in time. Additionally, Johnson failed to record a sack for the first time in a decade and it wouldn't be surprising if Johnson chose to step away and retire; while Johnson appears to have had a significant influence on the Panthers' locker room, his impact on the field has been limited the past couple of years; to a certain extent, getting his near $3.2 cap hit off their books benefited the Panthers enormously. They'll still need to fill CJ's shoes, though.
The Other Guys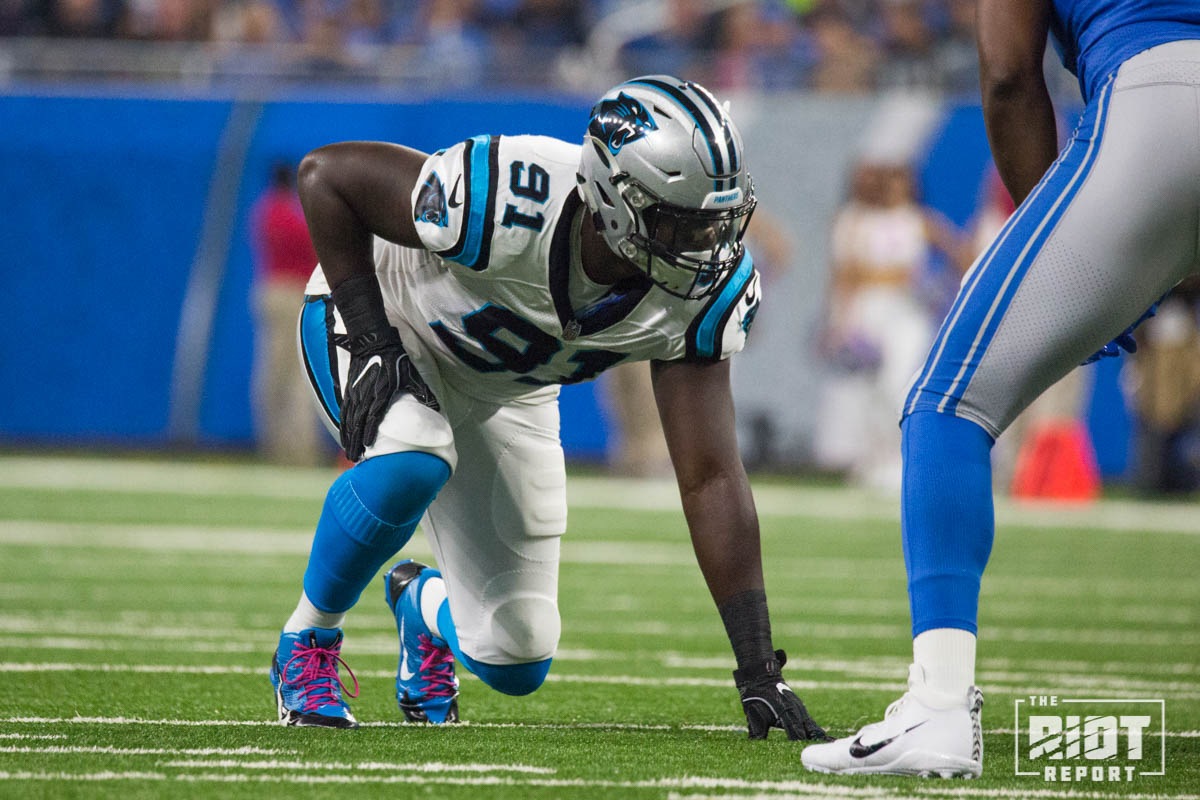 Daeshon Hall, Zach Moore and Bryan Cox, Jr. are all under contract for next season, and while Moore's $700,000 salary could make him a cap casualty, the other two are almost certain to return. Hall is a complete unknown after missing his entire rookie season with a knee injury but flashed athletic potential during training camp; the third-rounder will likely be treating 2018 as his rookie season and could well be called upon as part of the Panthers' rotation. Cox has been on the roster for much of the regular season, playing in seven games and recording six tackles and a fumble recovery; while he hasn't done a huge amount with the chances he has had, the Panthers have certainly seen enough to merit a chance to compete for a roster spot in training camp. British-born Efe Obada could also have a shot to compete for a rotation spot having spent the year on the practice squad.
Outlook
The Panthers' have historically carried nine defensive line players on the roster, with five often being defensive ends. Addison, Horton and Hall will likely take three of those, as would Peppers should he choose to return. Despite having a number of strong options for the fifth spot, the Panthers will have to be concerned about the age profile of their edge rushers; regardless of what happens with Peppers, defensive end will likely be on the Panthers' minds come draft night, though as with Hall, the Panthers are probably looking for players to be major contributors in a years' time than instant starters. If Peppers does retire, the Panthers may look to use either some free agent money or a high draft pick on solidifying their pass rushing rotation.
Offseason Priority: If Peppers resigns – Medium. No Peppers – High