After signing the biggest deal for a running back in NFL history, a four-year, $64m extension after his third season in the NFL, the new face of the franchise Christian McCaffrey had a message for Panthers fans across the nation.
"I couldn't be more excited," McCaffrey said in a video message from what appeared to be snowy Colorado in the background as he remains at home during the COVID-19 pandemic that has forced the NFL to turn to a virtual offseason, beginning next Monday. "I don't know where to start – thank you, first off, to the whole Panthers organization for believing in me and allowing me to continue my career in the place where it started. Thank you to Mr. Tepper for believing in me, thank you to Marty Hurney for believing in me, Coach Rhule for believing in me."
"I couldn't be more excited – we have a great thing going. A fresh start and I'm more than excited, so to all the Panthers fans out there – I hope you're as excited as I am."
Despite the myriad of off-the-field reasons for getting a deal done with McCaffrey this offseason – the spectre of a holdout during a truncated offseason that happens to be Matt Rhule's first likely had something to do with it, as did the mass exodus of other Panthers legends in just the past few months or the team's image across the league if they didn't reward their best player with a new deal – there are many within the analytics community who believe that paying big money to a running back makes roster construction tougher in the future.
However you feel about the contract as a whole, the big numbers mentioned when deals are announced – SIXTY FOUR MILLION! LASTS UNTIL 2025! – rarely stand in today's complicated world of cap hits, guaranteed money and offset language. Look no further than Luke Kuechly, Cam Newton and Greg Olsen, all of whom were originally slated to be under contract with the Panthers currently. As was Matt Kalil, who will – don't read this if you're already sad – count for $9.8m against the salary cap in 2020 after signing a five-year, $55m deal in 2017.
So let's take a deeper look at McCaffrey's contract, via Spotrac.
While the initial deal was announced as a four-year, $64m extension, McCaffrey is actually under contract for the next six years at a figure around $75m – the next three years virtually guarantee he'll be on the team in terms of cap space, which makes sense – you shouldn't be signing anyone to a deal of this magnitude if you think you'll be cutting them within the next two seasons and a 23-year old McCaffrey who has never had a significant injury seems very likely to perform at a high level for the first few seasons of his contract.
The contract slightly raises his cap hit in 2020, from $5.48m to $7.79m, before it jumps to $12.53m in 2021 – that $12.53m would be the third-highest among running backs in 2021, but the 105th among all NFL players, just between CB Desmond Trufant and LB Deion Jones.
In 2022, the Panthers are currently slated to have only four players not on rookie deals – McCaffrey, Teddy Bridgewater, Tre Boston and Shaq Thompson.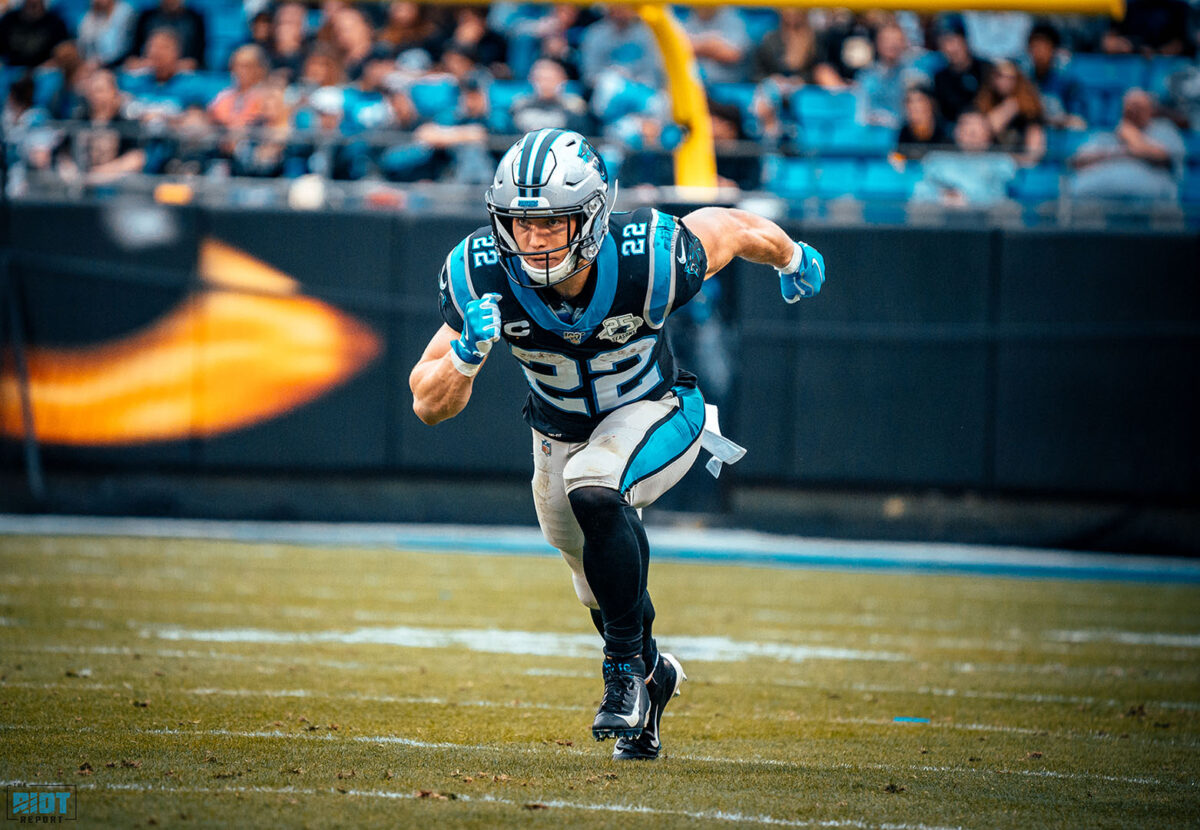 However, should the Panthers wish to part ways with McCaffrey, they could designate him as a post-June 1 release after the 2022 season, granting them $12m in cap space in 2023 and splitting an $8.6m dead cap hit over two seasons. The contract, which has $30m fully guaranteed at signing, would carry zero dead cap in the final year of the deal, 2025, should the Panthers choose to release him at that time.