When Panthers linebacker Luke Kuechly announced he would be sitting out this year's Pro Bowl due to injury, it left many fans wondering what was bothering their tackle leader, with most assuming he would rather miss the all-star event than risk another concussion. However, on Monday evening, the Charlotte Observer reported that Kuechly is currently recovering from shoulder surgery recently performed on his right shoulder, fortunately not the same shoulder Luke suffered a torn labrum to during the 2015 season. Recovery is not expected to have any major impact on the upcoming season barring a setback.
It's difficult to pinpoint exactly when Luke suffered the surgery-inducing injury, but late season injury reports began including Luke's shoulder, which even led to speculation that it may have been related to the left shoulder that had given Kuechly problems historically. The Panthers captain started in 15 of 16 games during the regular season in 2017, with his absence being magnified in the Week 7 loss to Chicago and the second half of the Philadelphia Week 6 loss which Luke left just before halftime and was put into the concussion protocol after he collided with Eagles guard Brandon Brooks.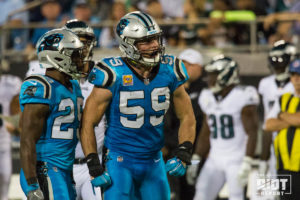 Kuechly, who has been selected to the Pro Bowl his last five seasons, finished the 2017-2018 season with 74 tackles, 1.5 sacks, 3 interceptions and a forced fumble. With such a surgery, it wouldn't be abnormal to see Kuechly sit out this Summer's OTAs and minicamp with an eye toward being ready for Panthers training camp.