It used to be that when the weather outside was frightful, the Panthers had two choices: suffer through it or head to the Charlotte Convention Center to practice on carpet in a ballroom with tape on the ground showing the players where the sidelines would be while coordinators and position coaches tried to install gameplans and playcalls and make sure the Panthers were playing at a nice tempo.
Seriously – the convention center.
Those days are over – now that the bubble is here, looking back on those days in the convention center seems a little bit silly.
"Yeah, it did, but we were just dealing with the circumstances that were present at the time. That was the best we could do," said Greg Olsen after the Panthers held team drills inside the temperature controlled dome. "It was a nice relief from being outside; it was nice to get a little change of scenery, I thought everybody ran around really hard, we had good speed [and] good energy."
What was the big difference between practicing outside and in the bubble?
"About thirty degrees."

The Panthers started outside, going through warmups and individual drills so that the team to get a little bit of the heat in full pads before heading into the domed bubble, which the team is still trying to figure out how exactly to use – especially with 90 men on the roster.
"This gives us a good alternative when it's blazing hot like it is right now," said Ron Rivera. "Just getting used to how tight it is. We do have a 90-man roster right now, and that makes it a little tighter."
The pressurized bubble may have caused your ears to pop as you walked in – through either an airlock on the backside of the bubble or revolving doors on the front – but once you were in, it was football practice as usual, with the same storylines that we've been seeing recently popping up again.
We saw Curtis Samuel getting open deep – the third-year wideout who has been excelling all camp and beginning to get national attention made a leaping catch with Donte Jackson tangled in between his arms 25 yards down the sidelines and then followed that the next play by beating Jackson on a post route to the end zone for the score.
We saw Luke Kuechly doing Luke Kuechly things – today a one-handed interception over the middle on a Kyle Allen ball that probably should have gotten by him before the linebacker reached a paw back and plucked it out of the air. Allen was playing with the second-team offense, but the team mixed and matched lineups, leading to one of the best defensive plays of the day – rookie Brian Burns came around the corner so fast, blowing by T Kofi Amichia, that the edge rusher literally had to crumple to the ground to avoid hitting Kyle Allen in the pocket.
While Colin Jones, Vernon Butler and Kevon Seymour sat out practice again today, Shaq Thompson was in full pads but didn't participate in team drills. Ron Rivera said after practice that Graham Gano, still nursing a leg injury to his plant leg, won't kick on Thursday night and Joey Slye would get the reps – the Panthers hope to have their kicker back healthy next week.
Will Grier continued his up-and-down training camp with an up – he threaded an absolute dime to TE Marcus Baugh over the middle and in between two defenders – and a subsequent down as he fired a bomb downfield that was picked off by Quin Blanding. Rivera said it was the ball placement rather than the decision making that hurt both quarterbacks on Friday against Buffalo.
"What was disappointing is when you really watched them [on tape], they made some really good decisions, but just delivered some high balls," Rivera said. "They didn't give their teammates a chance to make plays."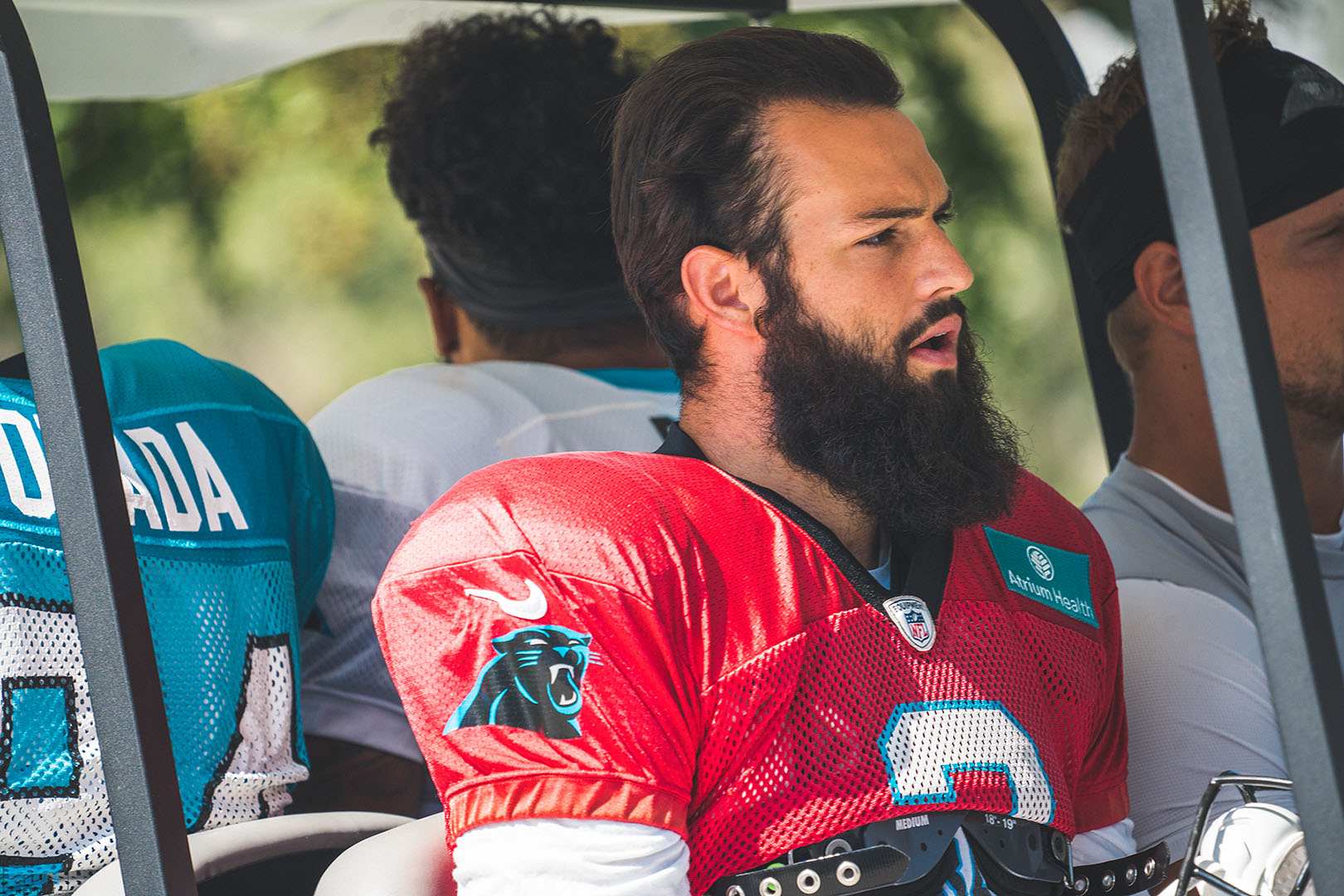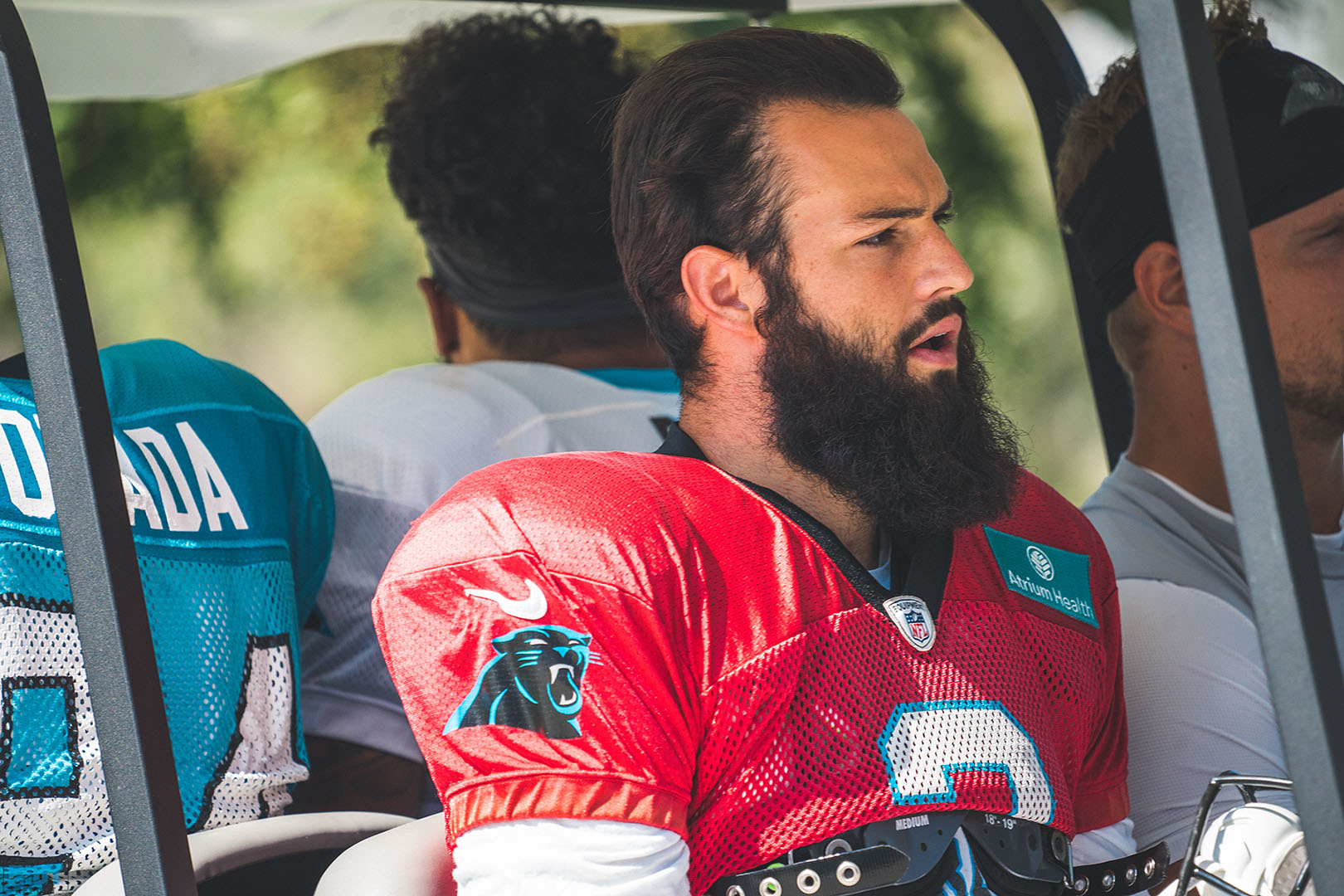 With Cam Newton, Kuechly, Greg Olsen and Christian McCaffrey getting their first reps of the preseason this Thursday at New England according to Rivera, this will be a good test for the Panthers to see where they stand against the team that's been in the Super Bowl four of the past five years and in the AFC Championship in every season since 2011.
"They're the gold standard – they've been the gold standard for quite some time and you want to go out and see just how good you are….it really is a good measuring stick as to who we can be as a football team," said Ron Rivera. "This is an important one, it really is."
That's why it's a good thing they can practice inside, on turf similar to what they'll see at Gilette Stadium in Foxboro on Thursday night – they just need to remember rule #1 when you're practicing in the bubble.
Don't open both doors of the airlock, you'll deflate the whole damn thing.