If I can be frank, there wasn't a whole lot to observe from today's practice.
In what was a glorified walkthrough for Thursday's game against the New England Patriots, the Panthers offense and defense continued to install plays for their gameplan and practice plays they'll be running on Thursday night. Newton threw a couple of inaccurate passes to Greg Olsen and Chris Hogan that would have been big gainers, but threw nicely placed balls to Olsen and Thomas in opposite corners of practice later in the session. Will Grier threw a dart to tight end Marcus Baugh that made me exclaim "that's going in my observations!" after Baugh made a diving grab to pull it in while falling out of bounds.
Reggie Bonnafon, Christian McCaffrey and the rest of the running back group continues to run hard.
So, instead of trying to fill this space while using way too many words to tell you that Colin Jones, Vernon Butler and Kevon Seymour didn't practice again, why don't we let Ron Rivera, who we spoke to after practice, tell you about what's happening with the roster, who's going to play Thursday – he said yesterday that Cam, Christian, Luke and Greg would get some run –  and other topics that are more concerning than Matt Paradis and Daryl Williams having vet days – which they did.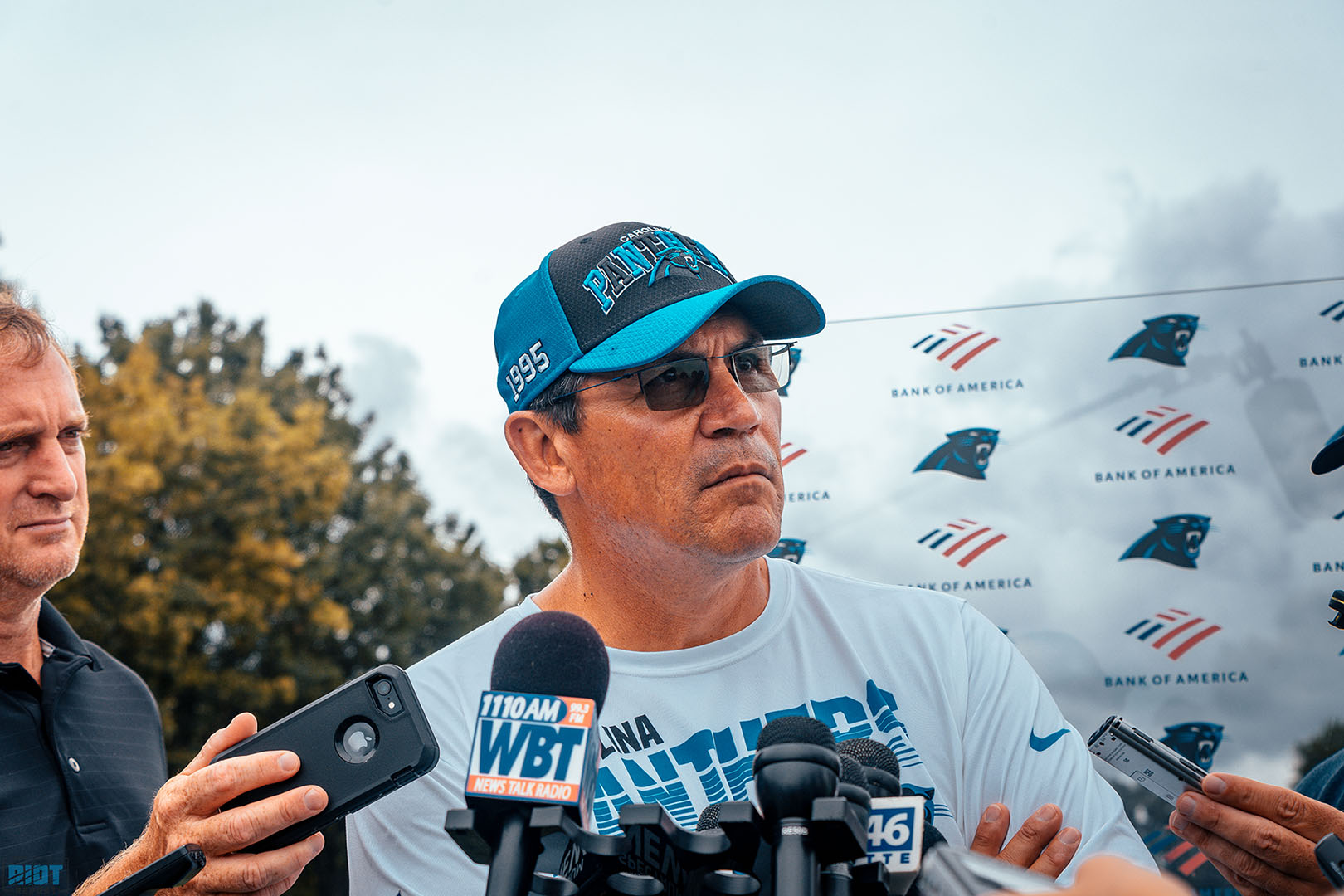 On the quarterback rotation on Thursday: "We're going to have Kyle come in and go from there. We're making sure we get some quality work with the first bunch and we'll go from there in terms of the next group of guys, whether it's seconds or thirds or who plays what after that. Kyle's a guy that we want to see more from. It's a learning curve for Will and as I've always said, Taylor's done a solid job for us – so we've got a good group of guys."
On how much Cam will play: "A lot of it's going to be about the flow of the game moreso than anything else; ideally, you'd like to have three or four really good possessions and then you go from there and you make your assessment."
The position battles he's watching: "Well, our nickel position is one that we're real interested in and watching the continued development of Tre [Boston] and Ross Cockrell at the free safety position for us, because we think we've got a really good tandem there. Looking at the offensive line coming together and continuing to work together and become solid [and] our fourth/fifth/sixth wide receivers, what's the combination of guys that we're going to go into games and we've really got to see Jordan Scarlett and Elijah [Holyfield] a lot. We want to see what those guys are made of and do they have the ability to help us."
On the nickel competition: "I think we've got a few guys that we like and we've got another guy that if we ever got in a situation, we could drop him down into it. Those guys will continue to compete and work at it and we'll see how it all unfolds. We still have two more weeks."