The Panthers spring offseason program is in the books – and it certainly wasn't lacking for subjects to discuss.
Perhaps earlier in the offseason you might have thought that the focus was to be on the competition at free safety or how much participation Daryl Williams was able to put together after missing 2019 – or maybe how Luke Kuechly was adjusting to the new defensive scheme or whether Brian Burns was able to maintain his weight.
There were a multitude of topics to discuss, but all eyes were – as they should be – on the right shoulder of the Panthers starting quarterback as Cam Newton continued his progression of throwing – first sitting out all throwing drills during OTAs, then throwing in private, then throwing to stationary targets during individual drills and finally today throwing to pass catchers running actual routes in individuals.
While it's not a full load, it's certainly enough for this stage of his recovery from surgery in January to be encouraging.
"It's always a work in progress," said Ron Rivera after the final minicamp session. "That's kind of what happens when you don't go through the spring, but he's had a good offseason, he's done everything the trainers and doctors have asked of him. He's still got a little bit more work to go in the next four and a half [or] five weeks, so I'm excited to get to training camp."
So while Cam continues on the road to training camp, the entire roster – and the entire NFL – will get six weeks off before reporting to Spartanburg on July 24th. The weather was cloudy and cool for the final session at Bank of America Stadium Practice Fields as construction workers sewed the bubble that should be ready for action any day now….that won't be the case 75 miles or so down I-85 in Spartanburg.

Here were some observations of the Panthers' final minicamp session:
Ian Thomas still hasn't participated and Ron Rivera expressed some frustration after practice that they weren't able to work with the second-year tight end more during spring workouts – in addition to Thomas, Brandon Greene and Ian Silberman again sat out practice and Jermaine Carter was not in attendance. However, Torrey Smith participated in individual drills for the first time of the spring, a good sign as he continues recovery from knee surgery during the 2018 season.
A curious drill near the beginning of practice had coaches throwing not footballs, but tennis balls, at the defensive backfield as they broke towards the ball – the first corner to catch one after multiple drops by his teammates? James Bradberry – maybe all the talk of more interceptions and focusing on his ball skills has come full circle.
There was a lot of goalline and hurry-up drills today, with two touchdown catches from Greg Olsen – always an important target near the end zone, including a sliding grab on a nice looking ball from Will Grier in the back corner; Grier has been inconsistent for the entirety of the offseason – as good as he looked on Tuesday, he had a bad day Wednesday before an improved day on Thursday. That's not too surprising from a rookie adjusting to the NFL field for his first offseason – there's a lot being thrown at the rookie in a short period of time. It will be interesting to see not only how he progresses after this break with time to soak in the playbook and continue learning, but which team he'll be practicing with come training camp; while the coaches like to downplay the 'who's playing with the first/second/third string' theories, there's a lot that can be gleaned. With Newton not participating in team drills, the Panthers have run all three backups with the starters at various points to see what they've got in the young QBs – now that they've seen it, it'll be interesting to see how the depth chart shakes out come August and then September.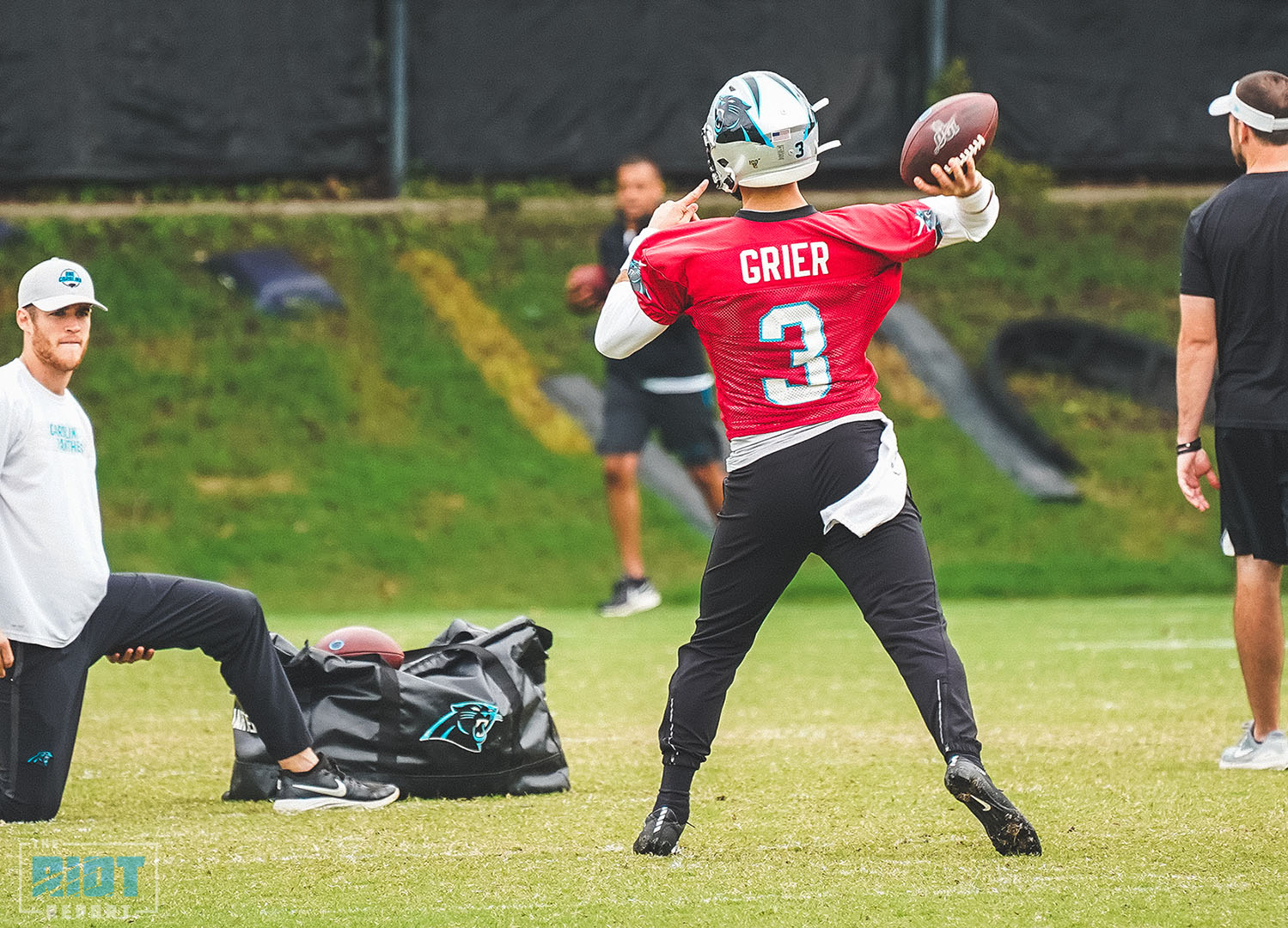 Speaking of young QBs, Thursday was the second straight day with a bad interception for Kyle Allen, today throwing it directly at Corn Elder, who sped to the opposite end zone to the delight of the rest of the defense. It was also the second straight day for a spectacular catch from Andre Levrone, much to the delight of the offense – specifically the loudest cheerleader on the field, Cam Newton.
Without pads, there's not a lot to say about linemen or pass rushers, but Brian Burns has been borderline unblockable the past few days – after speeding around Greg Little for two 'sacks' yesterday, he was in the backfield immediately to bat down a Kyle Allen pass this morning. It's going to be an adjustment once he has pads on, but if he can replicate this performance in games, he's going to outplay his high draft capital; speaking of speedy pass rushers, Christian Miller showed off his specialty – his bend – as he looked almost parallel to the ground during individual drills. I can't wait to see how both of them perform once real football rolls around.
Some last day vibes: After refs – who have been there for the entirety of the week – threw a flag on a long touchdown, Cam took exception to the flag and punted it back downfield before picking it up and throwing it a few times down the sidelines. And after practice? The Panthers were treated to a truck full of frozen treats – courtesy of the newest Panther, Gerald McCoy.
A shaved ice truck was waiting for the team after practice.

The man behind it? Newcomer Gerald McCoy. pic.twitter.com/9EFkF28zko

— Max Henson (@PanthersMax) June 13, 2019