There's lots to talk about from Panthers minicamp, but as was the case yesterday, most folks will want to focus on Cam Newton and his progress from an arthroscopic procedure on his right shoulder in January; there's only so much description I can put into a spectacular catch from wide receiver Andre Levrone – you may recognize him as the huge guy from the inaugural Flex Friday photo shoot – before you'll start to wonder what I'm trying to hide by not talking about how Cam Newton looked when he threw for the second consecutive day.
As Ron Rivera has stressed in the past, it's not just how a player looks when they participate for the first time coming back from injury, but how they look the day after – how an athlete's body handles the additional stress of a more intense workout can reveal just how far along they are in their rehab process.
And if that's the case, then Newton looks to be on track as he not only threw again today, but tossed some touch passes to running backs out of the backfield, including a 25-yard loft to fullback Alex Armah in which he hit Armah in stride. He also ran a 'gauntlet' type passing drill where he fired passes around the horn to multiple coaches as fast as he could, turning his body as he went and threw to stationary targets like Chris Hogan, Greg Olsen and DJ Moore downfield later in individual drills.
The emphasis on Cam's 'new mechanics' has been discussed ad nauseam over the week, with perhaps the most hoopla about an individual passing drill in Panthers history culminating in a live stream Tuesday as Cam lightly tossed footballs to coaches and over a net – but the goal for Norv Turner and quarterbacks coach Scott Turner has always been to preserve Newton's shoulder as he gets older with small tweaks, something that a lot of veteran quarterbacks go through – those tweaks have become more relevant post-procedure.

Like a boxer or baseball pitcher, Newton's lower body needs to be pointed in the correct direction – yes, that means not throwing off your back foot, although sometimes with 300-pound linemen in your face, that's easier said than done – the power generated by the quarterback's lower body takes a lot of stress from the shoulder.
"It started last year just with his footwork," said the younger Turner. "Just keeping compact [and] make sure his feet and his eyes were working together. That's where we really started and then it's really carried over into this offseason as far as just making him a little bit more compact with his upper body, a little bit more closed off….so he's not as open throwing the ball. Just to make him as efficient as possible and putting the least amount of stress…on his shoulder just to take care of him. It's really not that different, he's still throwing the ball – it's just as far as his setup and the way he starts and being more closed off."
"It's not that much different and the work from now until the season is what's going to build that muscle memory."
And, don't worry, Cam's celebrating is still intact – the first person in the corner of the end zone to celebrate with Levrone after his leaping grab in traffic? You know it was a screaming Newton – always the loudest voice on the field, even if he's not participating in team drills.
Some other observations from today's minicamp session:
First to Practice Award went to Kitt O'Brien and Ethan Wolf (again) today – O'Brien has been our early for almost every practice session as he tries to make an impact. Yes, I copied and pasted this from yesterday's dispatch – but when they're first, they're first.
Ian Thomas, G Ian Silberman, T Brandon Greene all worked on the side for the majority of practice. Torrey Smith, who hasn't participated yet this spring, looks as if he's making progress – yesterday he was jogging and cutting while catching balls from a coach early in practice and today he was running and catching passes from the JUGS machine before practice. Eric Reid also wasn't practicing today and while he stood behind the defense taking mental reps, the defense utilized a lot of Colin Jones, who has shown the ability to be a versatile backup at multiple positions in the past.
Wide receiver Aldrick Robinson has his upper leg taped about halfway through practice and was done for the day.
More guests today, from Greg Olsen's dad – Olsen's kids were here last week – who seemed to know everyone on the sidelines to Borussia Dortmund goalkeeper Roman Bürki, who is a big Cam Newton fan. Oh, and David Tepper was there too – at a certain point, the owner watching his team practice will cease to be news, but today is not that day!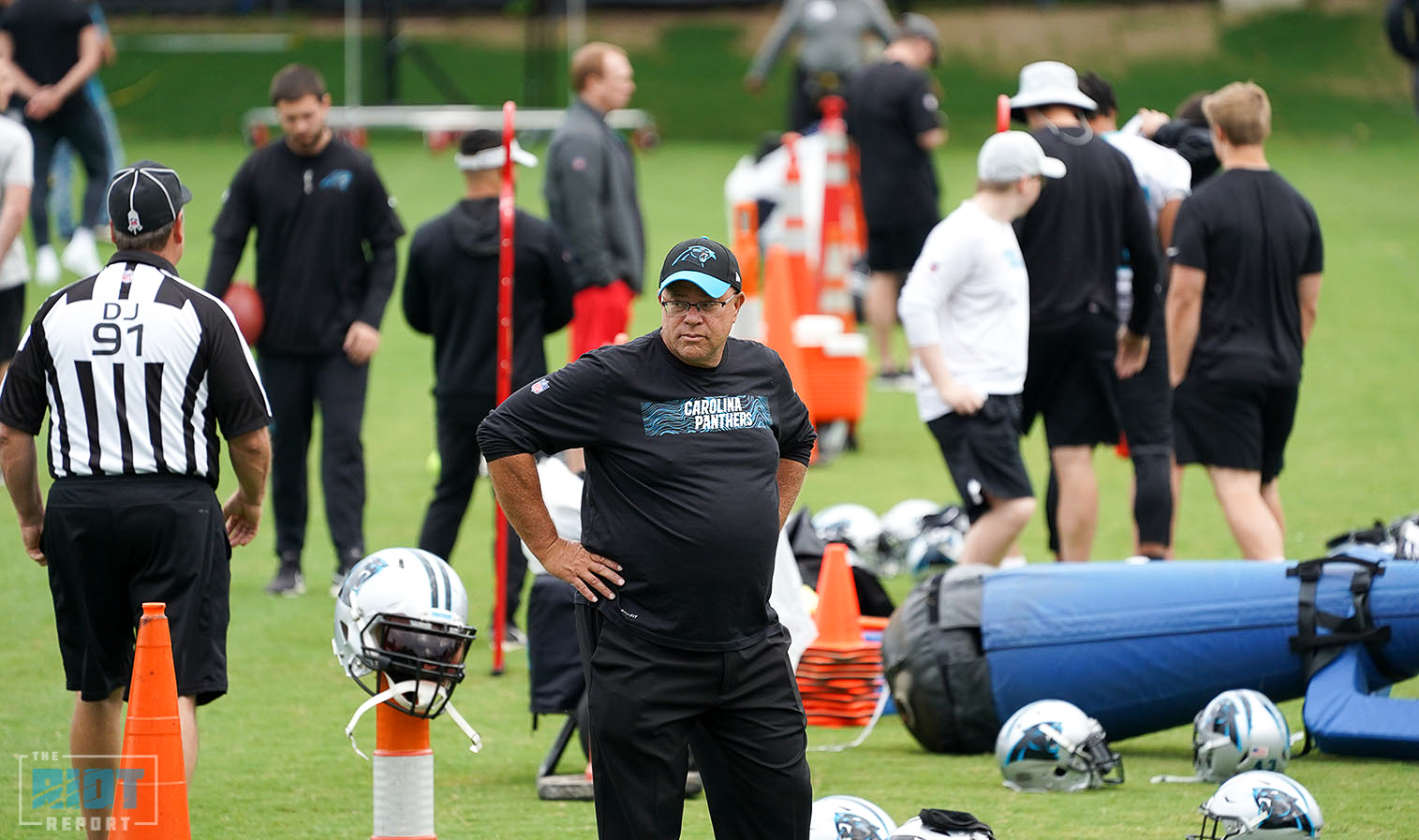 After beginning the day working with Kyle Love yesterday, Gerald McCoy worked one-on-one with defensive coordinator Eric Washington for the first 15 minutes of practice as he begins to settle into his new defense. Behind McCoy, rookie Brian Burns showed the get-off that made him the Panthers first-round pick this year as he burst around the edge twice during team drills for what would have been sacks had he been able to touch the quarterbacks.
A rough day overall for the quarterbacks, as Kyle Allen threw two interceptions, the first directly to safety Quin Blanding and the second a tipped ball from Donte Jackson that floated directly into the hands of Colin Jones – as Jones motored to the end zone, punter Michael Palardy yelled "Show off that 4.3 speed!"
Donte Jackson's tip drill interception wasn't his only nice play as the speedy corner had a pass breakup of a Curtis Samuel catch near the sideline – Samuel had a long touchdown later in practice on what looked like busted coverage as he was wide open on a post route.
With Jermaine Carter, Jr. held inside with leg soreness, second-year linebacker Andre Smith – who's now fully healthy – was around the ball a lot and got some additional reps during team drills. Also getting a fair amount of reps was defensive back Cole Luke – the Panthers like his versatility, he can play both safety and corner on the outside or the inside.