I'll let you in on a little secret – Cam Newton is usually one of the last to arrive to Panthers practices.
During the season, he'll usually plug his phone into the speaker and start his playlist for the stretching period after jogging the path from the locker room at Bank of America Stadium to the practice fields – and today, the final day of OTAs the media was invited to observe, was no different as the quarterback, clad in what is apparently his wardrobe of choice for the 2019 offseason, a bright blue Panthers hoodie underneath his red jersey to go along with his white headband, was one of the last to arrive to the fields where construction continues on the practice bubble that aims to be completed for the 2019 season.
That bubble might have protected Newton from the prying eyes of a fan video that surfaced last week showing the quarterback throwing a regulation football, something he hadn't been seen doing at the Panthers facility since a procedure on his shoulder earlier this year – and while Ron Rivera confirmed that the QB is still doing everything he needs to from a rehab perspective – he was none too happy about the video that appeared to be shot through a crack in the fences surrounding the practice fields.

"I think [it's] just part of the process of his rehab," said Rivera about Newton, who continued to do calisthenics on the side with trainer Ryan Vermillion and threw a weighted ball on the side while his backups completed individual drills. "As far as I know, that was one of those things that somebody came in and took a picture, which we really don't appreciate because this is private property."
"At the end of the day, he's just going through the rehab process and there really is no timetable; he's continuing to work with the trainers on the side and do whatever they ask of him. He'll continue to progress and we'll see where he is at the end of the week. I continue to feel good about him, but we're going to listen to what Cam has to tell us….he's going through the process of his rehab program."
"At some point, he's going to have to throw the football."
That day wasn't today – don't forget Newton still seems on track to be a 'full go' for training cam – but as Newton entered the practice field, he gave out a primal yell to announce his presence – after missing the OTA session open to the media last week, QB1 was back on the field. Soon enough, he'll be ready to throw on that field.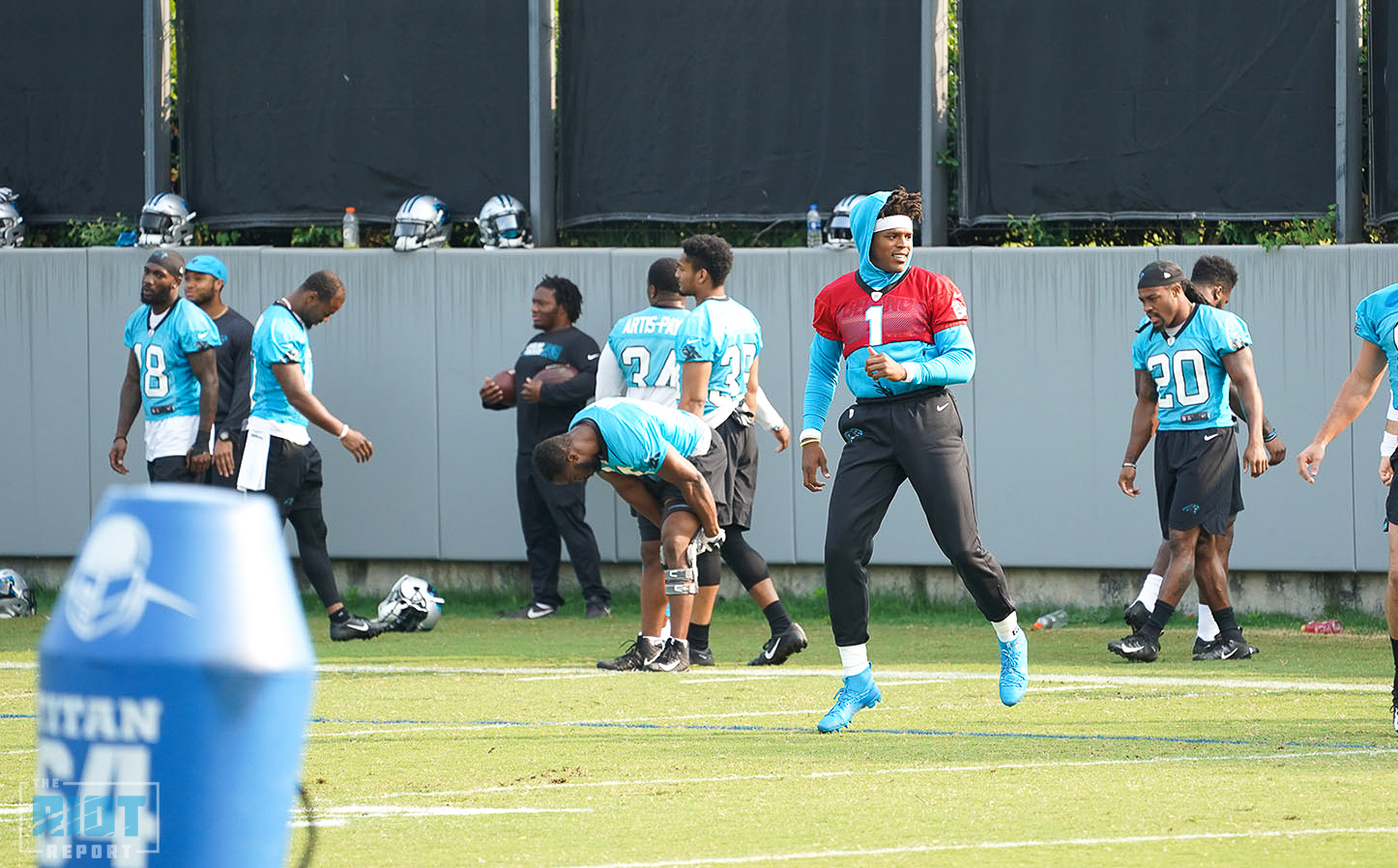 Some other observations we noticed from today's session:
First to Practice Award for this final open session of OTAs goes to UDFA safety Corrion Ballard from Utah, followed closely by G Kitt O'Brien and the man who won the award the most times last year – Efe Obada – who remarked to reporters that he was just trying to beat us to the fields.
Veteran 3-4 linebacker/defensive end Bruce Irvin entered the field flocked by rookies Brian Burns and Christian Miller, no doubt picking the brain of the player with 106 games of experience.
While Matt Paradis, Trai Turner and Daryl Williams participated in installs, they worked over to the side on bikes during team drills – as they've done for each session thus far. It will be interesting to see which of the interior linemen will be ready to fully participate come training camp in August, but it makes sense to bring them along slowly while the coaches take longer looks at their depth pieces this early in the offseason. "At the beginning of practice, he gets a lot of his work," said Rivera about Turner. "He's just such a solid veteran and he's been a big part of what we've done over the past few years that there's no reason to overexpose him."
Ian Thomas and Christian Miller worked off to the side with trainers, as did OL Dorian Johnson and TE Marcus Baugh. Again, it's early in the process – but with Miller's history of injury at Alabama and the emergence of Ian Thomas in an extremely important sophomore season, it will be important for them to get on the field sooner rather than later.
Team drills began with a coverage "sack" of Will Grier by Luke Kuechly; overall, the defense seemed to dominate the offense for stretches of practice, with a Grier interception by safety Kai Nacua a highlight for the D – Grier lofted a 50-50 ball into double coverage intended for DJ Moore that Nacua came down with. If the safety who ended 2018 on the practice squad hadn't picked it off, Corn Elder would have. Rivera likes what he's seeing from his safety group thus far – it hasn't just been Rashaan Gaulden getting reps. "We've got a good battle going on back there in the secondary," said Rivera. "You look at the free safety position and Rashaan Gaulden has had a very good camp, Colin Jones has stepped up and done some really nice things and Kai [Nacua] is a guy that's really made a name for himself as well…we've got guys that we've got to take a real close look at. That'll be one of the positions to watch during training camp."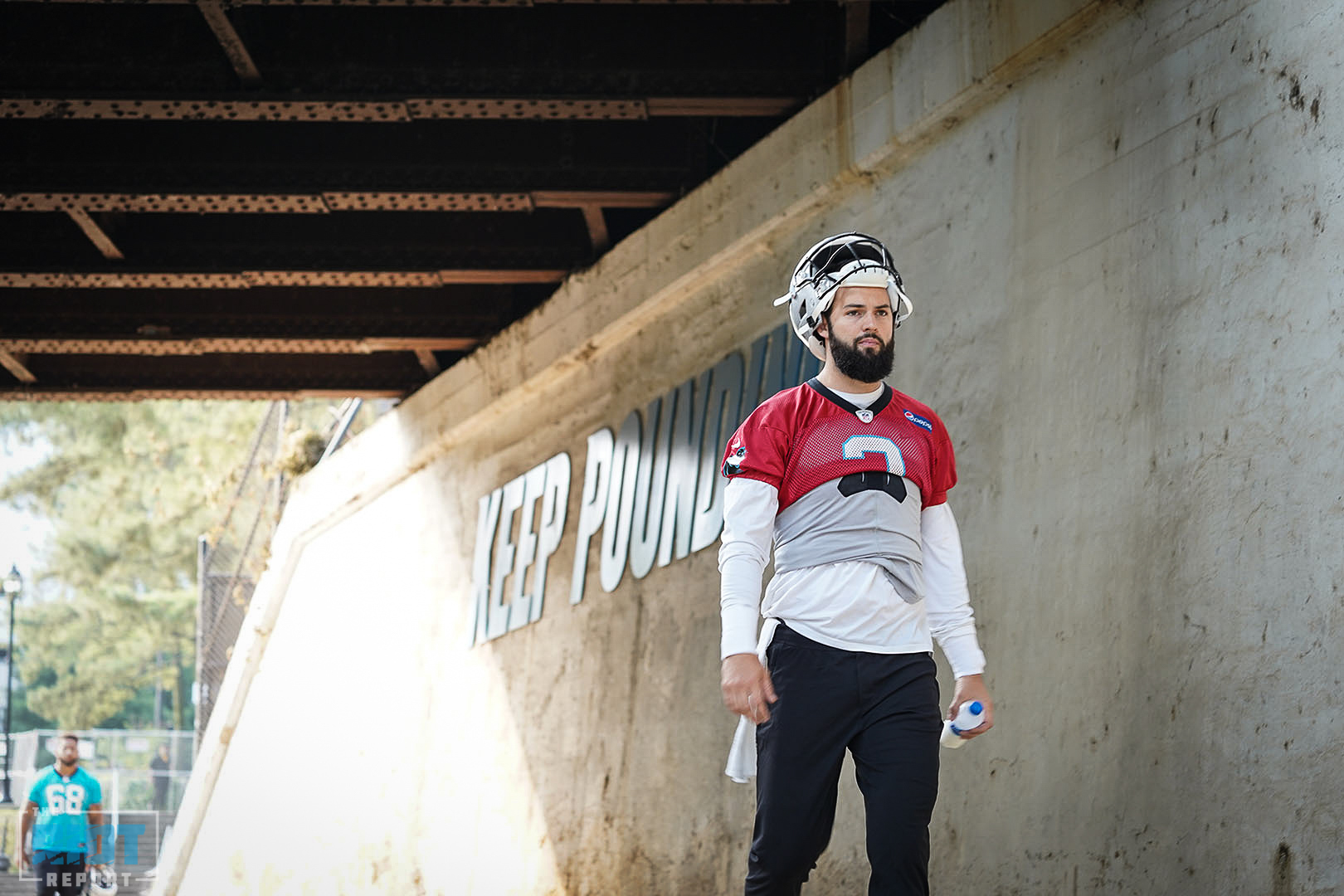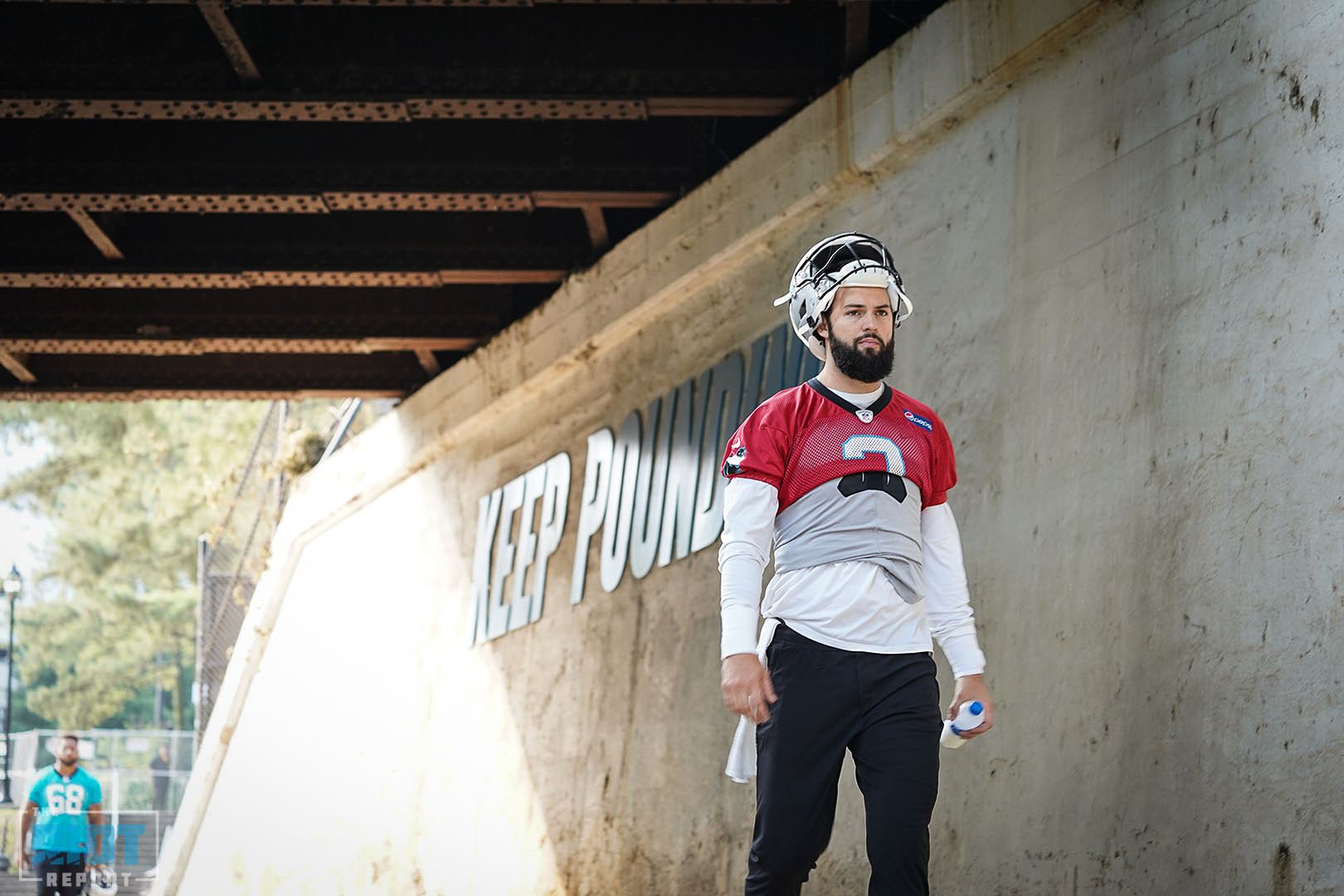 Grier redeemed himself with a pretty pass over the middle to Greg Olsen on a post pattern that dropped into the tight end's hands just over the outstretched arms of Elder. "These are young quarterbacks that are throwing the ball right now, so balls aren't necessarily where they need to be all the time," said Rivera.
Olsen, whose kids were on the sidelines during practice, continues to show that he's completely healthy with a one-handed catch that looked as smooth as silk – hard to tell that he's a 34-year old that's missed 16 games over the past two seasons; if his fifth metatarsal can stay intact, he doesn't look any different than he has in past offseasons.
We call @gregolsen88 Mr. Reliable for a reason 🙌 pic.twitter.com/gh4Ex2nKX0

— Carolina Panthers (@Panthers) June 3, 2019
One of the final plays of the day was a Kawann Short pick-6 of Grier that saw the DT pop the ball up in the air, track it down and rumble 50 yards the other way for what would have been a touchdown, much to the delight of his defensive teammates, including a particularly vocal Donte Jackson.
Gerald McCoy update from Rivera after the defensive tackle met with the Panthers last week: "I thought [our pitch] was received very well. Gerald's a solid football player and we most certainly are interested and would love to have him be a part of what we're doing…we're just waiting patiently to hear what the outcome's going to be. I thought it went very, very well and I think we've got a good chance – as do the other teams, I can promise you they're going to tell you the same things."