While it's hard to find snippets to take away from the first session of a rookie mini-camp, especially one that had been displaced from Bank of America Stadium by the starting quarterback's annual kickball tournament and limited to one field instead of the usual three because of construction to build a practice bubble and had the added element of a driving rainstorm to boot, there were some looks at what the future might hold.
First and fourth-round picks Brian Burns and Christian Miller lined up as stand-up edge rushers in a 3-4 defense – Ron Rivera continues to insist that their defense will be situational and multiple, although it appears more and more likely that the Panthers defense will have a three-man front when the season opens against the Rams.
Elijah Holyfield, an undrafted free agent after a slow 40 time at the combine dropped his stock from fringe Day 1 selection all the way out of the draft, working with special teams coach Chase Blackburn on avoiding kickoff blocks – Holyfield excelling at special teams will likely help his chances at making the Panthers final roster.
Fifth-round pick Jordan Scarlett taking a handoff from third-rounder Will Grier and bursting through the tackle box; two players competing for – in a best case scenario – a backup role in which neither will see the field very often.
Defensive Coordinator Eric Washington and defensive line coach Sam Mills III working with Bijhon Jackson, Tymere Dubose and Ulric Jones, all defensive linemen who weigh over 300 pounds and are unlikely to make the team, but still got coached up for most of the session on technique, hand placement and footwork.
But, in reality, rookie mini-camp is less about what happens on the field and more about what happens inside the players' heads.
"Probably the biggest thing is going to be about the retention," said Ron Rivera after joking that if it was a Friday practice, it had to be in the rain – something that was the norm during the 2018 season. "We really spent a lot of time in the classroom, a bit more time than we have in the past and we'll do a lot of position-specific work and then we'll do some group work and then we'll finish it with a little bit of competition at the end of the day."
"We're really trying to see what these guys are absorbing and what they can retain and then regurgitate it back to us."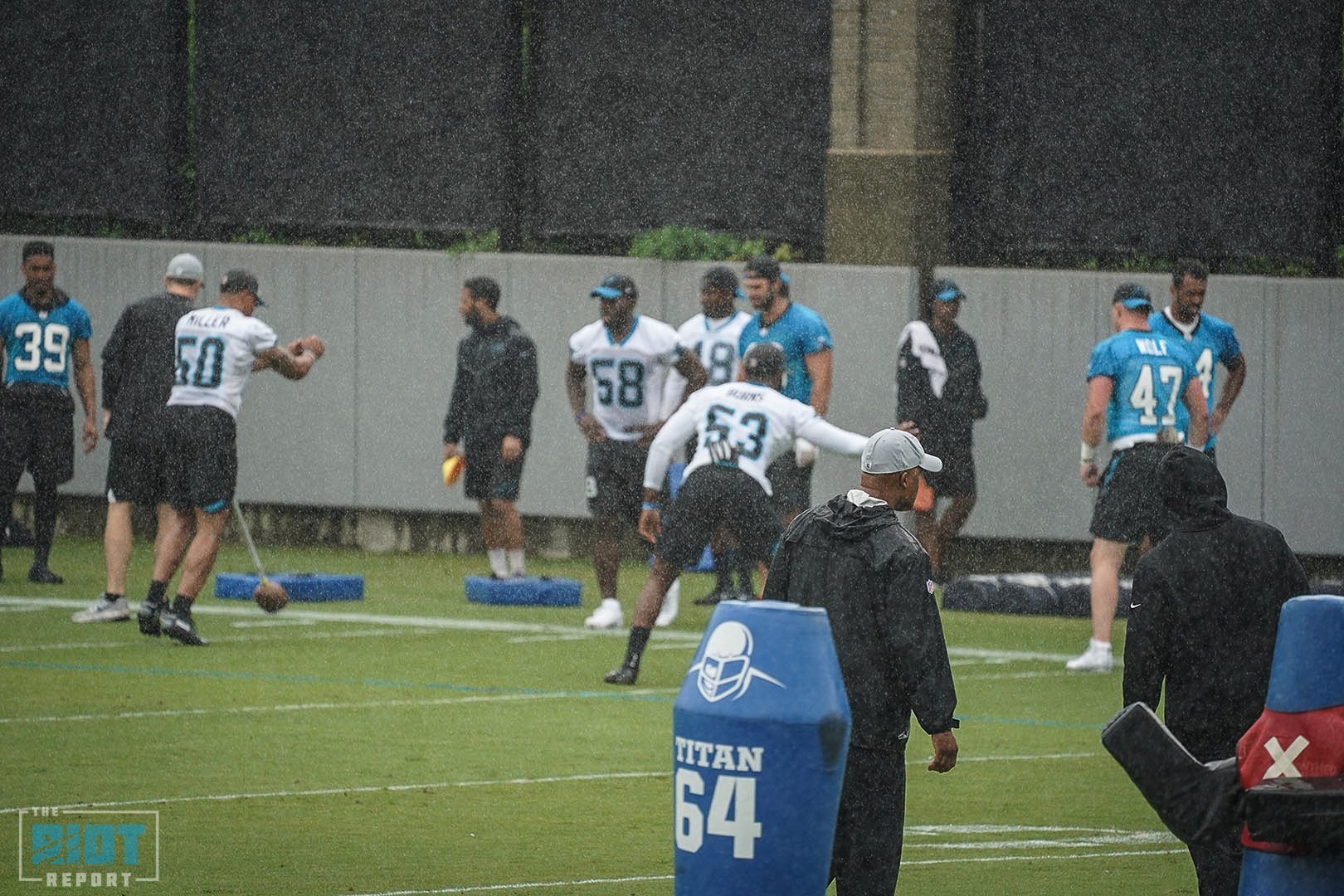 While the Panthers strictly worked on individual drills during the first session, the second session is expected to feature more of the exciting offense-vs-defense drills that will inevitably feature someone either looking spectacular or getting burned or falling down or making a bad throw or making a one-handed catch that ends up on SportsCenter and has the message boards buzzing.
But the reality is that what this first session showed was that football is back in Carolina and it's evolving – you could tell not only by the new defense on the field with two edge rushers wearing the jerseys of linebackers, but by the construction on a sorely-needed practice bubble that continued unabated during the pouring rain and all the way through practice – a loud bang punctuated Rivera's comments after practice and made the assembled media start.
"We've just got little snapshots right now and we'll be able to draw even better conclusions as we go through this even more," said Rivera.
While the pictures may have been blurry, mud-soaked and under construction – you could start to make out what they might look like.