Bank of America Stadium is ostensibly still the same as it was the last time we were in it – if you're counting, that was for Joe Brady's introductory press conference on January 17th, over seven months ago. While there are certainly differences – the bunker suites that occupy the west end zone certainly look different than the 900 blue seats that they replaced, but while the main worry seems to be about whether or not players will still be able to do Sunday Giveaways (plenty of seats in the corners or in the east end zone for children to get footballs handed to them in), the surprise of seeing glass and metal instead of blue plastic will soon fade away.
Yes, new social distancing and safety signage has been installed around the stadium and the restrooms have every other urinal and sink taped off. Those are already in place for games if and when Panthers fans are allowed to attend, which Mecklenburg County Health Director Gibbie Harris says a decision will be made on soon – but once you're in the seating bowl, the field still looks the same, the seats are still in the same spots and the sun still glints off the Charlotte skyline if you look at just the right angle. It looks the same.
New safety/social distancing updated signage at BoA Stadium for when/if fans are allowed back at Panthers games. @MeckCounty health director Gibbie Harris said decision about fans will be coming soon. pic.twitter.com/NZaO0NnNWh

— Josh Klein (@joshkleinrules) August 22, 2020
But it doesn't sound the same at all.
The Panthers were trying their best to simulate a game environment on Saturday, with referees making calls and music playing up until 20 seconds left on the play clock with ambient crowd noise piped in that the NFL will be using throughout the league, because they're not sure whether there will be no fans, some fans or some combination of the two.
Rhule was on the mic during practice, barking out drills and other instructions while there were operations crews in the booth making the play clock and other items go, but with less than a dozen media members in the stands watching practice, when the music and crowd noise stopped, it was eerily quiet.
"Yeah, it's definitely different," said Grier. "When there are people in the stands, even when it's quiet, it's never just silent."
"The ability to create your own energy this year is going to be a major factor," said Matt Rhule. "I thought that was a good challenge today to see how our guys dealt with that."
"Anytime you get to go in the stadium, it gives you some extra juice," added Grier, who rotated taking reps with the first, second and third teams throughout practice. "It's a different feeling – without preseason, hearing how it's going to sound out there, it's good to get comfortable with it, because it's going to be different."
"I think it's smart that we did that now and didn't just go into the first game just not knowing."
But it will still take some getting used to – Grier said the energy from fans in the building isn't something you hear, it's something you feel – going through reads and progressions is a whole different animal in an empty stadium than it is when there are 70,000 people screaming at you. So if there are 20,000 fans seated in pods around the stadium or if the stadium is simply just cameramen set up in the front row around the field, football in 2020 is definitely going to look different.
Here were some other things I noticed during the two-hour scrimmage:
The Panthers were down three wide receivers of the ten that are on the roster today – Keith Kirkwood has already had surgery to repair a broken clavicle and Seth Roberts was placed in the concussion protocol; UDFA Omar Bayless, who has impressed in camp, is set to go under the knife for a scope to take a look at some knee swelling. While he was on the sidelines riding the bike today, the Panthers are unsure if he'll miss a "couple weeks or a couple months" – they'll know once the surgery is complete. With so much competition in that wide receiver room, it would make sense for Bayless to be placed on injured reserve and work his way back for next season, which is a shame.
With those three missing, two wideouts down the depth chart – Brandon Zylstra and Ishmael Hyman – both had big days. Hyman had over 100 yards receiving and a long touchdown from Will Grier on the first team drills of the day. Zylstra caught a fade for a touchdown (also from Grier) over Donte Jackson near the goalline and would have had another score (this one from PJ Walker) had he not been whistled for offensive pass interference. Rhule described the former CFL wideout as someone who is "challenging for an opportunity."
Panthers signed veteran LB Julian Stanford (nine-year pro who played mostly on special teams) and waived UDFA David Reese – Stanford was at practice today. Rhule reiterated that they will continue to churn their roster to find the kind of players they want to have on the Carolina Panthers. "Tough guys who like to play hard," said Rhule. "We have enough stars, we have enough high-end talent guys. What we need is a gritty tough team that loves to play the game." He then listed off some players who he thinks falls into that category:

LB Adarius Taylor
DE Yetur Gross-Matos
DT Zach Kerr
DE Marquis Haynes
DE Efe Obada
S Juston Burris – "one of the unsung heroes of camp. He's exactly the type of guy that I want to build this thing around."
S/LB Jeremy Chinn
WR Brandon Zylstra
RB Mike Davis – "he's had a great camp, just a great camp. he's running, he's getting open."
G John Miller
C Matt Paradis
G Chris Reed
T Russell Okung
T Taylor Moton
TE Chris Manhertz – "blocking tight end who's developing into a pass receiver. He works at everything everyday"
FB/TE Alex Armah – "showing us his versatility"
WR Robby Anderson

Teddy Bridgewater continued looking extremely sharp, starting the day with seven straight completions for almost 150 yards and two scores (one to Manhertz and one to McCaffrey). He also had another score to Mike Davis called back due to holding. The offense consistently rolled when not held back by mistakes or penalties.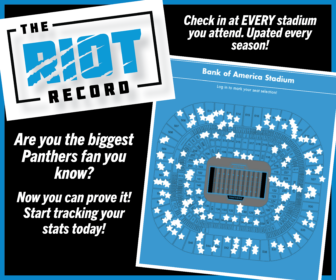 The specialists, perhaps spurred on by the signing of kicker/punter Kaare Vedvik, who will join the team next week once he passes the COVID protocol, were excellent today. Joey Slye was 3-of-4 with his only miss being a 58-yarder and Joe Charlton, who has had some missteps in practice this week, was consistently punting between 45-55 yards and dropped a few inside the 20 with multiple fair catches. At the end of the day, Rhule allowed the specialists to take center stage, with JJ Jansen snapping the ball from the 10-yard line and hitting the goalpost, Charlton attempting to punt the ball into the upper deck and Rhule having Slye kick a field goal from the sidelines. Rhule even attempted to ice the swole kicker, but Slye was true – and the Panthers got to leave early because of it.
Specialist challenges to end practice, each challenge was an hour of practice. JJ Jansen snapped it 15ish yards and bullseye-d the goalpost.

P Joe Charlton tried to punt it into the upper deck unsuccessfully.

Joey Slye hit a FG from the sidelines – after being iced by Rhule. pic.twitter.com/SLcCLzD1h9

— Josh Klein (@joshkleinrules) August 22, 2020
The offense looked much more impressive than the defense overall to begin practice – it seemed as if they could move the ball at will and had multiple big plays that might have gone for scores had these been live instead of "THUD" drills. At one point, the first-team offense went 99 yards for a score, with two big throws to DJ Moore and Robby Anderson advancing them down the field before an 18-yard strike to Manhertz from Bridgewater secured the six points. An earlier score was punctuated by a diving sideline grab by Moore for the two-point conversion.
However, the defense had their moments – "sacks" by Kawann Short, Brian Burns, Yetur Gross-Matos and Zach Kerr were highlights as was a nice PBU from rookie Troy Pride, Jr in the red zone. A Myles Hartsfield interception (of a PJ Walker throw) that bounced off of a helmet was the only turnover that I saw. Hartsfield was all over the field, switching jerseys halfway through practice and scoring two touchdowns at running back, both of which were called back on holding penalties. It will be interesting to see if he can parlay playing on both sides of the ball into a roster spot.
Many players, including Christian McCaffrey, Brian Burns and other starters took off their pads at some point during practice and watched from the sidelines – Rhule said this was the plan, as was not allowing his first-team offense to go 'live tackling' — "McCaffrey's been tackled enough and is going to get tackled a lot this season."