It seems as if everyday at Panthers training camp thus far, there's been a semi-viral moment that sets the Panthers world abuzz.
Whether it was Matt Rhule taking it upon himself to do defensive line drills during the first padded practice of his NFL coaching career, the sticks coming out for a golfing competition after practice last weekend or even a hot dog eating competition, Rhule has done his best to keep the training camp sessions not only teaching opportunities, but fun for the players.
Today, when the Panthers finished stretching to start off practice, they ran a 'Peanut Punch' drill with defensive players trying to punch the ball free from offensive players as they ran across the field – then they swapped spots and the defense held two pigskins while offensive players tried to force fumbles.
"I think it helps with getting practice started out or like looking forward to doing something fun," said tight end Ian Thomas about the different activities. "I think I did well in the peanut punch drill – I didn't fumble, so….but, well, I didn't force a fumble, so that wasn't good."
"I think it just makes everyone look forward to something fun instead of just – oh, we've got to go to practice, we've got to go to meetings, you know what I mean?"
After a few iterations where, predictably, the offensive players were more proficient at hanging onto the ball then the defenders – except for a triumphant Brian Burns making it through a McCaffrey/Bonnafon gauntlet – Rhule called his players into a line and put the ball in the hands of lineman (and birthday boy) Taylor Moton and asked him to protect the pigskin from Efe Obada and Derrick Brown, which he did successfully.
He then called Eli Apple into the fray against Christian McCaffrey and Mike Davis with the stipulation that if Apple could make it to midfield, the defense would get to leave at 7p tonight – an hour earlier than the offense.
He did – the defense went crazy —— and the team ran out of the bubble for practice to begin.
Here were some other things I noticed today at Panthers training camp:
Three players (in addition to wide receiver Keith Kirkwood, who had surgery for a broken clavicle and isn't expected to return soon) did not participate in practice today – Omar Bayless (swollen knee), Temarrick Hemingway (head) and Jordan Kunaszyk (ankle) wore red jerseys adorned with #1 to indicate that they were injured. Rhule said after practice that he's always put injured players in red and while some fans will be unhappy with the number on the front of the jerseys, Rhule wouldn't address it when asked. He did, however, mention that Bayless was having a good camp and was hopeful that he could return Thursday after a couple of days of rest.
The Panthers stuck to mostly team drills today – Rhule said they ran 89 plays – and did a fair amount of rotating between the 1s, 2s and scout team as the coaching staff is still trying to evaluate which players fit where on the depth chart. He wanted to test them in multiple game situations – from backed up at their own goalline to working in the red zone to running a two-minute drill.
The defense had a good day today, holding the offense out of the end zone or stopping them on downs on most drives in addition to forcing three fumbles over the practice, including one from Christian McCaffrey that had Eli Apple and Stephen Weatherly celebrating as they ran off the field. A goalline drill that started at the one ended up in the crowd of players and coaches watching from behind the QB as Yetur Gross-Matos and Jermaine Carter, Jr. chased PJ Walker 10-15 yards behind the line of scrimmage for what would have certainly been a sack. On the previous play, Tahir Whitehead batted down a Bridgewater pass over the middle.
It wasn't all a wash for the offense though – Bridgewater's first drive methodically worked it's way the length of the field and finished in a field goal after the defense stiffened inside the five-yard line. After PJ Walker led a three-and-out, Will Grier's drove the offense the length of the field and Jordan Scarlett punched in the possession for a touchdown – as has become a tradition, the ball was handed to an offensive lineman for an emphatic spike. Bridgewater also later threw a touchdown to Robby Anderson.
Eli Apple has also started to get some more looks from the coaches – in addition to drawing focus during the peanut punch drills, he's been sticking to receivers during 11-on-11s over the past couple of days. "Eli had an offseason foot [injury], so we're just sort of easing him into it – Eli has a chance to be a really good player; he's got tremendous skills, he's just learning our defense.
While Grier has looked sharper than Walker thus far through camp – yes, it's a very small sample size – Walker had some nice throws today, including a dart to a crossing Seth Roberts in the end zone for a score and a later score to newly-signed tight end Andrew Vollert.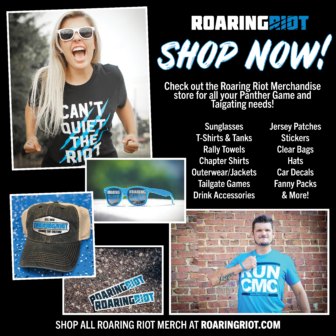 For the past two seasons, Chris Manhertz has been known for his blocking, but he seems to have taken a jump in terms of pass catching as well – he's been impressive in both individual drills and 11-on-11s. It will be interesting to see how Joe Brady chooses to use the tight ends currently on the roster.
The players – but not the coaches, Rhule revealed with a laugh – will be off tomorrow. The Panthers gave their team three days off in the first eight because statistics show that most injuries occur during the first two weeks of camp – Rhule says that during the last day off, there were 60 or 70 players still in the facility. If they don't come back to the stadium, Rhule hopes "they study their playbook a little bit, hang out with their family and relax and come back focused because it will be a hard three days Thursday, Friday and Saturday."
(Top Photo Via Brandon Todd/Carolina Panthers)