Players get nicked up when they play football – that's a foregone conclusion.
Someone's going to roll an ankle, cramp up, dislocate a pinky or twist their knee – the hope for every team in the NFL is two-fold: that the inevitable injury bug that strikes your team isn't catastrophic – a defensive tackle, no matter how good, missing a few games is a country mile better than your starting quarterback blowing out his knee and missing the rest of the season – and that you have enough trust in the 'next man up' to do the job should his number get called.
Add in the chance of your players testing positive for COVID-19 in the midst of a pandemic and an offseason where they weren't allowed in the facility until late July and the chance of injury increases probably ten-fold – so for a lot of NFL teams, it's about how you manage those injuries that really matters.
Russell Okung has left practice early the past few days as he deals with some back tightness, but he staved off the trainers at the end of the session Tuesday to stay out there as they monitor.
"I said 'OK, you're good' and he said 'no, I want to get a couple reps of this [drill]," said Matt Rhule about the 31-year old left tackle. "He's a veteran, so he knows what he needs more than anything else…he's every bit as much a part of that decision-making process as we are."
Thursday, after a day off for the Panthers, there were small injuries all over the field – as I was watching Mike Davis get checked out by trainers, another reporter asked me if I could see what was wrong with Curtis Samuel as he was attended to by a trainer under a pop-up tent next to the bubble. Rookie defensive back Troy Pride, Jr. limped away from a special teams drill and sat on the cart while being taped up – same goes for cornerback Derrek Thomas. Brian Burns even had to step away from the field gingerly after taking a shot to the….well….he was alright after a minute, but yeah, there were things happening.
All of these players returned to action almost immediately, but not all injuries were solved as quickly – Shaq Thompson spent the beginning portion of practice stretching with trainers and didn't participate at all due to groin tightness. UDFA standout Omar Bayless spent his second straight day in a red jersey – no number on it – as he tries to work through a knee issue and rookie DT Bravvion Roy wasn't at practice today after arriving to the stadium with a gastro-intestinal issue, which Rhule made a point to make clear was not COVID-related.
Players are going to get hurt – it's about making sure that those injuries don't linger until Week 1 and that the Panthers are as healthy as possible when the Raiders come to town that ultimately matters. That's about not just staying safe between the lines during practice, it's also what happens when you leave the field and recover that can make you more prepared for that next session.
"For me, it's just been trying to be more consistent with eating healthier," said guard John Miller, who joined the Panthers on a one-year deal after spending 2019 in Cincinnati. "Just working out – that's the best thing you can do. The process after you step off the field of getting your body back to feeling good, whether you hit the cold tub, the hot tub, contrasting, stretching, getting massages and things of that nature to help keep you feeling good and so you can continue to feel good."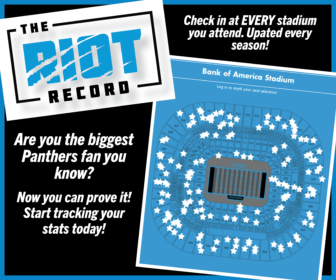 Here were some other things I noticed:
Newly claimed defensive end Jalen Jelks (who was claimed on waivers from the Cowboys) was on the field today wearing #73 – tight end Andrew Vollert, who was signed only four days ago, was released – I am not kidding you. The Panthers liked Jelks and with only 80 players in camp, this decision came down to the numbers as Temarrick Hemingway (concussion) was able to return to practice, albeit in a green non-contact jersey. "This is a really hard year," said Rhule. "Having some players get hurt early in [Keith] Kirkwood (who broke his clavicle) really just got [us] caught up in the numbers game."
While Tuesday saw a lot of team drills, there was a lot of teaching in today's camp session. The team ran a new route combination drill with multiple receivers going up against multiple defensive backs in addition to the drills we've seen in the past. While one-on-ones and individuals tend to make the Twitter feed (mostly because reporters can't film team drills), it seems as if what happens during 11-on-11s is much more important than when receivers are going mano-a-mano with a defensive back. One-on-ones are for learning, team drills are for showing that you've learned.
Rhule says he'll keep six or seven wide receivers on the roster – one receiver, in addition to the top three WRs who seem to be consistently open, who has been impressive in one-on-one and individual drills has been Tommylee Lewis, whom the Panthers just signed over the weekend. Lewis had a terrific over-the-shoulder grab as he ran right by Stan Thomas-Oliver; the converted corner who the Panthers took in the seventh round hasn't looked ready to be a corner at the NFL level thus far – if he can't contribute on special teams, it will be an upward climb for him to make the roster.
Another receiver impressing is Pharoh Cooper, who was initially brought in as a kick/punt returner – he was an All-Pro special teamer with Los Angeles in 2017 – has caught Joe Brady's eye as a pass-catcher. Cooper, who went to the University of South Carolina and grew up in Havelock, NC, has looked good and is taking advantage of the absence of Keith Kirkwood to show what he can do as a wide receiver and not just as a returner.
Myles Hartsfield is listed as a defensive back but has been getting reps at running back the past couple of days, including wearing an offensive (blue) jersey today – that kind of versatility is just what the Panthers are looking for in an unusual season. "He was a great tailback in high school and went to college and played defense and we've been repping him on defense, been repping him at tailback and he's a really good athlete," said Rhule, who recruited Hartsfield. "As we try to fill numbers at different positions it just gives us a little bit of flexibility to go back and forth – that's part of the thing with this team this year; with COVID, with the expanded practice squad, guys who can play on offense and on defense have a lot lot lot more versatility, so Myles is someone who can do that and can it pretty well."
The battle at quarterback continues. Teddy Bridgewater is clearly the starter – QB1 had four straight completions to open one-on-ones before Natrell Jamerson was the first to break up a pass and Bridgewater was trying out the deep ball a bit; although he didn't connect during those drills, he was able to put together a string of touchdowns later and he had a perfect throw to DJ Moore over the middle that Moore went up and got over a defensive back. Corn Elder also had an interception off Bridgewater as he stepped in front of Curtis Samuel.
Rhule says that PJ Walker was ahead of Will Grier for the backup spot for the first week of camp but Grier has battled back over the past few sessions – "to me, it's way too early to start thinking about that yet – we're just trying to teach these guys the system and one day, one might look really good and one day the other might look really good – really, we're just pointing towards two weeks from now." Both Walker and Grier had their moments today, with Grier throwing a beauty of a back-shoulder score to Ishmael Hyman and Walker a dart to Moore, who turned on the burners for a score early in practice.
Jeremy Chinn continues to impress, blazing into the backfield during team drills to meet Christian McCaffrey. During the final set of team drills, McCaffrey had a counter to the right that might have gone for a score, the hole was that big – that drill concluded when Mike Davis put the ball on the turf to end the drive (although a review may have had him down).
Rookie punter Joe Charlton continues to be inconsistent – he's the only leg in camp and while there have times when he's boomed some punts, he's also had some poor outings, including putting his second shank of the week over the fence and onto the street, today's bouncing out on Cedar Street. He's going to have to get more consistent if he hopes to stick it out and make it to Week 1.