With the first game of the 2019 preseason upcoming on Thursday, practice seemed a little less intense Tuesday – especially when you compare it to yesterday's padded practice that certainly wasn't lacking for physicality.
Perhaps it was the amount of players who had the day off – Olsen, Paradis, Addison, McCoy, Love, Thompson and McCaffrey all had vet days while Tyler Larsen, Rashaan Gaulden, Efe Obada and Marquis Haynes returned – or simply the fact that the practice wasn't much more than a glorified walkthrough to ensure that Thursday's game plan is in place and players know where they are supposed to be once they line up at Soldier Field, but there wasn't the same juice on the practice fields as some other practices.
But it didn't stop the players from having a good time – as evidenced by Trai Turner wearing his jersey backwards for the majority of practice, which he was quick to point out to Eric Washington and, of course, to Cam Newton when he came jogging down the hill.
The majority of the reps were taken by the players who were going to play the most on Thursday night, so when a deep pass from Kyle Allen – who will be starting Thursday – to DeAndrew White went for a score on the first rep of practice and Newton was the fourth quarterback to see the field, it shouldn't have come as a surprise. Newton spent most of his day talking to teammates, the crowd – of course – and owner David Tepper, who watched practice from behind the line of scrimmage, spending most of the session chatting with Greg Olsen.
But the importance of this Thursday's game is clear for certain players fighting for their spot on the roster.
"The nice thing is we have four games to judge these guys on," said Ron Rivera after practice. "But if you play well in the first one, you give yourself an opportunity in the second game to play more, and that's probably the biggest thing these guys have to understand. I told that to the young guys when we circled up, we talk about opportunities, this is one of the biggest opportunities because we're not playing the veterans a lot. We're not going to play the ones a lot, so they're going to get the majority of the snaps."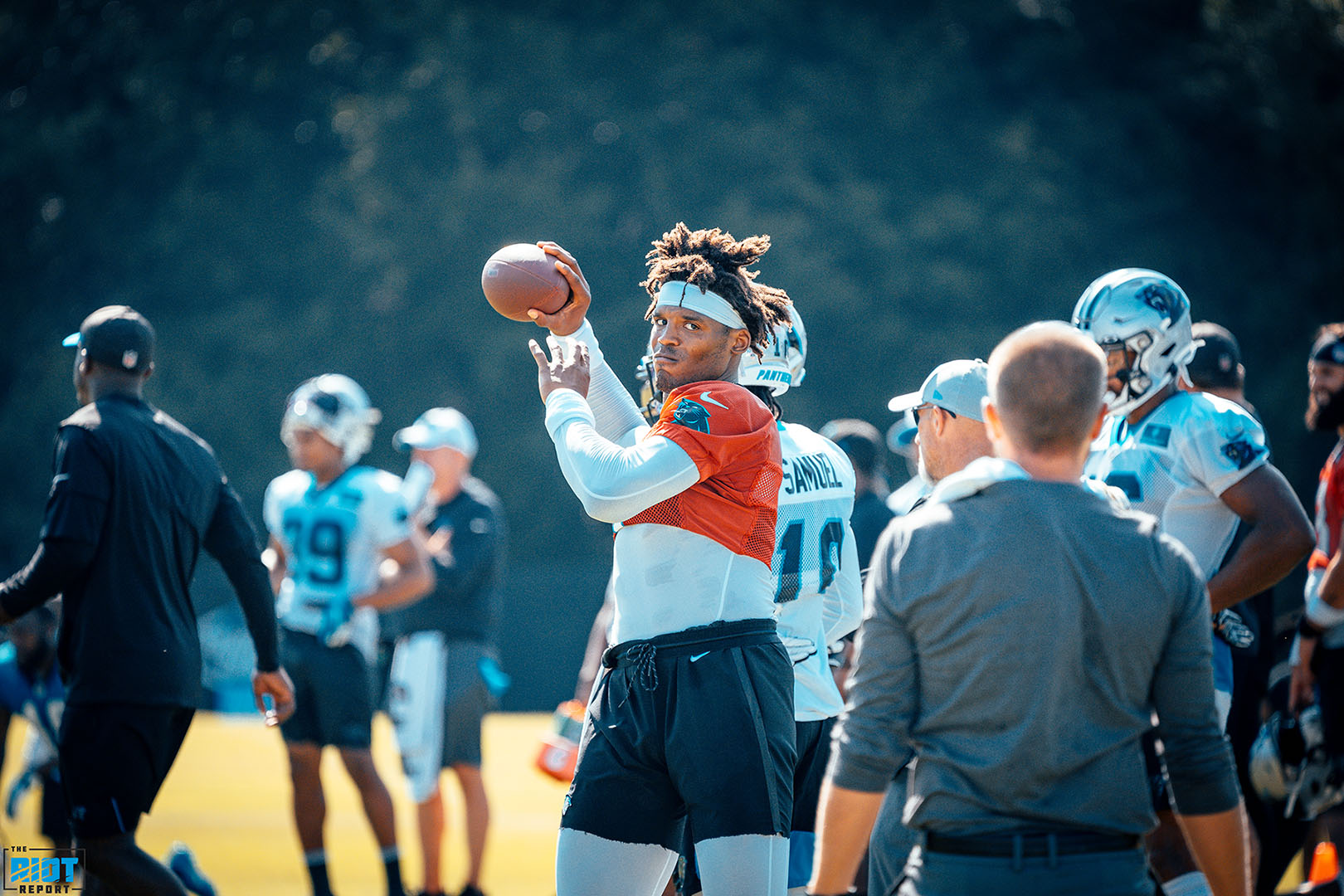 Here were some other storylines I noticed from Tuesday's practice in shells:
Jordan Scarlett again was held out of practice with back tightness and won't play on Thursday. In his stead and with the starter on the sidelines, the other three running backs in the room – Holyfield, Bonnafon, and Artis-Payne – got a lot of reps. You don't realize just how many passes Christian McCaffrey catches until he's not on the field as the Panthers used the other three vying for a backup spot to run routes all over the field. Bonnafon caught a deep touchdown throw from Will Grier and Artis-Payne had a great over-the-shoulder catch in the end zone while Holyfield had a nice snag in the flats. How they perform in the passing game – both catching the ball and protecting the passer – will likely have a huge impact on which two of these four make the team.
With Shaq Thompson out and Luke Kuechly having light work as the Panthers continue to be cautious with him, there was a lot of Jermaine Carter, Jr and Andre Smith on the inside – both of them looked extremely comfortable both blitzing and in coverage. It's clear that the Panthers like both of them, even if there isn't a place in the starting lineup for them quite yet. 
Efe Obada and Marquis Haynes – both of whom are expected to get a lot of reps on Thursday night – both returned from personal days and made an impact up front. It will be interesting to see not only how Obada fits into the new defensive scheme, but whether or not Haynes can excel. The 3-4 base is built for him to succeed, so it's time for him to show out in the preseason.
Aldrick Robinson was able to get open – a common occurrence thus far during camp – and hauled in a nice ball from Kyle Allen during team drills. The getting open part hasn't been hard for Robinson, it's been the bringing in catches that he's struggled with – that's going to be something he'll have to show that he can be relied on to do on Thursday night.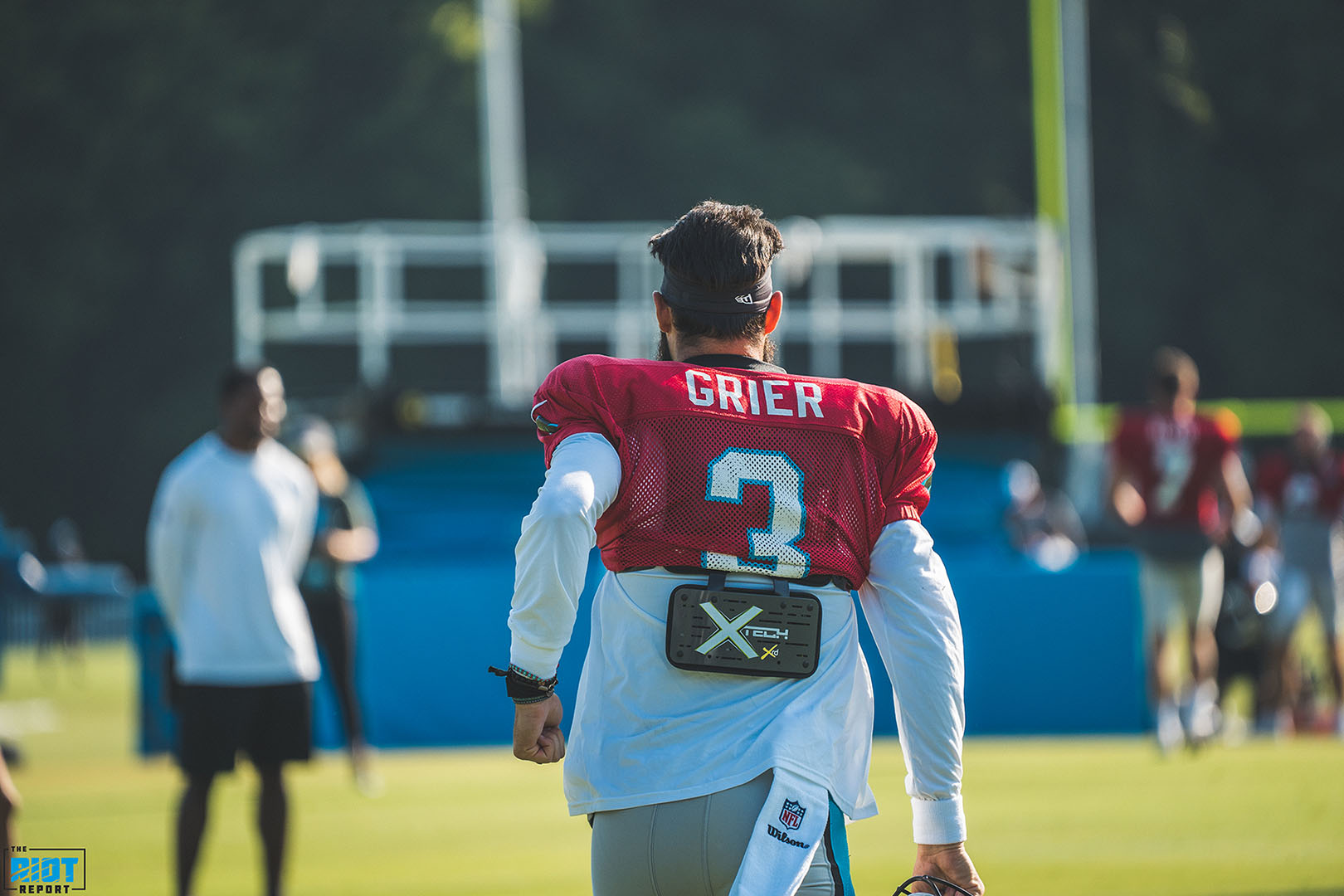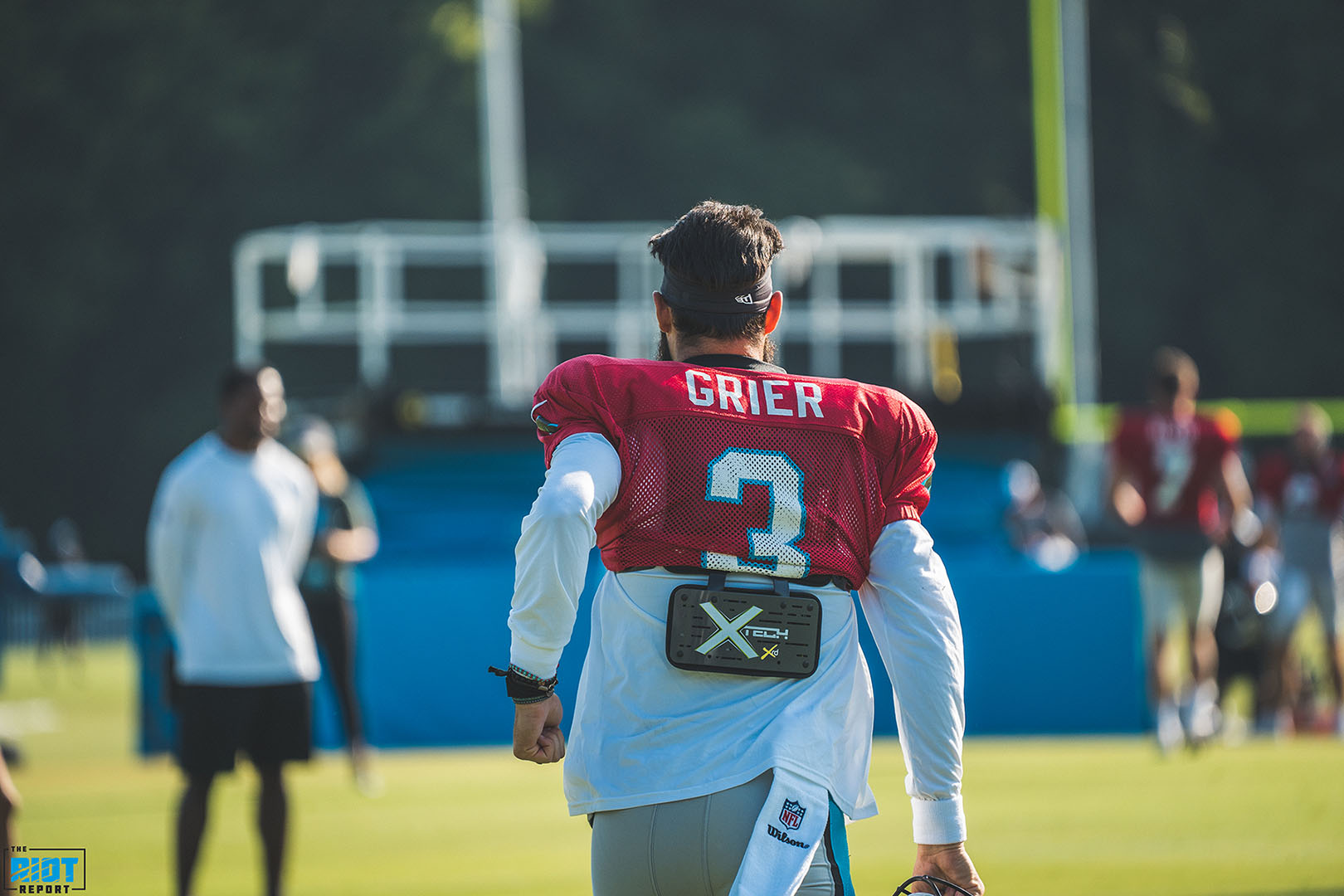 Will Grier continues his up-and-down camp, which is as expected for a rookie. On two consecutive plays, he threw the ball directly to linebacker Jonathan Celestin, clapping his hands in frustration at the decision, before airing out a beautiful 40-yard touchdown pass that settled into Reggie Bonnafon's hands in stride down the field. I'm excited to see how he looks in real competition against an opposing defense, but don't expect him to be perfect immediately. He still has time and room to grow.
In the limited reps for Cam Newton, he had one spectacular play – a laser to Curtis Samuel in the back of the end zone that saw Samuel run by Javien Elliott in the slot and Newton hit him in the numbers before Cockrell could close on him – and one less-than-spectacular play after Newton threw his second goalline interception in two days, this one to Corn Elder. It appears that they were on similar plays, a cornerback that Newton didn't see closing in underneath a receiver. 
Ian Thomas showed up in a big way today, likely having something to do with Greg Olsen not being on the field – expect Thomas to get a lot of work on Thursday, but on Tuesday, it seemed as if Thomas made a catch on every set of drills, including a couple in the end zone. He's going to be an interesting red zone target as the season wears on – I'll be curious whether they use two-tight end sets or a tight end rotation in an effort to get both he and Olsen on the field as much as possible.