A combination of the heat spiking yesterday, Monday being a workday for most people and the prospect of the Bills coming to town the next two days being perhaps a bigger draw led to a sparse crowd for Monday's practice at Wofford College, perhaps the final practice that would belong only to the Panthers in Spartanburg. The final two practices – Tuesday and Wednesday – will feature former Panthers both on the staff of the Buffalo Bills – Head Coach Sean McDermott was Ron Rivera's defensive coordinator and Brandon Beane was assistant GM here – and on the field – Kurt Coleman and Captain Munnerlyn will likely up the volume of practice the rest of the week as they playfully jaw with Cam Newton.
With the Bills coming to town, the Panthers still had a spirited practice Monday, but it seemed as if everyone's mind was already shifting to the two practices between the Panthers and Bills, which would not feature any live tackling but would be in full pads.
Rivera says there will be no tolerance for anything but using these practices, that Rivera and his former coordinator McDermott have been discussing for a couple of years, for what they are – healthy competition.
"We don't want any fighting," said Rivera, adding that he would address the Bills and McDermott would address the Panthers before practice. "If anybody fights, we'll pull them out, throw them out of practice and they'll be disciplined. That's the bottom line. We're not here to fight – that's bullshit. What we're here to do is learn from each other and help each other win…it's a great opportunity to work against somebody different. You don't know [them], they don't know you, so you've got to line up and play true football."
"To me, a guy fights out of frustration because he's getting beat, he's getting stopped….To do anything other than practice, to get better, would be a huge mistake."
Another potential reason for fighting: the heat. Which Rivera has been reminding his friend McDermott about, sending him what the heat index has been on a daily basis.
"Psychological warfare," said Rivera with a sly grin.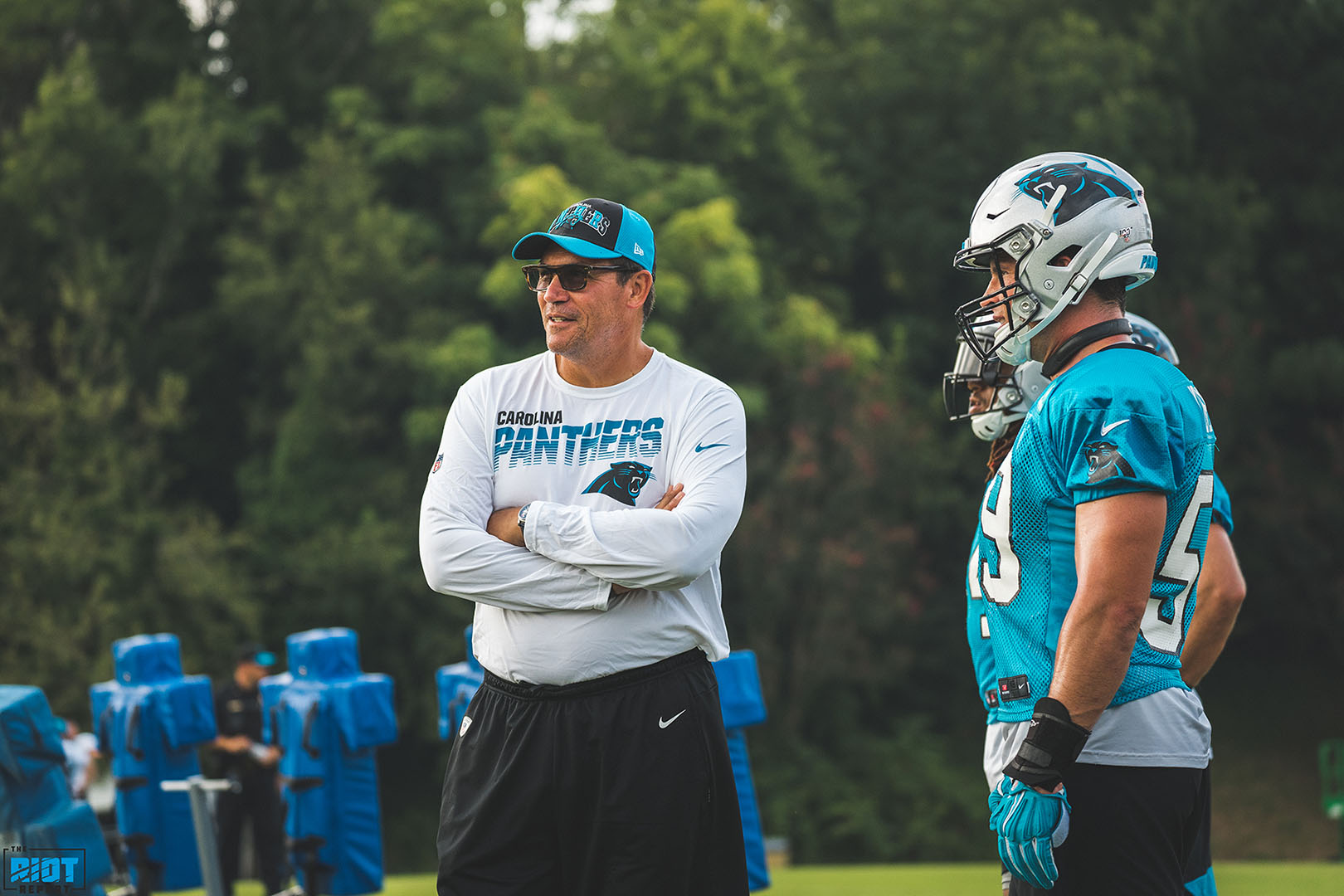 While the Bills will be here tomorrow, here are some things I noticed today during practice:
The Panthers made a couple of changes to their schedule – they were slated to be in pads today, but Rivera decided that after the heat index spiked to 115 yesterday, they would be in shells – not only that, but practice actually ended about 15 minutes early. The Panthers had Tyler Larsen, DT Destiny Vaeao, LB Sione Teuhema, TE Ian Thomas and CB Kevon Seymour working on the side today and while running back Jordan Scarlett participated for the first time since Fan Fest, Cam Newton had a rest day – which wasn't that restful as he did a fair amount of calisthenics and throwing motions, even adding in some pushups behind the line of scrimmage while the offense worked in the two-minute drill.
Once again, the defense was stout and impressive in the red zone, with two consecutive 'wins' for the defense over the first team – which was led by Kyle Allen – being particularly impressive. Luke Kuechly broke up a pass over the middle to Greg Olsen and Tre Boston, playing with the first team at safety for the first time since being signed, stripped a catch away from Curtis Samuel in the end zone to finish the two-minute drills. Samuel, as he has been doing all camp, had the catch of the day later in practice with a leaping catch in the back corner of the end zone, manuevering away from both Donte Jackson and Javien Elliott, who were both in the vicinity. 
Scarlett returned to practice but was working with Taylor Heinicke and the scout team – he'll likely be brought back in slowly.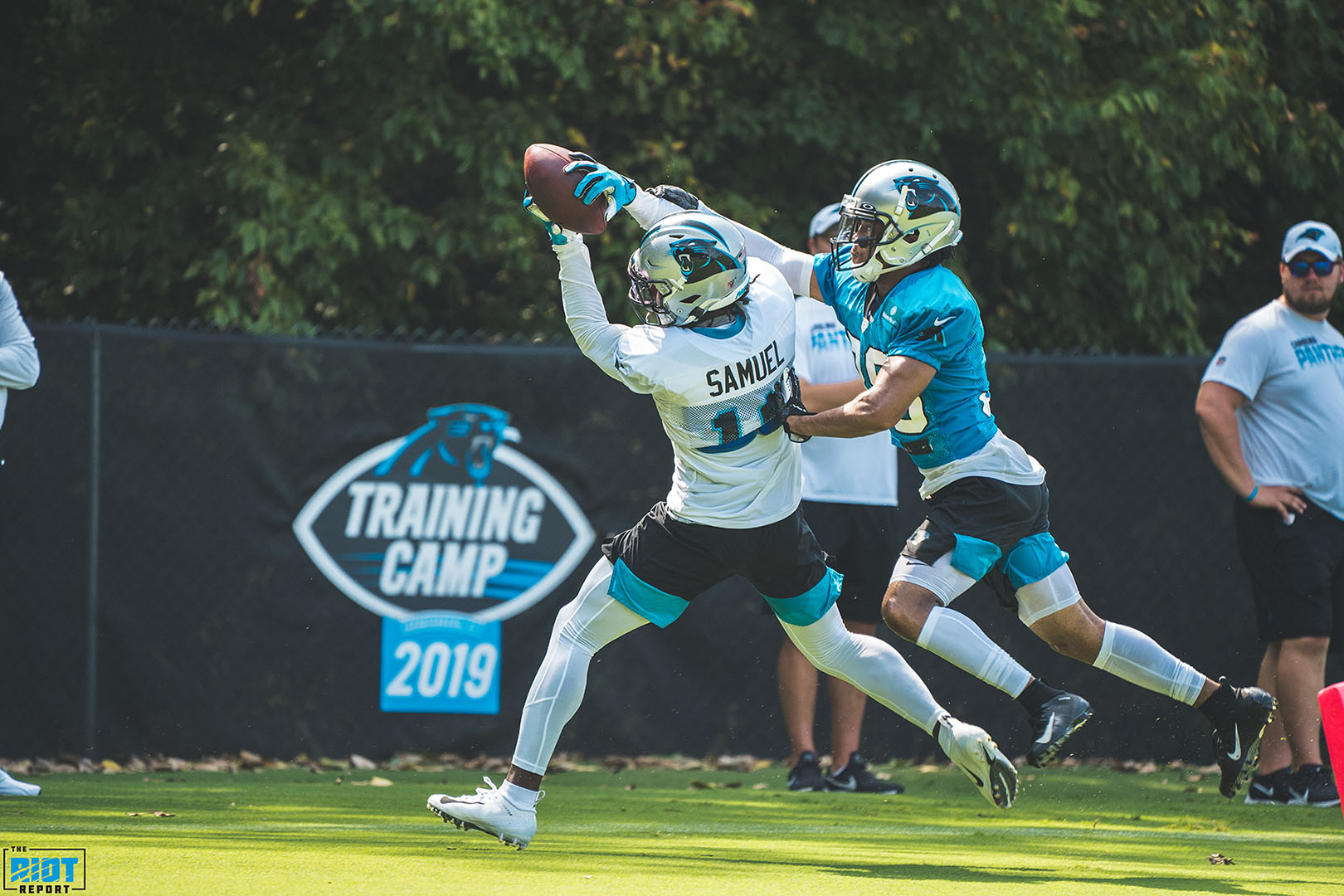 With Boston getting the reps at first-team safety, Ross Cockrell – who has been taking those reps for most of training camp – slid back to the outside corner spot with the second team. The versatility to play three positions (inside/outside corner and free safety) will make him a valuable asset in the secondary. 
Speaking of that secondary, Eric Reid was miffed at his fellow DBs, who have had multiple chances at interceptions – Donte Jackson jumped in front of Chris Hogan today and should have picked one off – but couldn't actually haul them in for turnovers. Even a Will Grier throw directly to Antwione Williams was picked off momentarily before the ball came spilling out. After practice, it looked as if most of the defensive backs stayed afterwards to work on the JUGS machine.
Grier continued his up-and-down camp, following the would-be interception to Williams with a pretty throw to Chris Manhertz on the skinny post for a score. The offense was able to score a few times, but the past couple of days, especially on shorter fields, the defense has played very well.
Rivera seemed frustrated with his offensive line as they false started twice, yelling "That's two now!" Norv Turner was also unhappy with some sluggishness and yelled some other things, which I don't feel comfortable putting on the internet. 
You may have seen highlights of James Bradberry getting beat by Curtis Samuel multiple times this camp – he even told Max Henson that Samuel was 'whoopin' [his] ass' – but when the Panthers corner has been matched up with DJ Moore, as he was today, those battles have been impressive; that's likely how the matchups would shake out during a game. Bradberry had a great PBU in the back of the end zone against Moore early in practice, and Moore came back with a spectacular tiptoe catch with Bradberry hanging all over him.