The walk from the locker room to the practice fields is an interesting one filled with choices.
Some players, like Kitt O'Brien, who spent some time in the AAF before signing in Carolina, are in full uniform with their helmets balanced delicately on their heads, eventually acquiescing halfway down the hill to the hordes of fans yelling his name – players like him, who aren't the biggest stars in the world and are trying to prove they belong on an NFL roster, are usually called by their last name as they pass by, but sometimes a fan will recognize them and use their first name, that's what happened today and a call of "Kitt!" pulled him to the fence to sign some autographs.
Everyone knows Norv Turner's name, and I'm not sure when he graduated to receiving the Luke Kuechly treatment of an elongated first name, but that was the case as the "Nooooooorv" calls followed him down the hill when he rode by on a cart.
Some, like rookie Terry Godwin, take the long walk to get some extra coaching as he and wide receivers coach Jim Hostler exchanged talk about footwork on the way down, Hostler pausing about halfway down to demonstrate where Godwin's feet should be as he makes a cut.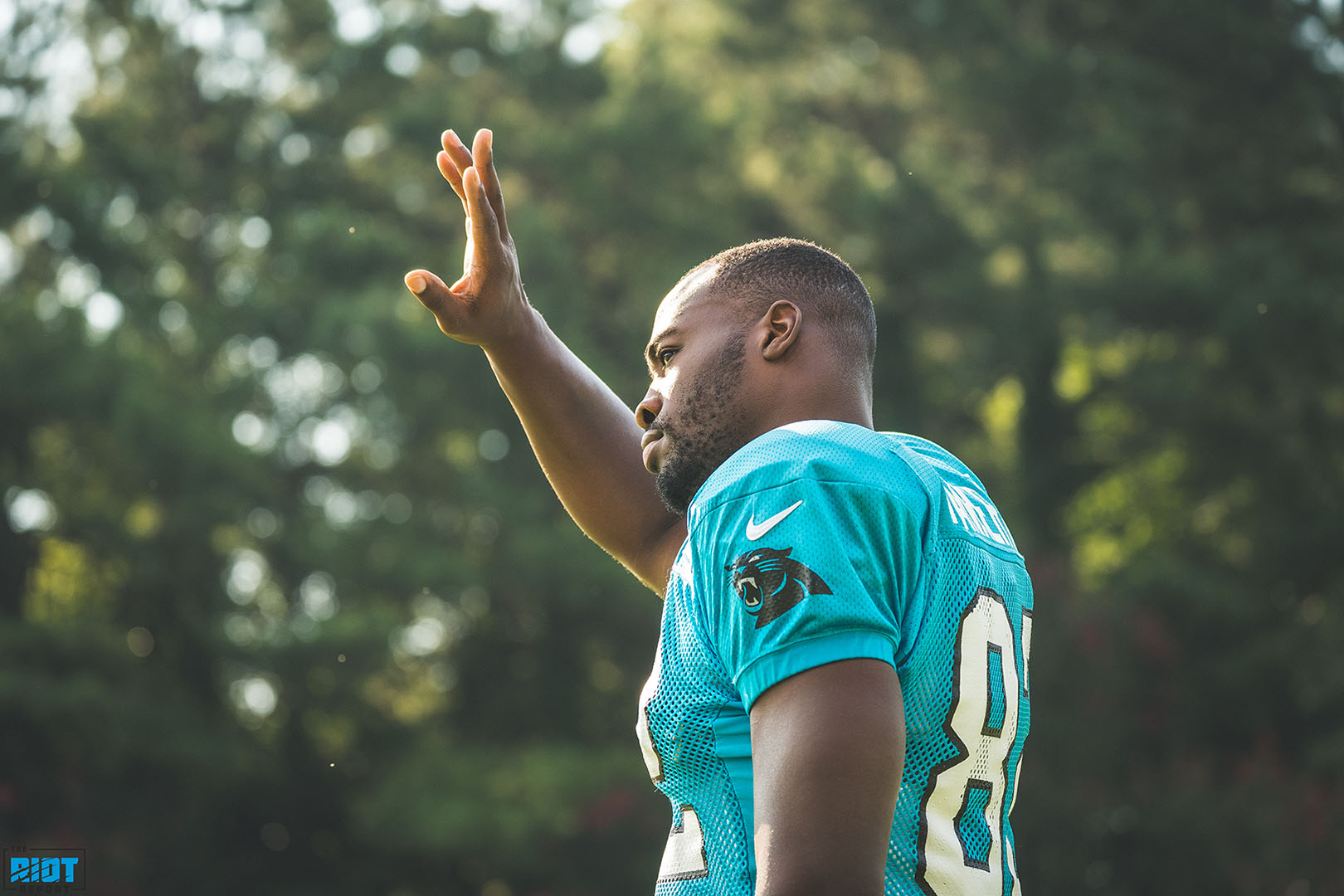 Not surprisingly, many players stop to sign autographs on the way down to practice – today's saw Ron Rivera, JJ Jansen, Eric Reid, Shaq Thompson and Vernon Butler – to name a few – be drawn to the melodic tones of fans yelling their name in constant unison that's somehow harmonious and ear-splitting at the same time. Some speed by the fence on carts or simply jog by with promises to return after practice – most do.
Some are in full uniform, some carry their pads down the hill like Kawann Short did today.
I always like to see the unusual pairings – who chooses to walk with who can reveal some interesting friendship. It's not surprising to see Greg Olsen and Christian McCaffrey walk side-by-side, just like it wasn't unusual to see James Bradberry, who had a chat as he walked with a fan about Birmingham – Bradberry's hometown, walking with fellow corner Cole Luke, who would get the first shot at nickel reps a few minutes later.
Near the end of the entrances is always Cam Newton – you likely see his entrance everyday on social media, not only because he's the star of the show and the franchise quarterback, but because the way he enters the fray is always energetic, usually involves yelling and as is always the case with Cam, is very camera friendly.
Walking into Sunday like @RRiotReport pic.twitter.com/2MJ198gnVM

— Kevin Ketchie (@kevinketchie) July 28, 2019

Here are some other storylines I noticed at today's practice session:
Joining Destiny Vaeao, who sat out yesterday's practice, and Brandon Chubb, who's on Active PUP, on the sidelines was defensive tackle Kyle Love – Love left yesterday's practice and had an ice pack on his left quad near the end of practice. Greg Little also left today's practice and headed to the tent, it looked as if he was overheated, something that will definitely happen to the big guys – especially if they're not used to the humidity.
One of the most exciting things to watch are the wide receivers vs. cornerbacks one-on-one drills, as they're one of the closest you can get to a game situation during practice – the first of the day was a 40-yard touchdown from Cam Newton to DJ Moore when Moore got a step on Bradberry. The next was a deep ball on the other side to Curtis Samuel over Kevon Seymour that was in the exact right spot for Samuel to grab – only after Samuel got a step on Seymour. Other reps i noticed: Lorenzo Doss jumping in front of a Taylor Heinicke pass for the rare interception during one-on-ones and Donte Jackson (predictably) asking for some crowd involvement after a particularly nice pass-breakup.
Cam Newton was back to full participant in practice today after a scheduled rest day yesterday. He looked to be throwing during all drills and the deep balls he threw during the one-on-ones were – in my opinion – better than any he threw in the same circumstances during last year's camp. Last year, I only remember him completing one, a one-handed spectacular catch by Torrey Smith. Today, he completed his first two – while I'm not ready to throw a parade on July 28th, it's certainly encouraging.
The punt return competition continues to be a tight one – today saw Rashad Ross, Terry Godwin and Jaydon Mickens get the first crack. Mickens, who probably has a leg up on the competition due to having returned punts in Jacksonville, also has had some nice sideline grabs over the past two days of practice; a combination of special teams value and wide receiver competency was how Damiere Byrd got his roster spot – that may be enough for Mickens.
Running backs coach Jake Peetz is already mixing up the drills the running backs run during individuals, adding 'The Mama' – a trampoline-like contraption that the rushers start underneath and explode into blocking sleds – after a particularly impressive block by Christian McCaffrey, Peetz turned to the assembled media and guests and joked that this was why we signed waivers to be this close.
Scarlett/Holyfield pass pro drills pic.twitter.com/5s87K3Aett

— The Riot Report (@RRiotReport) July 28, 2019
As he moved the sled back into position after the third rep he turned to one of his assistants and said "You feel free to jump in and help whenever you're ready," drawing a roar of laughter from the crowd.
After Corn Elder had seen the first-team reps at nickel cornerback the first three days of practice, Cole Luke, who can play nickel, corner and safety, got the reps with the first team; it appears to be a wide-open competition at this point. "We're rolling the group of guys because we've got a couple guys that we think can really play the spots for us so we're moving them around," Rivera said after practice.
Bruce Irvin continues to show why he'll likely be starting on Sunday over rookie Brian Burns as he was all over the place today, in the backfield on multiple occasions, including causing the pocket to collapse fully until Cam Newton tripped and fell down – something that usually causes gasps in the crowd until Newton returned to his feet. Irvin also got a 'sack' – which the defense joyously pointed out, but Burns had his daily highlight, though, as he tipped a Cam Newton pass, eliciting a "Hell yeah, Burnsy!" from the crowd.