I consistently joke that whenever anyone speaks about Panthers camp in Spartanburg, the first thing they'll update you on is the weather before they tell you who's looking good, who's looking bad or which players are making a good case for roster inclusion.
So get ready to read a lot about the weather in every training camp update you hear this week.
With the heat index well over 100 on the first truly brutal weather day from a Spartanburg perspective and no break expected over the next three days, many players – especially those along the offensive or defensive line – were trying to find respite from the sun wherever they could during the Panthers first practice back at Wofford College since their 23-13 win over the Chicago Bears last Thursday.
I noticed Greg Van Roten and Matt Paradis on a knee during special teams drills with towels around their necks drinking Gatorade, appearing to try and find shade in the shadow of the light post, before I swung my head around and noticed the entire offensive line doing the same thing – even Ron Rivera noticed that the weather affected the play late in practice.
"It was a little warm," said Rivera after practice, adding that he advised the Buffalo coaches to begin hydrating their players right now. "I thought the players handled it very well, though – there were a few days off for the vets and the young guys had a couple days and they came out and did some really good things, [but] they got a little bit sloppy near the end. I could tell the heat was wearing on them – we've just got to be careful, make sure everybody's hydrated, eating properly and getting their rest and we should be fine for tomorrow."
#Bills HC Sean McDermott on practicing in South Carolina: "The heat is real down there"

He says they've had meetings as a staff to prepare for a change in climate the next week.

— Joe Buscaglia (@JoeBuscaglia) August 11, 2019
Here are some other storylines – besides the heat – that I noticed today during practice:
Lots of players sitting out today – the rehab side of the field was bulging – after the team's first game on Thursday night. Tyler Larsen, DT Destiny Vaeao, LB Sione Teuhema, CB Ryan Pulley, TE Jason Vander Laan all worked on the side today. We thought that Jordan Scarlett might be ready to return after Rivera said last week that he could have gone Thursday if it had been a regular season game, but the team held him out again. Ian Thomas, who left Thursday's game with a rib injury, did not practice and Kevon Seymour, who's been dealing with a hamstring strain, was back at practice working on the side for the first time since the injury.
Kawann Short left practice early but Rivera said after practice that he was kicked in the shin.
After not traveling to Chicago with the team, Graham Gano was back at practice and wearing a brace on his left knee – his plant leg – before removing the brace and heading to an empty field during warmups and kicking from multiple distances utilizing a mechanical holder as opposed to having punter Mike Palardy hold for him. He kicked multiple balls, starting with about 30 yard kicks and backing up and finishing with what looked like a 55 or 60-yarder from the left hash. Joey Slye, who went 3-for-3 on Thursday, handled the rest of the kicking duties for the day. Rivera said after the game on Thursday that Slye was here to take reps away from Gano and that was certainly the case today.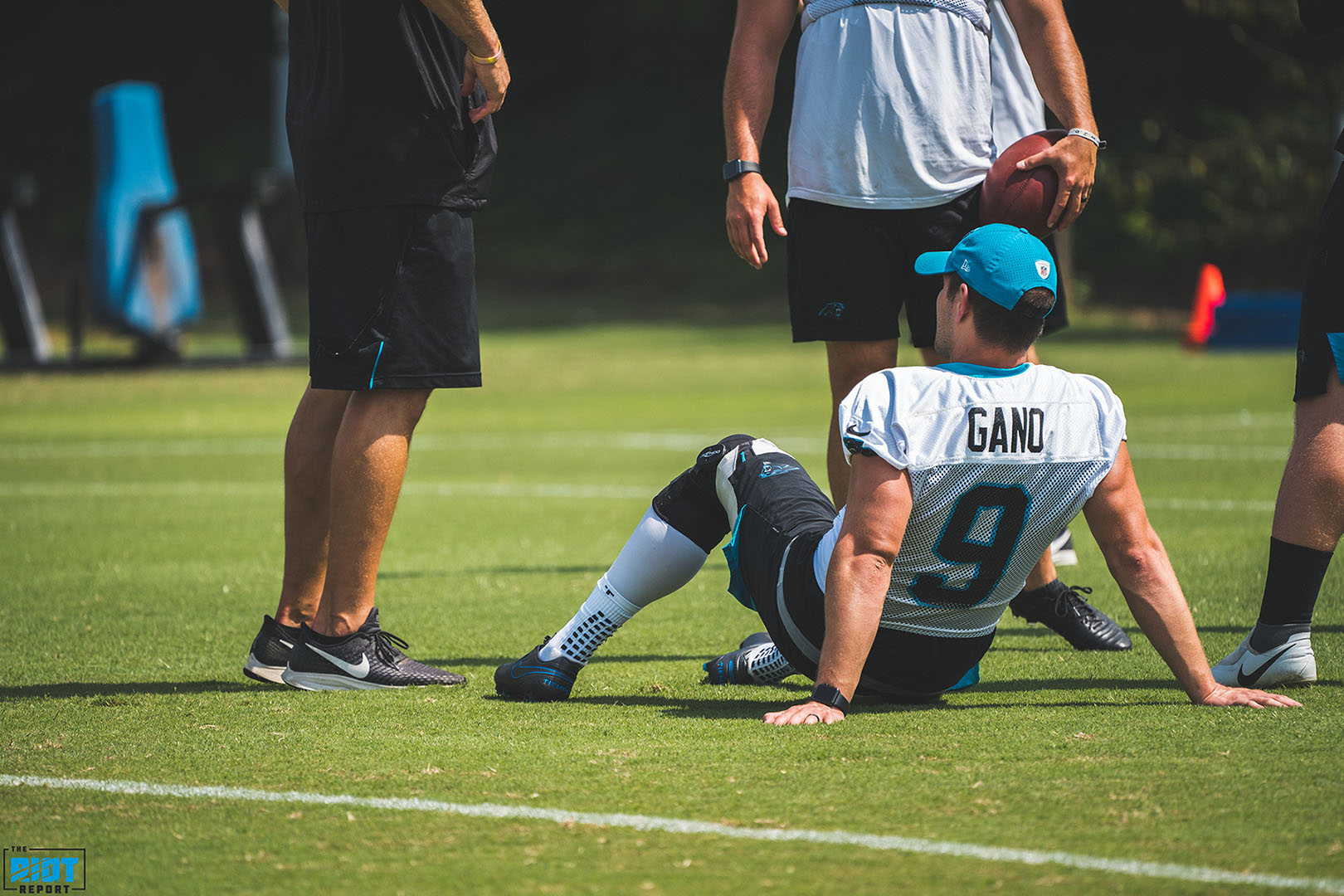 Curtis Samuel and James Bradberry have been matched up a lot thus far during camp – perhaps a bit unfairly as one would think in a real game, Bradberry would be matched up on DJ Moore and a speed corner like Donte Jackson would mark Samuel – but it was Bradberry winning the battle on the short field as in red zone drills, Bradberry stayed glued to the shifty wideout and jumped in front of a Cam Newton pass for a flashy pass breakup. That, of course, followed an earlier play that saw Samuel get a step on Bradberry and Newton hitting his wide receiver 25 yards down field with a perfect over-the-shoulder ball that Samuel would have taken for a touchdown. While Samuel has won battles, especially going deep, when matched up with Bradberry, the shorter field was very helpful for the secondary.
Speaking of the defense on the short field, the first team was terrific during red zone drills overall, holding the offense out of the end zone on multiple consecutive reps, including a couple of "coverage sacks" where Newton could do nothing but stand in the pocket and pat the ball because there were no receivers open. One particular play caused Tre Boston to call out from the sidelines, "Shit is LOCKED UP out here!" 
At one point during individuals, John Matsko was unhappy with the way his linemen broke the huddle and barked for them to come back. "Get back in here, clap your hands and say BREAK like a football player!" They didn't mess up again.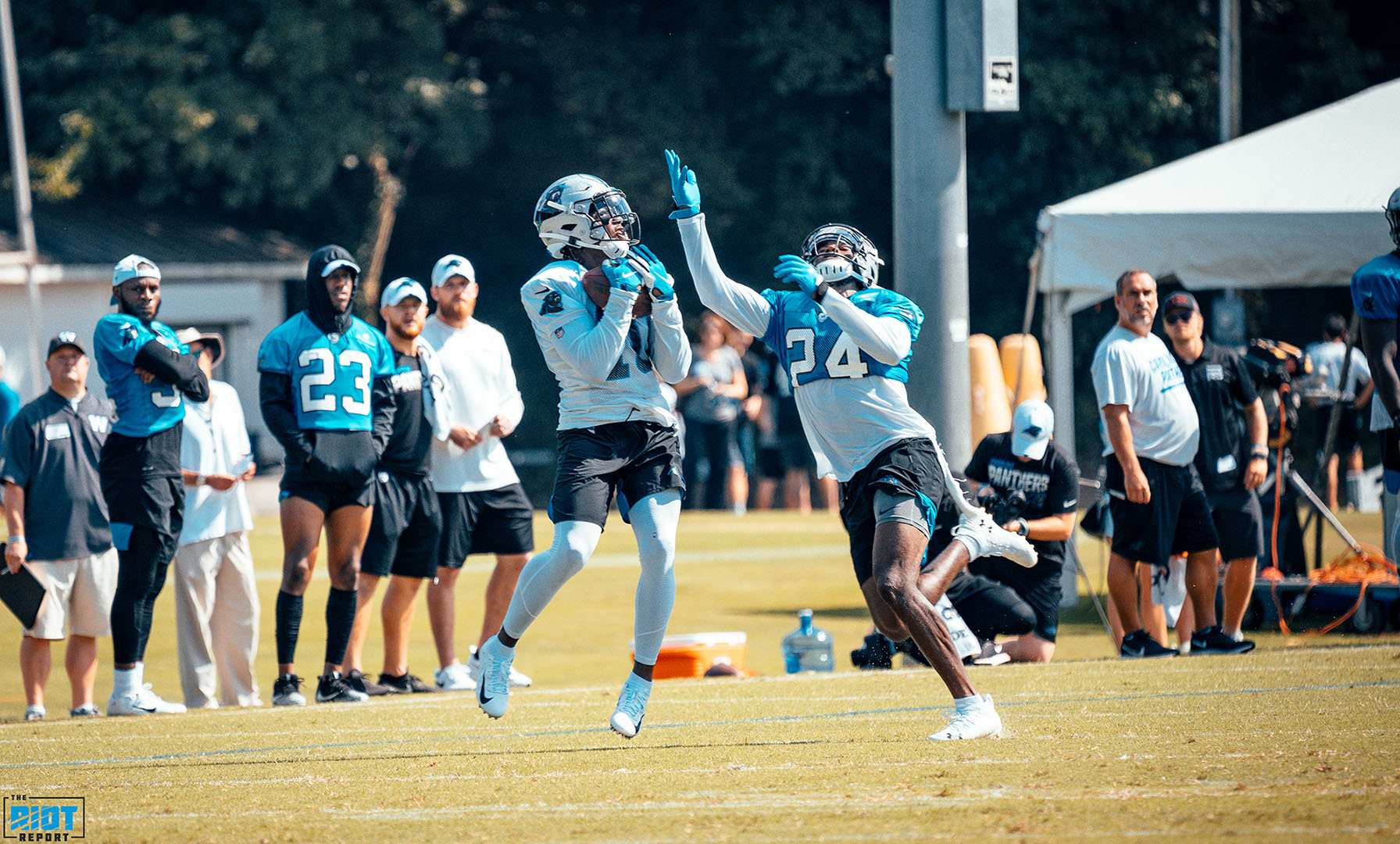 Corn Elder, getting the first team 'small nickel' reps, seemed to be around the ball a lot today – they're clearly trying to see who they like best between Elder, Javien Elliott – who got the start on Thursday night – and Cole Luke, who appeared to have the lead early in camp but may have slipped down the depth chart. Ross Cockrell continues to get the reps as safety with the first team, assumedly while Tre Boston gets up to speed from both a playbook and a conditioning standpoint.
Vernon Butler had a nice play during red zone – again, the defense mostly dominated these drills today – as he got a ton of push on Dennis Daley and got a paw on a pass from Will Grier, who was taking reps with the second team.