When Kyle Allen is looking to complete a key third or fourth down pass, he's often looking at one receiver in particular – and it's probably not the one you're thinking of.
While Jarius Wright earned the "Mr. Third Down" moniker last season, perhaps it's time to pass that torch to second-year wide receiver D.J. Moore – the 22-year old wideout has worked to become make himself an easier and bigger target for his quarterback, particularly on third down, where he's caught 15 balls to convert a third or fourth down through the first ten weeks of the season, behind only Cooper Kupp, Keenan Allen and Mark Andrews in that category – all of whom have more targets than Moore.
When told that he had the same number of catches as Michael Thomas and DeAndre Hopkins to that turns third or fourth into a fresh set of down, the even-keeled wideout was shocked – he'd never even heard of that stat.
"Well, that's some good company," said Moore with a huge smile and a shrug. "I mean, I'm happy about that but I didn't know that was a whole deal."
It's kind of a big deal.
Moore has 17 catches for 219 yards on 24 targets on third or fourth down, 15 of which have resulted in moving the chains. Most of those catches have been about leverage – and how Moore tries to take it away from his opponent.
"He has the ability to really put his foot in the ground and change direction," said Falcons coach Dan Quinn. "When you can win and break off a guy's leverage, now you can, obviously, see the target for the quarterback that much cleaner – when he's throwing away from a player's leverage, that's a catch and a first down."
"DJ's done such a good job of understanding the leverage that the [defender] is trying to put on him and then have the ability to break him off."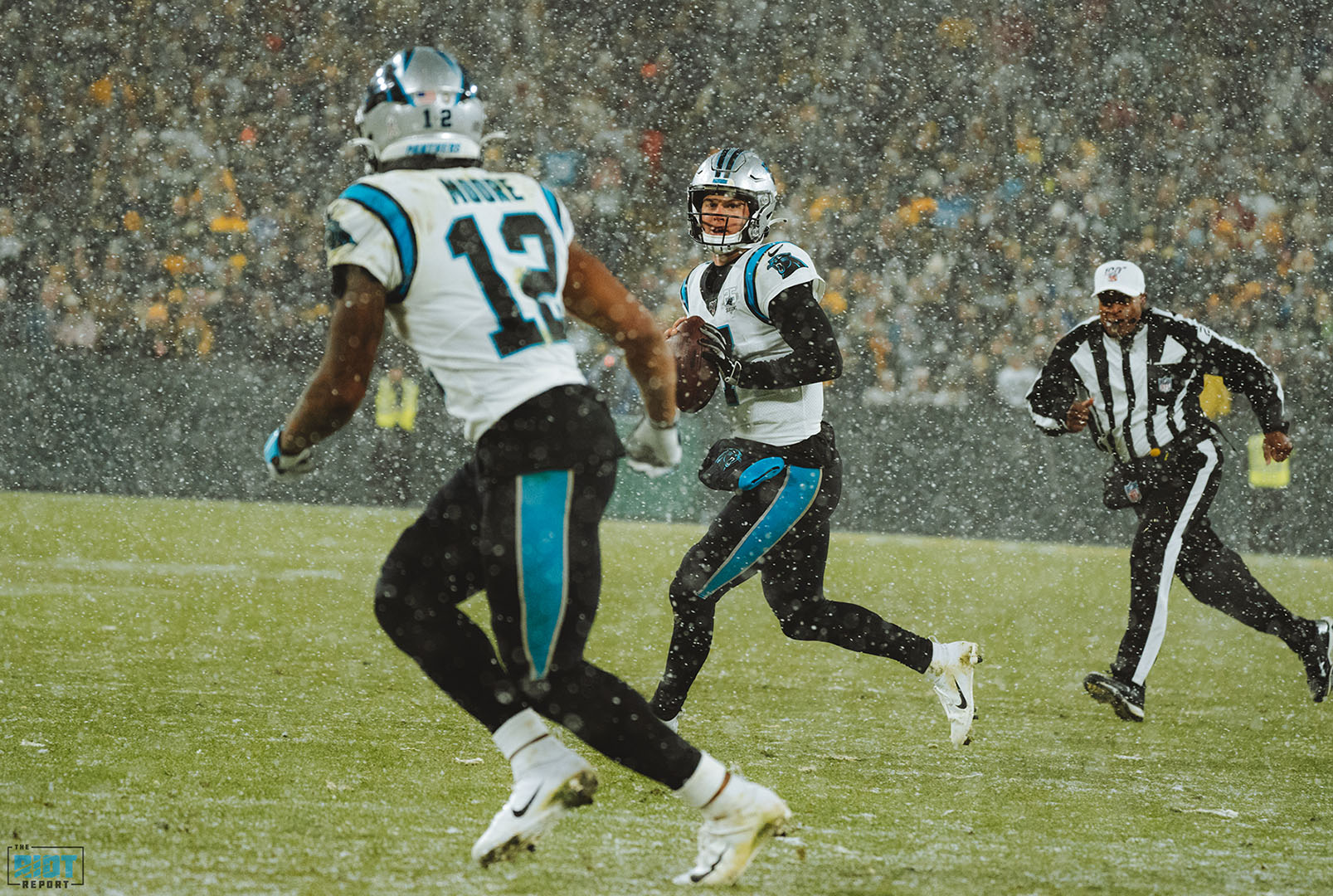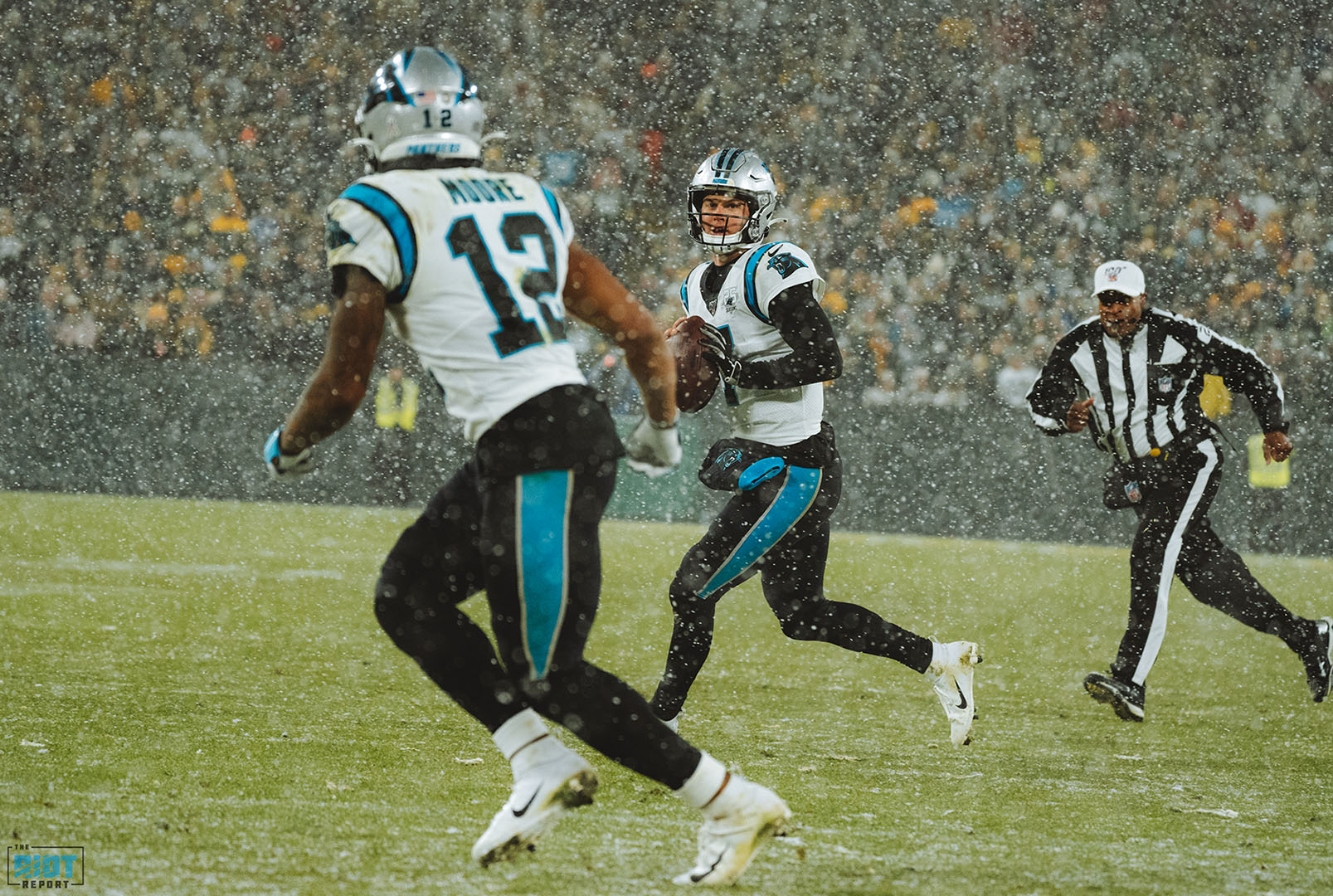 Plays like the 4th-and-10 conversion on the final drive in Green Bay.
With the Panthers sitting at the Green Bay 25-yard line and Moore lined up across from corner Kevin King, Moore ran to the Packers' 10-yard line and with King still backpedaling and inside of Moore, the wideout turned back towards the sticks towards the sidelines, away from King – just as Allen threw the ball to the spot where he knew Moore would end up.
The ball seemed to hang in the ball forever.
"They were showing pressure and they dropped out, so they were doubling Greg and Jarius on the inside," said Allen. "They took that away, so once I saw that, I looked outside to DJ and waited for him to get out of the route. The footing was slippery out there for anybody, so I knew I was going to have to give him a little time on that ball to get out of it – he did a really good job of coming out of his break and coming back and getting it."
"[I was] just seeing the ball late because of the snow," said Moore. "It was hard to see out there, but I happened to see it late and I saw the defender running, trying to get under me, so I just knew I had to make the catch before he got there and get down."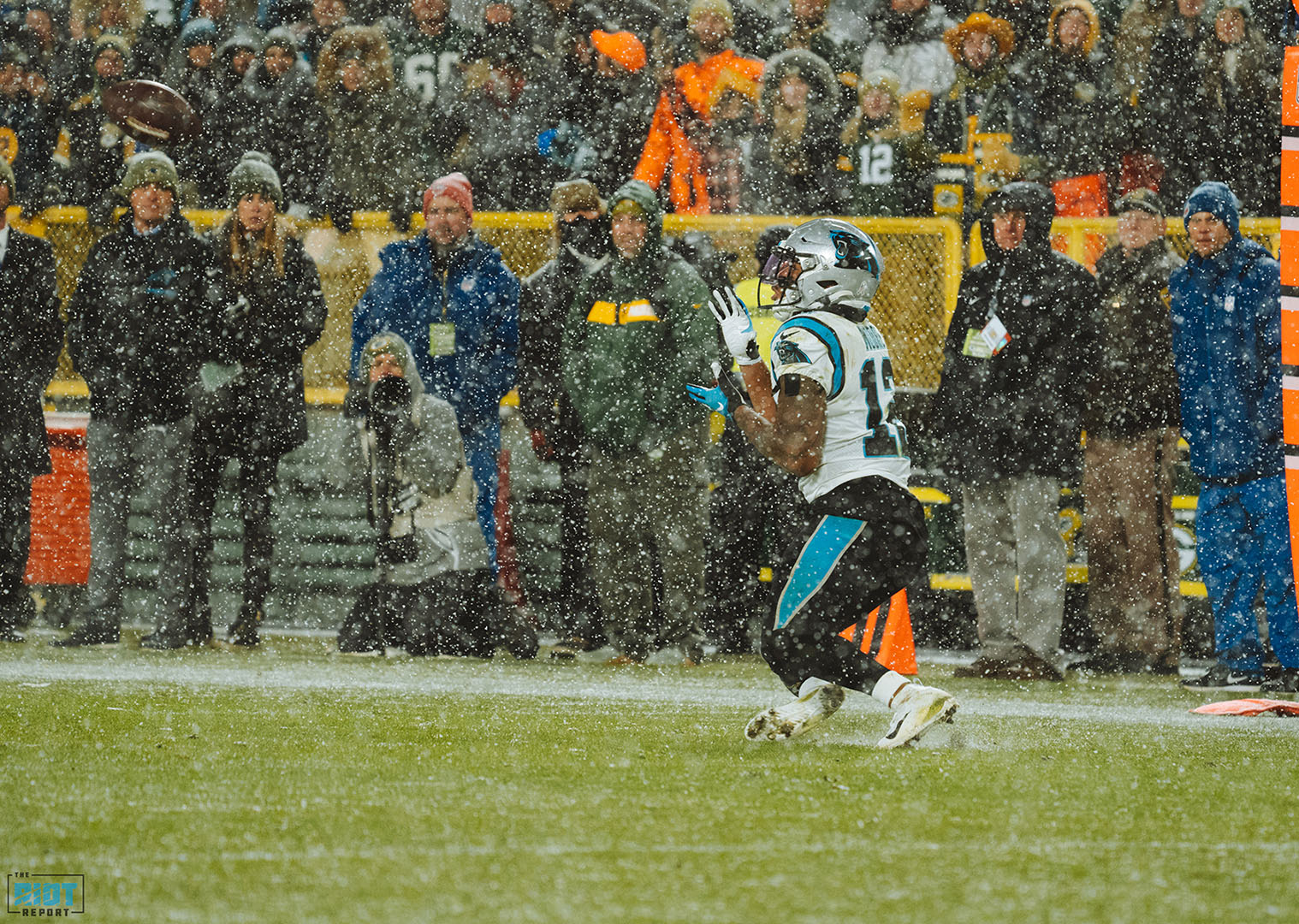 "I know we're both young, so we're going to just build even more trust – between me and him, him and Curtco, him and [Jarius] Wright, so everybody at some point is going to make a play like that."
Moore has been good at converting – but the team is going to have to get better.
When it comes to converting third downs this season, the Carolina Panthers have struggled. In fact, their 32.74% conversion percentage on third down ranks them 26th out of 32 NFL teams – they haven't converted more than 50% of their chances in any game this season. They've gotten behind the chains on more than half of their plays, with 58 of their 114 third down attempts (according to Pro Football Reference) this season being 3rd-and-7 or longer. Not converting has led to them possessing the ball for an average of 28:49, better than only six other teams.
Last season, the Panthers were ninth in the league in both categories.
"When we've hurt ourselves, when we've struggled, we've put ourselves behind," said Ron Rivera. "Whether it's illegal procedure or holding at the wrong time, that puts you into a tough spot. Again, that goes back to guys playing together, playing with each other, being a lot more familiar as to what's going on around you – being disciplined."
The good news is that the Falcons have been just as bad, if not worse, on the defensive side of the ball when their opponent faces third down – Atlanta is allowing conversions on 48.72% of third downs thus far in 2019, second-worst in the NFL.
"There just has to be trust," said Jarius Wright. "Trust that we're going to be in the right place, that he knows he can throw it and that we're going to catch it."
"He runs the whole route tree really well," Allen said about Moore, who is on pace for over 1,200 yards and will tie his career high for receptions with his next one. "I think, when you've got a guy like him that isn't afraid to be physical, isn't afraid to use his body, you have that trust in him."
"Because you know that if you're going to put it out there, it's either going to be his ball or it's going to be nobody's ball."