The injury report isn't particularly interesting today as Wednesday is a rest day for a lot of players, especially as we get into the last two weeks of the season; Shaq Thompson hurt his ankle during the Week 15 game against the Seahawks, but most names on the list below were to be expected.
So let's talk about Will Grier.
Getting the first team reps for the first time this season, the rookie quarterback is expected to get the first start of his career on Sunday in Indianapolis – interim head coach Perry Fewell says he had circled the date on his calendar to get the Panthers third-round pick some reps at Lucas Oil Stadium, but Kyle Allen's poor play over the past month probably didn't hurt the decision.
"We evaluated it two weeks ago and this was a target game in [our] mind," said Fewell. "Didn't want to put a lot of pressure on him, but we said that we would try to get him ready for the Indy week to play, we don't know if he would start or not, but we wanted to get him some reps with the ones so he would have timing, voice command and see how he handled the huddle – see how he executed the plays."
At practice today, Grier "looked good, had command, he made good decisions and he looked like he had fun," according to Fewell. Fewell wants to wait until after tomorrow's practice with Grier at the helm to officially name a starter, but that seems to be simply delaying the inevitable.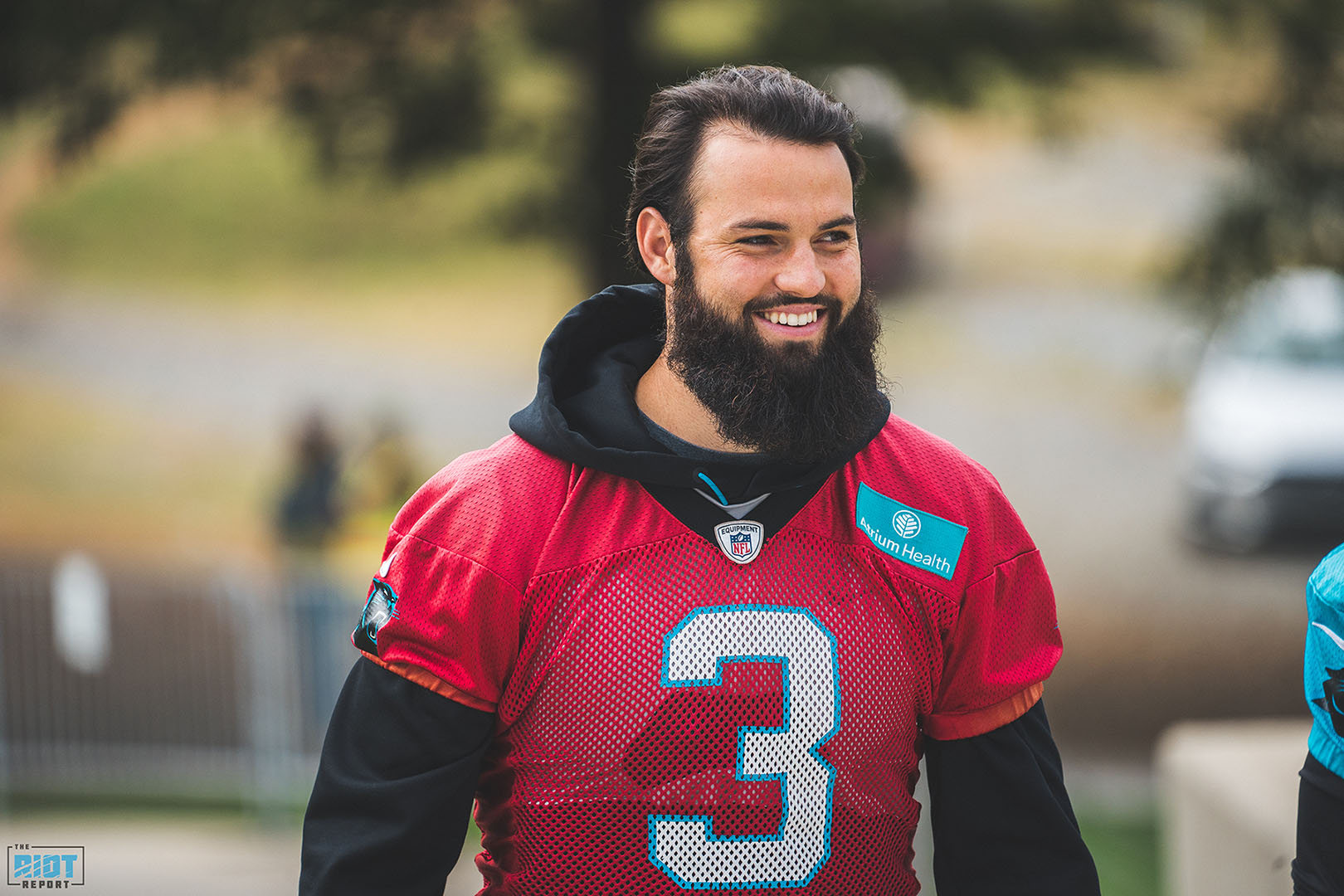 His teammates are also looking forward to seeing what Grier can do when given the reins to the Panthers' offense.
"I think one, he's a heck of a player. Two, he's a great leader," said Christian MCCaffrey. "I think in that room, starting with Cam, the rub that he's had on Kyle and on Will is very similar. They're both great leaders, command the huddle well, and at the end of the day it's about going out there and executing, so we'll see.
"I'm excited to play next to him and I know he's going to come in and give it his best."
"He's going to be confident in whatever he [does], in letting the ball rip – just out there and playing with confidence," said DJ Moore, who has the third-most receiving yards in the NFL and will be catching passes from the third quarterback this season. "We're going to see on Sunday, so I'm looking forward to it – they say he's a gunslinger, so I'm looking forward to it."
Perhaps the best advice came from opposing coach Frank Reich, who had his first start at quarterback on a Monday night in 1989:
"Don't try to be a hero," said Reich. "You go out there, try to do your job, you trust your teammates and just play good football."
Anyway, here's the injury report:
| Player | Injury | Practice Participation | Notes |
| --- | --- | --- | --- |
| Reggie Bonnafon | Illness | None | |
| Mario Addison | Shoulder | None | |
| Marquis Haynes | Knee | None | |
| Gerald McCoy | Knee | None | |
| Garrett McGhin | Ankle | None | |
| Eric Reid | Shoulder | None | |
| Christian McCaffrey | Rest | None | |
| Shaq Thompson | Ankle | None | |
| Greg Olsen | Concussion | Full | Olsen has cleared the concussion protocol. |