Even on a team that has lost back to back road games and seems to be losing ground by the week in the race for the NFC South as the New Orleans Saints improved to 9-1 after blasting the Philadelphia Eagles on Sunday afternoon while the Panthers fell to 6-4; if you're searching for a bright spot to take away from a disappointing loss in Detroit, you can look to 21-year old rookie DJ Moore, who's explosion at Ford Field was the highlight among lowlights in a20-19 defeat to the Lions.
It is apparent that the rookie, who got off to a slow start with only two catches in his first three games, is quickly earning the trust of quarterback Cam Newton – the rookie was targeted eight times in Detroit, the most among Panthers wide receivers.
It doesn't hurt that he came down with seven of the eight.
He had a total of seven receptions for 157 yards, and a touchdown to top off the night with 1:07 left in which he broke to the corner of the end zone and left 2017 all-pro cornerback Darius Slay stumbling to keep up. Coming into the game, Moore had only 317 yards and ranked sixth among rookies in receiving yards; after Sunday, he's third – and only 70 yards behind leader Saquon Barkley.
One might think that a potential game-tying touchdown would be the highlight of Moore's game, but the most memorable play came in the third quarter as Moore's performance went viral on social media as football fans were amazed at the 82-yard catch-and-run that started inside the Panthers ten and ended at the Lions' 12.
DJ. Moore. 82 yards on 3rd & 11. Such a special talent. pic.twitter.com/L4hc2MUSyb

— Panthers 24/7 (@Panthers24_7) November 18, 2018
Down 10-7, the Panthers were facing third-and-10 on their own six-yard line; Newton stepped back as the pocket started to collapse around him. Lions' defenders began rushing towards him as he looked to his left out of the shotgun and launched it to Moore as he was being defended by Mike Ford at the 18-yard line. Both players jumped for the ball, but it was Moore who caught it, turned on a dime and ran down the sideline, before lurching towards the middle of the field leaving his opponents behind – at least he thought he left them behind.
"I don't know," Moore said with a smile after the game about the play. "I just knew the play call and when I came out I seen the ball was high so I had to jump; once I jumped, I tried to see where the first down was while he was pushing me. I was aware of where the sideline was, but i didn't know i was that close until I [saw] the replay, so I just stopped. And a vibration went through my ankle. It's kind of weird, but that's what kind of sprung me out between the two defenders."
"After that, it's just all speed."
That vibration was the difference between landing on grass and turf – turf doesn't have as much give as grass, but the extra bounce gave him the opportunity to head downfield.
"I was tired, but I [didn't] expect to get caught like that," Moore said, even though he had peeked at the screen above the end zone at Ford Field. "I looked up once, but I didn't see nobody. He just came out of nowhere, but it's whatever."
Jarius Wright admitted he was surprised that Moore was walked down by Slay and jokingly said the 210-pound wideout needed to be a little lighter on his feet.
"Man, I was like whoa," Jarius Wright said in the locker room. "I just happened to be right there – so, I see him, and I'm running up there to get a block and I just kind of put my shoulder in there and the next thing you know, I seen him stick a foot in the ground and go behind me. I was like oh, oh shoot! Touchdown! That was my initial thought but – I don't know…"
"We might have to get some weight off the rook or something."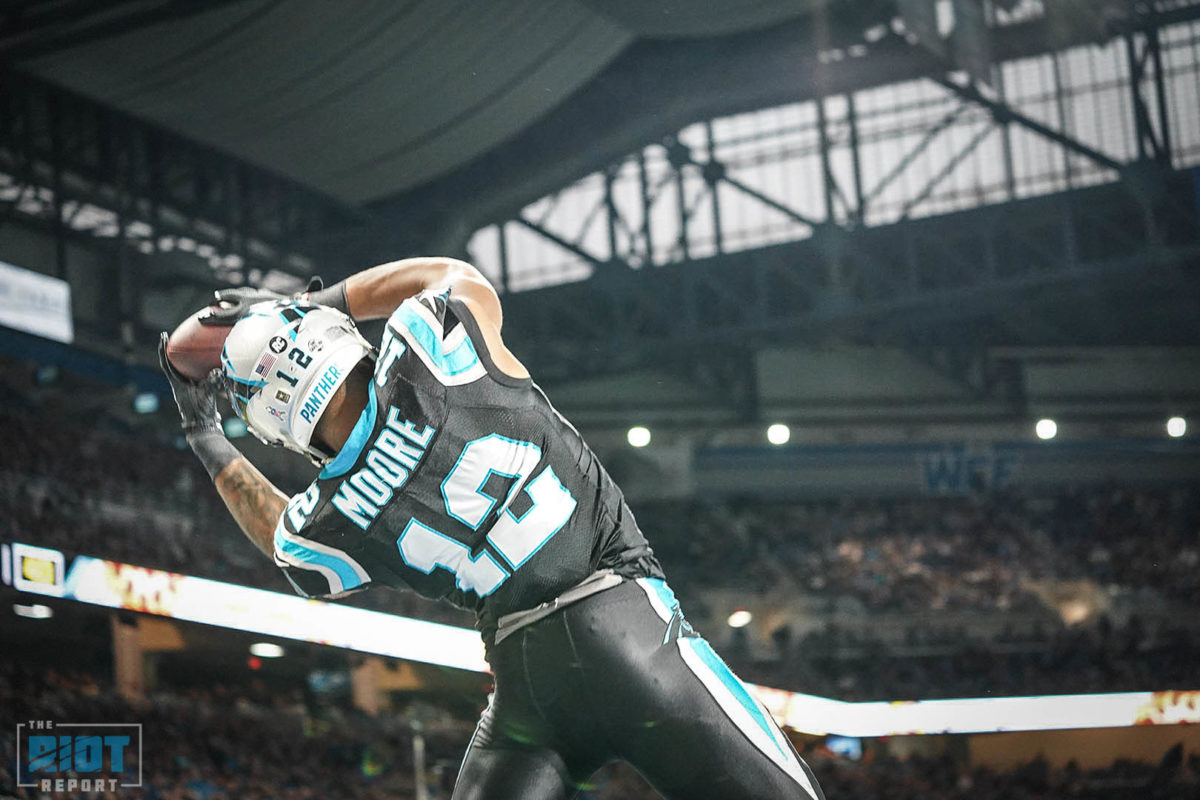 Wright was not the only teammate proud of Moore's accomplishments, Panthers' wideout, Curtis Samuel, who looks at Moore as his brother, shared his thoughts on the 82 yard catch-and-run.
"It was crazy, you know," Samuel said. "We know DJ as a big-time play maker. Whenever he gets the ball in his hands, he's going to make something happen, so seeing him run down the field make a play like that on the sidelines – tiptoe, then cut the field, it was exciting for me. That's my dude right there! People don't really know that, but that's my guy right there, and I was excited for him."
"I was frustrated that he got caught."
Moore's breakaway speed may have shocked those around the NFL who may have never seen him run at that pace, but not Samuel, who joked that he had been giving Moore some pointers on his speed during practice this season.
"Nah, surprising? Come on now, y'all disrespecting him now," Samuel said laughing. "Not many of y'all notices how fast he can just go from 0 to 100, you know what I'm saying?"
Moore has steadily improved week over week – while two fumbles in Washington were obviously a stumble, Moore already owns the Panthers franchise record for most rushing yards by a wide receiver, the same stat he currently leads the NFL in; whatever way the rookie is getting the ball in his hands, it's been working thus far.
"Just confidence every week," Moore said. "It's just gotten better. The more I play, the better I understand the playbook in-depth, and I know what I've got to do."