The Panthers added multiple offensive weapons this offseason, from wide receiver to running back to tight end – upgrading multiple positions across their lineup, but the player that's found perhaps the most consistent success throughout his career on offense isn't getting the attention he deserves.
This former first-round pick has scored a touchdown every time he's touched the ball.
This two-time Pro Bowler who the Panthers signed to a three-year deal has a QB rating that of 118.7 and has completed 100% of his passes – every single one of them going for a touchdown.
He also weighs 346 pounds and has 15.5 sacks over the past five seasons.
His name is Dontari Poe.
Although Poe plays defensive tackle and makes most of his impact on the game taking up space in the middle of the field, occupying double teams along the offensive line and stuffing running backs for minimal gains, the plays that tend to make up his highlight reel are on the offensive side of the ball.
"Offensive guys are always in the coach's ear asking for the ball. That's just the way you have to do it sometimes," Poe joked with The Undefeated after throwing a one-yard touchdown pass to Demetrius Harris in Kansas City in 2016. "I was just like those guys, asking for [the ball]. Then the fans get into it. That's kind of a situation where they know he may use me. It all worked out."
"Every D lineman wants to score a touchdown it's really not something we get a chance to do, so it's something we dream about. Ask any D lineman, 'Do you ever want to get a touchdown?' If they say, 'No,' that's when you know they're lying. We want to score a touchdown any kind of way. I dreamed about it since childhood. Growing up and living that out, a few times now, has been amazing."
Poe, who has two rushing touchdowns – one came on a play where Poe was lined up as a tight end and caught a pass that was ultimately deemed a lateral – along with the above passing score, joins Kawann Short on the interior of the defensive line. Short has amassed 24.5 sacks over the past three years, many of those coming lined up next to Star Loulelei, who left in the offseason for Buffalo via free agency; Short says he still keeps in contact with the player he was drafted a round after in the 2013 Draft, but that he and his new teammate Poe are starting becoming "good friends" along the defensive line and that the defensive line is going to be "something special" with Poe.
Short hasn't been pushing new offensive coordinator Norv Turner to join Poe on the offensive side of the ball, but he wouldn't exactly be upset with the decision.
"If they want to put Poe back there [to] keep doing what he's done," said Short after mini-camps last week. "He's an athletic big guy and you can just see him, just the way that he moves against the defensive line – if they decide to put us both back there, it'd be awesome."
More like terrifying for an opposing defense.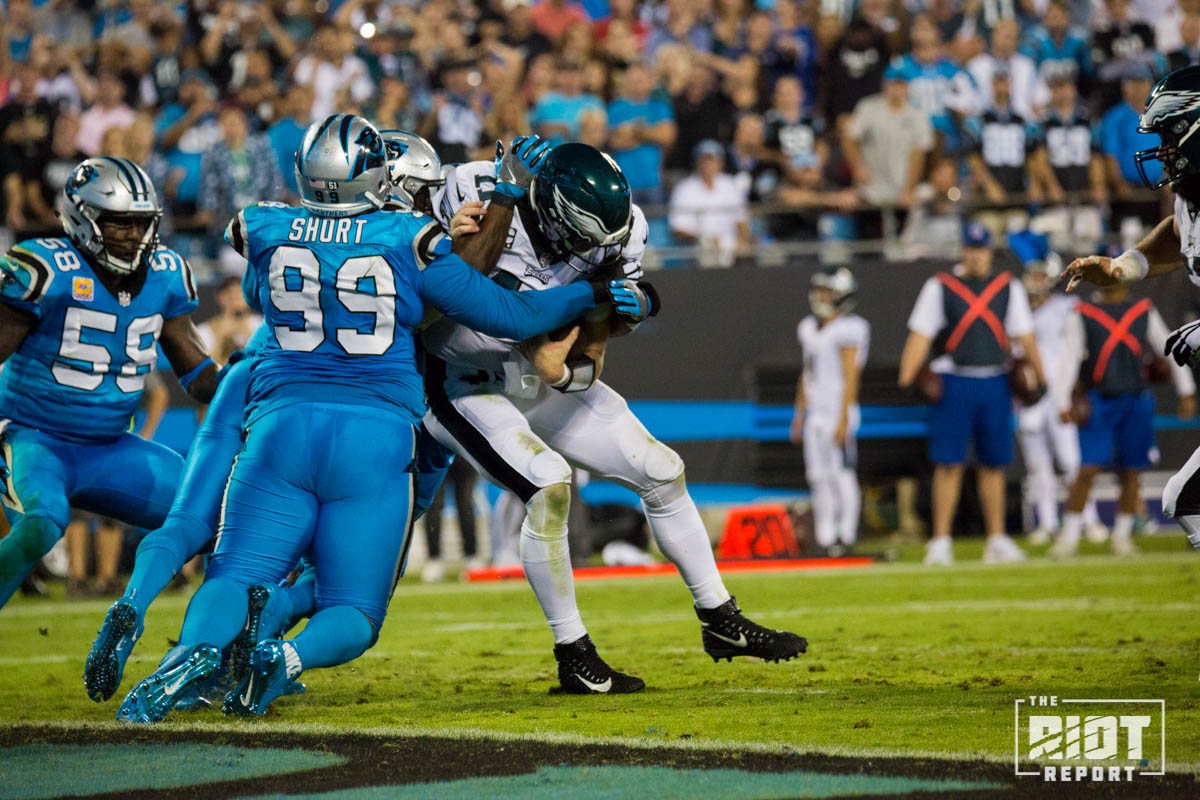 Short isn't the only one who would love to see Poe on the offensive side of the ball. Rookie cornerback Donte Jackson, who weighs 166 pounds less than Poe, told us that the first words he said to Poe were not about the five years of dominance on the interior, the sacks or the quarterback pressures. It was about the touchdown pass. And he'd love to have Poe run it back again this season.
Jackson also added that he doesn't have any interest in playing on offense – "Nah, man. I'm a DB, man."
But would Ron Rivera allow Poe to continue to follow in the 335 pound footsteps of former Chicago Bear William "Refrigerator" Perry, who had eight carries and a reception over four NFL seasons that resulted in three touchdowns – plus a playoff score during their 1985 Super Bowl season? Rivera was cagey, but offered a hint with a broad smile after mini-camp wrapped last week.
"All I know is I played with William Perry and we'll leave it at that."