In case the Panthers go on to have a historic season, remember it was running back Elijah Holyfield that scored the team's first touchdown of the preseason.
He's hoping you'll forget he also had the first turnover.
In the third quarter of their 23-13 win over the Bears, rookie quarterback Will Grier connected with Holyfield for a seven-yard touchdown pass to put the Panthers up 13-10 at the time. This was after Holyfield fumbled with 11:22 left in the second quarter, which led to the Bears first touchdown of the night.
Holyfield would later score an 11-yard rushing touchdown, which iced the game for the Panthers in their 23-13 victory. As Holyfield fights for a roster spot, he made his case against the Bears on Thursday night – even as he got off to an inconspicuous start.
While Holyfield was pleased with his play, he was not happy about the fumble in the first half, and he is looking forward to improving upon that in his next preseason game against the Buffalo Bills next week – but it's something he can take a lesson from, something that's incredibly important when you're a rookie.
"I kind of got turned up sideway and he put his hand right on the ball," Holyfield said after the game. "Next time I can cuff my wrist tighter and stop that from happening."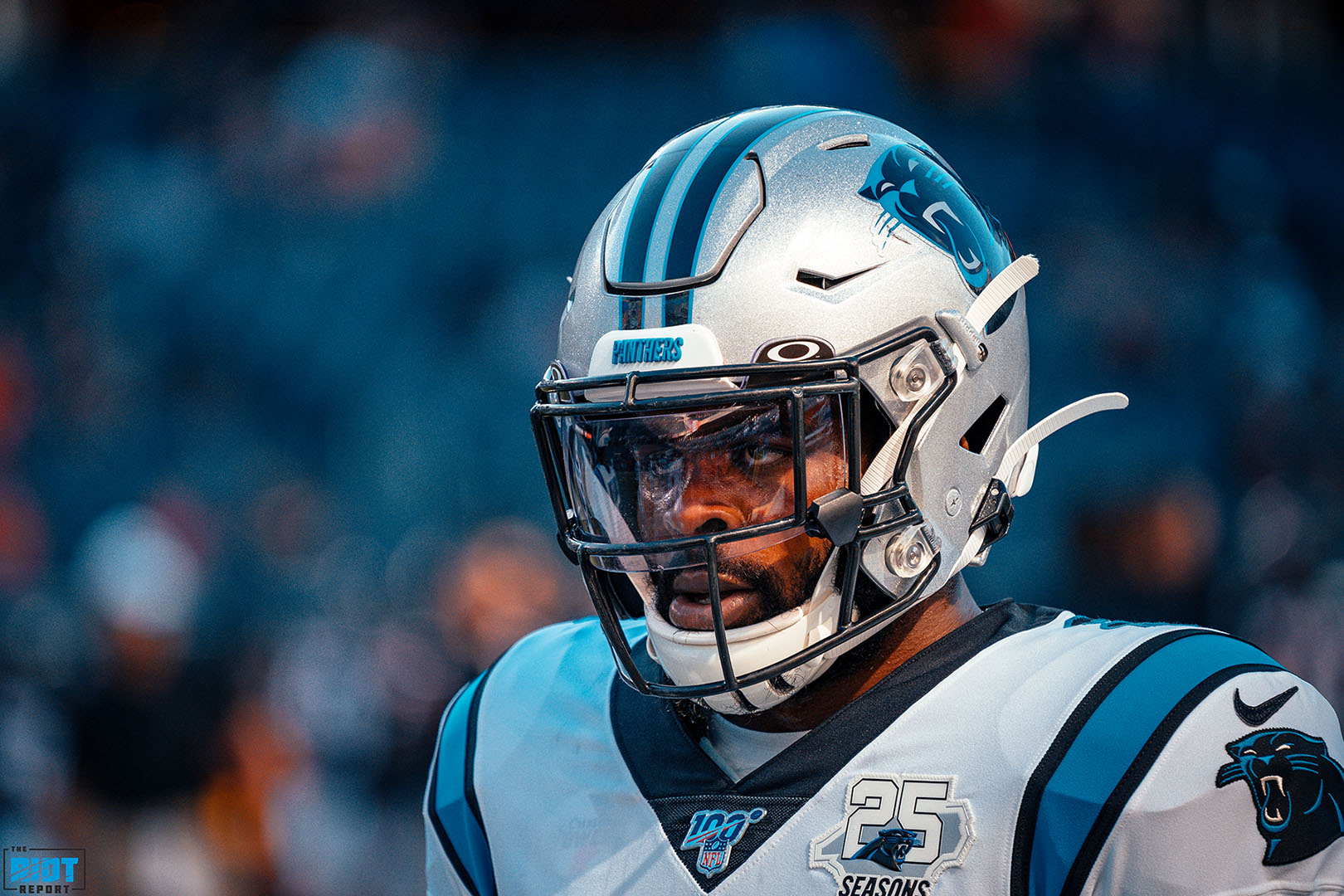 Panthers coach Ron Rivera was happy with the way Holyfield recovered from the lost fumble.
"I thought he rebounded very strongly," Rivera said. "It was good to see. He came in, he was real anxious [and] got an opportunity but he lost the ball. But he came back and I think handled the situation very well. Did a couple of nice things and did a couple of good things. He's young, he's learning and I think he will continue to get better."
Holyfield led the Panthers in rushing yards with 26 yards on nine carries (only 2.9 yards per carry) and a touchdown run. He also chipped in two receptions for 13 yards and a score.
As an undrafted rookie, Holyfield is in a fight for a spot on the Panthers roster as he is competing for a backup role to Christian McCaffrey. Carolina has a crowded backfield with Holyfield, McCaffrey, fellow rookie Jordan Scarlett, veteran Cameron Artis-Payne and second-year player Reggie Bonnafon.  Artis-Payne is a veteran that has been with the Panthers for four-plus seasons, but he has only played double-digit games in a season once and is only signed to a one-year contract. In a career that has been full of healthy scratches and very few carries, it might make sense the Panthers would look to perhaps get younger the position and give two rookies the opportunity to earn their spot on the roster.
"Since I've gotten here, they've let me work as a compete back and gave me opportunities to do everything," said Holyfield. "So I've been trying to be the best I can be and be a complete back."
Grier ➡️ Holyfield for the TD 🔥 pic.twitter.com/MTWNYkM6F0

— Carolina Panthers (@Panthers) August 9, 2019

Holyfield left Georgia after three seasons but he was not drafted after a slow 40-yard dash time at the NFL Combine. But after waiting behind Sony Michel and Nick Chubb, Holyfield received his opportunity, and he was productive for the Bulldogs in his final season there. In 14 games last season, Holyfield rushed for 1,018 yards and seven touchdowns.
Although his runs weren't flashy, Holyfield displayed his powerful running ability as he was tough to take down on first contact. He also showed he has enough speed and elusiveness to play in the NFL. One pleasant surprise about Holyfield's game was he showed the ability to catch balls out of the backfield, something he didn't do a lot of at Georgia.  With the Bulldogs, Holyfield caught just seven passes during his three seasons in Athens – he had two tonight, something that will be a requirement if he hopes to act as McCaffrey's backup.
While it might have seemed to be a bit of a long shot after the first drive, Holyfield does have an opportunity to make the Panthers 53-man roster and the way he recovered on Thursday night will go a long way towards making good memories help erase that bad first impression.