There are many things about the NFL that lead to interesting debates.
What is a catch and what's not? Can you really call holding on every play? Why don't they put a camera in the pylon?
Of all the questions surrounding the NFL, the biggest question, especially this season, has been regarding the quarterback. And in the Panthers 52-21 loss to the Steelers, the question of quarterbacks being hit while they are rushing reared it's ugly head – just as it has seemingly every week. Tonight was no exception when Panthers' strong safety Eric Reid made contact with Steelers quarterback Ben Roethlisberger during the third quarter.
With just under two minutes left in the third, Roethlisberger scrambled for 18 yards on third-and-8, beginning to slide at the 14. Reid, rushing full speed jumped and clipped him with his shoulders. Players from both teams begin to circle around and push each other but nothing came of it.
"I told [Roethlisberger] that I didn't intend to hurt him by any means," Reid said. "I was just trying to do my job. He said no hard feelings [and] then we dapped each other up."
"@Panthers Eric Reid was ejected for unnecessary roughness for forcible contact to the head and neck area of a sliding quarterback in #CARvsPIT." – AL pic.twitter.com/1MbDzjkrLK

— NFL Officiating (@NFLOfficiating) November 9, 2018
But after the referees huddled and discussed for two minutes, Reid was ejected – despite the apparent friendliness between he and Roethlisberger. His teammates had various takes on it, although all of them, including head coach Ron Rivera, thought an ejection was excessive.
"I don't think he hit him hard enough to eject him," said Rivera. "Again, we're trying to protect the quarterbacks and again, if he would have hit him as fast as he was going, [then], you know – they're trying to protect the quarterback."
Vernon Butler had a stronger take.
"Man, it was bullshit," Butler said. "He didn't hit him. It wasn't intentional or nothing like that. The referees were horrible all game, for real."
Butler said he didn't know if Reid, who was fined $10,026 for unnecessary roughness against the Philadelphia Eagles, was purposely targeted by referees due to his reputation in the league and neither did Reid, who has been very critical of the NFL in the past. Not that it is directly related, but it is worth mentioning that the 6-1, 214 pound safety was being drug tested after the game – he's been tested "like, five times" since joining the team in Week 4.
"You know how they feel about quarterbacks in this league – I just think Reid was within the moment [and] not really thinking; he's not a malicious guy at all, he's not trying to go after people's head or knock people out. He's just in the moment trying to make a play for us that we desperately needed," Jackson said.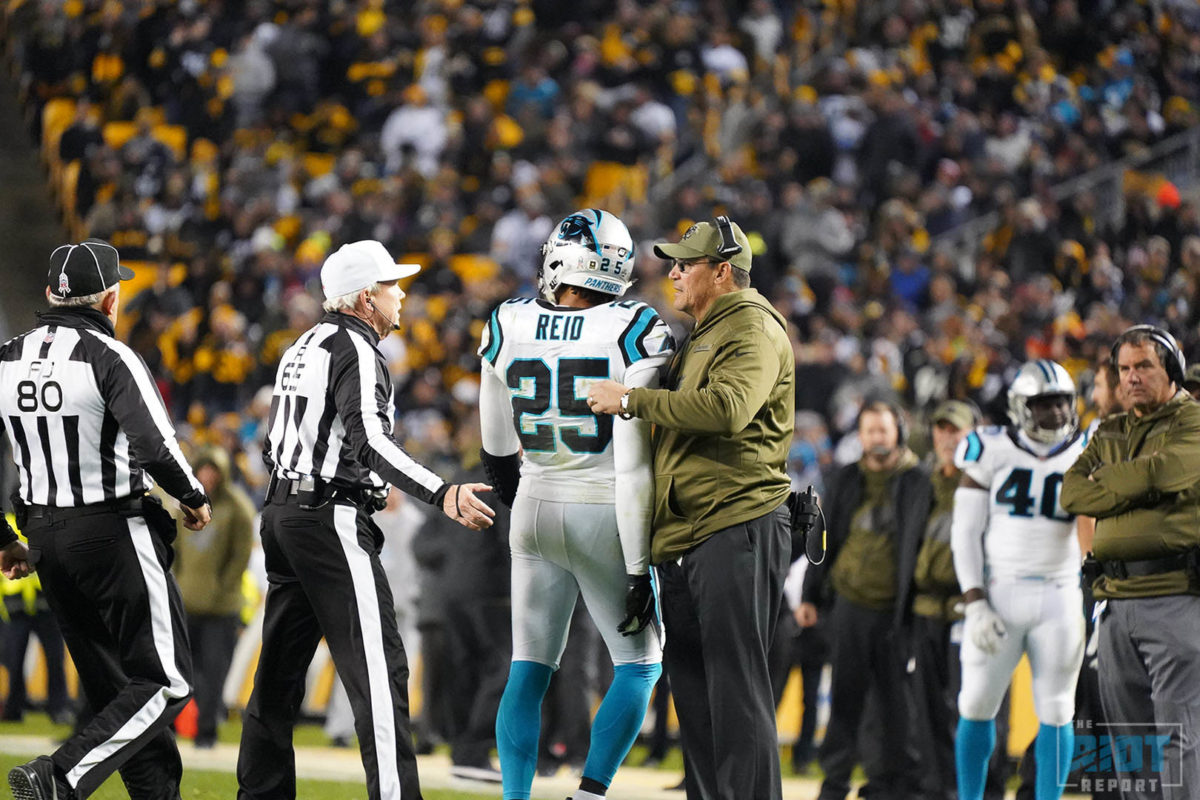 "It is what it is," said Cam Newton. "Last week was a perfect example of the same scenario – quarterbacks get hit and I'm not here to judge if a flag is getting called – but it is an inconsistency."
"I understand that and I've understood it for a long time."
Despite being ejected, Reid shared his side of the story.
"It was a bang bang play," Reid, who led the team in tackles before being ejected, said. "He was scrambling and I'm just trying to do my job, tackling the person carrying the ball. I understand the NFL is trying to protect quarterbacks, but when they're running the ball, they're a running back to me. I'm not thinking 'oh it's Ben don't tackle him' there's a guy running with the ball so I'm doing my job."
"Big Ben was running and you never know, some QBs stay up," said Bradberry. "If he had stayed up and ran over Eric, we would have been talking about something else."
For now, we're stuck talking about the same old thing – what constitutes unnecessary roughness, especially when it comes to the quarterback.