The Panthers are winless after two weeks and while there is still a lot of football left to be played; with Christian McCaffrey expected to be out for at least a month, fans could be excused for already being a little down on the 2020 Panthers.
However, as much as there are a lot of things the Panthers need to work on, there are also some real bright spots through two weeks – while the pass rushing stats might not show it, one of them has been the play of Brian Burns. Burns flashed a lot of talent in the playing time he got as a rookie, and whether he could turn that into top level play on a consistent basis in 2020 was one of the more interesting personnel questions for the Panthers entering the season.
So then, what did Burns do well against the Bucs in Week 2 and how can he continue to get even better?
Run Defense
One of the concerns with Burns entering the NFL was whether he would be able to hold his own as a run defender given that he is quite slight for the position. While he is unlikely to be driving offensive guards backwards anytime soon, he showed the ability to compensate for his lack of power with quickness. Probably his most memorable play against the Bucs from the weekend was the following TFL – while the offense seems to have made a fairly serious error in either execution or scheme, his ability to get into the backfield so quickly really stands out:
A couple of times on Sunday the Bucs looked to run away from Burns, leaving him unblocked on the back side of the play, which then allowed him to showcase his speed by running the play down from the backside:
Importantly, Burns is also showing generally good technique with a run defender, making the most of his long arms with good arm extension which allows him to keep blockers away from his frame and allowing him to work off blocks effectively to make the tackle:
However, as good as he was in this regard, probably the biggest thing he has to work on both in the run game and the passing game is the consistency with which he gets his hands up early in plays. A few times on Sunday, he was a little slow to get his hands up and located – he allowed the blocker to swamp him and makes it hard for him to control his direction and momentum:
Burns is never going to make his money in the run game – but he has shown that he has the tools to hold his own, in no small part aided by his generally good pad level; if he can continue to work to polish his hand placement, he has a chance to be a genuine plus run defender – even if his usage is always going to be limited by his size. He's already leading the team in TFLs with two in two weeks to go with his eight tackles. Where he is likely to earn his keep, however, is in the passing game, and while he has so far not been able to register a sack through two games, he has done a lot of impressive things.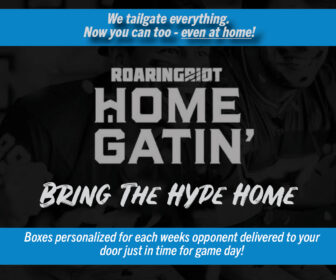 Pass Rush
One thing Burns did really well as a pass rusher in 2019 was keep himself alive in plays, which allowed him to create sack production without necessarily having to win early in plays. While Tom Brady got the ball out far too quickly on Sunday for this to become relevant, he showed this same ability to keep his frame clean as plays develop and continue to work to the ball even when he doesn't win early in plays:
The big headline from the weekend, however, was the damage he was able to do with his spin move, both inside and outside, when the tackle overcommited his weight one way or the other early in plays:
This was a move that Burns showed at times in college as well, using it to great effect on occasion, but the step he appears to have taken is that he now is using it much more intelligently, using it to react to what the tackle is doing rather than premeditating his attack pre-play to the extent he did in college.
Burns is always going to have the ability to create pressure with his speed – but the step that he looks to have started to take compared to other speed rushers is his ability to use that speed to create inside pressure early as well, such as with the spin move.
One area he could improve is how he looks to approach plays – with his speed, he should be looking to make the tackle defend the speed rush on every dropback while looking to use this to drive the tackle off balance allowing him to work back inside. There were a couple of plays Sunday where it looked as though he went a little too directly at the tackle early in the play, allowing the tackle to tread water and buy time and space:
When he did do this, he looked far more dangerous, and on the following play, if he had gotten his pad level a little bit lower, he would probably have had a sack for his trouble:
If he can consistently attack that outside shoulder off the snap, that should not only help him get more early outside wins, but cause real stress for the tackle in terms of their footwork and balance.
Similarly, when he does get the outside shoulder, he can't afford to decelerate in order to allow the tackle to get back into position:
Burns has the speed to cause tackles nightmares and needs to be making sure that that speed is towards the front of the tackles mind on every passing down. If that ends up meaning they look to double him with help inside to take away the counter and play 1-on-1 elsewhere on the line, he is adding a lot of value – even if he isn't getting pressure:
However, the most consistent issue with his pass rush on Sunday, similar to his run defense, was the speed at which he got his hands up and made it hard for blockers to swamp him and get lock him up early. When he got his hands up, he showed both good hand location and arm extension – but there were a few too many plays like the following, where he gets negated early in the play by not getting his arms up early enough and allowing the blocker to get hands to his frame:
The Panthers' pass rush wasn't good on Sunday, not helped by the number of times they dropped eight into coverage and asked Burns – comfortably their best healthy pass rusher – to drop into coverage:
However, when they did line Burns up on the edge and ask him to rush the passer, he showed not only an awful lot of talent but also growth from a season ago – if he can continue to polish the details of his approach, the Panthers could have not just a good pass rusher – but a great one.
(Top Photo Via Brandon Todd/Carolina Panthers)