After what seems like an eternity, NFL football is back, with the Panthers kicking off their 2021 season at home against the Jets on Sunday. This is not only a rematch for Sam Darnold, Pat Elflein and Frankie Luvu against their former team, but also a rematch of the Panthers' first ever victory as a franchise.
While a game against the Jets, especially in recent years, is one that fans could look at the schedule release and already begin penciling in the win. After all, they have the longest active playoff drought in football for a reason and are coming off a 2020 season in which they started 0-13. However, there is something different about this Jets, and while they are unlikely to be going from worst to first in the AFC East or contending for a Wildcard spot, but there is enough talent on the Jets' roster for them to be respected even if they aren't feared.
What the Panthers do have some reason to fear, however, is the effect that third-year defensive tackle Quinnen Williams might be able to have up front. With that in mind, we've taken a look at the tape to find out what exactly makes Williams do dangerous, and what that might mean for the Panthers.
While Williams lost some time to injuries as a rookie in 2019, in 2020 he took a step to produce seven sacks, 10 tackles for loss, and 14 quarterback hits. One adjustment he will have to make in year three, however, is the transition from the 3-4 defense that the Jets ran under Gregg Williams to the 4-3 scheme that new Head Coach Robert Salah has brought with him from San Francisco.
This change certainly hasn't been helped by the loss of Carl Lawson for the season to a torn ACL, while linebacker Jarrad Davis is expected to miss nearly half the season with an ankle injury. However, there are still dangerous pieces on this Jets defense, including guys like defensive tackle Sheldon Rankins, safety Marcus Maye, linebacker CJ Moseley, defensive tackle Foley Fatukasi, and edge rusher John Franklin-Meyers.
None, however, are poised to make as much of an impact against the Panthers quite like Williams, and with the Panthers expected to start Pat Elflein and Dennis Daley either side of Matt Paradis on the interior, it isn't as though the Panthers have a proven interior line group to fall back on.
But what is it that allows Williams to have such an impact?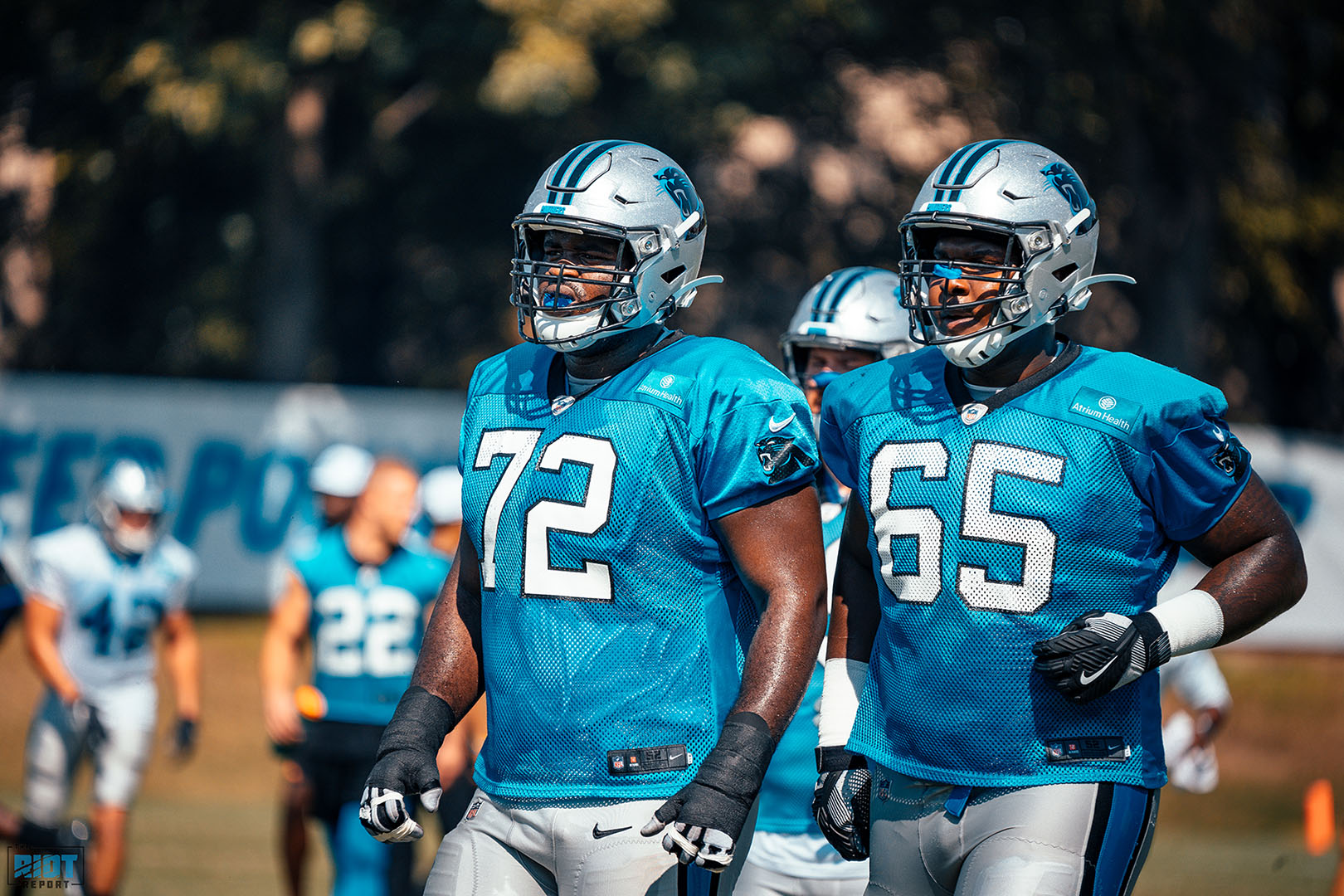 Scheme change aside, Williams is still an exceptional athlete for the position and he's already shown fine awareness to build a foundation that should last a while in the NFL.
Here, Williams is part of a stunt on Justin Herbert's blind side. Note how his little stutter step opens up space for the edge rusher running the stunt with him, and with a little rip move against the left tackle he's able to create edge pressure. This is enough to get Herbert to flinch ever so slightly, resulting in a throw that can't quite connect across the 50.
Similar to how DeForest Buckner was a dangerous piece in Robert Saleh's 4-3 scheme in San Francisco, the same goes for Williams' potential fit with the new head coach. As much room as Buckner makes for the players around him, he also excels at creating pressure himself, and that's what Williams does here. Off two steps, he uses a high, violent swipe attack to free himself against the left guard, leaving Patrick Mahomes no choice but to harmlessly throw this to the turf near a receiver.
On this next play, Williams uses a ridiculous swim move against the center, thereby creating instant pressure on what was supposed to be a long developing play down the field for Charlotte East (Buffalo). Instead, Josh Allen, like Mahomes the clip prior, has to get this ball out of harm's way and avoid a devastating loss.
These are the plays Williams made obsolete with his presence alone. Even though these three plays didn't result in sacks, they resulted in incompletions and throwaways, all because of one pass rusher.
With the Panthers interior pass protection being in question, this spells trouble.
Williams can also make an impact against the run as well, something that allowed the Jets to be a far better team against the run in 2020 than the rest of their depth chart had any reason to be.
Firstly, taking on the left guard on an inside zone run, Williams pops off the line of scrimmage and trucks the guard out of his way leaving the back nowhere to go.
Crucially for the match-up against the Panthers and Christian McCaffrey, Williams' vision and athleticism also translates against receiving backs. On this next play, he's able to keep his eyes on Mahomes and quickly recognize the dump off in the flat and makes the splash play.
So yes, Quinnen Williams is very good, but what can the Panthers do about this?
For a start, the Jets are expected to field a few rookies as starters entering the week one matchup, all at linebacker or corner. The lack of experience at these areas (CJ Moseley is also set to play his first game of action since early 2019) favors the Panthers receiving corps, so there are likely to be places for Darnold to go with the ball if he is able to get to the bottom of his drops without getting flattened.
The Panthers do also have the option of making sacrifices elsewhere to make sure they limit Williams as much as possible. The Jets aren't expected to be a blitz-heavy defense under Salah and so the Panthers should be able to double Williams with some regularity, though that will necessarily put more pressure on the rest of the offensive line to win their individual battles.
At the end of the day, however, Williams is an athletic powerhouse with the structured discipline and intelligence to be highly disruptive against both the run and the pass and is willing to put in the effort to force offenses to work hard to scheme him out of plays. The Panthers don't need to eliminate him from the game to be effective against the Jets, they just have to stop him wrecking entire drives.
It won't be easy, but if they can minimize the impact that Williams can have then they could be in for a successful day at the office to start the season.
(Top photo via Steve Luciano/AP Photo)