Through the first three weeks of the 2021 NFL season no defense in football has been as dominant as that of the Carolina Panthers. They rank first in the NFL in yards allowed, 2nd in points allowed, 1st in yards-per-play, 1st in first downs allowed, 1st in passing yards allowed, 1st in rushing yards allowed, 1st in rushing yards-per-attempt allowed and 2nd in percentage of drives leading to a score. The season is still young, but to this point it is hard to imagine a unit playing much better.
A major part of that, and by extension of the Panthers' 3-0 start, has been their pass rush. They lead the league in both sacks, with fourteen, and quarterback hits, with thirty, while getting the quarterback down on a league-leading 13.9% of passing plays. No defense is this good without it being a team effort, and there are certainly a lot of names worthy of praise (Brian Burns, Derrick Brown and Morgan Fox in particular), but no player has been better at getting after opposing quarterbacks than Haason Reddick.
We've taken a look at the tape against the Texans to find out what he's been doing to have such an impact, and how Phil Snow has managed to get the most out of his former Temple star.
Reddick signed a one-year deal with the Panthers this past offseason after the Cardinals declined his fifth-year option, and while they likely regretted that as he went about his 12.5 sack season in 2020, they likely have only started to feel worse about the matter as he has put up 4.5 sacks, seven quarterback hits, twelve pressures and two TFLs through the Panthers' first three games.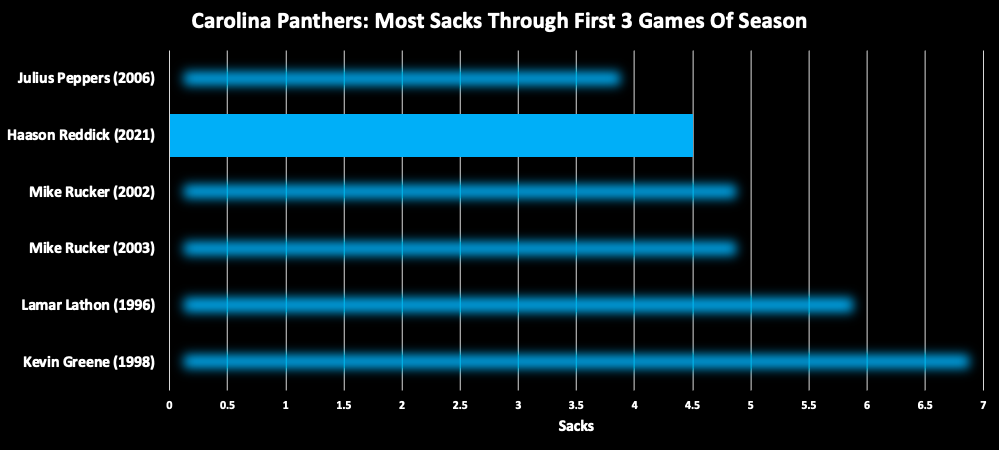 The fact that Brian Burns, who is on track for 17 sacks and 40 pressures himself, isn't being talked about more is testament to just how good Reddick has been on the other side.
Though Reddick didn't have a double-digit sack season through his first three seasons in the NFL, in fact he only had 7.5 sacks over that whole span, this was largely the result of the Cardinals confusing attempt to convert him from an edge rusher into a full-time off-ball linebacker. When they finally moved him back to the edge in 2020, where had played in college, he rewarded them with 12.5 sacks, 15 TFLs, six forced fumbles, 16 quarterback hits and 34 pressures.
With Charlotte, the athleticism that made him a first-round pick has really stood out, with this hit on Davis Mills being a prime example. Take note of the massive push he gets off his right foot, putting his foot down and using the burst to create a gliding swim move against the left tackle. He can't get the sack, but Reddick shell shocks Mills and delivers the heavy pressure.
Before we continue onto Reddick's huge day against the pass, let's take a brief pit stop and observe some of his running plays. Neither of these get Reddick on the stat sheet for a tackle, but that's not the focus.
On this first play, he's able to navigate around the blocker with a slight hesitation and a swipe move to get around the receiver. If he tries to go inside, he risks getting clogged up by the two tight ends guarding the D-gap, so going outside allows him to win this rush rep even if he's not the one that ends it.
The second play ends similarly. Notice how Reddick is able to get his hands inside the left tackle's hands before he's able to counter, which allows him to use a rip move to free himself up.
As a pass rusher, while Reddick had 1.5 sacks on the night, he very easily could've finished with at least 3.5.
Despite a fantastic bend and swipe counter move vs. the right tackle, he isn't able to stop in time to keep his hands on Mills, and the rookie slips through a potential sack. The pass does fall incomplete and results in a punt, but the higher the stats, the more potential future earnings you could get.
This time, Shaq Thompson (who's also having the best season of his career) gives a little help to Reddick by dropping back in coverage, furthering the illusion that Mills has a quick first read. However, the blistering speed Reddick travels at catches the rookie off guard, and he does a great job just to even shake him off and get some positive yardage out of this.
These are great plays from Reddick and are evidence of the fact that he is able to consistently the impact the game as a pass rusher, not just running into a couple of lucky sacks here and there. This is also evidenced by his pressure numbers (which often indicate how consistently a defender is winning his match ups) but it's nice to see it on tape as well.
However, as nice as pressures are, on the very next play of the game Reddick is able to register his first sack of the evening.
This was my favorite defensive package of the night, so appropriately it ends with a Reddick sack. Phil Snow calls for a two-man blitz (Reddick lining up as a blitzer), with an interior stunt to boot. That interior stunt digs up a giant hole in the A-gap, and Frankie Luvu almost grabs a sack himself, but it's Reddick's Sonic the Hedgehog speed that allows him to come through and obliterate Mills for the sack.
It is also worth noting that Reddick was robbed of at least half a sack on the following play which was ruled an incompletion.
Missed sack opportunities aside, Haason Reddick was a flat-out beast against the Texans. Many have taken note how much faster the Panthers pass rush is this season, and that starts with Reddick.
It is easy to pick a few plays from a game and suggest a player is a dominant force, but Reddick's numbers show that his impact is not just a highlight here and there but rather a consistent ability to generate pressure off the edge, while still having the versatility to drop into coverage or stuff the run as and when he's asked to.
Against better opponents the large number of sacks may decrease, but the ability to win reps and generate pressures should remain. Reddick and Burns are forming one of the very best edge rushing tandems in the NFL, and with how the first year Panther is playing, to call his one-year deal a bargain would be a tremendous understatement.
(Top photo via Chanelle Smith-Walker/Carolina Panthers)