Though the Panthers continue to offer their mantra of trying to go 1-0 each week, some 1s are more impressive and difficult to come by than others. This week, it will have to come on the road in Dallas against Dak Prescott and the Cowboys, who field a powerful offensive attack spearheaded by a threatening group of playmakers. Certainly not an easy proposition even for an elite defense like the Panthers.
The run game has been the bread and butter of the Cowboys' offense for a while and in 2021 the two-headed attack of Zeke Elliot and Tony Pollard has kept defenses on their toes. Amari Cooper and CeeDee Lamb (with Michael Gallup resting from injuries) have both generated their fair share of huge plays, and even tight end Dalton Schultz has joined in on the fun with a larger role in the last two seasons.
With offensive coordinator Kellen Moore, the Cowboys offense has a clear plan to set Dak Prescott up for success. This doesn't necessarily mean he has the most quarterback friendly offense, but Moore's route combinations and balance of running and passing has given Dallas a clear identity on offense. Something that has been borne out in the numbers, as the sixth-year signal caller has thrown for 878 yards, 6 touchdowns, 2 interceptions, and a 110.1 passer rating through the first three games of the season.
All that is well and good, but how do the Panthers' stop this potent offense, especially without three of their week one defensive starters? We've taken a look at the tape to find out.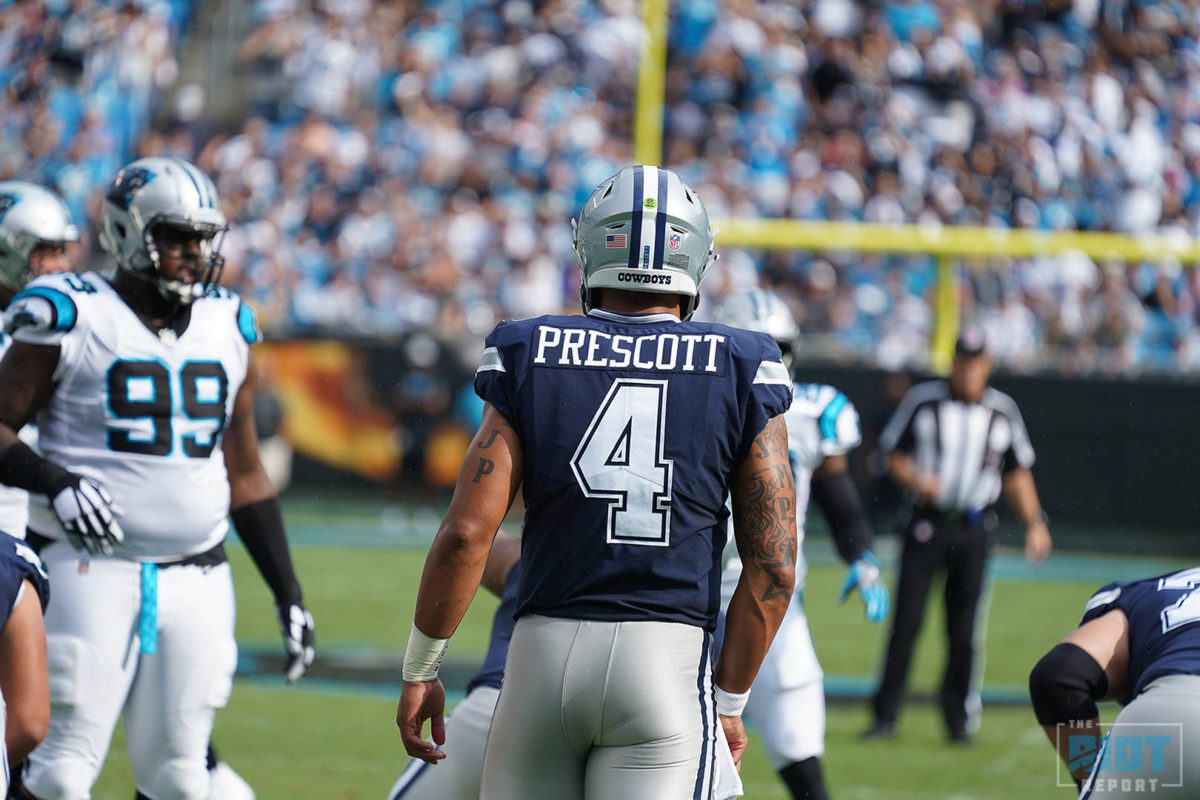 Phil Snow will have no trouble dialing pressure with his athletic gauntlet of pass rushers and run stopping freaks, but it's the back seven that will need to prove their worth. Speaking to the media on Thursday, Snow made it clear that it is going to be hard to get consistent pressure on Prescott as he gets the ball out so quickly.
Here, the Eagles present Dallas with a single high safety and two linebackers stacked in the box. All six of the back defenders are in zone coverage, and Moore stretches the field with a two-receiver combo. Amari Cooper gets the high safety to bite on his curl route, which is all Lamb needs to get open. Every defender plays their part well, except for the safety that is.
Because the safety gets drawn in by Cooper's route (even though there are clearly two defenders around him), Lamb is one-on one with the outside corner, and with no one over the top to guard the post route, Dak can just rifle this bomb down the field and let his young receiver go up and make a play.
What makes Kellen Moore's play calling such a threat to the Panthers defense is how it seems to have the correct calls against man coverage and the correct calls against the zone. This next play, of course, is zone, and with this in mind, Dak has three options on the bottom right to choose from. At the same time, the two uphill receivers use their routes to clear space for Elliot in the flat.
Philly's zone coverage can't keep all the holes plugged up, so even though the two uphill receivers are clogged, that leaves Elliot's route open for business (Dak helps out a bit with a twitchy, subtle pump that scares the outside corner into back pedaling toward the back of the end zone)
One advantage that the Panthers have is that they aren't wedded to a particular coverage type, playing both man and a range of zone coverages. While there are always indicators of what coverage a defense is in, by mixing their coverages and disguising them effectively the Panthers have a chance to catch the Cowboys looking for one coverage and finding another. This isn't a perfect solution, but if their game plan is overly focused on playing a particular defense then they are going to be in trouble.
Another one of Prescott's strengths is a good execution of play action. With the experience he's had with Elliot and the run game, he's sold play action fakes quite well over the years, using a firm, hard pump to get linebackers to bite.
With Lamb running a deep out at the bottom of the screen and the five circled defenders falling for the play fake, Prescott's quarterback bootleg just needs one guy to get open: Dalton Schultz. With the lane Lamb uses to create space for his tight end, the inside linebacker biting on the play fake leaves Schultz (disguising himself as a blocker early on) free to cross the middle of the field.
As mentioned earlier, one trick is for the Panthers to recognize when to execute zone and when to execute man, because when three defenders in man coverage are drawn away from the middle of the field, you allow a shallow crosser to easily scoot on by in one on one.
The linebacker's reaction is slightly delayed, and when the tight end breaks toward the middle of the field, the linebacker is a step behind, lacking the speed to recover in time to stop the third down conversion. That's where guys like Shaq Thompson and Jermaine Carter will need to rely on their brains to run the route for these receivers, otherwise these open lanes across the field will kill the Panthers.
Outside of play calling, Prescott's pre snap ability is brilliant and gives him the freedom to switch up play calls if he sees a weakness in the enemy's line of defense. With that considered, let's use this play as an example, a simple eight-yard run near the end zone. Why would we give Prescott credit for a handoff that uses none of his athleticism?
Well, take note that Prescott notices a gap that is not being covered underneath. As such, he switches the play call up to a running back draw. Schultz (No. 86) and right tackle Terence Steel serve to protect Elliot and block up field. While Steel whiffs on his block, Elliot's motor, the space provided for Elliot, and the block from Schultz give him 8 yards and move him several steps closer to the end zone. It's a smart audible from Prescott to exploit a nasty hole left by the Eagles linebackers.
There is no simple way to combat this, but the Panthers' best bet is likely to simply limit Dak's options. While Dak can always audible however he sees fit, if the Panthers are able to have another strong game against the run and make the most of their big bodies on the interior defensive line, then it will likely make Dak more reluctant to check into run plays as the game goes on. The Panthers won't win every battle on Sunday, but they need to force Dak into having to try and make plays that aren't there rather than being comfortable taking what is.
Unhelpfully, Prescott's accuracy, arm strength, and acumen are met by his mobility and creativity outside structure. He's not on Patrick Mahomes levels of playmaking, but he's also well above the likes of Kirk Cousins and Jared Goff. His legs seem much healthier than to start the season, and as such he has that boost of mobility once more.
Who knows if that leads to more rushing opportunities, but Carolina's pass rush boosts a treasure trove of speed that can fend off Dak's mobile tricks. It's just that they'll need to not over-pursue and miss wrapping up.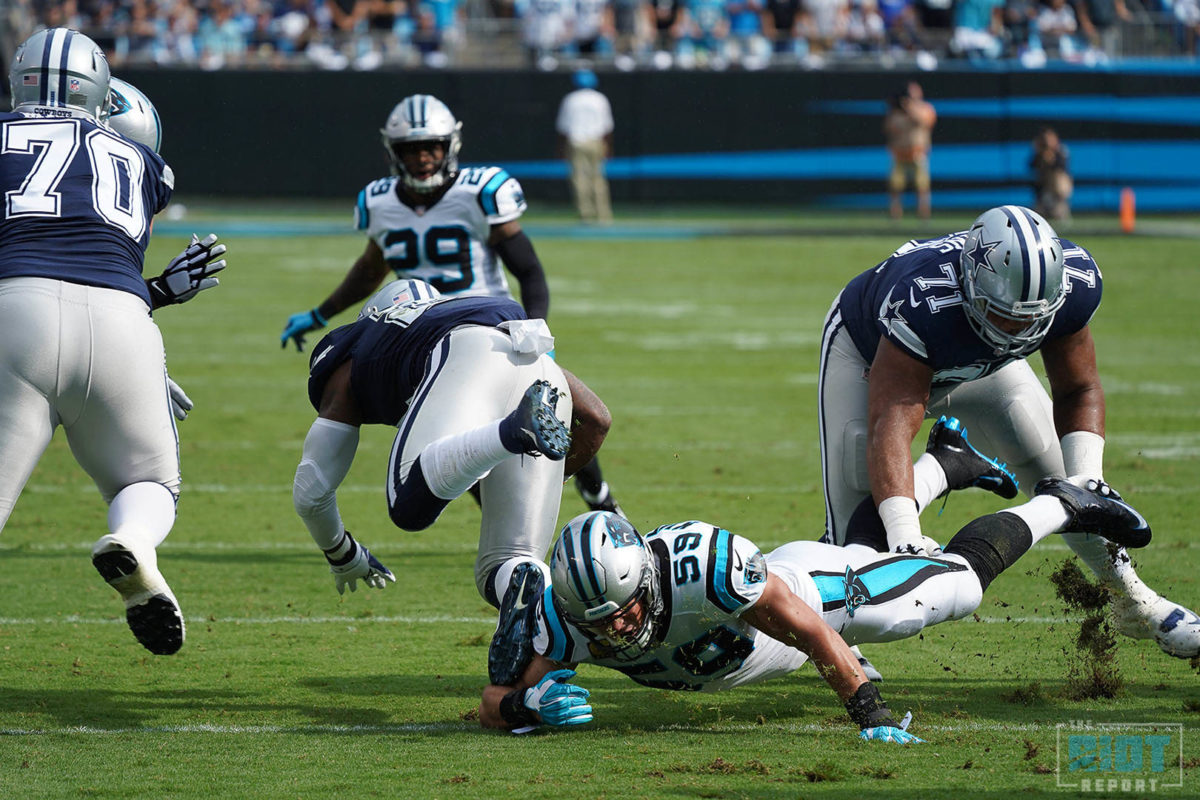 Injuries are obviously going to be a concern for the Panthers going into the game. CJ Henderson certainly has a lot of talent, but it is not clear how much he is actually going to play this week, but with Donte Jackson, AJ Bouye, Jeremy Chinn and Shaq Thompson they certainly have a lot of defensive weapons to match up with the offensive ones of the Cowboys.
Really, it's all about the speed game. If the Panthers can prove their back seven has the speed needed to keep up with the route combos (regardless of man or zone), they have a chance. The pass rush is phenomenal and will provide plenty of pressure to an offensive line that hasn't been the greatest, but the high-end talent of the Cowboys' offense will present the rest of the defense with a mammoth sized challenge. It can be overcome, but it takes an A+ performance for this Panthers defense to truly win their test.
(Top photo via Chanelle Smith-Walker/Carolina Panthers)