No, it really wasn't a dream, Cam Newton really is back in Carolina.
There are a a lot of reasons why Cam is back, and Sam Darnold's injury certainly will have made things easier from an optics point of view, but the simple answer is that the Panthers know that their defense is more than good enough for them to make the postseason but they risk missing out due to an offense that is one of the worst in the NFL.
While Cam won't make the offensive line block any better and can't be assumed to just magically fix any limitations Joe Brady has as a play caller, what he can do is consistently execute an NFL offense at a very high level, even if his shoulder isn't going to allow him to make all the throws he was once able to. He might not be the player who sauntered to an MVP back in 2015, but he's almost certain to give them a better chance of a play-off spot than anybody they had on the roster previously.
All this has been said elsewhere, and at more length, but rather than focus on the 'why', we're going to look at what opportunities the Panthers' offense presents to Cam Newton, and whether there are plays that Sam Darnold has been leaving out there that Cam can, and hopefully will, be able to make.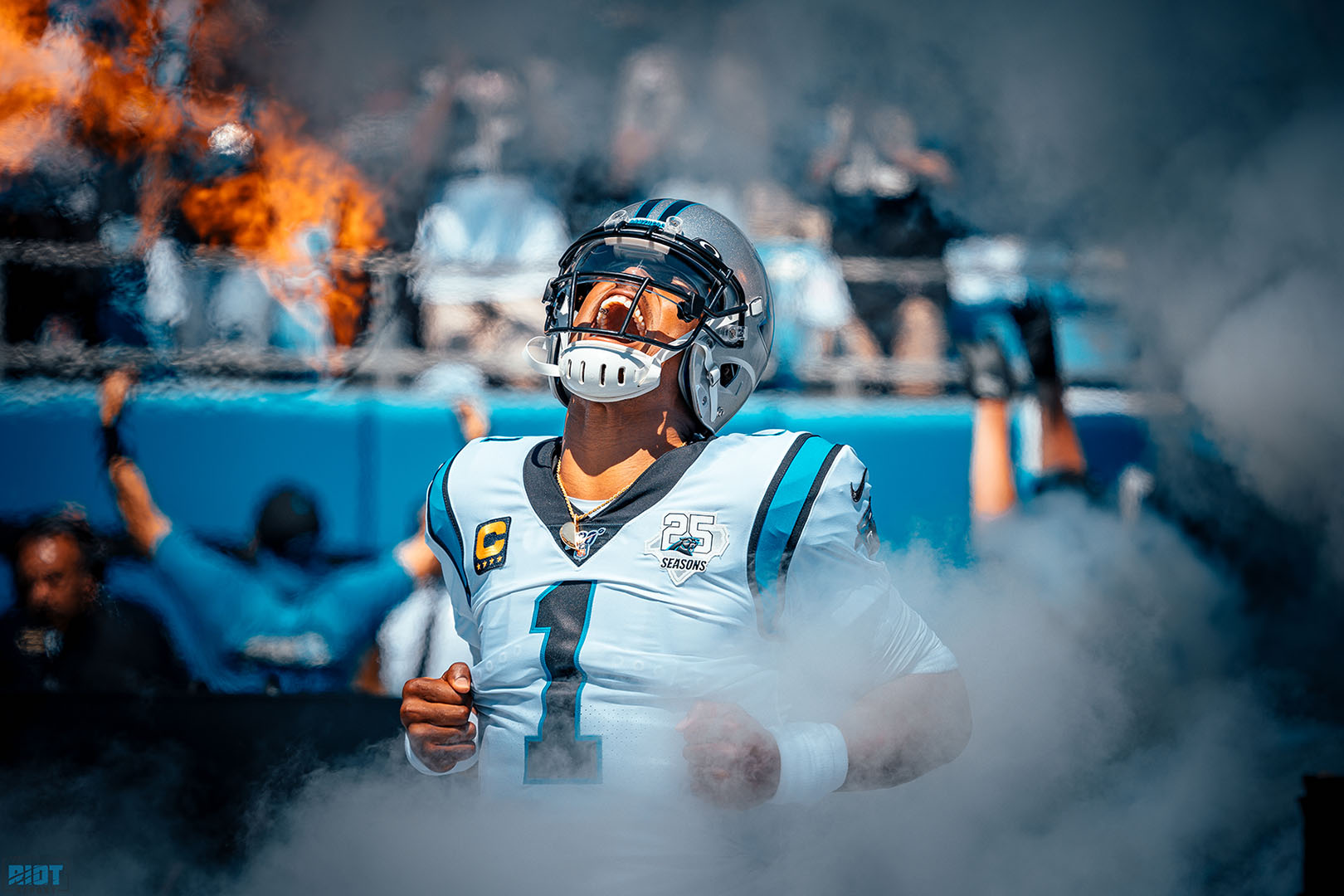 Looking back at the Patriots game, one thing you may have noticed was the number of passes defended by New England's defense. There was no shortage of these, which were eight to be exact, including the three interceptions made during Darnold's pick parade, but another major issue was passes being deflected as the line of scrimmage. It's easy to blame the offensive linemen for failing to keep the greedy hands of pass rushers out of harm's way, and that plays a part in this incompletion, but this is partly on Darnold as well.
Working out of the backfield, Christian McCaffrey has excellent spacing as he completely obliterates star linebacker Dont'a Hightower on the wheel route, and that's where Darnold's eyes take him to. The issue is Darnold's eyes lock onto CMC's release for a little too long. The bull rush against left guard Michael Jordan complicates this, and the pass gets disrupted.
Cam can't make the block any better and has been guilty of holding the ball for a little too long himself at times, but Cam's processing speed and understanding of how to manipulate defenses with his eyes is far ahead of where Darnold has been.
Out of all of the picks Darnold threw on Sunday, the following was the most baffling decision, at least the pick six was the result of horrendous accuracy, and the second was the result of a great piece of play at the line of scrimmage by Jamie Collins. Facing a large deficit in the fourth quarter, taking risks in desperation to make plays happen and force a comeback is understandable, but this isn't how to do it.
Notice the amount of green grass in front of Darnold? While on the run, he ignores an open running lane in favor of firing to D.J. Moore, who is well blanketed by J.C. Jackson. A little pump fake on the outside corner may not have guaranteed a touchdown, but it would've been a better decision than forcing this drive ending interception into the end zone.
This probably goes without saying, but Cam Newton, one of the greatest broken-play quarterbacks in NFL history, is likely going to be a massive improvement over Darnold in this regard.
One criticism I have of Brady's play-calling is his lack of success in the red zone, as well as too many roll-out plays in general. However, even while going up against Bill Belichick's defensive gauntlet, he was still able to supply Sam Darnold with some good looks. Oddly enough, these were also the same plays the quarterback just simply could not pull the trigger on.
Darnold's biggest flaw as a passer isn't even the slowly declining accuracy, it's his processing. This is what's gotten him in trouble in the mean streets of Jersey, and it's what's gotten him in trouble in the city of Charlotte. While he's scanning the middle left of the field, D.J. Moore appears to be open on the deep curl, but Darnold doesn't process this in time and holds onto the ball, allowing safety Adrian Phillips to seal off any chance of an open look happening Instead, Darnold tries to hit an improvising CMC, but to no avail as the pass gets broken up.
No, Cam Newton is not going to spot every single open receiver, no quarterback will, but the Panthers' offense has been creating chances down the field for a quarterback who has the awareness and patience to identify them.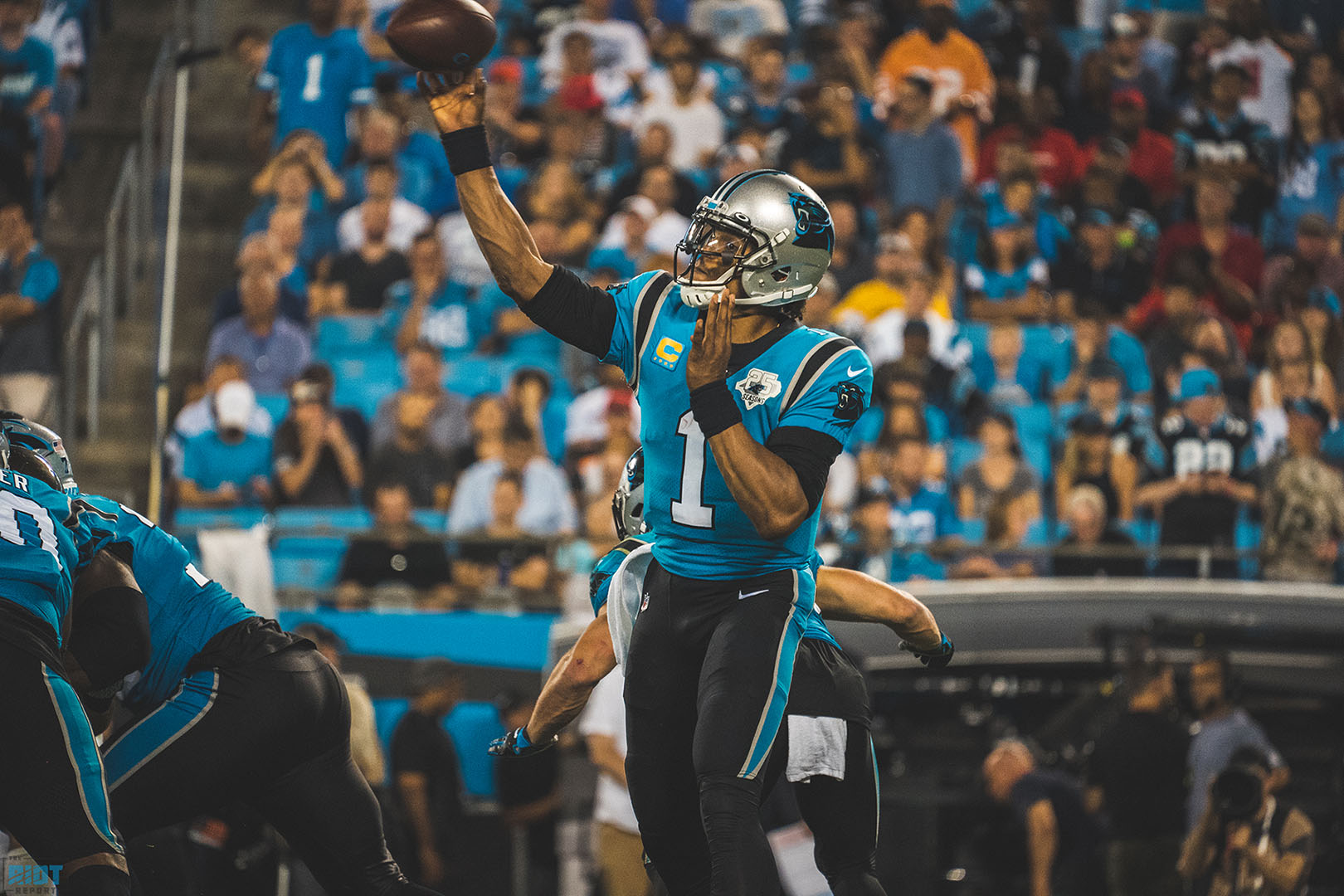 Things have gotten a bit hectic for the Panthers offense this season, with injuries getting to the point that veteran Willie Snead was called up and took 17 snaps against the Patriots. On this play, he actually beats J.C. Jackson on the post route with the safety over the top well distanced. A quick throw results in a possible touchdown here.
Sadly, two things happen. First, Michael Jordan gets beaten badly by edge rusher Deatrich Wise Jr., dooming this play from the very start. Second, Darnold spins away instead of standing in and taking the hit. Obviously, there's no way this gets turned down if the left guard doesn't get sent to the shadow realm on this rep, but Darnold bounces around in the pocket a little too long at the same time.
These are open looks Joe Brady is providing his quarterback, and Darnold for various reasons turned them down.
This all is not to let Brady off the hook, as he is guilty of, get this, not being perfect. I'm on the fence when it comes to his future in Charlotte, but I think better quarterback play would help expose some of the open looks he's giving his offense. With that said, someone has to share blame for the Panthers' 27.2% success rate on third downs against the Patriots.
On third-and-medium, I'm not completely in favor of a play call like this as I prefer most of my third-down plays to actually be at or near the sticks, preferably without any defenders covering the target.
Two other factors detract this play: First, the throw to Terrace Marshall is off, I think that goes without saying. Second, Robby Anderson can't speed up in time to provide a block on No. 41, though it might be a bit much to ask him to block a defensive back that far away. At any rate, this is one of eight failed third down conversions on the afternoon in 11 tries.
Last year, Matt Rhule explained that they would allow Teddy Bridgewater to pick from a number of plays at the line of scrimmage on any given snap based on the look the defense gave him, an aspect of the game that Cam excelled at during his time in Carolina and, while he can't make blocks for a receiver, he is likely to put the Panthers in better positions to be successful and potentially correct for some of Brady's mistakes.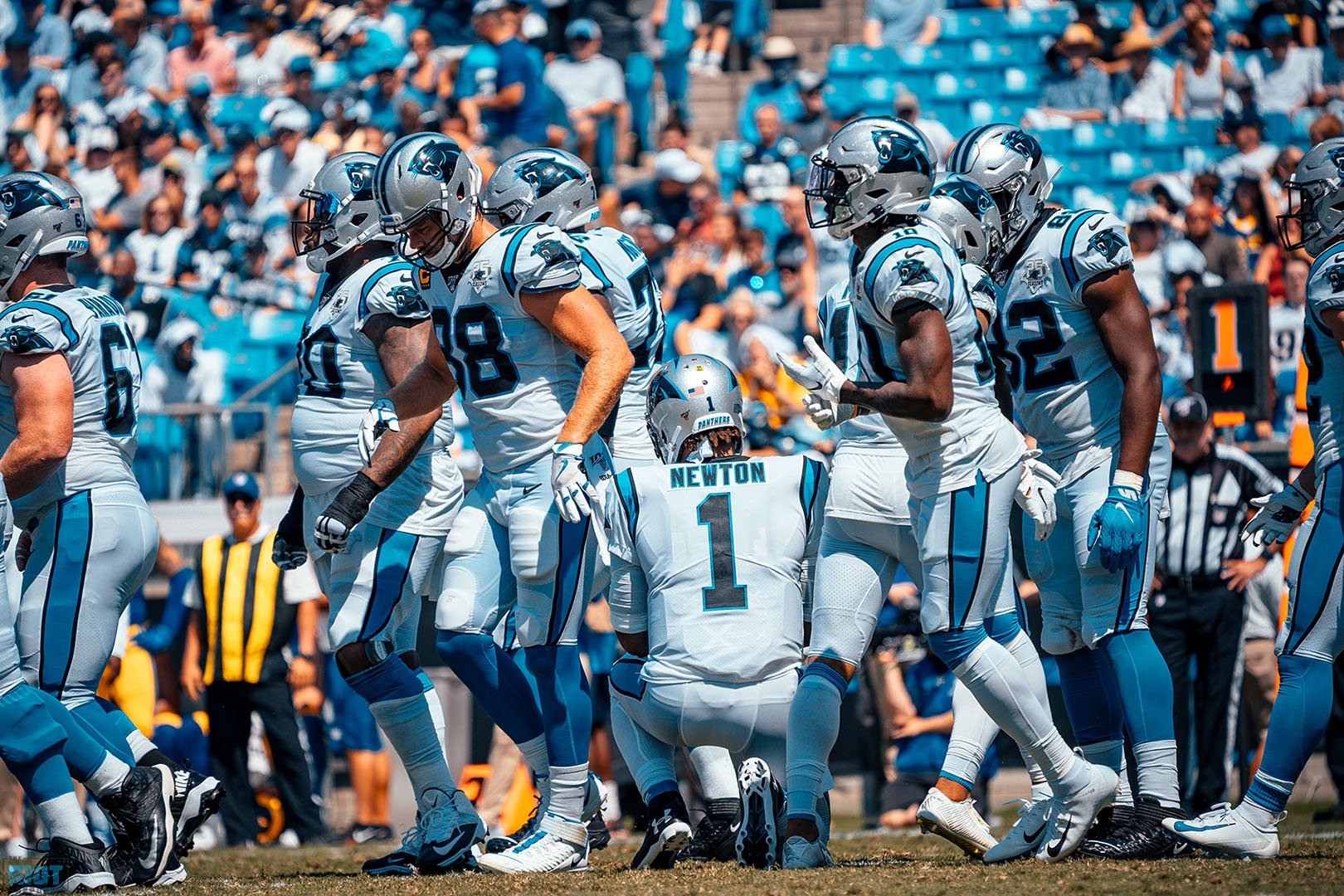 Ironically enough, D.J. Moore's screen route on the jet motion of this next play is used as bait when it could've been the better option than the actual play call. The Patriots' strong side easily swarms up the dump off pass to CMC, who gets devoured for a loss.
Something else you may have noticed has been a pretty conservative offense on Carolina's front. In 2020, Brady's offense allowed Teddy Bridgewater to throw for an average depth of target (aDOT) of 7.1 in his only season with the Panthers, 27th out of 35 qualified passers. Darnold's 7.5 is only able to improve that ranking to 23rd out of 32 qualified passers. With the lack of anything resembling an offensive line on four of the five positions this is somewhat understandable, but also an indictment of how risk averse the Matt Rhule era has been.
Cam Newton might be able to do a lot of things, but he likely won't be able to change this, especially as the team looks to ride the defense to a postseason spot.
Ultimately, the quarterback play has been the biggest thing holding the Panthers' offense back. With the faith in the coaching staff diminishing and annoyances of passing on Justin Fields and Mac Jones resurfacing, bringing in Cam Newton gives the Panthers, and especially Matt Rhule, a chance to hit something of a reset and try and create something positive out of the final eight games of the regular season.
Fans likely won't get a ton of vintage Cam performances of the sort many of us took for granted in his first stint in Carolina before his 2017 injury, but if he is even a shadow of his former self then there are plays to be made in a Panthers' offense that hasn't been as good as the sum of its parts through nine games. It might not end in a postseason spot, but the second instalment of the Cam Newton era in Carolina should certainly come as a boost.