As we head into what will be the strangest training camp in the history of the modern NFL, COVID-19 will impact not only the 2020 season, but the salary cap for the next few years as revenue in 2020 expected to drop by billions of dollars. The Carolina Panthers will be one of many teams that will be significantly affected.
Last week, the NFL and its players association agreed to spread the cash losses from this season over the 2021-24 salary caps. What that means is next year's cap will not go lower than $175 million with this year's set at $198.2 million. Teams were previously planning for an increase during the next five seasons with the addition of one playoff spot in each conference and new television contracts – not to mention the fact that the cap has increased by $10m for seven straight years – so this drop is going to affect everything the team does in terms of roster construction and cap space.
According to Over The Cap, the Panthers – who were expected to have almost $40m in cap space – would be left with about $9m if the cap stayed at the floor of $175m. With that projected cap, the Panthers would likely need to make some tough decisions on a few of its veteran players.
Here are some potential Panthers players who could be salary-cap casualties during the 2021 offseason:
Kawann Short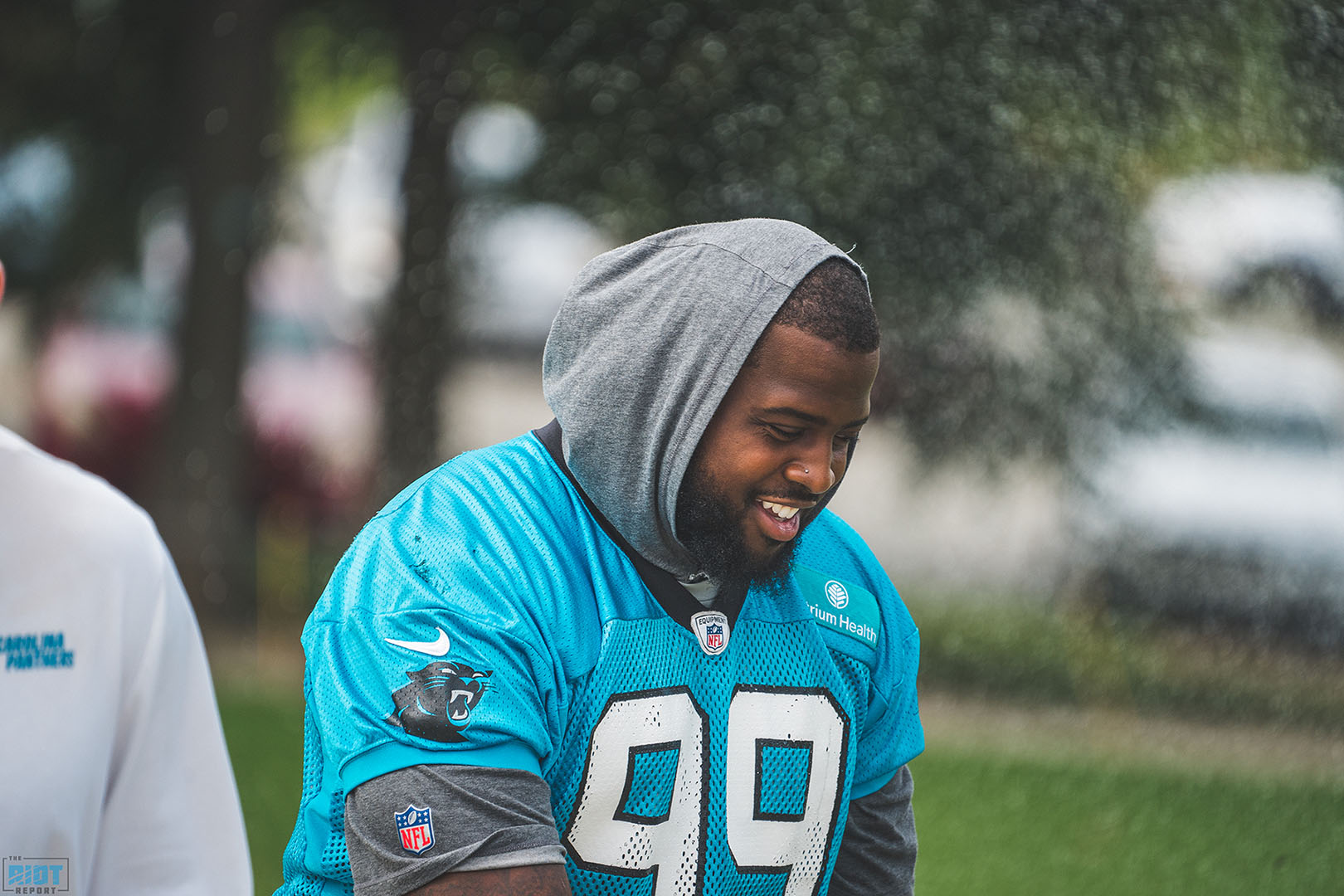 Kawann Short has been one of the anchors of the Panthers defense for much of the past five seasons, but his time with the team could be coming to an end after the 2020 season. Short is set to have a $20.8m cap hit in 2021, which would be the second-highest on the Panthers' roster after quarterback Teddy Bridgewater. Considering his previous few seasons, it might be wise for the Panthers to move on.
The 31-year old only played in two games in 2019 after suffered a partially torn rotator cuff which prematurely ended his season. The year before that, Short did play in 14 games, recording 42 tackles and three sacks. However, those numbers were down from his 2017 season, where he posted 49 tackles and 7.5 sacks.
Carolina drafted Derrick Brown with the No. 7 overall pick in April's draft. Although Short will be an excellent mentor for Brown, that could last for this one season because of the Panthers' youth movement.
Also, Short's salary could be used for a few other pieces – or perhaps some contract extensions for younger players like Taylor Moton or DJ Moore – for a roster that is retooling.
Matt Paradis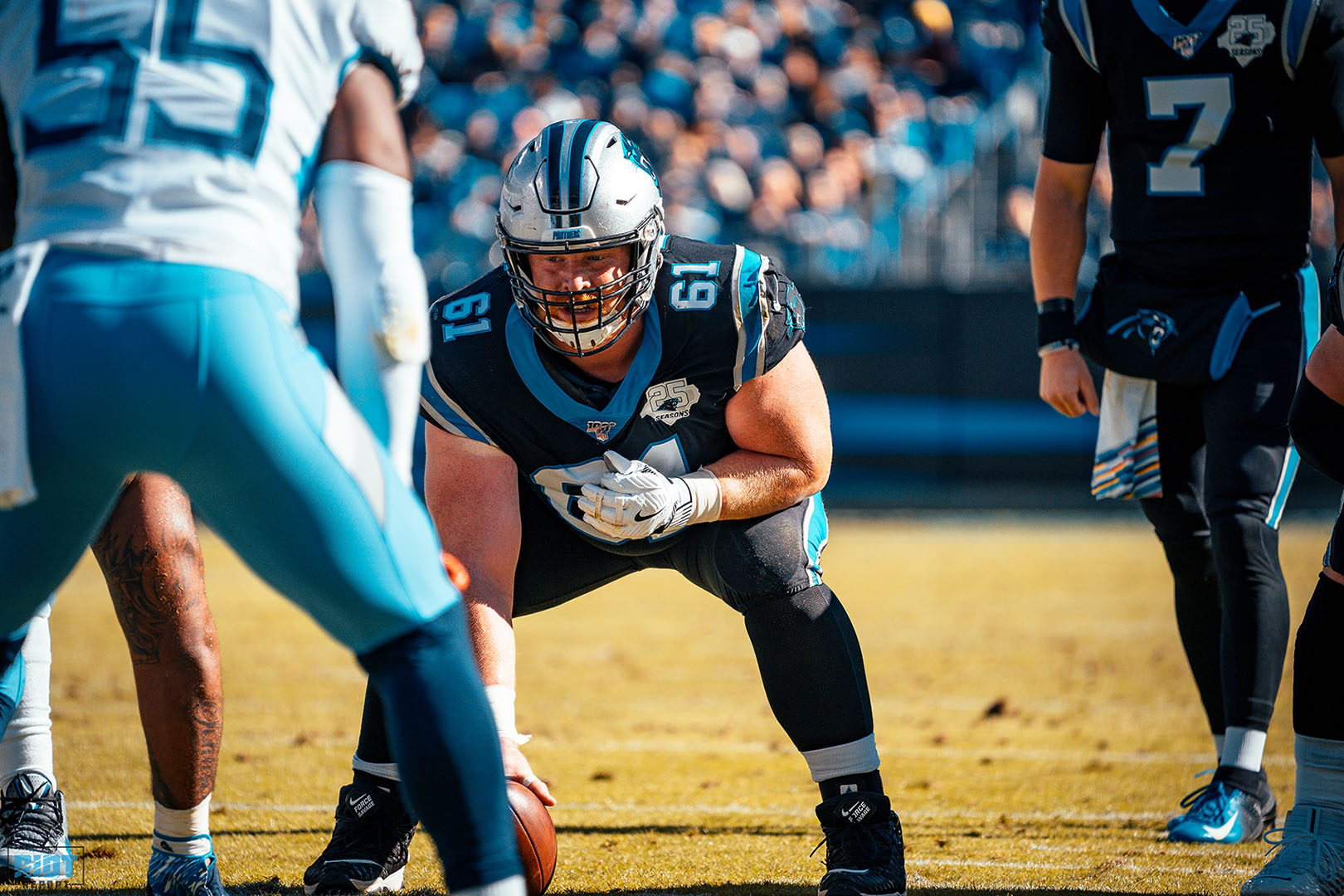 Paradis is set to enter his second season with the Panthers, as the team signed him to a three-year, $27 million deal last offseason; but already, he is entering a potential make-or-break season. The center struggled to return to form after injuring his right fibula the year prior. After expecting to be an upgrade over Ryan Kalil, Paradis was a protection liability in his first season in Carolina.
His struggles in pass protection last season were a significant factor on the Panthers offensive line. According to Pro Football Focus, Paradis gave up the most quarterback pressures in the league for his position.
Carolina could release Paradis and that would save the team $10.3m on their cap. With a transition happening with the Panthers, Paradis could be on the way out – unless his play turns around drastically this upcoming season; with the lowered cap, even that may not be enough.
Robby Anderson
Yes, the Panthers signed Robby Anderson to a two-year, $20 million just a few short months ago, but with the salary cap projections for 2021, his time in Carolina may be short.
On the opposite side of the field from D.J. Moore, Anderson could potentially have a career season for the Panthers. However, if for some reason he does not, that could lead to his departure during the next offseason.
Anderson's cap hit for 2021 is $12m – last season for the Jets, Anderson caught 52 receptions for 779 yards and five touchdowns. That production at that price tag won't be enough; it's going to take more from Anderson to make him worth the 14th-highest cap hit in the league among wideouts.
Anderson does believe his skillset, along with Bridgewater's could bring out the best in both players.
"With my speed and my over-the-top capabilities, I think we're going to complement each other very well," Anderson said on a conference call with reporters in April. "With Teddy, who has that veteran presence and knows how to spread the wealth, I think we are going to complement each other in a great way."
Stephen Weatherly
Carolina signed Stephen Weatherly in March to be a contributor to their defensive line. While he signed a two-year, $12.5m contract, Weatherly could potentially be a casualty next season.
The defensive end is set to have a cap hit of $7.9m in 2021, which is one of the highest on the Panthers roster. His 2020 season could determine if he returns to the Panthers roster next season.
In 2019 for the Minnesota Vikings, Weatherly registered 24 tackles and three sacks in limited time. The Panthers believe Weatherly has the potential to become a significant pass rusher on their defensive line – he'll need to if he is to return to the Panthers in 2021.
Juston Burris
Juston Burris signed a two year, $8m contract with the Panthers in March. While he is expected to be a big part of the Panthers revamped defense, with the cap changing, Burris may not be with the Panthers past 2020.
Burris has a 2021 cap hit of $4.9m. Carolina drafted Jeremy Chinn, who the team will also use in a number of different ways defensively; the expectation is Burris will be used at not only safety but as a corner all over the field.
"As far as being a cover guy at corner and now coming to safety, it definitely helped me a lot – I think I was a guy at corner who could cover and now I'm a guy at safety who can cover and also play in the box," Burris told The Riot Report earlier this offseason. "That versatility is going to help me to see the field in different ways. Coach Snow is trying to bring about a versatile defense – he's got a lot of versatile players and he's going to put them in a position to succeed."
But by releasing Burris, the Panthers would save almost $4m towards a shrinking salary cap – and even if they're happy with his play, that might be a decision they're forced to make.