While the world has been stuck inside, there has been a lot of Netflix binging, a fair amount of closets being re-organized and home DIY-style projects are at an all-time high – but for NFL players, there's no time for days off. They've had to take this time to prepare for their future.
And the smart ones aren't just prepping for the near future in terms of training camp this summer or the games in the fall – they're prepping for what happens next.
That's why in the days after the NFL Draft – and periodically throughout this offseason – the NFLPA, along with AthLife, hosted virtual learning labs as a part of their #AthleteAnd program. These programs cover subjects designed to help players across multiple sports prepare for life when they're finished on the field, whether it's building their personal brand, bulking up their LinkedIn profile or simply polishing their resumé. The platform encompasses the association's suite of career development tools, from informational interviews or externships with companies that athletes are interested in to summits over the past few years where players can not only learn how to be successful off-the-field, but also network with people that could affect their future.
While past iterations of these programs have been held in-person, the pandemic has shifted them online – but learning that there's more to life than what happens between the white paint is incredibly important, especially for the younger players. While most look at an NFL player as being set for life, that's not the case for almost 90% of the NFL – the average career lasts only about three years and while the contract numbers may look large, that money doesn't last forever.
"Having participated in [the program], when they are ready to make that kind of decision to walk away, they've got some options and a little bit more confidence than they otherwise would have had to be able to move forward into other opportunities," said Connor Ford, manager of player affairs for the NFLPA. "I think also just seeing that they already have in their possession a lot of different, transferable skills that make them very attractive to organizations."
Panthers tight end Chris Manhertz is all about preparation – while the Panthers have been going through their 'virtual OTAs' over the past couple of weeks, Manhertz is lifting weights at his home in Fort Mill, attending positional, special teams and full teams meetings for a couple of hours in the afternoon and then heading to a nearby high school football field to do field work.
Like many players, Manhertz echoes the sentiment that the meetings feel similar to a normal OTAs – only the location is a change.
"It's literally the same thing, we're just not there," Manhertz told The Riot Report last week. "Outside of the workouts, it's the same thing."
When he's not focusing on the near-term future – competing for a spot in new offensive coordinator Joe Brady's scheme and offering some mentorship to the younger players as the oldest tight end on the roster – he's focused on what might be next for him as he continues to take advantage of the offerings the NFLPA provides for it's members.
Manhertz has had externships with the NFLPA itself, Fox Sports, and Under Armour for the past few offseasons – the NFLPA has placed almost 250 unique externships – and has was on a panel in 2019 as a part of the NLFPA Collegiate Bowl, presenting to future members on things to keep in mind about transitioning into the NFL.
"Half of it is spreading the word about it, because a lot of guys that play don't understand and know the abundance of resources that are actually available," said Manhertz. "Part of that is educating guys – more than likely, if you need help with something in that world, there's a resource for you [at the NFLPA]. It's just a matter of knowing that it's there, but part of it is just [spreading the word]."
"Rightfully so, guys are focused on their day job and their doing day-to-day life, but you come across a lot of guys in the locker room, you know what their mindset is and what they're thinking about and those are the guys that it really resonates with. Those are the guys that you see hungry to learn more, hungry to take advantage of whatever the resources are out there."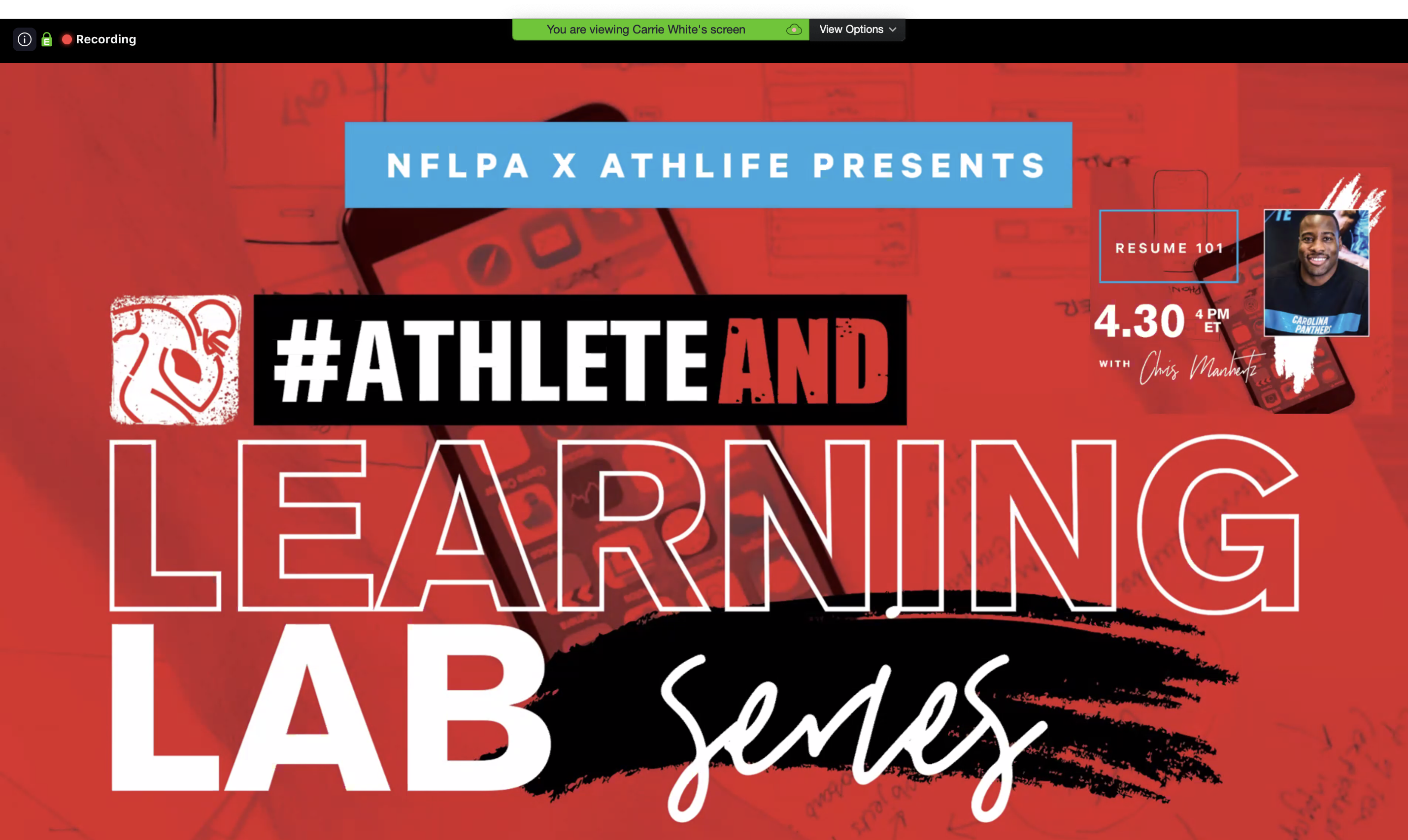 Last month, Manhertz was helping to lead a Zoom webinar that featured an audience of current and former NFL players as well as other professional athletes on how to use their NFL experience to build a quality resumé – something that many won't think of, but almost all players will need at some point in their post-football career.
On the field, they can let their tape do the talking, but when they're looking for a job in the corporate world, they'll need a boost.
"It's a document that highlights and amplifies who you are," said Manhertz during the call, explaining why a resumé is so important. "It highlights the skills and traits you're good at to a potential recruiter or employer – so my biggest thing with resumés is it gives me an opportunity to brand myself. It gives me an opportunity to highlight who I am, the traits that I possess, the proficiencies I have and give confidence to potential employers that I'm the person that they're looking for."
"It's never too early to work on your resumé. Obviously, we're professional athletes – so for a lot of us, our real-life work experience is minimal, but [we're] encouraging guys to build their resume, to do whatever they can in the offseason to set themselves up for after football."
The reality is that skills used on the gridiron translate naturally to the corporate world – learning from your mistakes. Flexiblity. Realizing that individual success often leads to team success. The ability to be coachable.
"I think being coachable will span much further than the football field," Manhertz explained to those in attendance. "What I mean by coachable is, do you have the ability to learn, adapt and adjust – those three things can be something that a potential employer might look at and understand, realizing that 'OK, maybe Chris isn't up to speed with this [particular skill], but does he have the ability to learn? Does he have the consistency and the coachability, so to speak, to adjust and assimilate to what's being taught?"
"Or, if you do something wrong, can you fix it?"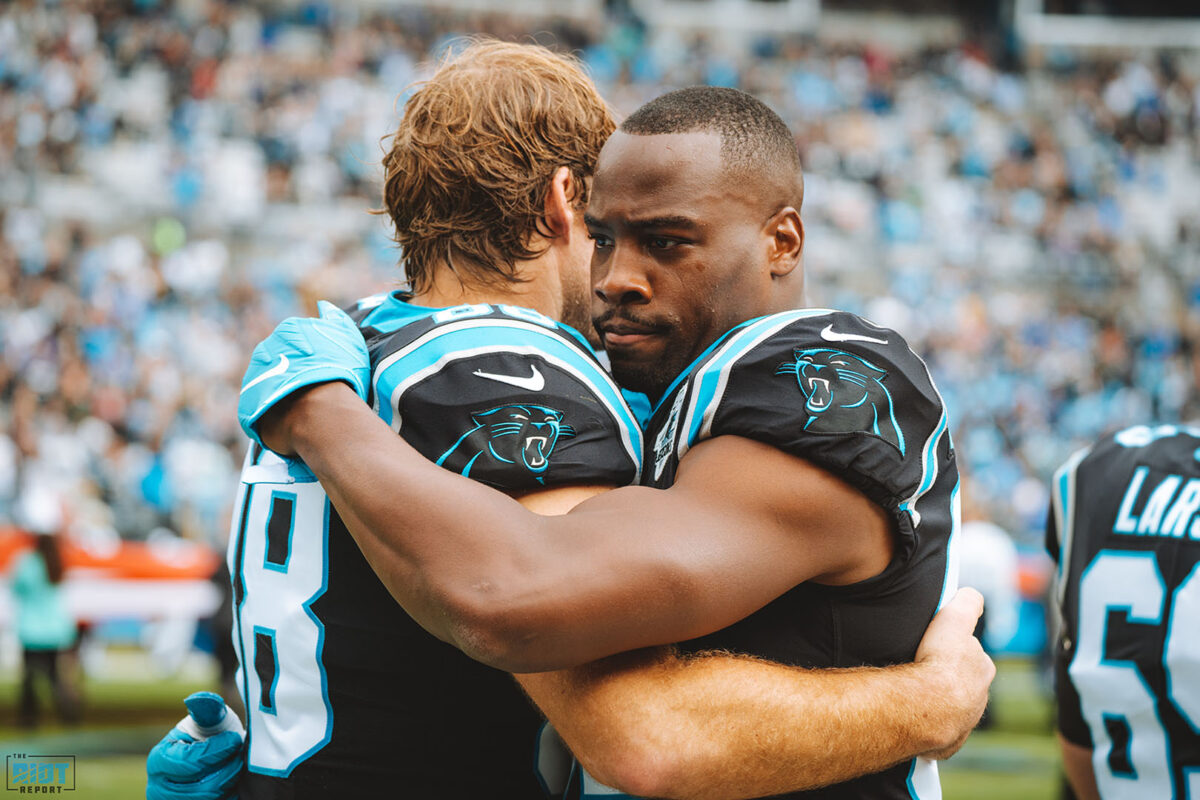 Manhertz has learned from his own mentors – Greg Olsen, Luke Kuechly, Benjamin Watson – that being successful on the field is important, but living a quality life off of it is just as key. And he's tried to pass that along throughout the locker room – teammates Andre Smith and Jermaine Carter, Jr. both took advantage of the externship program this offseason – and he's hopeful that younger players will take advantage of the opportunities around them.
"At the end of the day, everybody has mentors," the 28-year old Manhertz said. "It's kind of like paying it forward. It's never too early to build for retirement or build for what's next after football. That should be a brewing thought from your first year in the league – I know that's hard for some guys, because it's for right now – but unfortunately, it doesn't last as long as some people anticipate."
"It's a big thing for a lot of guys – I wouldn't be doing my part if I wasn't paying things forward. Lord knows what I'll be doing after football, but it's all about building the bricks and insuring yourself."
That was his message to those attending the virtual session.
"Given the circumstances that we're in right now, I'd just encourage all the guys to take this opportunity to work on yourselves. Just by showing up here right now and participating in this, it's a great first step in just utilizing your time wisely, while we have it. I don't think it's ever too early to think about what's next or lay down the bricks to figure out what's going to be ahead for your future."