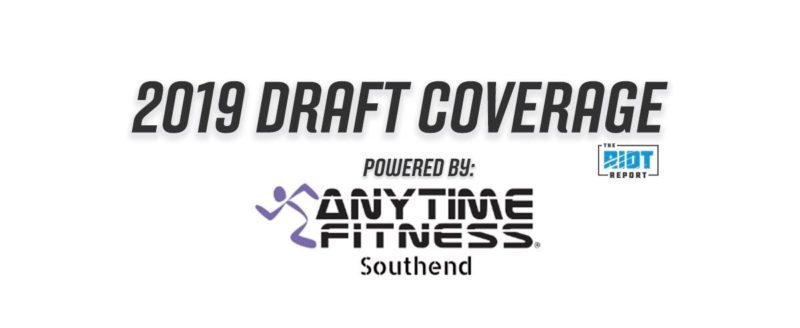 The Carolina Panthers had a huge problem on defense last year – they couldn't get to the quarterback.
That lack of pressure trickled down into problems in the secondary, problems in the run game and gap control issues throughout the season, finally culminating in the firing of Brady Hoke and the demotion of Eric Washington in everything but the title of defensive coordinator – a title he stills holds even as Ron Rivera will act as the defensive playcaller and oversee the defense – in early December.
With the retirement of Julius Peppers, the pending free agency of Wes Horton and the change to a more hybrid front, the Panthers have clear holes at edge rusher – but lucky for them, this is one of the strongest defensive line classes in recent memory, with mock drafts projecting as many as 13 defensive linemen going in the first round; Peter Schrager's recent mock on NFL.com had seven defensive linemen go in the top ten.

While mock drafts are eminently mock-able, there's no denying that there will be at least one, if not multiple, talented linemen available when the Panthers choose 16th on April 25th. If they don't choose to address the need in free agency with a signing like Shaquil Barrett, Vinny Curry or another edge rusher who can get to the quarterback, they'll likely have their eye on multiple rushers heading into the draft in Nashville.
"When I look at this draft kind of big picture…to me, it's all about big guys," said NFL analyst Daniel Jeremiah. "Premier talent and depth at the defensive line position, inside, outside, it's outstanding, and it carries deep into the draft."
Here are a few options for the Panthers should they decide to go edge rusher early:
Montez Sweat, Mississippi State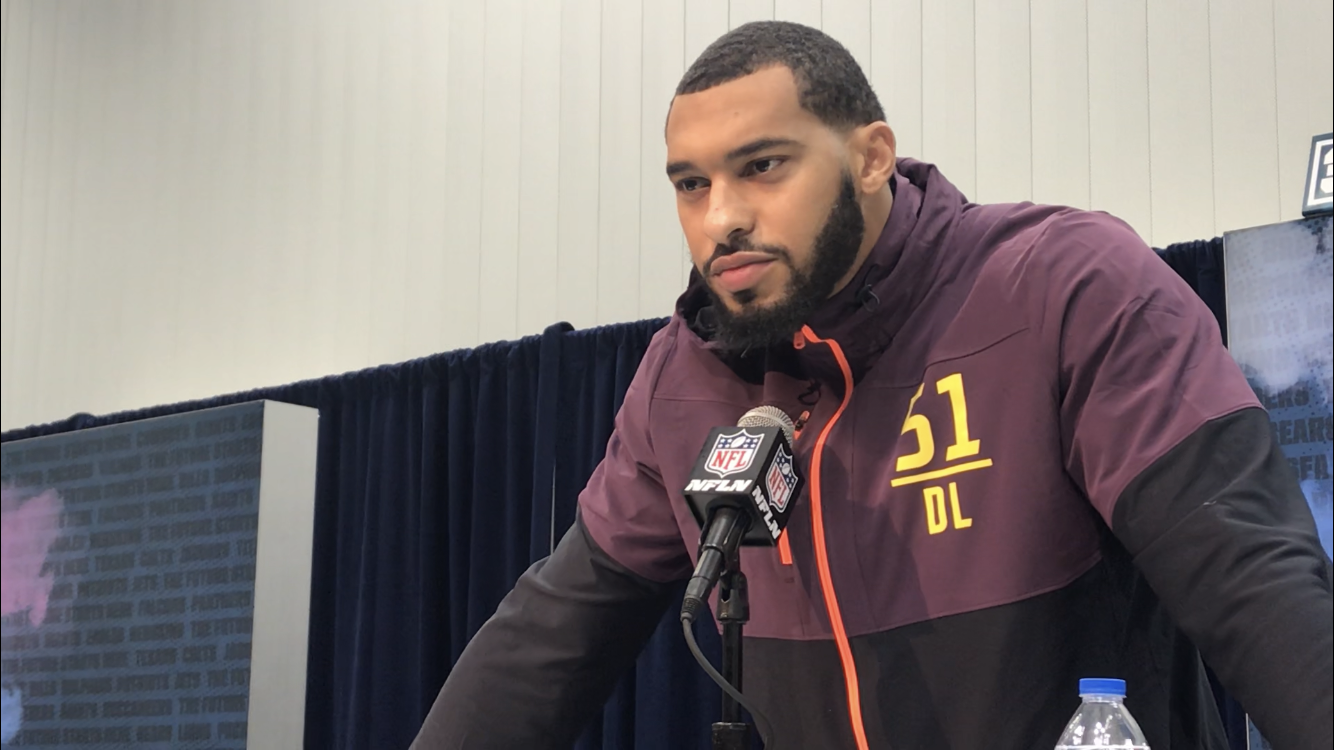 Well, that was something.
Sweat may have actually vaulted himself ahead of the Panthers 16th pick with a Herculean performance at the combine in Indianapolis – after going over film with Sam Mills III and other Panthers coaches while marveling over his versatility in both the 4-3 and 3-4, Sweat electrified #DraftTwitter with the fastest 40-yard dash for a defensive lineman in the modern era. His 4.41 would be the eighth-fastest of any player at the combine that's run thus far – we knew he was a freak athlete, but the numbers he produced were even better than expected.
"I think teams are considering me both in a 3-4 and a 4-3. I talk to teams about dropping, and also about staying down in a (three-point) stance; and just playing off the edge. Pass rushers are definitely at a premium in the NFL. It's a passing league; teams want people who are going to get after the quarterback, most definitely."

Clelin Ferrell, Clemson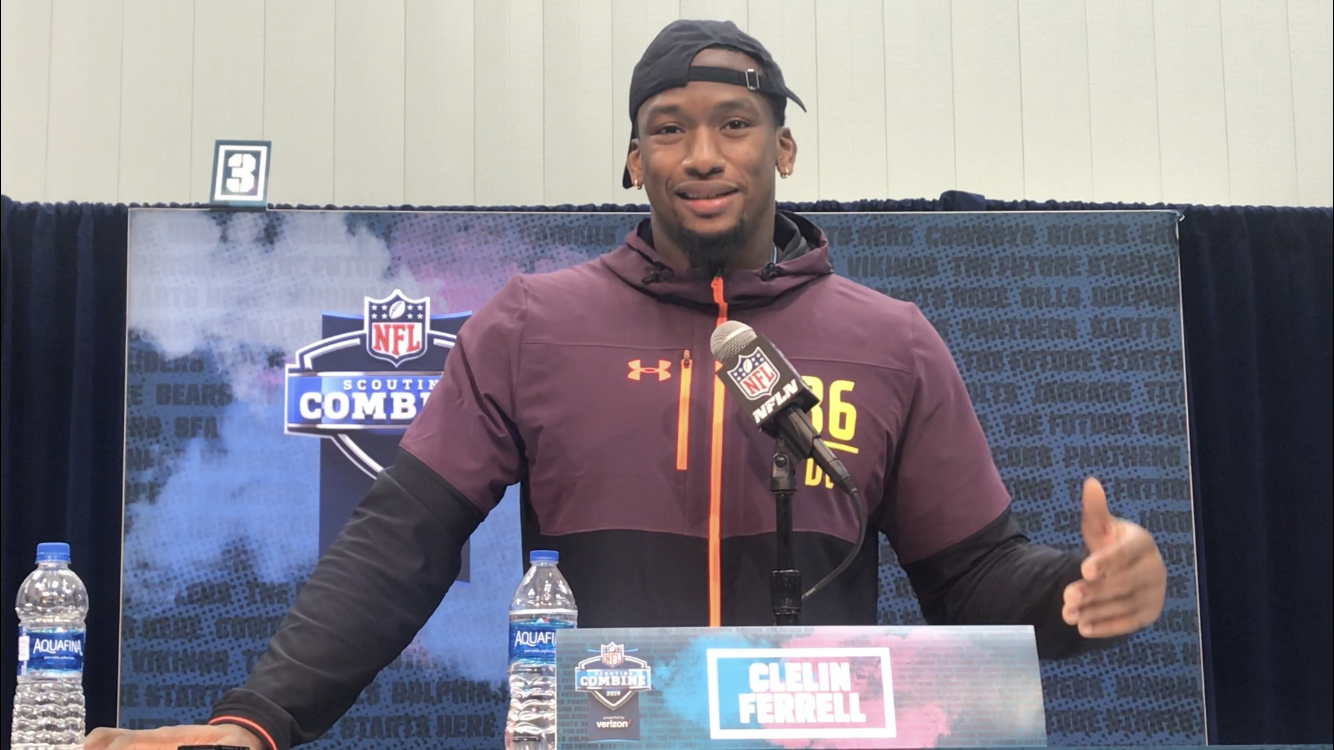 A long and rangy player that feels comfortable in multiple defensive fronts, Ferrell has long arms and an explosive burst off the line, which helped him to 21 sacks over his last two years at Clemson – not to mention two national championships. Ferrell has a strong motor as well and can be a leader at a key position – his quick, violent hands make it tough for tackles to stay in front of him; his numbers at the combine weren't earth-shattering despite skipping the bench, but he didn't do anything to hurt his stock with the third-most bench reps of any edge rusher and a good showing in the agility and position drills.
"I just feel like my versatility is something that is very, very important when I feel like you talk about my game. I feel like that has always given me an edge as far as giving me a benefit on the field. Not only just my versatility as a player — I can play defensive end, I played some defensive tackle this past year, 3 technique. I've also dropped into coverage, outside linebacker. But not only just doing those things, but I feel like I've done them at consistently a high level. That's always given me a bit of confidence as far as my play. And I've done it against the best competition playing at Clemson, so that was a blessing as well."

Up Next: How Jachai Polite May Have Combine-d Himself Out Of The First Round