The Panthers first preseason game is in the books, but the regular season starters were already all but set – and while there are a fair amount of battles for positions on the field, if you're a player trying to simply make the roster, it's actually much more dire than that – if you start counting the players who are all but certain to make it, you'll start to realize that most of the roster has already been decided. 
Don't believe me?
Let's look at the players who will absolutely, 100%, for sure make the roster barring an injury: Cam Newton, Will Grier, Mike Palardy, Graham Gano, Curtis Samuel, DJ Moore, Jarius Wright, Christian McCaffrey, James Bradberry, Eric Reid, Donte Jackson, Rashaan Gaulden, Tre Boston, Colin Jones, JJ Jansen, Ross Cockrell, Christian Miller, Brian Burns, Shaq Thompson, Bruce Irvin, Jermaine Carter, Andre Smith, Luke Kuechly, Daryl Williams, Matt Paradis, Dennis Daley, Tyler Larsen, Trai Turner, Taylor Moton, Greg Van Roten, Greg Little, Kyle Love, Ian Thomas, Greg Olsen, Gerald McCoy, Dontari Poe, Mario Addison, and Kawann Short aren't going anywhere.
And, if we're being honest, Torrey Smith, Chris Hogan, Alex Armah, Chris Manhertz, Jared Norris, Taylor Hearn and Vernon Butler are probably making the roster as well.
So that means there are seven roster spots up for grabs – and you probably know where they're coming from: there are probably two cornerbacks and two running backs that aren't listed above that will end up on the roster, the team probably needs some more depth on the offensive and defensive line and the question of whether they'll keep six wide receivers or three quarterbacks is definitely up in the air.
The first preseason game made at least a dent in beginning to answer some questions.
While players like Andre Smith, Rashaan Gaulden, Dennis Daley and Brian Burns had nice games in Chicago, they're not competing for a roster spot – let's take a look at who made a name for themselves in Chicago in the fight for the final seven spots?
Marquis Haynes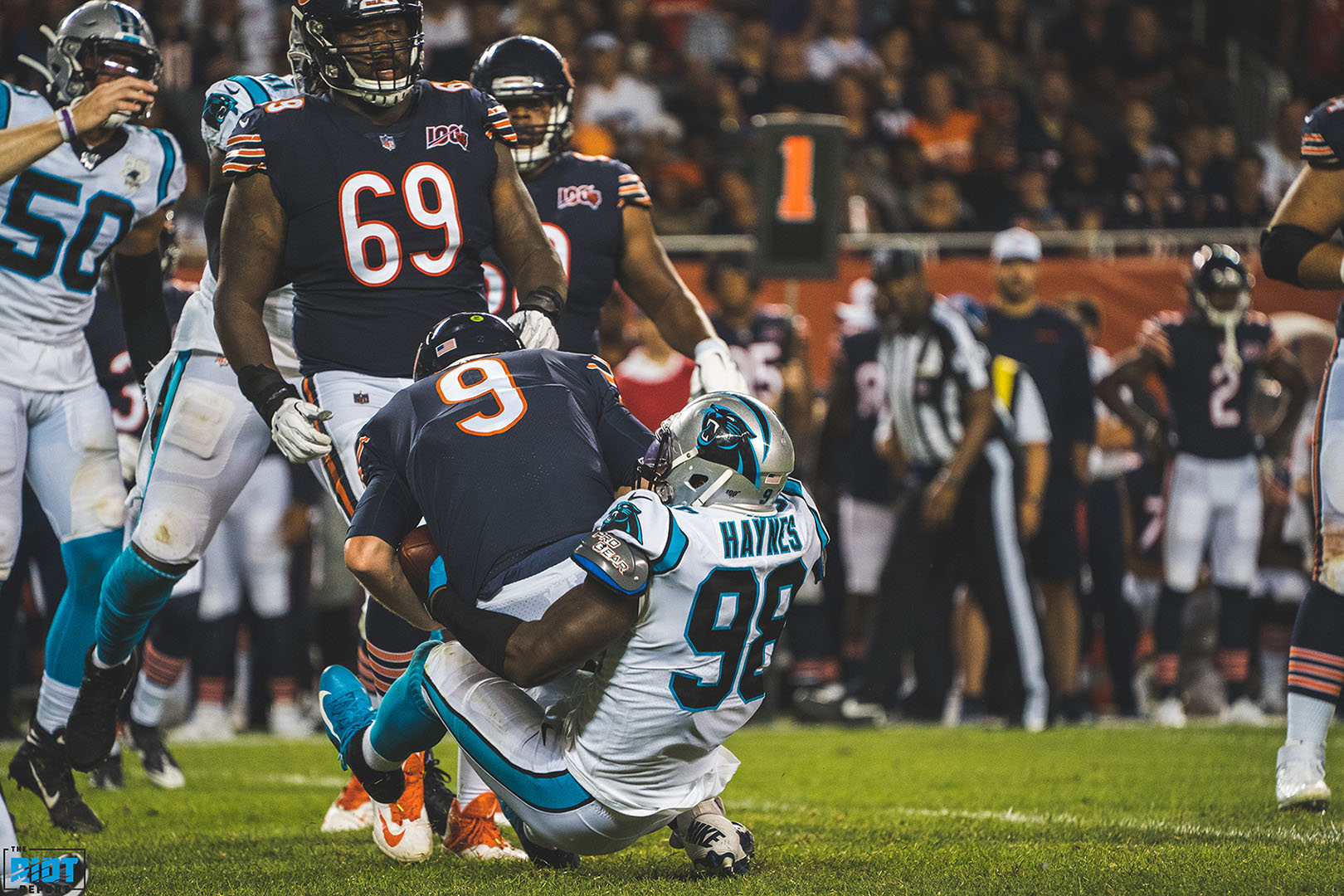 Throughout the spring, everyone on the defense had brought up former fourth-rounder Haynes as a defensive player that would excel in this new system and it took him all of one play to make an impact from the standing up outside linebacker in the Panthers new scheme as he knifed between the tight end and tackle to bring down Mike Davis for a loss of three.
He would continue to show up in the backfield throughout the night as he led the team in sacks (2), quarterback hits (4) and tackles for loss (3). While some of those stats were racked up against the fringe roster players in the third and fourth quarter, the Bears had their starting offensive line in the game for the first drive – and Haynes blew up at least one of the three handoffs that forced the Bears into a three-and-out.
But it was Haynes' second sack that he was most proud of after he used something other than that speed rush he's been able to win with so often in the past.
"I did a quick inside move," said Haynes after the game. "Basically, I saw how the tackle's hands [were], and I gathered my foot, I moved my foot closer to my other foot, so then when I exploded out, I knew I had him and he oversetted me hard and I just took it to the inside move."
Haynes said in between each series, he would get advice from the Mario Addison and Bruce Irvin – but it looks as if the second-year player is learning already.
Cameron Artis-Payne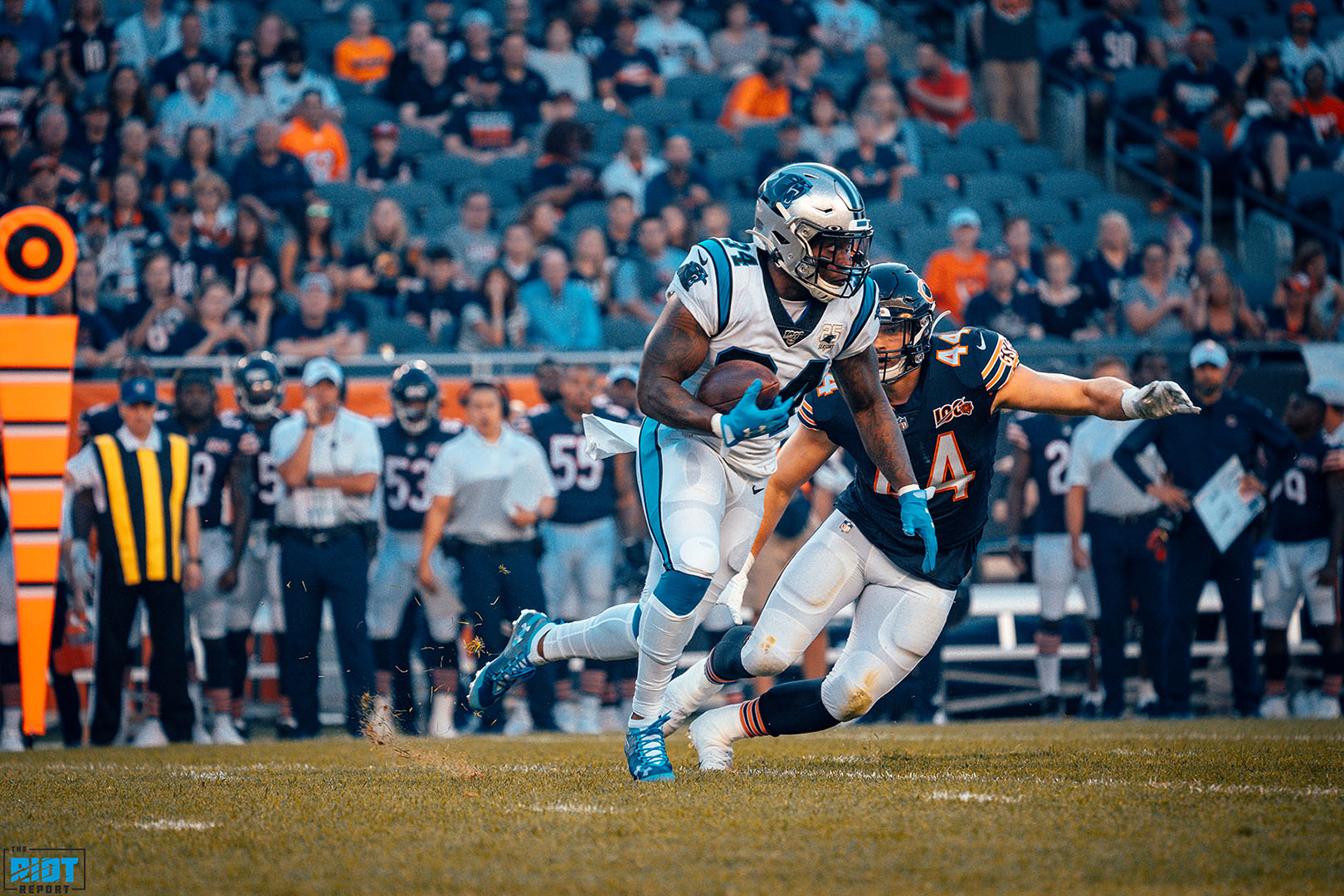 While much of the attention has been on the rookies in the backfield, Cameron Artis-Payne, who's quietly been the stalwart backup even as his yardage has gone down each of the four years he's been in Carolina, not only got the start but got the reps of a player who had already established his place on the roster. While it may have been a situation where the team has already gotten their honest look at CAP and wants to see what they had in Holyfield and Bonnafon, Artis-Payne showed the explosive jump-cuts he's been employing whenever he sees the field and looked smooth catching the ball out of the backfield – his 30 yards receiving on the opening two drives of the game led all receivers until a fourth quarter pass to Andre Levrone pushed the wide receiver ahead of Artis-Payne.
Catching the ball hasn't exactly been in Artis-Payne's arsenal over his career – he's only had 10 catches for 86 yards total through four years, but he had almost a third of that total tonight in Chicago.
"He caught the ball out of the backfield and made some plays early," said Ron Rivera after the game. "It was tough running inside early on, but he's a plugger and he's a very solid player for us."
It will remain to be seen how the backup running back reps shake out in the future once Jordan Scarlett returns to the fold.
Terry Godwin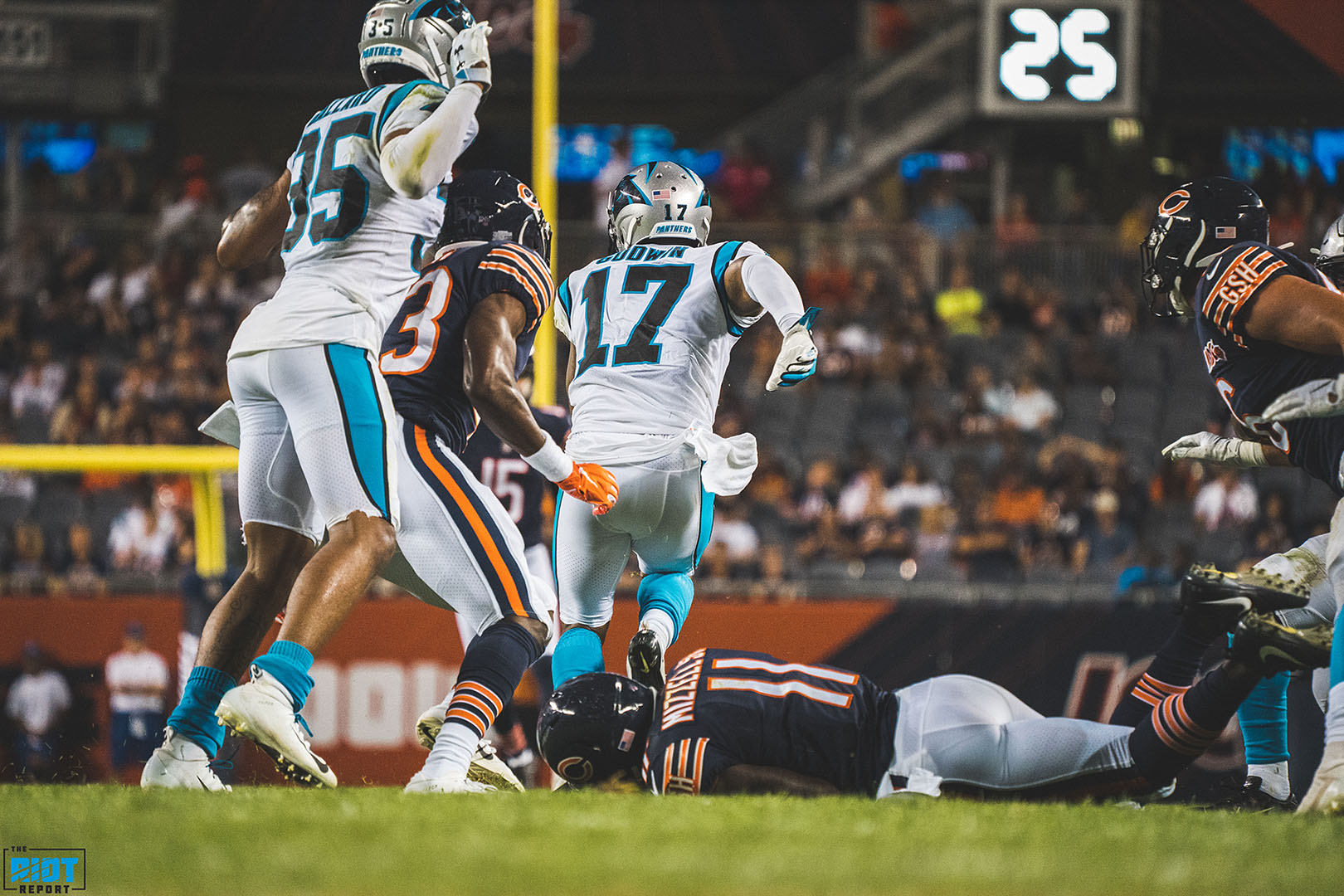 What most people will remember about this game from Terry Godwin will be the 57-yard punt return that had him racing down the right boundary towards the end zone and setting up the Panthers first touchdown, but a third down pass to the flat to pick up a first down, one of only two third down conversions in the first half for the Panthers, was equally impressive. Showing that Godwin can contribute on offense as well as special teams will be key to his ability to make the roster.
"For me, I'm here to show that I can help this team out, whether it's on special teams, offense, wherever they want to put me," said Godwin.
But it was the punt return that set him apart for tonight – even if he was eventually chased down by David Montgomery, something his teammates were lightly clowning him on the sidelines for after the play.
"That's part of the game," said Godwin after the game with a huge smile on his face. "Either he's going to miss or you're going to blow past him and he was able to get me at the last second. I knew once my number got called on punt return, I was going to go out there and try and make something happen regardless; once I got the ball in my hand, I knew it was gone from there."
Godwin even got a chance to return a kick late in the game – and had the most yardage of any returner.
Bryan Cox, Jr.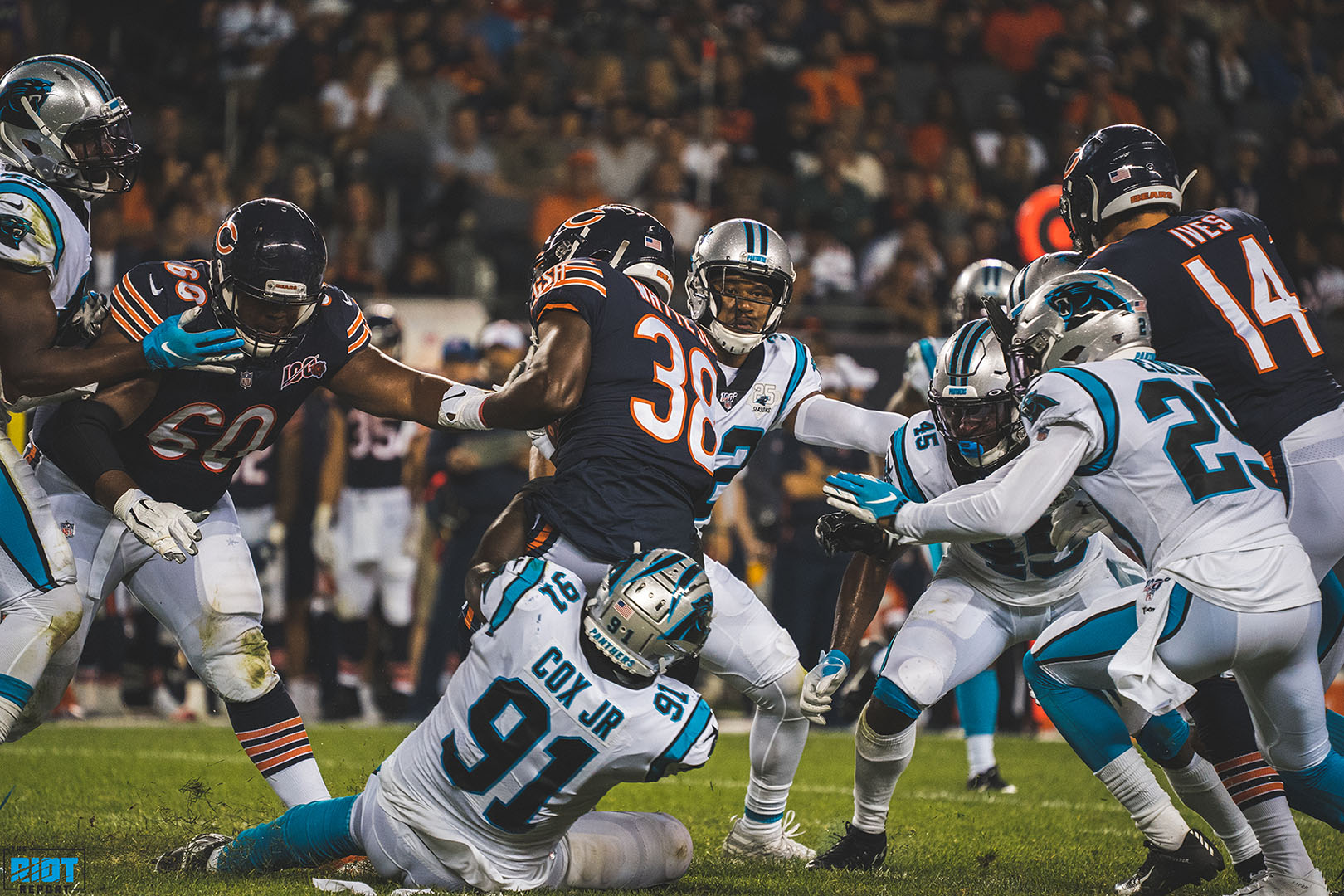 While the defensive lineman don't often get the accolades, especially until the tape gets watched, it seemed as if every big play made by an outside linebacker had Bryan Cox, Jr. involved in some way – look at Burns' first sack and you'll see Cox bulldozing tackle Cornelius Lucas to the ground to clear the path for Burns. Or the third down stop on the first drive where he and Marquis Haynes combine to stop Mike Davis for no gain and force the punt. Or the Haynes sack where Cox is occupying a double team – sometimes, it's the big guys up front that clear the way for the outside linebackers to get to the quarterback expeditiously.
"He's so disruptive up front," said outside linebacker Christian Miller, who himself pressured the quarterback multiple times but couldn't quite get home. "He's so athletic and so fast off the ball that he causes problems for offensive linemen, because they can't keep up with him. With that speed, he generates a lot of force – so he's quick, he's powerful and it definitely helps us on the outside. When he disrupts up front, the running back doesn't have anywhere to go. As long as we're keeping our edges, it forces him right to us and we can just swallow him up.
"He's definitely a hell of a player."
Cox, who some questioned where he fit into this scheme, lined up along the defensive line in both three and four man fronts and had the second-most tackles on the team, including a tackle for loss.