The Panthers know they have a problem.
They're fully aware that they've been gashed the past few weeks on the ground, to the tune of 516 yards and 10 touchdowns in their last three games. Coincidentally, they've lost two of those three and now face an absolute must-win this week against the Atlanta Falcons.
The problem is not admitting the problem, it's knowing how to fix it – but that presents another problem. It's not just missed tackles or gap integrity or scheme or missing Kawann Short – it's not just one of those things.
It's all of them.
"It's a combination," said defensive coordinator Eric Washington. "It all starts with your fundamentals. It starts with that and sometimes it's different things – being in your gap, because we are a gap control defense, which means everyone is assigned to a specific gap or specific area as it pertains to a run concept, so you start with that. And then, some of it is fundamentals, how an individual is in position, if he's in his gap responsibility. And some of it's tackling. It's not just one thing."
"All it takes is for one of those things to break down and in this business, a back will exploit you."
And if the Panthers know they have a problem, the Falcons know it too – and they're going to test it.
"When teams see something that you've been exposed on, they'll check to make sure that you've fixed it or not," said Eric Reid, who has nine missed tackles this season but is on pace to set a career high in tackles, according to Pro Football Reference. "You'll keep getting those plays until you stop it."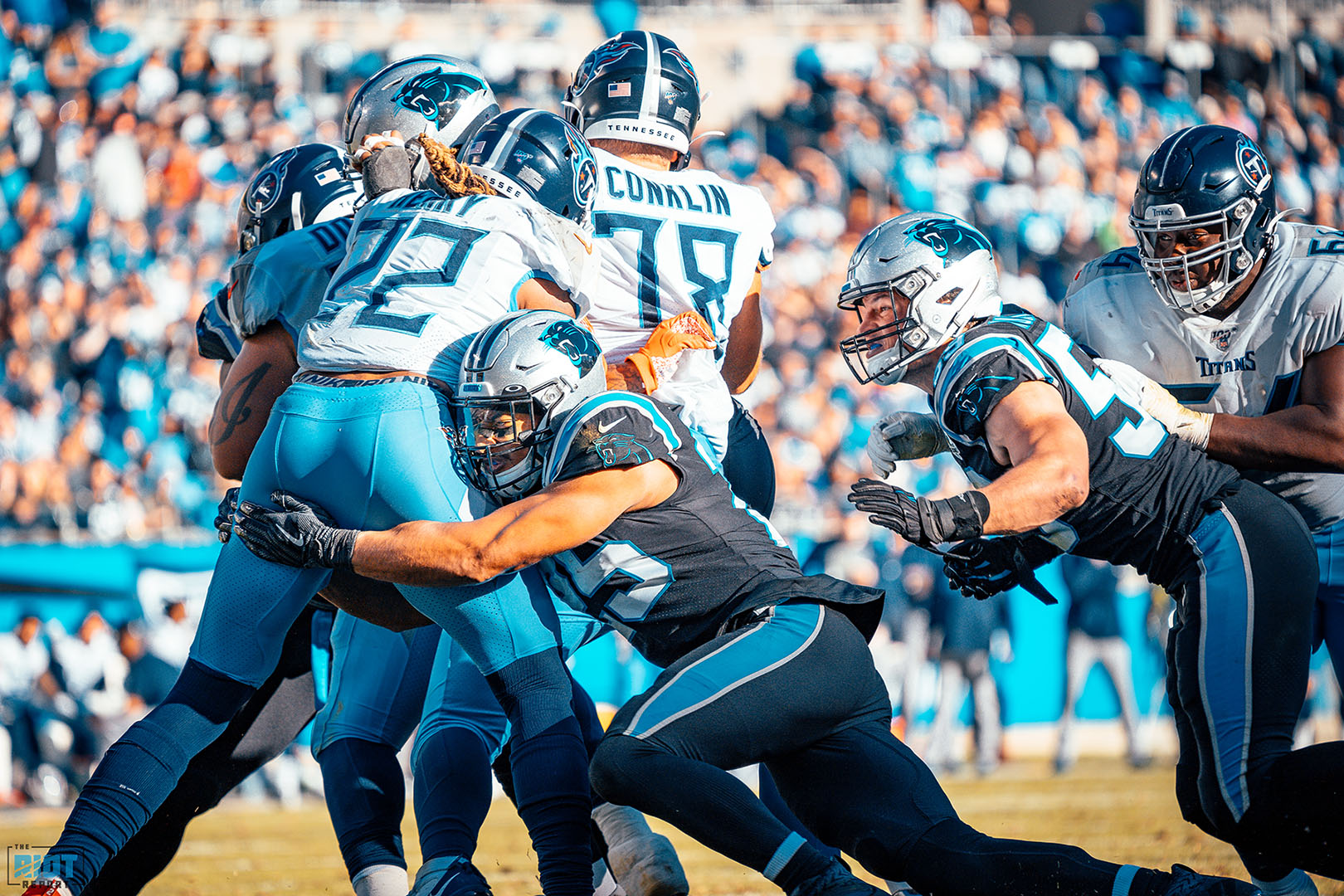 The Panthers have give up an average of 5.17 yards per rush play, which is worst in the league – if they remain at that number, it'd be the third-worst rush defense since 1966; they're also one of only a dozen teams in the past 50 years to have allowed 17 touchdowns in their first nine games. Unsurprisingly, they're the only team of those 12 with a winning record.
"The biggest problem we've had is we give chunk yards," said Ron Rivera. "You would be more concerned if it was a consistent five yards at a time, but you when you give up chunk yards, it throws your average completely off."
He's not wrong. The plays of 10+ yards on the ground – there have been 40 of them in nine games – have absolutely murdered the Panthers defense and they've often come in the second half. Take them away and Panthers' opponents are averaging 2.33 yards per carry; of course, that's not how it works.
"From my perspective, if you eliminate those – which you can't – the run defense is where it should be [and] where it needs to be. Can we be better? Most certainly."
Just under one in every six rush plays this season have gone for more than 10 yards.
"That just comes down to trusting your linemen and trusting where you need to be and the guys around you," said Luke Kuechly, who is sixth in the NFL in combined tackles but has missed eight in nine games. "We understand what we need to do, we just need to do a better job of performing that."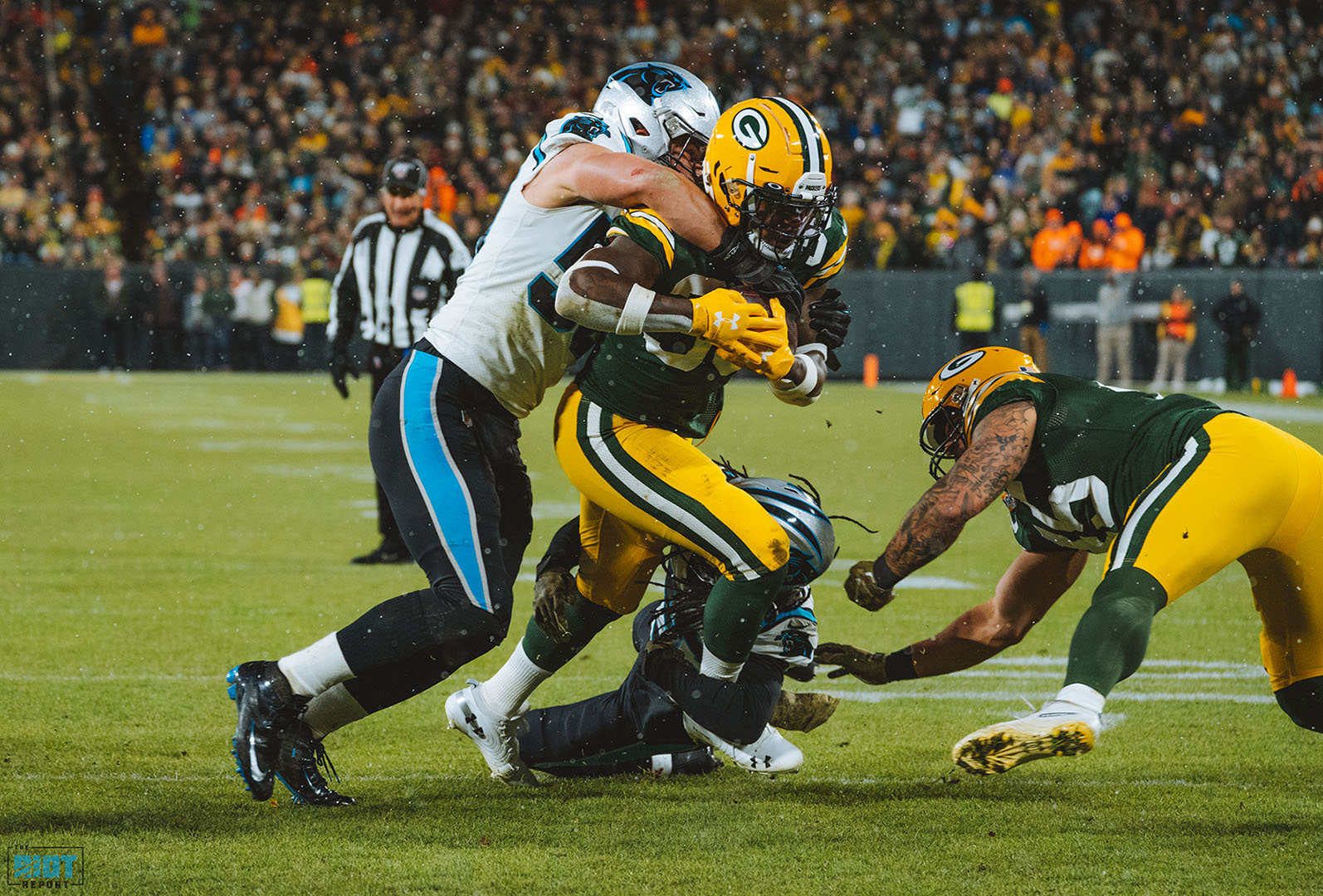 While some blame the shift from the 4-3 to the 3-4 for the issues the Panthers have had against the run, what they're running now is not that much different than what they've run in the past, says Kuechly.
"I don't think there's a huge difference, some of the stuff we've done now, we've done in the past," says the All-Pro linebacker. "It hasn't been that much different, I think when you tell everybody you're going from a 4-3 to a 3-4, everybody freaks out about it, but it's not that much different."
With Eric Reid playing more in the box than he's ever played in his career – just the way he likes it – and the defensive linemen occupying space and blockers up front, it's no surprise that Reid, Kuechly and Thompson are all in the Top 25 in the NFL when it comes to solo tackles; in fact, that trio accounts for 41.3% of the Panthers tackles through ten games
Last season, the top three tacklers (Kuechly, Thompson and Thomas Davis) accounted for only 33.6%.
Rivera says that's due to the style of play in today's NFL, which includes a lot of RPOs and more rushes between the tackles – "you don't see the guys going as sideways anymore as they have, you see a lot more of this downhill play, which is really changing the scope of the game."
The guys up front aren't moving as much and the players that have to fit into gaps and make tackles are at the second level.
"You can't always drop your safety down right away, the safety's going to make a tackle someplace around five to six yards downfield," said Rivera. "If, for whatever reason, he's held back a little bit, it could be a little bit of a bigger play – but if you put him down in the box, you're exposing the post and you're just daring people to throw vertical."
That balance between protecting against the big pass and limiting the run game is a constant game that defensive playcallers and players have to balance – and the problems the Panthers have faced against the run would be a lot different – and simpler to fix – if it was one player or even one issue; that's not the case. So each week, the Panthers go back into the film room and discuss openly and honestly who made mistakes and how they can get better.
Because they must get better.
"We're not here to hurt anybody's feelings, we're here to be honest," said Rivera. "If it was the same guy, it'd be very easy; unfortunately, it's been one guy here [and] one guy there. So at the end of the day, if it was one guy, that guy would not play and it's that simple."
"[But] it's not and that's the hard part for me as a coach."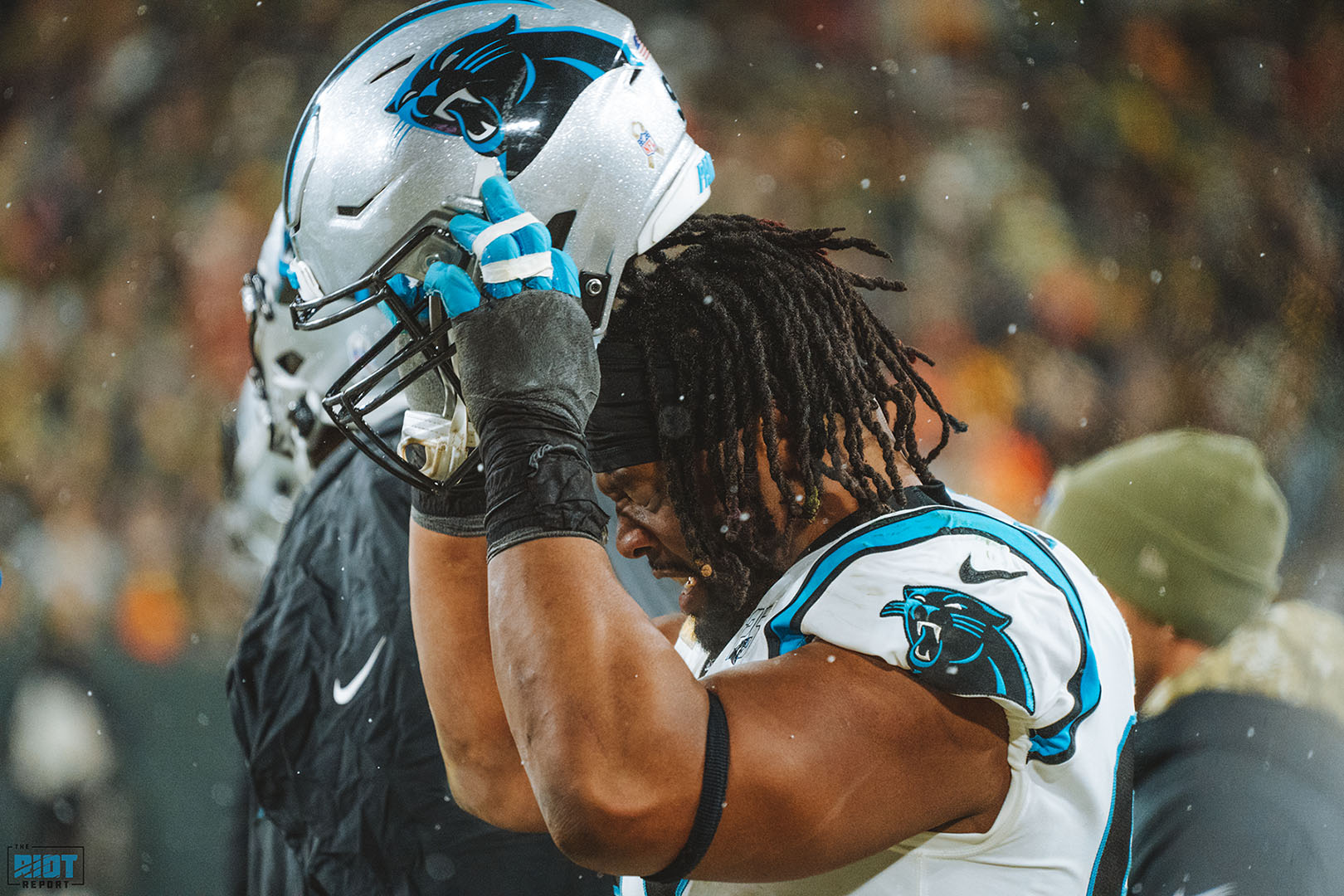 "Stopping the run is a physical proposition," said Gerald McCoy. "It's me on you, let's see who's going to have it and it can get schemed; the run can get schemed but a lot of it is just beating the man in front of you and controlling your gap, not getting nosy and seeing all the smoke and mirrors."
The phrase of the month has been 'gap integrity' – the Panthers haven't kept it and their opponents have made them pay. But this week, Rivera revealed another wrinkle – the 'gap and a half' model that has each player striving to get off of their block and work over the top of the blocker once the running play has commited to one side of the other – but sometimes, when the players try to get over the top of that block, a good running back will cut back into the crease created – and he's onto the second level, where he's likely running for ten yards.
One missed tackle after that and it's a huge play.
"Sometimes you're trying to do too much as a D-lineman and you knock your guy back or you see the ball going this way, you jump it inside," said McCoy. "These are NFL running backs. They know how to stop and go. So they stop and then come back to your gap."
But Rivera won't fault his players for trying to make a play up front.
"We could have guys just run into a gap and stay there and take your chances, but, you know, that's not football," said Rivera. "We just can't allow that consistently – and the past few weeks it has happened consistently."
With the Falcons missing their top two running backs – Devonta Freeman is not expected to play this weekend with a foot sprain and Ito Smith is on injured reserve – Atlanta will turn to 2107 fifth-round pick Brian Hill, who has 24 more yards rushing than Matt Ryan this season.
Gerald McCoy was blunt about a Panthers recipe for success.
"We just can't allow them to run the ball – it's simple."
If the Panthers can't do the simple thing, the rest of the season is going to be very hard indeed.