Thursday's night game between the Tampa Bay Buccaneers and the Carolina Panthers isn't just significant because both teams lost their season openers – there's personal meaning for Gerald McCoy. 
In May, the team McCoy had spent the first nine seasons of his career with released him with three years remaining on his contract. Rumors of his departure began to surface when new Buccaneers head coach Bruce Arians told reporters at the Annual League Meeting that McCoy wasn't as disruptive as he had been in previous seasons and the Bucs made it official on May 20th.
After Tuesday's practice, McCoy downplayed playing against his former team – the only team he's ever played with before this past Sunday – for the first time in his career.
"I don't want to go 0-2, I know that," McCoy said. "I haven't done that too many times in my career, and we really have a good team here. So, you never want to let one loss turn into two. We've got to bounce back and go out and play well on Thursday."
"My family, my friends, you guys, fans, everybody is making this game a big deal, but I'm not, Everybody thinks I'm going to make it a big deal, but I'm not going to. The only thing that is big about this game is I know exactly who I'm facing – what they're good at, what they're not good at."

When asked if he buys the story that McCoy's selling that this is just another game on the schedule, Panthers safety Tre Boston, who said he takes every game personally because every team had a chance to sign him in free agency, put his tongue firmly in his cheek.
"I buy it, I definitely buy it," Boston said with a smile, exaggerating his cadence to lay on the sarcasm as thick as possible. "I'm not going to rent it, I'm not going to sell it, I'm buying that one – it is just another game. He has been in the league nine years, one team. I don't think this team even means anything to him. I think he is ready for this Thursday, treat it just like any other game. Again, if he says you guys are making it too much, then you guys are making it too much."
When told that it's hard to account for sarcasm in print, Boston grinned.
"Put a smiley face next to it."
During his nine years with the Buccaneers, McCoy registered 297 tackles, 54.5 sacks, six forced fumbles, and four fumble recoveries and was named to six consecutive Pro Bowls from 2012-17. Despite that, the Buccaneers were quick to give his number 93 away to Ndamukong Suh, whom the team signed during the offseason to replace McCoy. 
McCoy wasn't too happy about the Buccaneers giving Suh his jersey number right after his release as he believes he's a Ring of Honor-caliber player.
"At first, it bothered me, I can admit it," McCoy said. "But then – the more I think about it, whatever, [I'm] moving on. I still can wear my old number."
But former Buccaneers defensive tackle and Pro Football Hall of Famer Warren Sapp didn't think McCoy deserved to be mentioned with legendary Buccaneers players such as himself. 
"The thing that kind of threw me sideways was Gerald talking about how this organization doesn't have a right [to give away his 93 jersey], or it's business that they moved on — you know, they moved on," Sapp said. "And then he wanted to say that Sapp, [Derrick] Brooks, Lee Roy [Selmon], [John] Lynch, Ronde [Barber], nobody wore their numbers. Last time I checked, those were Hall of Famers and champions. We didn't go to one playoff game with him and not one damn divisional title, so I think he owes some of those hundred million dollars back – if you go – give it to me in that sense."
Arians was asked about playing McCoy on Thursday night, but the head coach downplayed any revenge factor. 
"It's about the same as it was for Kwon [Alexander]," Arians said. "Hopefully, he doesn't get thrown out of the game, too."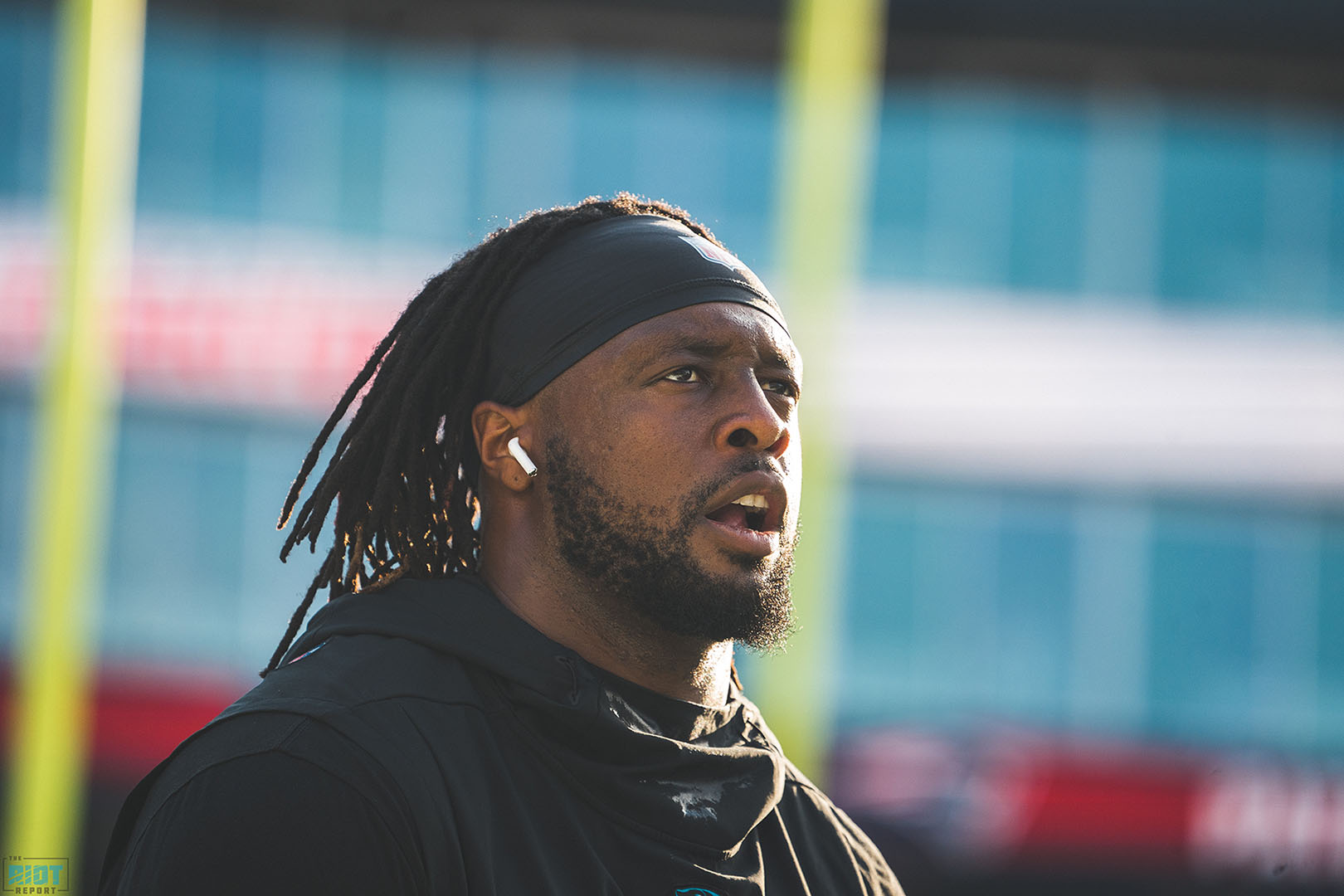 McCoy's debut with the Panthers didn't go the way he and his coaches would have liked. Against the Rams, McCoy registered just one tackle on the day as he played a total of 40 snaps, mostly at the defensive tackle spot. Instead of having a four-man front, the Panthers mostly went with a 3-2-6 defensive scheme in the second half. 
The results of the scheme were less than stellar as the Rams were able to rush for 166 yards as they averaged 5.2 yards per carry in the 30-27 loss. 
After Sunday's game, McCoy said the Panthers' defensive line rotation might have disrupted his rhythm. 
"They rotated more than I'm used to," McCoy said. "But I'll get used to it. They just rotated a lot; I'm used to playing a lot more snaps than that, but I think we're better [when] we rush more four-man. But with the offense that they ran, with the extra DB on the field – which was fine because it was working for us early on – I think if we get in certain situations with other teams, with other teams' schemes, where we can rush four, we'll get a lot more pressure."
After facing him twice a season for almost a decade, Panthers coach Ron Rivera said it will be nice not having to gameplan for trying to slow down McCoy.
"It is nice to have Gerald on our side," Rivera said. "He is a heck of a young man. He's a guy for the last eight years, we had to think about, so this is different, that's for sure."
Thursday will be the first time McCoy plays against Buccaneers quarterback Jameis Winston. The two players were teammates from 2015-18, but McCoy says he plans on helping his current Panther teammates slow down Winston.
"I'm telling everything," McCoy said. "I told y'all [in] my opening press conference, I'm loyal with who I'm with. I already know what they're going to try to do to me, but I know how everybody blocks."
"I know what everybody over here does well, so I'm kind of helping put together matchup problems."