After years of being the leader on defense in Tampa Bay for many seasons, Gerald McCoy is taking on a different role this summer for his former division rival.
McCoy was a long-time captain of the Buccaneers during his nine-year stay with the team, but when the team decided to release him during the offseason, the Panthers stepped in to sign McCoy to improve their defense.
Although McCoy is an accomplished veteran, he says he will need to earn the right to become a leader of the Panthers defense. In the meantime, McCoy says the team already has several defensive leaders in place.
"KK [Short] is a leader, obviously, and Luke [Kuechly]," McCoy said." But one guy that's stood out to me as being a leader is Shaq [Thompson]. With how he competes, how he prepares and his communication on the field. Leading by example. Hopefully, I can get my name in the mix as being one of those leaders. But it will take a second."
"You don't just come in and gain respect. You have to earn it."
So how long could it take for McCoy to become a leader?
"It just happens when it happens," McCoy said after his second practice with the Panthers. "Guys will see it. If you're consistent with doing things the right way, leading the right way and doing what you're supposed to do on the field, guys will see it."
It's doing little things like carrying his teammates' helmets off the field after practice, a tradition he's continuing here in Carolina, or encouraging rookie and young players to walk to and from practice with the veteran – or even wading into the crowd to sign autographs, something McCoy has done for both practice sessions thus far.
Last night, Gerald McCoy sat on the hill and signed autographs.

Today he grabbed a police officer and waded into the crowd.

He's been in there for ten minutes. pic.twitter.com/smkP93GK6w

— The Riot Report (@RRiotReport) July 26, 2019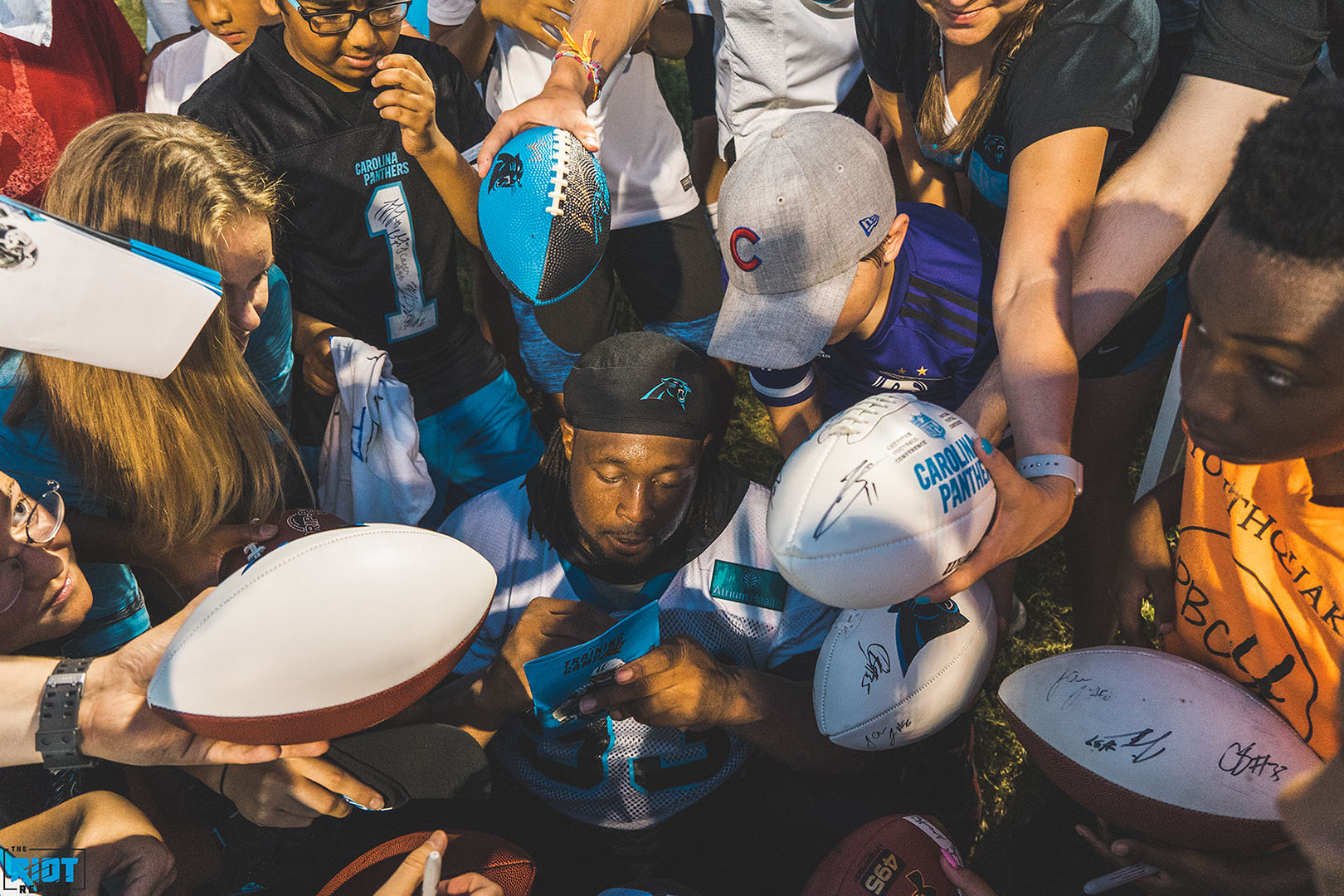 McCoy will try to do his part in improving a Panthers defense that finished 15th in the league in total defense. However, during their 1-7 slide, the Panthers allowed 25.25 points per game.
The addition of McCoy – at least on paper – should give the Panthers an improvement on their defensive line. Along with Short and Dontari Poe, McCoy gives the Panthers defensive tackles a combined 10 Pro Bowl appearances and 103.5 career sacks.
McCoy also likes what he sees in Panthers rookie Brian Burns.
"He's a mix of a guy I played with in Tampa in Noah Spence and Aldon Smith," McCoy said. "Long arms like Aldon, tall. He's got that long arm power. But when I say he plays like Spence, he can bend. He can turn the corner with his knee dragging on the grass. For him to be that size and dip and turn the corner like that…..That's scary."
Even at 31 years old and entering his 10th season, McCoy could potentially have some of his best years ahead of him. Once Tampa released him, McCoy wanted to sign with a team that could potentially have a chance to reach the Super Bowl.
While the Panthers will hope to improve from their 7-9 record from a season ago, McCoy says he already has seen a positive sign from their defense during his first couple of days of camp – that's the way the defensive players talk with one another, emphasizing the reasons why he signed in Carolina in the first place.
"What I've seen these past couple days of training camp is just family atmosphere," McCoy said. "I was talking to KK and I told him that I've seen a lot of communication on the defensive side of the ball. Everybody is on the same page and it carries over to the field. On game days, when I've competed against these guys I've seen them communicate on the field."
"I'm excited about what we have moving forward."