With the 2017 season coming to a close in New Orleans, it's getting to be time to turn our attention to next season; just like in professions that don't have billions of fans watching around the world or folks wearing the uniforms of their favorites bankers to work on 'casual Fridays', the NFL is a business that relies on money. And the Panthers, after spending a fair amount in the 2017 offseason to lock down linemen on both side of the ball, will be faced with a similar decision in 2018 as they debate whether they should be keeping either Andrew Norwell and Star Lotulelei (or both), in addition to other of their own pending free agents. And that's completely ignoring the money they'll need to sign their eight draft picks and pluck talent from other team's rosters to fill out their own 53.
The NFL salary cap is expected to increase again next season, following the four-year uptick it's seen every year since the 2013 offseason; Sports Illustrated has it somewhere between $174 and $178 million next season after settling at $167 million for the season which just wrapped up. Popular online salary cap application Spotrac estimates it will be just over $176 million; the Panthers will be rolling over $4 million not spent this year (remember the clamor to sign T.J. Ward?) into 2018, so they'll have anywhere between $178 to $182 million this year. Let's assume it will be $182 million-ish.
Already locked up in contracts is approximately $163 million, leaving $19 million to spend on their own free agents (including Norwell, who will almost certainly demand double digits each season, between $14 and $15 million if the Panthers decide to franchise the All-Pro guard), draft picks and attractive free agents from other teams.
Let's be frank. That's not enough.
If the current salary situation were to hold, the Panthers would have approximately $5-$6 million dollars in salary tied to their eight draft picks (last year's 24th pick, Gareon Conley had a $1.85m cap hit), leaving $13-$14 million to resign Andrew Norwell, Star Lotuelelei, Julius Peppers, Graham Gano and a host of other free agents to fill out the 53-man roster. Even if you don't want to resign Norwell or Lotulelei, and the Panthers will certainly want to resign one, if not both, you'll need a kicker and a punter. The Panthers will head into 2018 with neither on their roster.
So if the Panthers don't have enough cap room currently, how do they get there? Well, of the 45 men currently signed through the 2018 season, let's make some cuts to open up some cap room. We'll start with the easy ones. Apologies to the following:
Fred Ross
Cole Luke
Demetrious Cox
John Theus
Lorenzo Doss
Zach Moore
Jared Norris
While some of these players may have presented good value and may well be brought back at their minimal salaries, we're trying to clear out as much space as possible as an excercise; we can always bring them back to the roster. We've now saved just over $4 million, giving the Panthers just $17 million to spend in free agency. This would be the minimum they would need to sign Norwell to a team-friendly contract (again, the franchise tag would be just under $15 million) and their eight draft picks, plus enough minimum-salary players (like the ones above) to fill out the roster.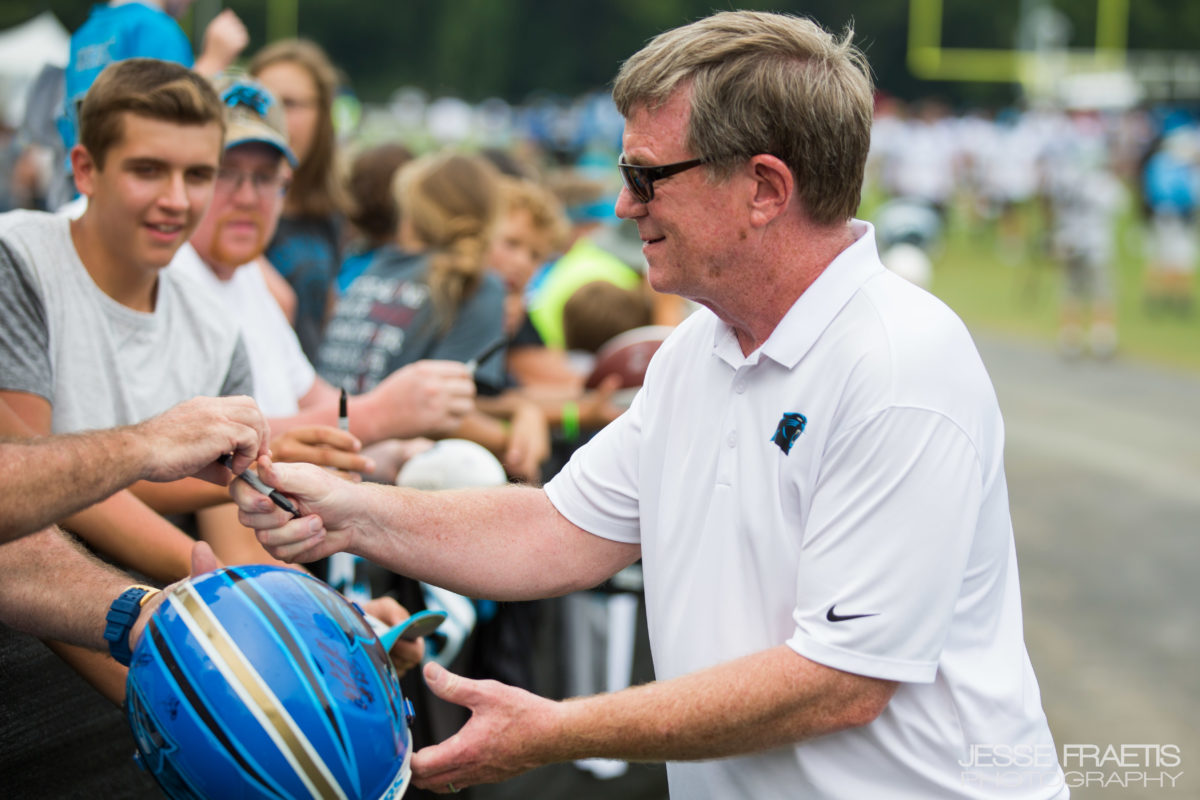 A restructuring of contracts to the quarterbacks on each side of the ball would certainly help, if they would agree to make the changes; a restructuring doesn't change the amount of money owed on a contract, it simply spreads the current year's base salary out over the life of the contract. Recent contract restructures have included Ben Roethlisberger, Tom Brady and Jason Witten. If the Panthers could agree to restructure the contracts of Cam Newton and Luke Kuechly, that would open up a much-needed $14 million in cap space.
The NFL is a business, we hear it all the time; the 2018 offseason will be no different. The Panthers will have to make some difficult decisions; the following popular players may be salary cap casualties this offseason, this is the amount the Panthers could save if they were to part ways with these fan favorites.
Ryan Kalil: $7.5m
Thomas Davis: $5.7m
Jonathan Stewart: $3.75m
Charles Johnson: $3.5m
Mike Adams: $2.1m
Fozzy Whittaker: $1.15m
Either way, the Panthers will have some decisions to make this offseason. Last season, they made some divisive free agent signings that impacted the team's performance; this year, it may take some keen negotiating just to keep the roster afloat.